2.4.13
Chop Chop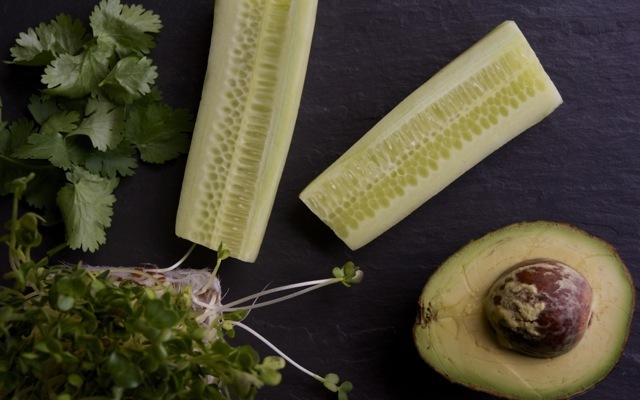 My weekday lunch is never something planned. It's inspired by my mood and defined by whatever is available in the fridge and pantry. Occasionally I will do leftovers, but not very often. Whereas G will often eat for breakfast what we dined on the previous night, I like to eat something different every day and generally keep it light. Soups can be quick, easy and satisfying, and especially appealing when it's cold out, but I also find myself craving salads with bright, bold flavors. I like easy tosses of greens, nuts and cheese; jumbles of quickly blanched vegetables dressed with vinaigrette; combinations of chopped things like fennel, pecorino and hot chile; even mayonnaise-glossed seafood stuffed into avocado halves or piled on top of crisp lettuce. Perhaps my favorite, in the classic tradition of the salade composée, are distinct but complementary elements arranged together in a wide shallow bowl. The composed salad needs an artful balance of textures, flavors and colors, so it demands consideration and creativity, which I'm always willing to exercise when it comes to lunch.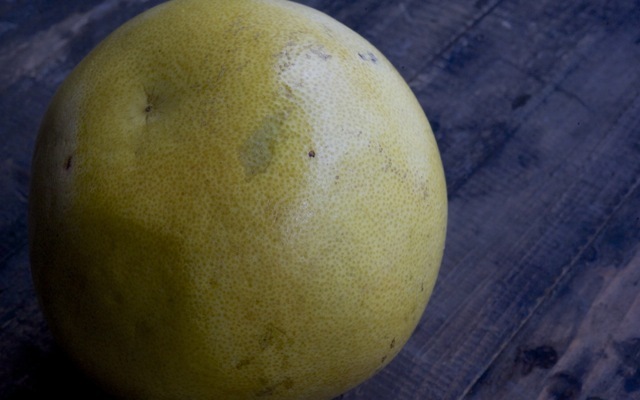 Here's what I found in the fridge today: the better part of an English cucumber; some fresh radish sprouts; cilantro; and a big pomelo, acquired yesterday during a spree at
Mitsuwa
(that also involved a small cup of their insanely divine black sesame soft-serve ice cream). I also had a perfectly ripe avocado and some rice cakes. Some days, that avocado mashed and slicked onto the rice cakes with maybe a few sprouts and a sprinkling of sea salt would have sufficed. But I'm willing myself to slow down these days, to think about what I really want and take the time to get it, so something a bit more involved seemed altogether possible. After all, it's called the lunch
hour
, isn't it?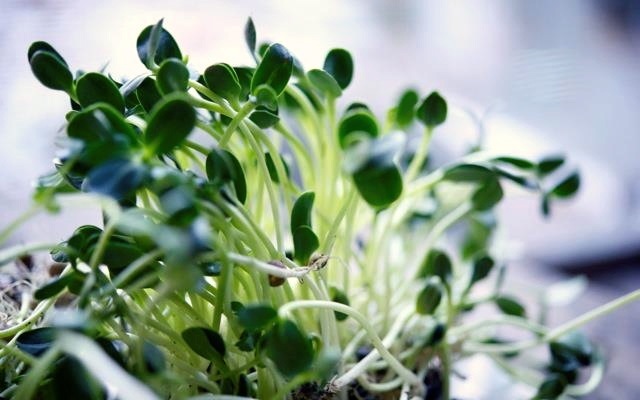 I love sprouts, especially spicy radish sprouts. I also like the watery crunch of sunflower sprouts and the nutty froth of alfalfa sprouts. They are full of available nutrition and something fun to grow indoors during the winter months.
Here's
a bit more about them; and
here
.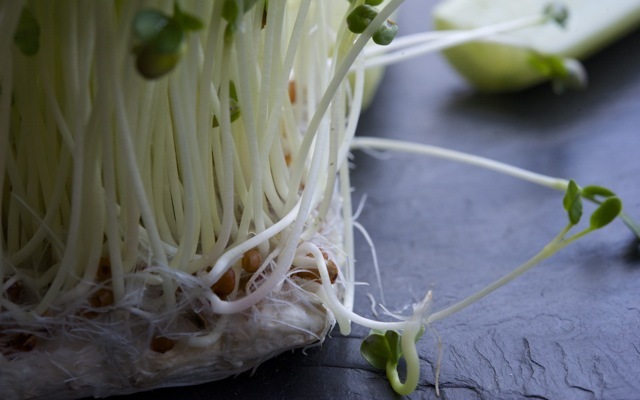 There has been some controversy about the potential toxicity of some sprouts; rather than address it here, I refer you to
this article
, which lays out the facts pretty clearly. For our purposes, I will simply say that you might want to refrain from eating several pounds of alfalfa sprouts in one sitting, OK? And be sure the sprouts you buy in the store are very perky and fresh, with no slime anywhere, especially on the roots.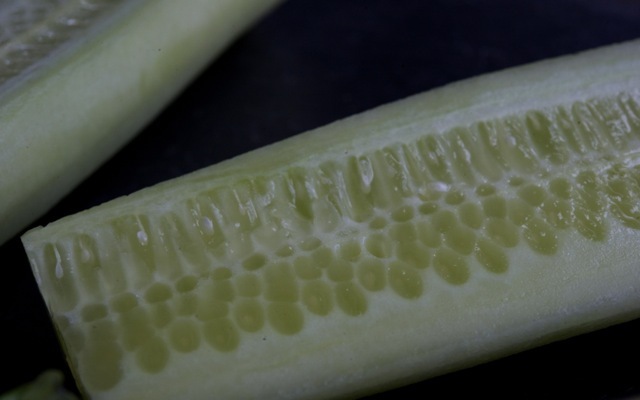 I eat a lot of cucumbers and definitely enjoy the English variety that has been bred to have much smaller seeds and is thus more easily digestible. As opposed to other kinds, where removing the watery, sometimes bitter seeds is usually essential, these can be consumed in their entirety, including the skin, though I usually peel off most if not all of that.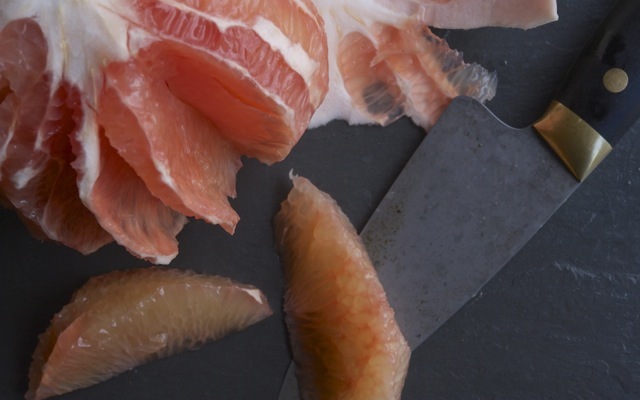 If you've never had a pomelo (
Citrus maxima
or
Citrus grandis)
, you will recognize it as something that looks just like a grapefruit only much bigger. It's a native fruit of Southeast Asia, where it's often eaten raw, sprinkled with or dipped into a salt mixture, or added to salads, served with yogurt, or sometimes even pickled. It differs from a grapefruit by having a much thicker skin with lots of pith and by being considerably less tart. Sometimes it can be a bit bland even, though when you get a good one it is sweet and refreshing. When you
suprème
one (learn how,
here
), you get very large, meaty sections.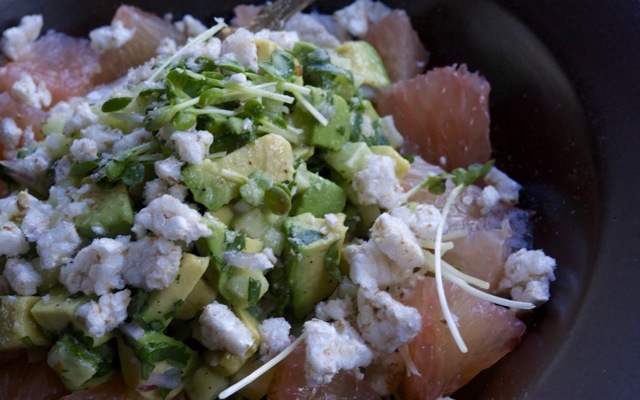 In the end, I tossed small cubes of cucumber and avocado with a sharp mustard vinaigrette, piled it atop a thatch of crisp sprouts, ringed it with juicy chunks of pomelo and showered it all with crunchy sea salt and bits of crumbled rice cake. Then, like I had all the time in the world, I ate it slowly, savoring each delectable bite. I am a working lady who lunches.
Avocado, Sprouts & Pomelo Salad
serves 1 (easily scaled up to serve more)
— 1/2

perfectly ripe avocado, peeled and diced

— 1/2 cup

diced peeled cucumber

— 1

pomelo

—

large handful radish sprouts

— 1 tablespoon

minced shallot

— 1 teaspoon

Dijon mustard

— 2 tablespoons

Champagne vinegar

— 1 tablespoon

pomelo juice

— 2 tablespoons

olive oil

— 1 teaspoon

mild honey

—

freshly ground black pepper

—

flaky sea salt, like Maldon

—

crumbled rice cake, for garnish
First, to take the harsh bite out of the minced shallot, place it in a small bowl and cover with ice water. Set aside while you prepare the rest.


Next, supreme the pomelo by using a sharp knife to remove all the pith and peel, then cut out the individual sections. Set aside 4 sections and store the rest. Squeeze the remaining structure and reserve any juice.


Make the dressing by whisking the mustard, vinegar, pomelo juice and honey together in a small bowl or mug (my vessel of preference.) Then whisk in the olive oil until it emulsifies. Add lots of freshly ground pepper. Taste and adjust to your liking, adding more of anything as needed.


Strain the shallot and stir into the dressing.


In a medium bowl, combine the avocado and cucumber. Toss with about half the dressing until well-coated.


Assemble your salad in a large shallow bowl or plate, starting with the pomelo. Break the 4 sections into bite-sized chunks and arrange around the edge of the dish. Place most of the sprouts in the center, reserving a few for garnish, and drizzle some dressing over them. Mound the avocado-cucumber mixture on top.


Garnish with some crumbled rice cake; the remaining sprouts, chopped; and a flurry of flaky sea salt.



Download Recipe