1.28.13
What's For Pudding?
As you may well know from being an Anglophile or watching Bridget Jones, the Brits use "pudding" as a generic term for dessert. It's a bit perplexing given that no shortage of actual pudding is served for pudding there, but it's a rather comforting word and in the end there doesn't seem to have been too much confusion. But to further complicate things, what we call pudding they would most likely refer to as custard. No matter; I think we can all agree that steamed puddings—the stuff of Dickens novels and old-time American holidays—are simply delicious. You don't see them on menus much any more, but with so many traditional folkways and recipes being reclaimed, it wouldn't surprise me if we were in for a resurgence. And we should be. If you've never made a steamed pudding, it will be a revelation. All you do is stir together a batter, pour it into a mold or casserole and steam it. It emerges thick, dense and slightly sticky, ready to be eaten warm topped with a cool cloud of cream. From the rich spices to the stovetop preparation, for dessert or breakfast, steamed pudding is the ultimate winter indulgence.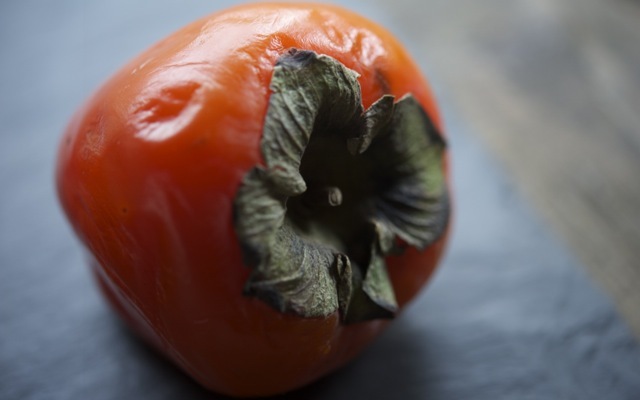 It's also a great vehicle for whatever's knocking about your pantry. Besides some eggs, butter and flour (gluten-free works just fine), you can add fruit purees, dried fruits and nuts, molasses or honey, chocolate and any combination of spices. (Those of you who have
Reims
can substitute it for the cinnamon, nutmeg and cardamom in this recipe!) I made
this
molasses-cranberry version a couple of Christmases ago and was instantly smittten with the whole concept. Recently I had a few super-ripe hachiya persimmons to use up and realized their soft, sweet pulp would be perfect in a steamed pudding.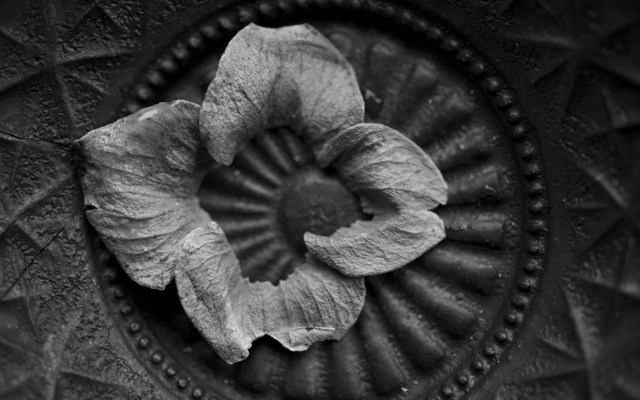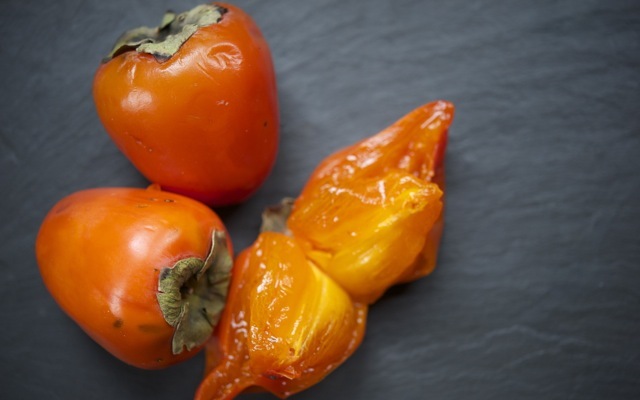 There is a type of persimmon native to the Northeast, and the word derives from the Algonquin
pessamin
,
meaning "dry fruit." It does, in fact, dry well and can be preserved in thin slices. I find the taste a bit insipid, but it adds a rich sweetness when used in baked goods. There are two types of persimmon commonly sold in markets here: fuyu, which is round with a flattened top and bottom, and hachiya, which is shaped more like an acorn. Fuyu are best eaten when still crisp; hachiya is highly astringent and must be ripened until soft and custardy to be palatable.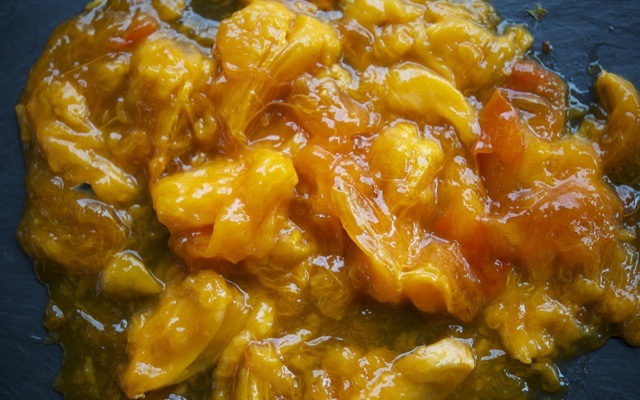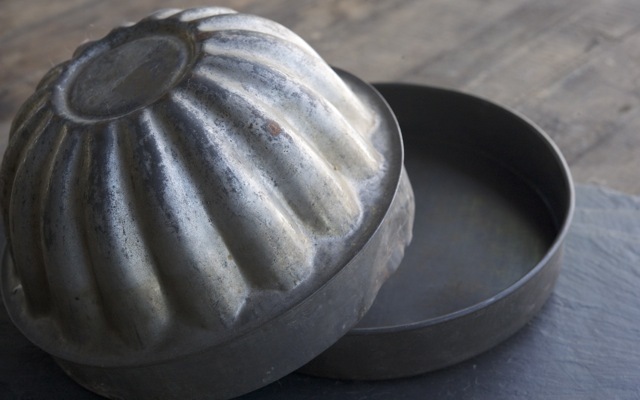 Part of the reason I was initially inspired to make a steamed pudding is that I had come across some of these vintage molds in a junk shop upstate. I love their patina and their shapes. I've used them to make
aspic
and it's always such a thrill when your finished dish plops out in one perfect piece.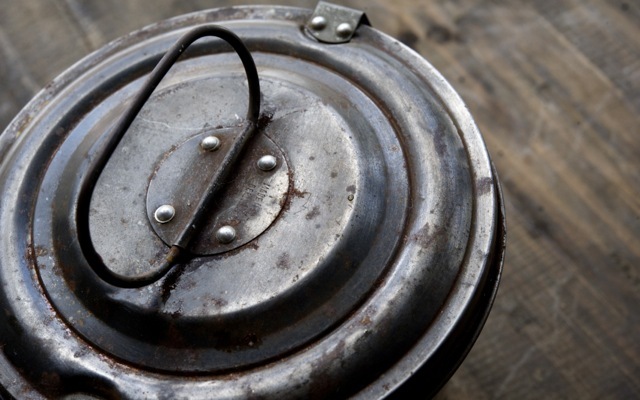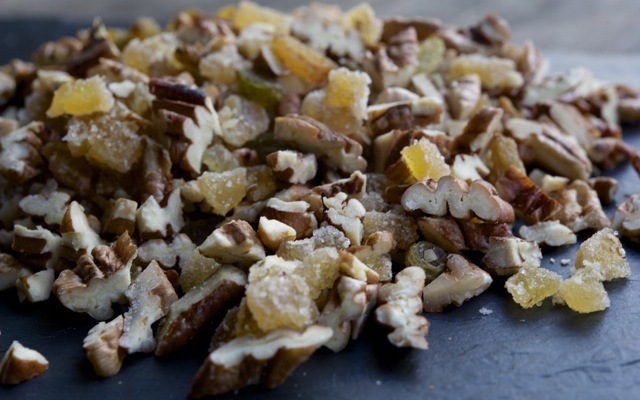 This persimmon pudding is stuffed with golden raisins, toasted pecans and sharp crystallized ginger.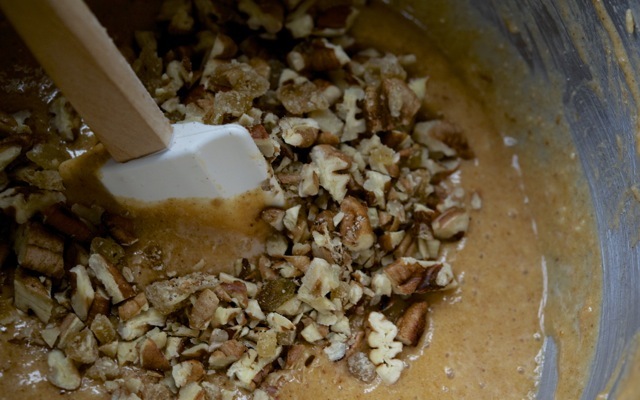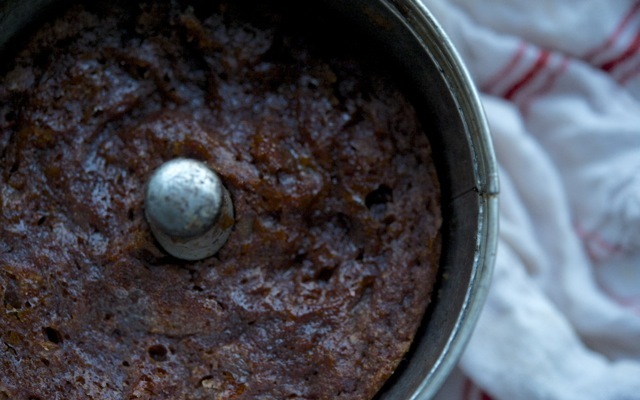 You pour the thick batter into a well-greased mold (there are tons of vintage ones for sale on ebay) or heatproof bowl, cover it and lower it gently onto a rack set into a pot of hot water, so that the water comes about halfway up the sides of the mold. Then you put the lid on the pot and walk away, letting the pudding steam for about 3 hours. I accidentally forgot mine for an additional hour-and-a-half and it still turned out just fine! So forgiving.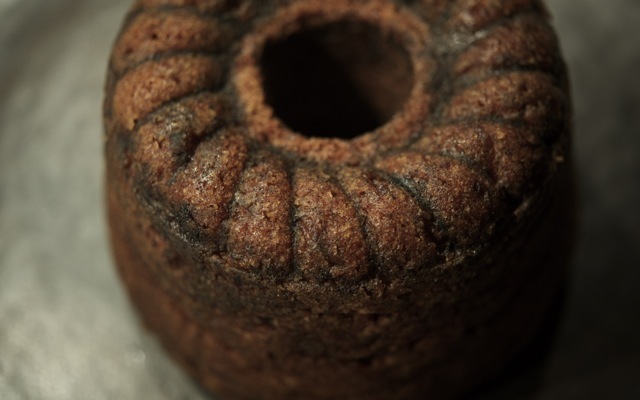 You let it cool for a bit before unmolding it in all its glory: a deep mahogany masterpiece, wafting sweet spice into the whole house.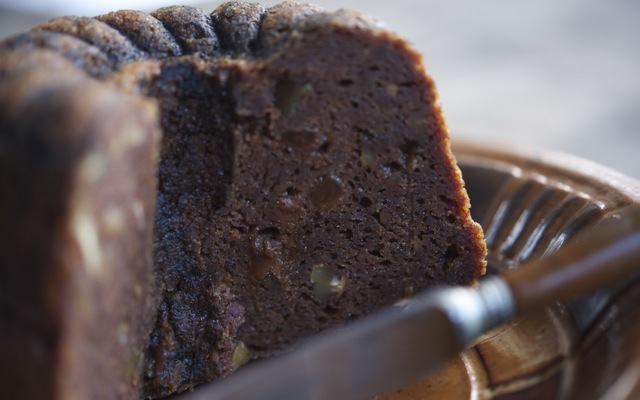 Serve it warm, garnished with Calvados-spiked whipped cream, thick yogurt or vanilla custard, or a generous drizzle of
hard sauce
. I eat the leftovers cold for breakfast and love how it gets very, very firm. You can gently re-steam it if you prefer. However you slice it, you will not be disappointed.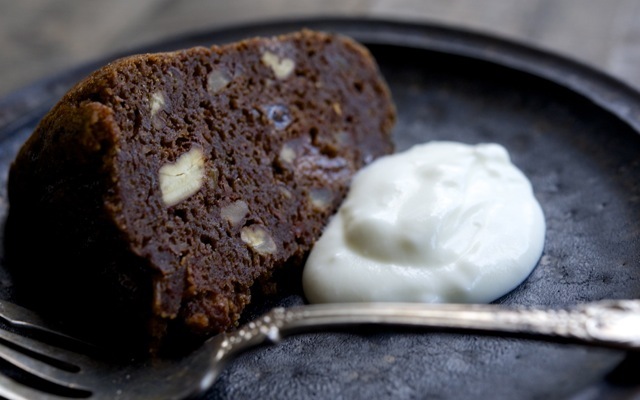 Steamed Persimmon Pudding
serves 6
— 2 generous tablespoons

unsalted butter, softened, plus more for greasing mold

— 1 cup

all-purpose flour (I used C4C gluten-free)

— 1 1/2 teaspoons

ground cinnamon

— 1/2 teaspoon

ground nutmeg (freshly ground is best)

— 1/4 teaspoon

ground cardamom

— 1/4 teaspoon

coarse sea salt

— 1/8 cup

Calvados or other brandy

— 1/4 cup

golden raisins

— 3

Hachiya persimmons, very ripe

— 1/2 cup

whole milk

— 3/4 cup

organic cane sugar

— 2

medium eggs

— 1 teaspoon

vanilla extract

— 2 teaspoons

fresh lemon juice

— 3/4 teaspoon

baking soda, dissolved in 2 1/2 teaspoons hot water

—

zest of one orange

— 2/3 cup

pecans, toasted and coarsely chopped

— 1/4 cup

finely chopped crystallized ginger

—

whipped cream, for serving
Butter a 6-cup pudding mold or heatproof ceramic mixing bowl. Fill a large pot fitted with a steamer insert with enough water to come halfway up mold (test this with an empty mold); set aside. Sift flour, spices and salt in a bowl; set aside. Put Calvados and raisins into a small saucepan and bring to a simmer. Remove from heat; let stand 15 minutes. Drain; discard liquid. Set raisins aside.


Meanwhile, slice tops off persimmons. Scoop out flesh, and press through a sieve into a bowl, discarding skins (you need 1 scant cup persimmon puree). Whisk in milk; set aside.


Put butter and sugar into the bowl of an electric mixer fitted with the paddle attachment; mix on medium speed until pale and fluffy. Beat in eggs, vanilla and lemon juice. Add persimmon mixture in 2 batches, scraping down sides of bowl after each addition. Mix in baking soda mixture. Beat in flour mixture until just combined. Stir in orange zest, pecans, raisins and ginger. Pour into prepared mold; cover with buttered parchment paper and lid. If using a ceramic bowl, cover tightly with buttered parchment paper then with foil.


Bring water in prepared pot to a boil, then reduce heat to reach a simmer. Carefully lower mold into steamer. Cover pot and steam until a cake tester inserted in center comes out clean, 3 to 3 1/2 hours. Check occasionally to make sure water level is maintained, and add hot water as needed.


Transfer mold to a wire rack. Immediately remove lid and parchment (being careful of emerging steam). Cool for 15 minutes, then gently unmold pudding onto a plate. Serve cut into slices, garnished with whipped cream, that has been spiked with a little Calvados (or not).



Download Recipe