1.18.13
Pot Luck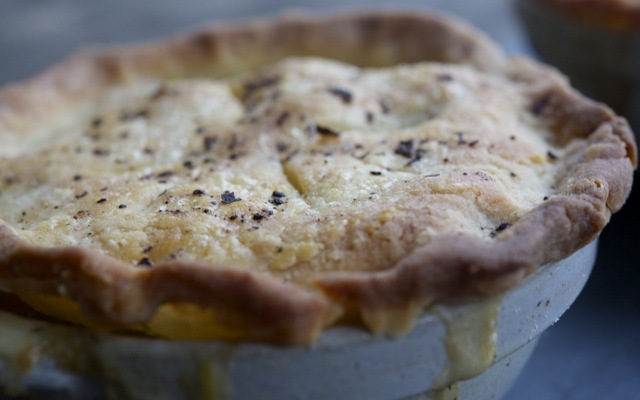 There is snow on the ground here and that means long treks on snowshoes. Which are inevitably followed by a fire in the hearth and a hearty meal. What could be cozier than a pot pie? Break through the golden crust and a finger of steam beckons you toward tender chunks of goodness bound in a creamy sauce. These are a great repository for leftovers—chicken, shortribs, even fish—or any odds and ends rattling around the vegetable bin. Think of this recipe as more of a template than anything, easily adapted to whatever you have on hand. Consider making the dough ahead of time and stash it in the freezer. That way, when the temperature drops, you'll be ready.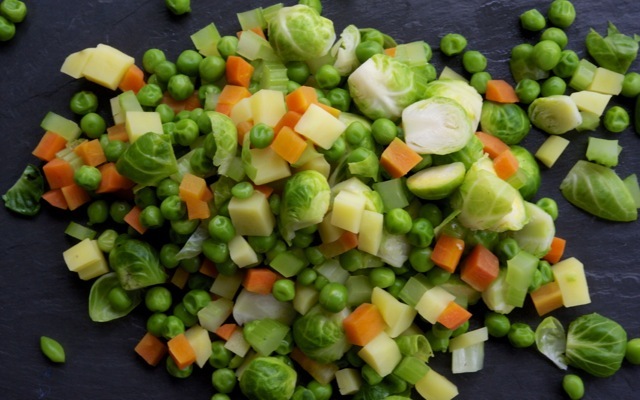 I used what I had: celery, carrots, fingerling potatoes, tiny Brussels sprouts, frozen peas, dried porcini mushrooms. Things like squash, turnips, celeriac and greens would also fit in nicely. I like to dice them up to a small, uniform size that gives the pot pie some small measure of refinement.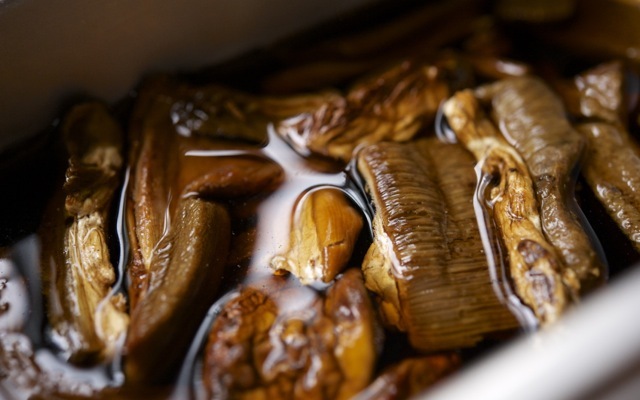 Dried mushrooms make an excellent pantry staple. They transform all manner of soups, stews and risottos with their rich earthiness. A simple soak in hot water reconstitutes them back to their juicy state. The soaking liquid becomes deeply imbued with their flavor and should not go to waste. Use it as the base for a sauce or soup.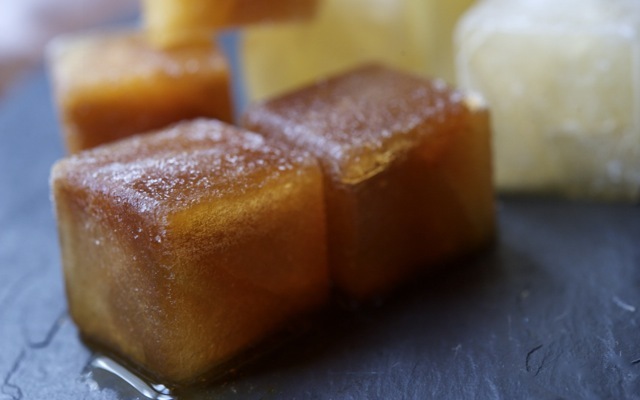 A white sauce is a classic component of the pot pie, and I like to make mine with the slightly unusual combination of stock, cream and buttermilk. I flavor it further with some sharp and salty pecorino. (By the way, I've found that buttermilk also makes a great substitute for other dairy when making creamed spinach or kale. But more on that another day.) Are you making your own stock yet? I recently wrote a piece for Edible Hudson Valley about stock that further fueled my passion for this liquid gold. I make big batches that I freeze in small ziploc bags and in ice cube trays.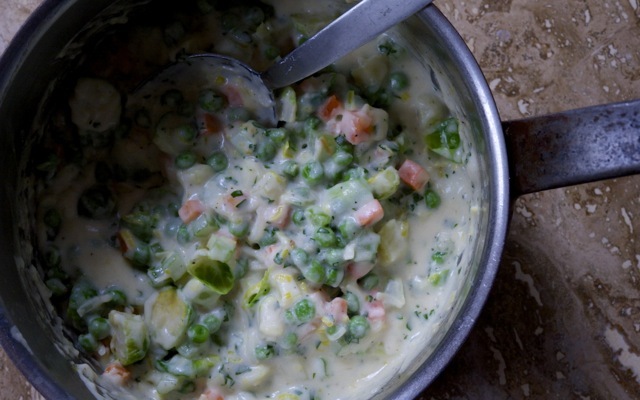 Give the vegetables a quick boil, just until they're tender, and then stir them into the sauce. Spoon this into small casseroles, ramekins or oven-proof bowls, crimp circles of pastry over the top and bake. So simple.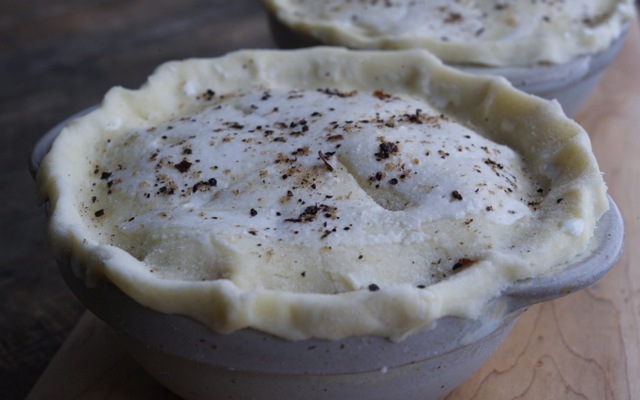 I brushed the top with a bit of cream to help it brown and sprinkled on some mild chile salt. I baked these in the afternoon so I could shoot them by natural light, and then reheated them for dinner in a 325-degree oven. We ate them alongside a salad of kale, cabbage and carrots with a creamy and tart caper dressing. So delicious.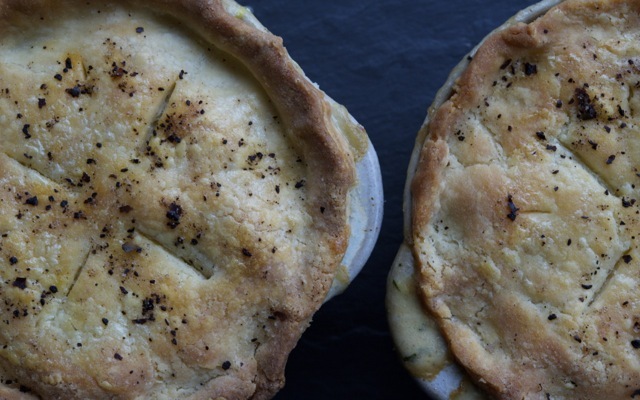 Vegetable Pot Pie
serves 2
—

galette dough for one 10" tart (see recipe below)

— 1/2 cup

dried porcini mushrooms

— 1

celery stalk, diced small

— 1

large carrot, peeled and diced small

— 2

fingerling potatoes, peeled and diced small

— 1 cup

small Brussels sprouts, trimmed and halved lengthwise

— 1 cup

frozen peas

— 1

leek, pale green and white parts thinly sliced

— 2 tablespoons

butter

— 1/2 teaspoon

sea salt

— 2 tablespoons

flour (I used brown rice)

— 1 sprig

fresh rosemary

— 1/2 cup

chicken stock, or strained mushroom soaking liquid

— 1/2 cup plus 1 tablespoon

heavy cream, divided

— 1/2 cup

buttermilk

— 1/2 cup

grated pecorino
Make galette dough and chill. (Can be done ahead and dough can be stored in fridge or freezer, depending on when you want to use it.)


Preheat oven to 400 degrees.


Place porcinis in a small bowl and pour over hot water to cover. Set aside.


Fill a medium saucepan with water and bring it to a boil. Add some salt and the celery, carrot, potato, Brussels sprouts and peas and cook until tender, about 4 minutes. Drain well and set aside. (You should have about 3 cups.)


Drain porcinis, reserving the liquid, which you can strain and use in place of the chicken stock or store for another purpose. Chop the mushrooms and add to the other vegetables.


In the same saucepan, melt the butter over medium heat, then add the leeks and salt and sautee for a few minutes.


Stir in the flour and rosemary sprig and cook for another couple of minutes before slowly adding the chicken stock, stirring as the sauce thickens. Then slowly add the 1/2 cup of heavy cream, stirring all the while, followed by the buttermilk. Keep stirring until sauce thickens nicely. Turn off the heat and stir in the pecorino. Let cool slightly, remove the rosemary sprig and add salt and freshly ground pepper to taste.


Stir the cooked vegetables into the sauce until well combined.


Remove galette dough from fridge and roll out on a floured surface to about 1/8" thick.


Divide the vegetable mixture evenly between two little casseroles or oven-proof bowls. Cut out two pastry rounds about 1/2" larger in circumference than the bowls, and lay over each bowl. Crimp the edges as you would a pie. Cut slits in the top and brush all over with the remaining tablespoon of cream. Sprinkle a little salt over the top if you like.


Place pot pies on a baking sheet (they may bubble over a bit) and bake until golden brown, about 30 minutes. Remove, cool slightly and enjoy right away. Once entirely cooked, may be wrapped and frozen. Reheat in a 325-degree oven, directly from freezer.



Download Recipe
Galette Dough
from Chez Panisse Vegetables
makes enough for two 10" tarts or 1 large tart

This pastry differs from a regular short crust in the proportion of butter to flour, and in the way the butter is blended into the dough. Some of the butter is left in relatively large pieces, which makes for a crisper pastry. This recipe is suitable for both sweet and savory tarts.
— 2 cups

flour (I used C4C gluten-free)

— 1/2 teaspoon

salt

— 1/4 teaspoon

sugar

— 6 ounces

unsalted butter

— 1/3 cup

ice water
Combine the flour, salt and sugar (the sugar helps the pastry brown). The butter should be cool—not cold and hard, but not too soft either. Cut half the butter into the flour mixture and work it in lightly until the dough is roughly the texture of cornmeal. Add the other half of the butter in marble-size chunks. Work it into the dough very briefly, leaving the butter in unevenly incorporated bits. Lightly fork in the ice water just until evenly moistened. Divide and gather the dough into two balls, cover separately with plastic wrap, and knead very lightly through the plastic wrap, forming the dough into two even disks.


Refrigerate the dough and let it rest at least 1 hour. It can be kept for a day in the refrigerator and can be frozen for longer. Allow time outside the refrigerator for the dough to warm until it is just soft enough to be rolled out on a floured surface.



Download Recipe