1.14.13
In the Soup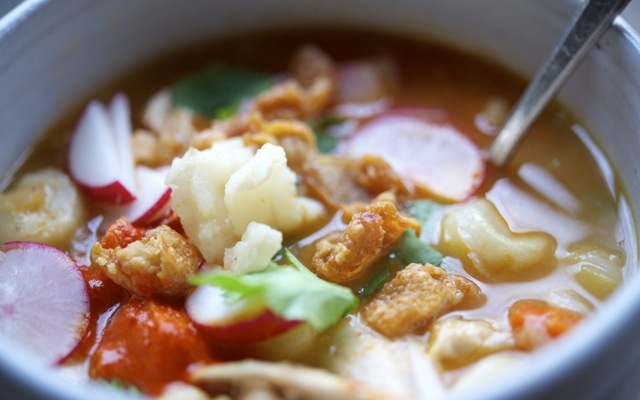 As the flu reaches epidemic proportions around the country, I can only hope there are many steaming bowls of broth being ferried to sickbeds everywhere. Take the time to care for yourself and for your loved ones with fresh citrus juices and nourishing homemade soups. These are prophylactic as well as healing. Bone broths in particular support your immunity. Noodles and rice are classic choices to soothe weak tummies, but pozole (also spelled posole)—large kernels of
hominy
—are another excellent option. In Mexico this dried maize is served in a brothy stew, most often with several cuts of pork (see my recipe for that sort
here
), but it's also delicious made with chicken. (And
here's
an intriguing vegetarian version.) I like to think of it as my own Latina take on Jewish penicillin. This is further underscored by the addition of what's known in Yiddish as
gribenes
—crisp chicken skin cracklings—for soup that turns
oy vey
and
ai yai yai
into
ahhhh
.
Pozole is made with a special kind of lime-treated corn called
nixtamal
, which you can sometimes find fresh or frozen, but you'll probably come across dried American Southwestern pozole corn (hominy) more easily in good specialty stores. Fastidious cooks like to remove the hard, pointy end from each kernel so that they splay into a rough flower shape as they cook. A fingernail works well for this job, along with a lot of patience. It's pretty much impossible to do with the dried hominy unless you soak it first. You can also just forget about this step with little consequence.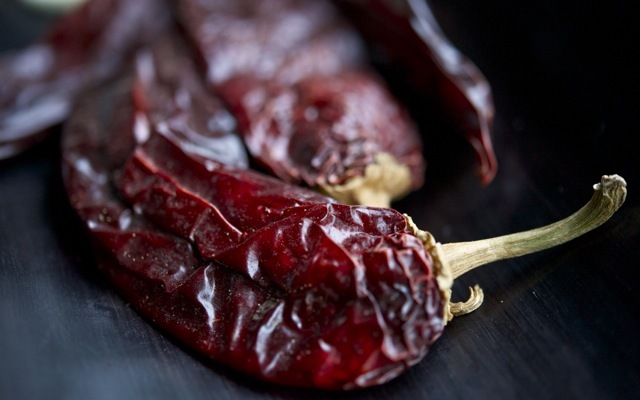 New Mexico red chiles
are fairly mild with a warm, earthy flavor. If you can't find these, try substituting California or ancho chiles. Warm them briefly in a hot skillet to bring out toasty notes.
Toasted and soaked chiles, along with their soaking liquid, form the basis of classic red chile sauce. Season it with garlic and salt; sometimes a little oil or vinegar is also added.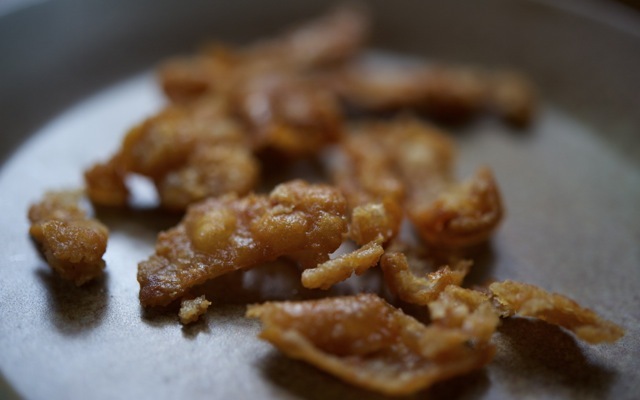 Crunchy chicken skin cracklings really elevate this pozole into the realm of the sublime. As a matter of fact, they wouldn't go amiss almost anywhere. (
This recipe
from Noma's René Redzepi looks absolutely divine.) Enjoy them, in sickness and in health.
Chicken Pozole
serves 6
— 2 1/2 cups

dried hominy

— 2

medium yellow onions; one peeled and quartered, the other peeled and diced

— 2

boneless chicken breasts, skin removed and reserved

— 5 cups

chicken stock

— 1 teaspoon

dried Mexican oregano

— 4

cloves garlic; 2 smashed, 2 diced

— 2

New Mexico chiles

—

sea salt

— 6

radishes, thinly sliced

— 1/2 cup

cilantro leaves
Cover the pozole kernels with water and soak overnight.


Drain the pozole and place in a large pot with the quartered onion and enough water to generously cover. Bring to a boil, then reduce to a simmer and cook, partially covered until tender, about an hour. Drain, reserving the liquid.


Return the pozole to the pot along with the diced onion, smashed garlic, chicken breasts, chicken stock and oregano. The kernels should be covered, so if needed, add some of the reserved pozole liquid. Simmer gently to bloom kernels and cook the chicken, about 40 minutes.


Meanwhile, stem and seed the chiles and toast briefly on both sides in a hot skillet. Place in a small bowl and cover with water.


While the chiles soak, make the cracklings.


Cut skin into strips, removing any shreds of meat. Heat up 3 tablespoons of neutral oil in a heavy skillet over medium-low heat. Add skin, seasoning lightly with salt. Stir every 5 or 10 minutes, being sure to scrape the bottom. Once the pieces of skin start to get sticky and clump together, increase stirring to break them apart. Keep cooking and stirring, until skin turns a deep golden brown and becomes crispy. You can turn up the heat to speed up the process, but be very vigilant. When they're done, drain on paper towels.


Remove softened chiles from soaking liquid and place in a food processor along with diced garlic, 3/4 cup of soaking liquid and 1/2 teaspoon sea salt. Puree into a thick sauce, adding more liquid as needed.


Remove chicken breasts from pozole and shred. Return to pot. Taste and season with salt. Stir in 1/4 cup of chile sauce.


To serve, ladle pozole into bowls and top with a drizzle of chile sauce, sliced radishes, cilantro leaves and cracklings. Pass more chile sauce at the table.


Pozole freezes well, and keeps for several months.



Download Recipe