1.10.13
Pickled Shrimp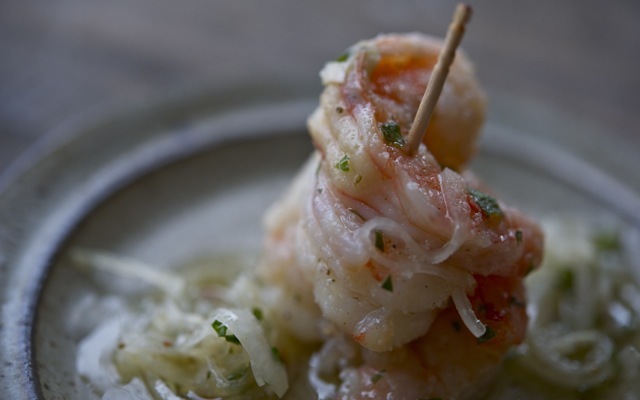 I heard Nigel Slater on the radio the other week saying that at this time of year all he wants is the food equivalent of a big, cozy blanket. You know the English love nothing better than what they so quaintly call "cauliflower cheese," and right now I can't really argue with them. I've been cooking from my favorite of Daniel Boulud's many excellent books,
Braise
, which offers flavorful, falling-off-the-bone one-dish meals that are a brilliant antidote to the mid-winter culinary blahs. But I still crave some light, bright flavors—the citrus and seafood that stand in stark juxtaposition to all those long-simmered shanks and stews—and I've found inspiration in Hugh Acheson's
A New Turn in the South
, which came out in the fall of 2011. His cooking has been described as bold, eclectic and sophisticated and I can't argue with that either.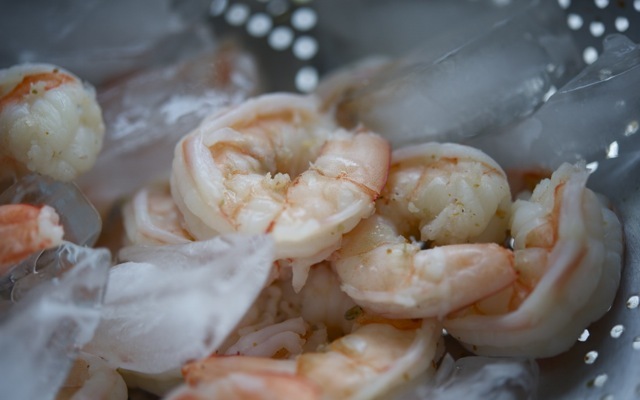 When I see fresh, wild-caught shrimp in the shell, I'll often pick up a pound to toss in the freezer. But even wild-caught shrimp has often been previously frozen, and if you forget to cook it right away you might be scrambling, as I was, to use it up quickly without necessarily wanting to eat it right at that moment. This is where pickling comes in handy. Besides, doesn't the notion of pickled shrimp set your mouth watering?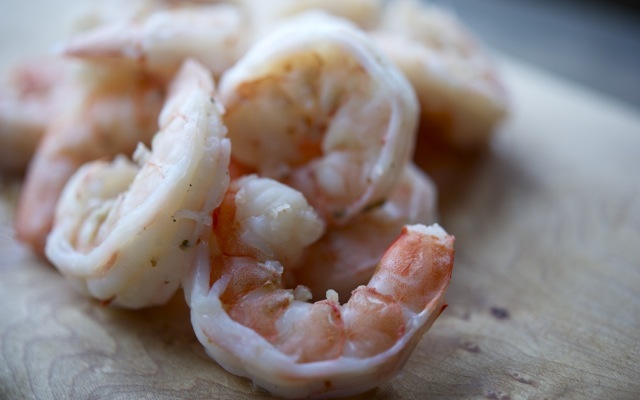 As with all things you eat, know the provenance of your seafood. You're probably aware of bad fishing practices and depleted species, but if you are ever in doubt, simply consult the Monterey Bay Aquarium
guides
—they have an online resource, an app or a little brochure you can carry in your wallet to confirm what to buy or avoid. Always devein your shrimp; just use a sharp paring knife to score down the black line along the back curve, part the flesh and rinse the gunk out.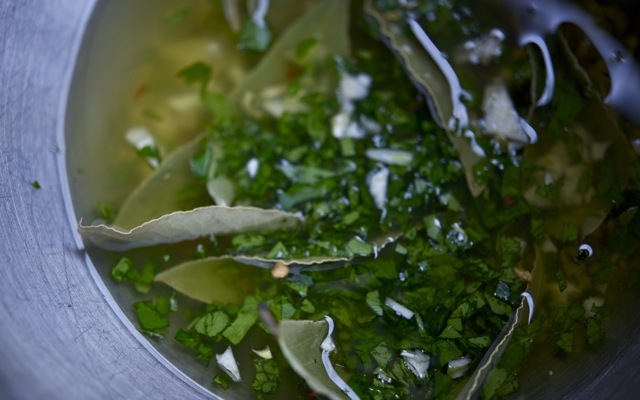 Though he is a native of Canada, Hugh Acheson (a handsome guy with a notorious mono-brow) has several popular restaurants in Georgia and has gained renown as a talented proponent of the new Southern cooking. Spicy pickled shrimp is a lowcountry favorite and he doesn't mess much with the classic recipe involving a spicy, vinegary marinade.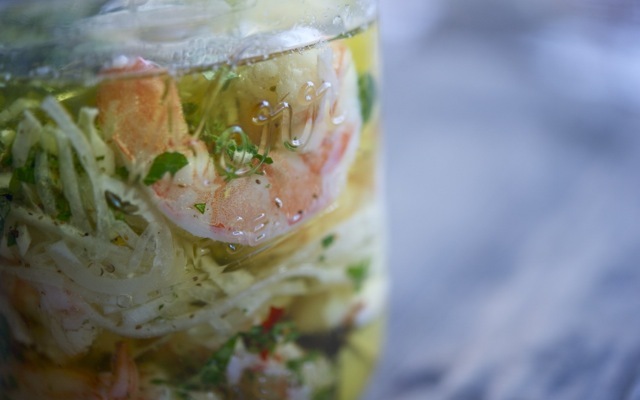 The shrimp are lightly poached and then sit overnight in an oily brine packed with parsley and sliced onion. They're great as an hors d'oeuvre, simply skewered with a toothpick, but also make a lovely first course or light lunch atop a pile of crisp lettuce. They can also be used to transform shrimp butter, another Southern classic. Just put the shrimp, some onions and a bit of the marinade in a food processor along with a good amount of softened butter and blend until almost smooth. Then spread it in the traditional manner on a crisp benne wafer, or sesame cracker. It may not be a cozy blanket of a snack but if you close your eyes, you can almost hear the cicadas singing.
Pickled Shrimp
makes about 6 cups
— 2 tablespoons

Old Bay seasoning

— 1 pound

medium shrimp (26-30 count), peeled and deveined

— 1/2 teaspoon

celery seeds

— 1/4 teaspoon

allspice berries

— 1 cup

extra-virgin olive oil

— 1/3 cup

fresh lemon juice

— 1/4 cup

packed flat-leaf parsley leaves, finely chopped

— 1 tablespoon

kosher salt

— 1/2 teaspoon

crushed red chile flakes

— 2

cloves garlic, finely chopped

— 12

dried bay leaves

— 1/2

medium yellow onion, thinly sliced lengthwise
Bring Old Bay and 8 cups water to a boil in a 4-qt. saucepan; add shrimp, reduce heat to low, and cook until shrimp are pink, about 2 minutes. Drain and transfer to bowl of ice water to chill; drain again.


Finely grind celery seeds and allspice in a spice grinder; transfer to a bowl and stir in oil, juice, parsley, salt, chile flakes, garlic and bay leaves. In a 1-qt. glass jar, layer shrimp and onions; pour over oil mixture. Cover with lid; chill overnight before serving.



Download Recipe