11.19.12
Green Day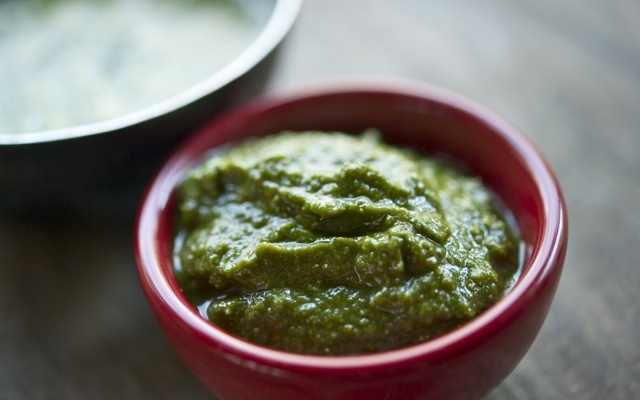 You may have noticed my total disregard of the upcoming holiday. Perhaps this is because we are going to a friend's home for Thanksgiving this year and I will not be in the kitchen. Or maybe it's just that I am weary to the bone of online discussions about the best way to cook a turkey and the incessant chatter about "sides." Upon receiving my latest issue of
Lucky Peach
, I was especially delighted to see that there was no burnished bird or puffy harvest casserole on the cover. (It's actually the Chinatown issue and, yet again, it's jam-packed with some of the most engaging and entertaining long-form food writing out there.) In fact, if I never hear anything more about quinoa, delicata squash or cranberry compote it will be too soon. Yet we must eat, and most of us will be sitting down to a major chowdown on Thursday, so I felt this was the perfect opportunity to continue the
conversation
about green sauces.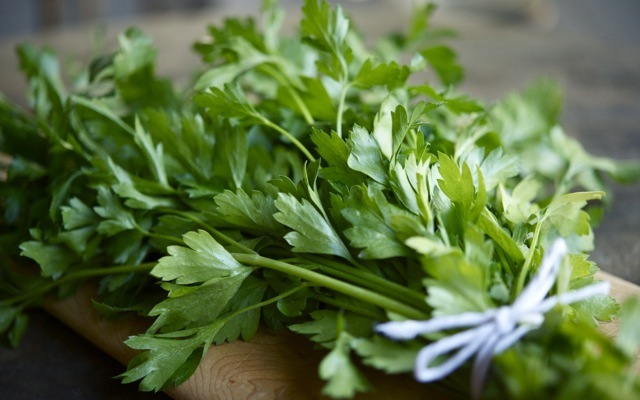 As an indication of how vital it is for you to eat loads of greens, consider that our ancient ancestors would eat up to six pounds of leaves every day! It's absurd that the USDA recommendation is for 3 cups of dark green vegetables per week. Between the processed food, the caffeinated drinks and the high-fructose corn syrup, it's no wonder people are so fat, pasty and prone to illness. You know it's true.

Dark green leafy vegetables are the most concentrated source of nutrition you can consume. They are rich in minerals (iron, calcium, potassium and magnesium) and vitamins (K, C, E and many of the B vitamins), as well as phytonutrients (beta-carotene, lutein and zeaxanthin), which protect cells from free-radical damage and eyes from age-related problems, among many other positive effects. Dark green leaves even contain small amounts of fatty acids. Talk about superfoods!

As with every part of your diet, go for variety. Kale seems to dominate this conversation lately, but don't forget Swiss chard, collards, dandelion greens, cabbage, spinach, escarole, arugula and mustard greens. Venture into an Asian market and your choices expand further to include bok choy, tatsoi, mizuna and chrysanthemum greens, for a start. Explore, experiment, excite.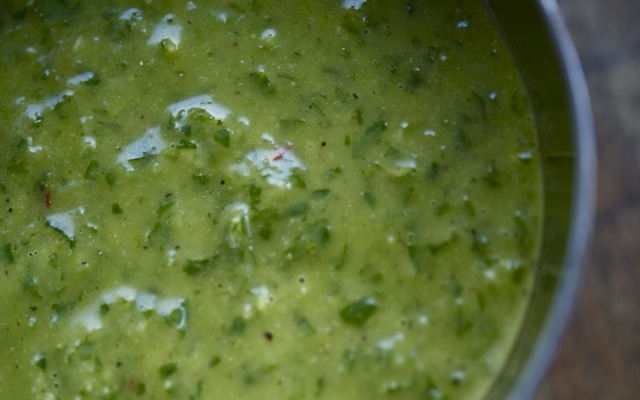 Just start tossing things into your cuisinart/blender/Vitamix. You can use raw greens, or give them a quick blanch in boiling water to tenderize them a bit. Raw is a bit more intense, but don't be put off. Simply strive for a balance of flavors by adding acid (lemon, vinegar), salt (soy sauce, sea salt, miso) and sweet (honey, maple syrup). The top picture is a thick sauce made from raw collards, apple cider vinegar, cumin, sea salt, honey, garlic and olive oil. I processed it into a puree and then kept tasting and adding until I achieved what I liked. Above is a simple variation on salsa verde, made with parsley, lemon zest and juice, red chile flakes, garlic, sea salt and olive oil. Thin these sauces with water (or the blanching liquid) if you want, or make them the satisfyingly thick texture of pesto.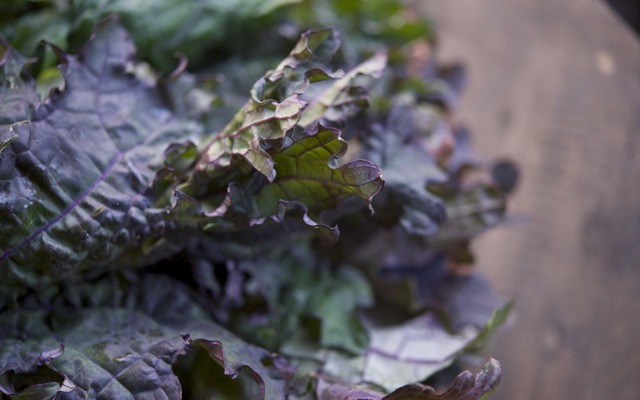 With the last of the greens from our garden, today's sauce was made with some blanched red kale, shallots, sherry vinegar, spicy pimentón, sea salt and olive oil. I pureed some leftover white beans, thinned them with homemade chicken stock to make a soup, heated it up and then stirred in a few heaping tablespoons of this vivid goop. I'm eating it right now for lunch and it's good, really good, on so many levels.

You can keep these sauces in a jar in the fridge for several days without losing any color or flavor. They are forgiving and allow for improvisation. Here are a few suggestions for how to incorporate them into every savory meal:

*Stir them by the spoonful into soups, stews, mashed vegetables (potatoes, turnips, celeriac), or roasted or steamed vegetables of any kind, rice, pasta, grains (barley, millet, etc)

*Drizzle them generously over roasted and grilled meats or tofu

*Use them as the basis for salad dressings

*Mix with Greek yogurt, cottage cheese, silken tofu or sour cream for dips (or use as dips on their own)

*Spread them on a sandwich or crostini, tuck them into a quesadilla, scramble them into your eggs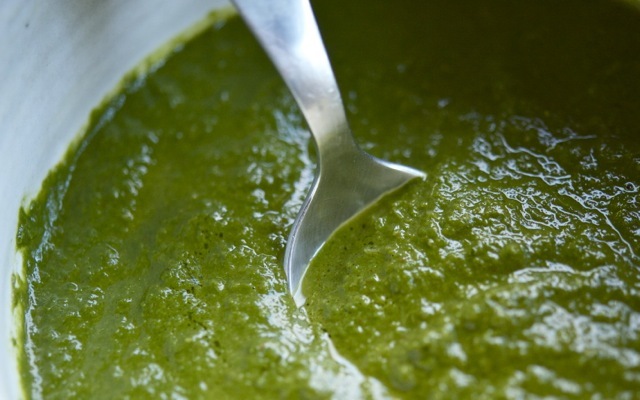 So as not to be a total bitch, I do want to give you a few ideas for the dreaded Thanksgiving sides.
This article
includes some really inspired recipes, several of which make use of green things in clever ways. I was not surprised to see the amazing
Alex Raij
featured here, and I won't be waiting until next Thanksgiving to make her
papas arrugadas con mojo verde,
salt-baked sweet potatoes with a variation on my salsa verde. And don't overlook Meeru Dhalwala's spinach-&-split-pea mash, sort of an Indian version of Ireland's colcannon (mashed potatoes shot through with a healthy dose of greens and scallions).
Need more inspiration from me? Peruse my recipes or revisit posts from Thanksgivings past (
here
,
here
,
here
,
here
,
here
and
here
). As always, all roads lead to my
pumpkin custard
served with crème fraîche and candied pumpkin seeds. Not even green sauce could improve that.
Green Sauce
makes one generous cup
— 5

large kale leaves, ribs removed

— 1

shallot, peeled and roughly chopped

— 2 tablespoons

sherry vinegar

— 1/2 teaspoon

fine sea salt

— 1/2 teaspoon

spicy pimentón

— 1/4 cup

olive oil

— 5 tablespoons

blanching liquid, or water
Bring a large pot of water to the boil, drop in kale leaves and place a lid on top. After a few minutes, remove lid and take out wilted kale with tongs. Reserve a cup of the blanching liquid and discard the rest.

Combine kale and the rest of the ingredients in a food processor, blender or Vitamix and puree until smooth. Thin with additional blanching liquid as desired. Taste and adjust seasonings.

May be stored in an airtight container in the fridge for several days.



Download Recipe