11.15.12
Cookie Monster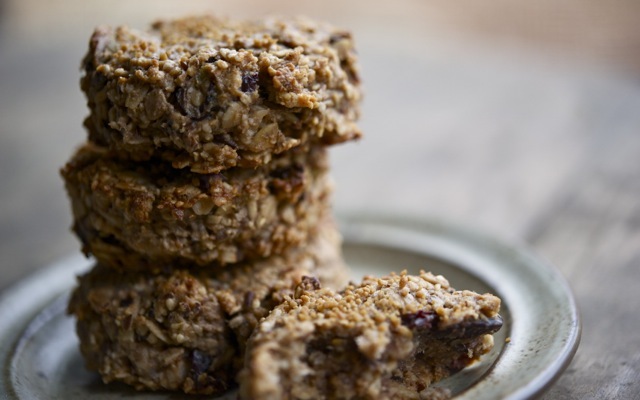 Sweet or savory? If forced to choose, I know where I stand. Not that I lack the sweet tooth that is hard-wired into our shared biology—all mammals have a propensity for sweetness because it's a good predictor of high nutritional value—but sugar is hard on my body, and over the years I have gradually learned to resist its addictive pleasures. I was not raised on soda, so thankfully I never had to wean myself from that. Nevertheless, with the holidays coming up there will be lots of temptation, what with the pumpkin pie and the eggnog and my own yearly batch of
caramels
. Between my resistance movement and the gluten intolerance factor, our kitchen sees very little baking action. For all that I have loved and adored lemon meringue pie and chocolate chip cookies and German chocolate cake and cheesecake over the years, we've simply grown apart. So when the lovely people at Tate's sent me a review copy of owner Kathleen King's new
Baking for Friends: Over 120 Scrumptious Recipes from Southampton's Favorite Baker
, I was curious if it would inspire me. (I had some inkling of what was possible, because we're occasional and enthusiastic fans of Tate's gluten-free chocolate chip cookies, which are excellent facsimiles of their crisp and buttery wheat version.)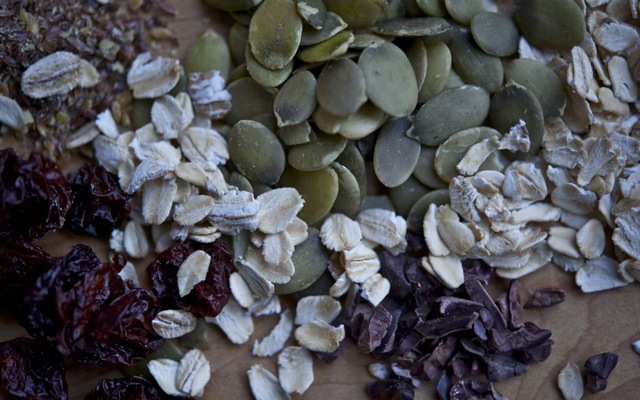 First of all, if you have a penchant for baking, you will be overjoyed at the sheer wealth of information in this new book. Kathleen King is a professional baker who got her start at age 11 selling her now-legendary chocolate chip cookies at her family's farmstand in the Hamptons. She is both passionate and pragmatic about what she calls "the art and craft of baking," and her prose style is accessible and warm. After years running her popular
Tate's Bake Shop
in Southampton—now shipping goodies to a world of fans—she is generous enough to share the many tips, tricks and techniques that separate the pros from those of us who struggle at home. They range from using a dab of butter to keep those flyaway corners of parchment paper flat on your baking sheets (clever) to sprinkling cookie crumbs on the bottom crust of fruit pies to soak up filling juices and prevent sogginess (genius).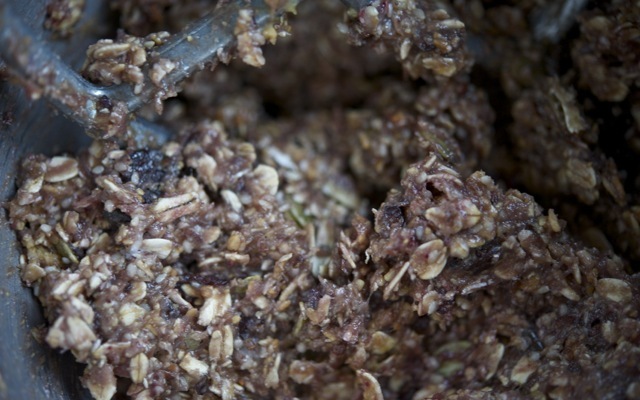 Recipes range from the sweet (key lime squares) to the sweeter (s'mores pie), including classics like date bars and rhubarb brown betty and, of course, several variations on her chocolate chip cookies. But there are also quite a few recipes that could turn my head, including a sweet potato cake with maple syrup and crystallized ginger and almond biscotti made with salted almond flour and raw sugar. And, lo and behold, there's an entire last chapter entitled "Health & Lifestyle Baked Goods." For those of us living the "lifestyle," these low-fat, whole grain, vegan or gluten-free options make Baking for Friends a great addition to our library of cookbooks. Because I just might want to eat my lemon custard in a meringue crust! And a gluten-free spice cake frosted with maple-syrup sweetened cream sounds like the perfect special occasion dessert.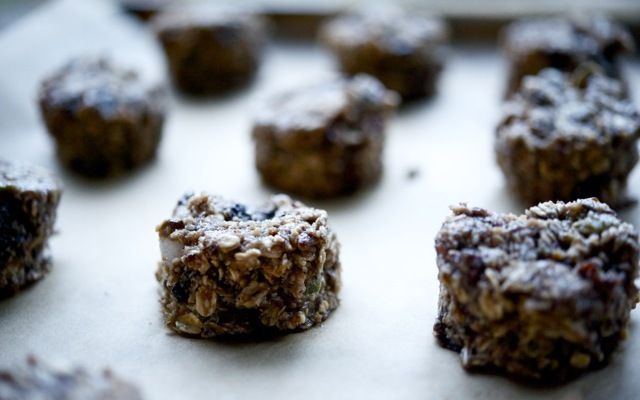 The only thing I've actually baked from the book thus far are these breakfast cookies and they are an auspicious introduction. We're often jumping into the car early in the morning to drive into the city, so something healthy and portable is in order—and challenging to come by. Hardboiled eggs, smoothies or fruit are the norm, so these chubby morsels chock-full of nourishing nuts and seeds are a great alternative. You stir together rolled oats, nut butter, maple syrup, banana, dried cranberries, ground flax, pumpkin and sesame seeds into a thick dough and bake until firm. It's an easy recipe to alter according to what you have on hand. I used dried cherries instead of cranberries, and tossed in a handful of cacao nibs, but you could easily use any dried fruit or nuts of your choice. Coconut flakes and sunflower seeds would both be good here.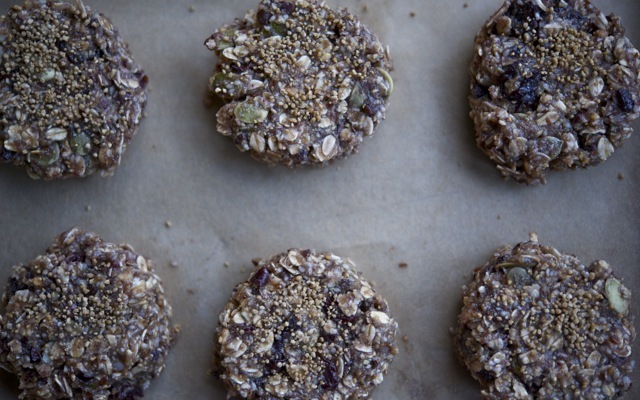 I oiled a quarter-cup measuring cup and used it to scoop out the dough. It worked like a charm, preventing any sticking. As per Kathleen's instructions, I used my 3 middle fingers to flatten out the cookies before baking. I also added a light sprinkling of rapadura on top for a sweet little crunch.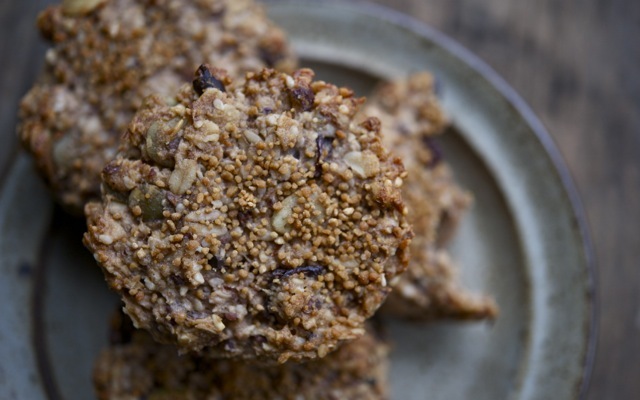 The cookies are dense and slightly crumbly with a satisfying chew and a rib-sticking quality that gets you through the morning. Have one with an apple for a healthy start to your day. They also make a great portable snack for hiking, car trips or to keep in your desk drawer at the office. The recipe makes 20 of these so, for longer-term storage, I wrapped each one in parchment, then foil and put them in a bag in the freezer. They're good enough that you'll want s'more.
Breakfast Cookies
from Baking for Friends; makes about 20
— 4 cups

old-fashioned rolled oats

— 2 cups

natural peanut butter or almond butter

— 1/2 cup

grade B maple syrup

— 1/2 cup

unsweetened apple butter

— 1/2 cup

mashed fully ripe bananas (2 large)

— 1 cup

dried cranberries

— 1/2 cup

ground flaxseed

— 1/2 cup

sesame seeds

— 1 1/2 teaspoons

sea salt
Position the oven racks in the top third and center of the oven and preheat the oven to 325 degrees. Line 2 large rimmed baking sheets with parchment paper or silicone baking mats.

Combine all of the ingredients in the bowl of a standing heavy-duty mixer. Mix with the paddle attachment just until all the ingredients are moistened and combined into a very stiff dough.

Using 1/4 cup for each cookie, drop the dough about 2 inches apart onto the prepared baking sheets. (Or use a 2-ounce food portion scoop to transfer the dough onto the baking sheets.) Flatten the tops with your 3 middle fingers; the cooies will not spread during baking.

Bake, switching the position of the baking sheets from top to bottom and front to back halfway through baking, until the cookies feel firm when pressed with a fingertip and the edges are beginning to brown, about 20 minutes. Let cool on pans for 5 minutes. Transfer the cookies to a wire cooling rack and let cool completely.



Download Recipe