10.10.12
Fritter Away
The seemingly endless zucchini jokes reached their zenith about a month ago. (
When do country folks lock their car doors? In August, for fear someone might slip a bag of zucchini in there.
) Gardens were overrun with the stuff and guests wielded big lumpy specimens the size of baseball bats as "hostess gifts." Talk abounded of zucchini bread, zucchini
carpaccio
, zucchini gazpacho, zucchini pickles, fried zucchini sticks...you get the idea. This chatter has died down, and yet I have only just pulled the last few summer squash from my garden. If you, too, are still searching for quick and delicious ways to dispense with a surfeit of this green goodness, look no further than these crispy, gooey, mint-spiked fritters. Bonus: they can even be frozen for future enjoyment, when summer is just a twinkle in your eye.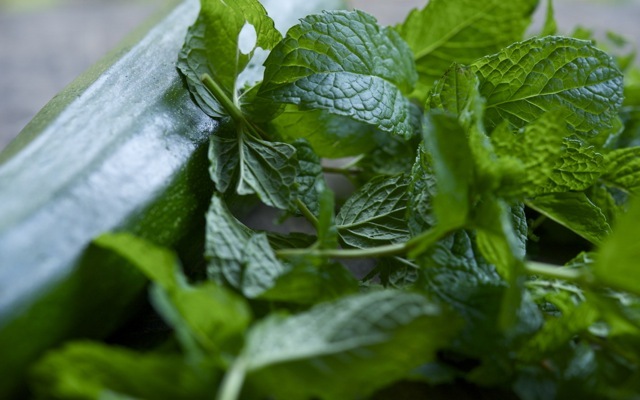 As with so many of my recipes, this one lets you take liberties. In place of the mint—or in addition to it—try basil and parsely. Out of zucchini? (Impossible!) Chopped spinach or chard or any mix of grated vegetables will a fritter make. Feeling vegan? Omit the cheese and subsitute water or vegetable stock for the buttermilk. Use all-purpose flour or rice flour; substitute cornstarch or tapioca starch for the arrowroot flour. In short, do as you will.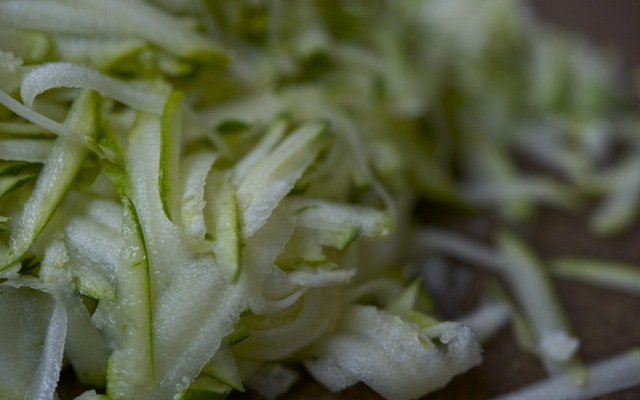 Some people tout the efficiency of the food processor, but I remain enamored of my
box grater
. It's quite sharp and always at the ready. Zucchini is packed with water so, once grated, you have to squeeze it dry. This is best done by wrapping it in a clean dish towel or sturdy piece of cheesecloth, twisting the ends up and wringing it quite forcefully. If you've ever wondered what it was like to strangle someone with a scrawny neck, well, wonder no more.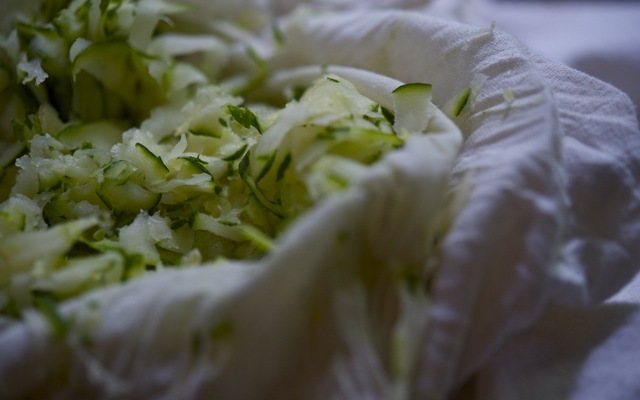 Failure to remove the water from your zucchini will result in watery fritters. You've been warned.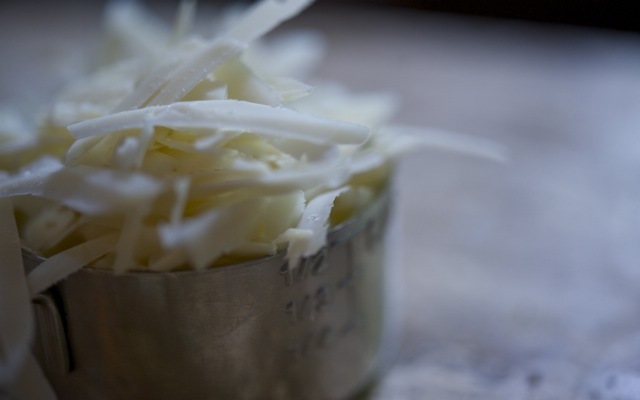 I came away from a recent visit to
Consider Bardwell
farm in Vermont with a hunk of their award-winning Manchester, an aged raw-goat tomme with a nutty bite. Along with the buttermilk, it added a nice tang to these fritters, although I've used feta to similar effect. Any sharp dry cheese you have on hand will do, including pecorino and Parmesan. I grated the Manchester on the same size holes as the zucchini, but finer would also be, er, fine.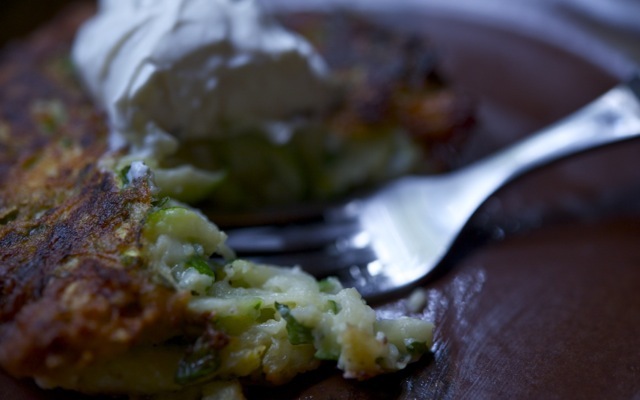 The secret to a great fritter is a dark, crispy crust, so don't be impatient and flip too soon—or, if you do, get it right on the second side, then flip again and cook the original side to the same burnished perfection. Inside, they're soft and comforting, but the last thing you want is for them to be bland, so do season liberally. Even with the mint, lemon zest, fennel pollen and cheese, these are fairly subtle; a scant teaspoon of red pepper flakes or a couple of pinches of cayenne would not go amiss. And definitely use them as a foil for whatever assertively flavored artisanal ketchups or homemade chutneys you've got stockpiled in your fridge. A blob of crème fraîche, sour cream or Greek yogurt—with or without the addition of a little horseradish—also makes a nice finishing touch.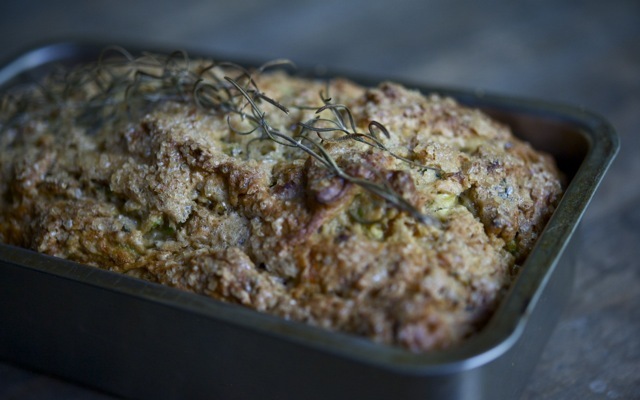 Still staring at a pile of zucchini? Whip up a cake studded with toasted walnuts, enriched with olive oil and cleverly spiced with ground ginger and anise seeds. Then sneak in a few cups of finely grated zucchini, no draining required. I baked mine in two pans and wrapped them for freezing once they'd cooled. Come mid-winter, a slice from this beautifully crusty loaf, toasted, buttered and accompanied by a steaming cup of tea, is no joke.
Zucchini Fritters with Mint & Cheese
makes 6
— 3 packed cups

grated zucchini, thoroughly drained (see instructions)

— 3/4 cup loosely packed

fresh mint, chopped

—

zest of 1 lemon

— 1/2 cup

firm goat cheese, grated

— 1/2 cup

chickpea flour

— 2 tablespoons

arrowroot flour

— 1/2 teaspoon

baking powder

— 1/4 cup

buttermilk

— 2

eggs

— 2 pinches

fennel pollen

—

sea salt

—

freshly ground black pepper

—

sunflower or olive oil, for frying
Grate zucchini on the large holes of a box grater and extract all the moisture from it. Do this by wrapping it up in a clean dish towel and squeezing with all your might, stopping only when no more liquid emerges. Set aside.

In a small bowl, whisk together eggs and buttermilk. In a separate bowl, sift together chickpea flour, arrowroot flour and baking powder. Add egg mixture and stir to form a smooth batter. Stir in drained zucchini, mint, lemon zest and cheese. Add fennel pollen, sea salt and freshly ground black pepper and combine well.

Heat a cast-iron skillet over medium-high heat. Add a few tablespoonsful of oil to cover the base of the pan. Form small compact handfuls of the batter and drop them into the hot oil, careful not to over-crowd the pan. Cook for 3-4 minutes, until the bottom is a deep golden brown, then flip and cook a few minutes more. Use a metal spatula to remove fritters from the pan and place onto a paper-towel-lined platter. Serve immediately, or cool and freeze, stacked with parchment paper between and sealed into a ziploc bag.

Download Recipe