10.8.12
Cure All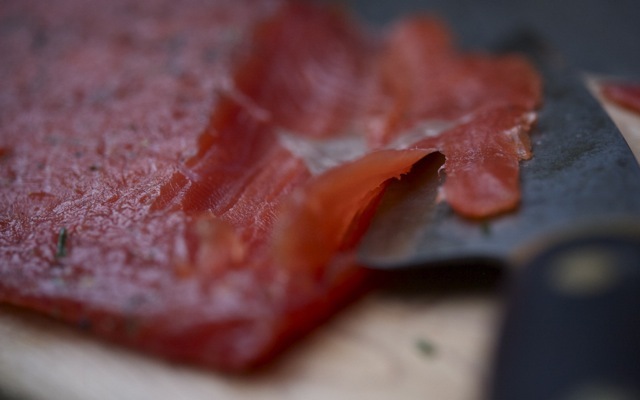 If I lived near the sea, I'd be tempted to cure salmon the way Scandinavian fishermen did in the Middle Ages, by salting it lightly and burying it in the sand above the high-tide line until it was pleasantly fermented. Thus gravlax—from grav, which means "grave," and lax, which means "salmon." The fermented kind is undoubtedly staging its comeback (along with kombucha and kimchi and every other funky thing), but if you're lacking a piece of beachfront property, you can always bury your salmon in a dry marinade of salt, sugar, spices and fresh dill for a few days. The salmon cures by osmosis, and the moisture turns the dry cure into a highly concentrated brine. This method works for most fatty fish, but salmon is the traditional favorite. It has a mild, sweet flavor and a velvety, unctuous mouthfeel that goes nicely with icy cold vodka and heated conversation.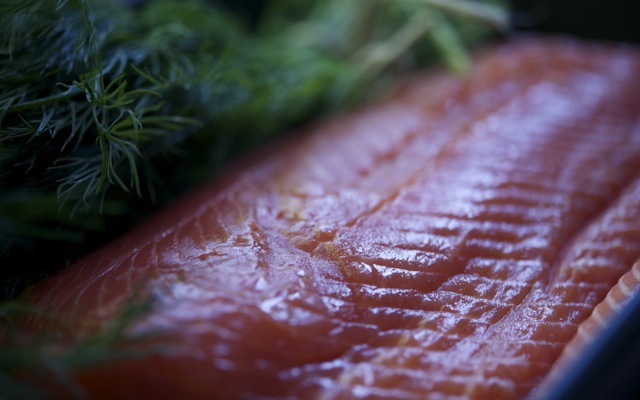 Choose your fish wisely. I opted for wild Alaskan salmon; check
here
for other
sustainable options. Before you coat the fillet, be sure to remove all the bones. I have a special pair of long-nose tweezers for this type of job; these also look good.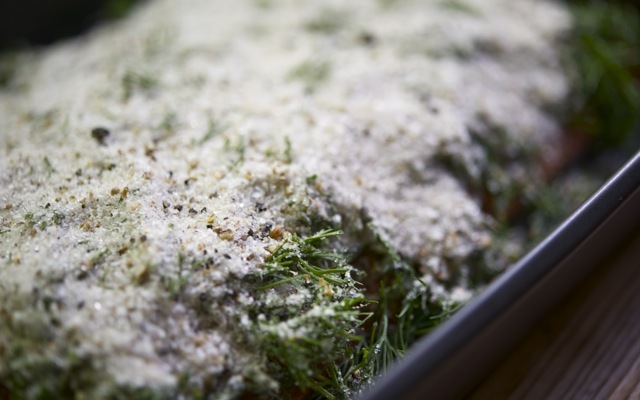 I added fennel seeds and dill pollen to the classic mixture of sugar, salt, pepper, coriander and fresh dill. I imagine caraway and red chile flakes would also be nice. Feel free to improvise, but don't get too carried away as you don't want to overwhelm the fish. You pack this mixture all around the fish, cover it with plastic wrap and then weight it down. I wrapped a large cement brick in foil, but a plate or skillet filled with heavy cans also works well.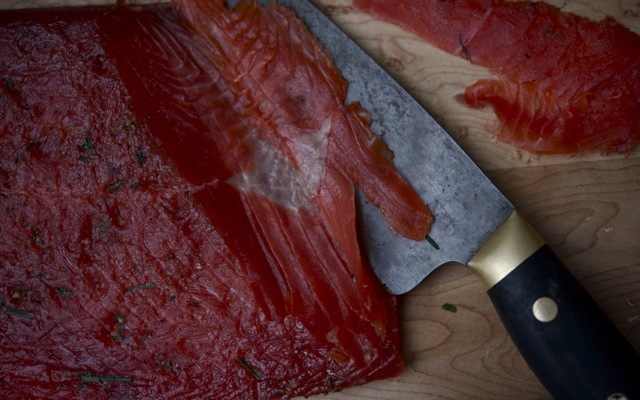 After a few days under its gritty coat—during which time it produces a copious brine with which you repeatedly baste it—the salmon turns the most gorgeous color, a rich coral red that is almost meaty. Don't go near your finished masterpiece without a razor-sharp knife. If you've ever seen the maestros at Zabar's wield their blades against those pale pink sides of lox, you know what I mean. You want pristine slices as thin as petals, cut on the bias and fanned out on a plate.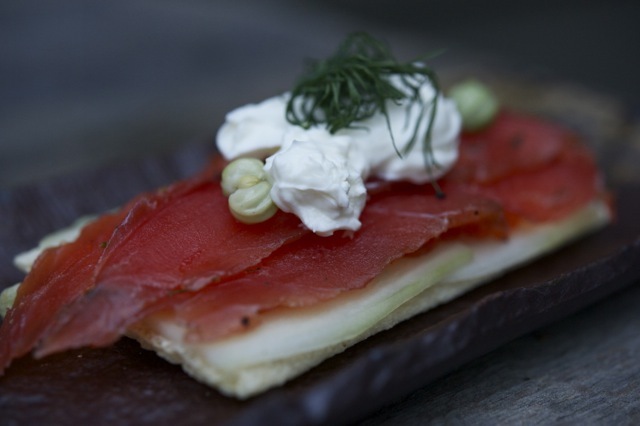 If, as I do, you fetishize the rococo accoutrements to dishes like steak tartare and Vietnamese pho, gravlax provides similar satisfactions. I served mine atop rectangular rice crackers with slivers of cold cucumber, a squeeze of lemon and a dollop of strained sheep's milk yogurt. A few pickled nasturtium buds added just the right briny zing. Any leftover bits and bobs of gravlax can be stirred into soft-scrambled eggs to excellent effect. Or gobbled up by the chef as she stands in the kitchen channeling a Scandinavian fishwife. Skål!
Salmon Gravlax with Dill
serves 6-8 as an hors d'oeuvre or part of a main dish salad (lightly adapted from Lynne Rossetto Kasper of The Splendid Table)
— 1.5 lbs

center-cut fresh wild salmon fillet, free of bones

— 1 teaspoon

whole coriander seeds

— 1 teaspoon

fennel seeds

— 1 generous teaspoon

black peppercorns

— 1/2 cup

organic cane sugar

— 1/3 cup

coarse sea salt

— 3 teaspoons

dill pollen

— 1 tightly-packed cup

coarsely chopped fresh dill
Two to three days before serving, cure the salmon. In a small skillet, toast the coriander and fennel seeds over medium heat until aromatic, shaking pan frequently. Transfer to mortar or spice grinder. Add peppercorns and crush coarsely. Mix with the sugar, salt and dill pollen.

In a shallow glass or china dish just large enough to hold the fish, spread half of the fresh dill, then half the salt mixture. Set the fillet, skin side down, on the mixture. Press the rest of the dill into the fish and then pack the remaining salt mixture over the surface. Wrap with a double layer of plastic wrap. Place a pot or cake pan atop the salmon and weight it with heavy cans. Refrigerate 2 to 3 days, turning every 12 hours and basting with the cure.

To serve, scrape the dill and spices from both sides of the fish. Pat it dry. Keep the salmon cold. Place it on a cutting board skin side down and slice very thinly, on a slant, across the grain, freeing each slice from the skin. Fan the slices out on a platter and keep cool.

Serve gravlax with sprigs of dill, wedges of lemon, cucumber rounds and capers. Pumpernickel or thin crackers go nicely, as do mustard sauce, horseradish or crème fraîche.

Download Recipe