9.6.12
A Plum Job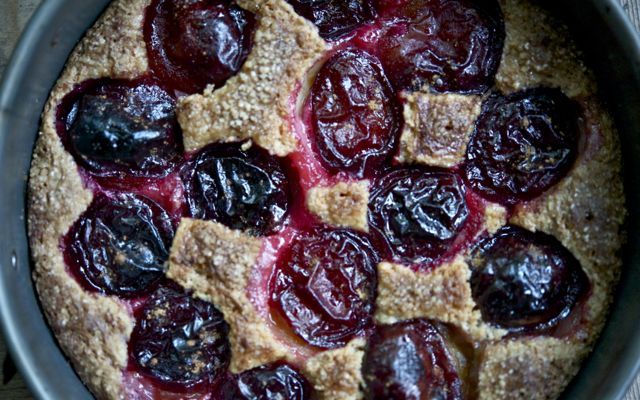 The recipe for this torte first appeared in Marian Burros' column in the
New York Times
in September 1983. I've been making it for more than two decades, but I remember it as if anew every August when Italian plums appear at the greenmarket.
Times
readers
clamor
for it so often that it's run in the paper more than a dozen times. Amanda Hesser also included it in
The Essential New York Times Cookbook
. Why is it so popular? Hesser deems it a "nearly perfect recipe" and describes it as "crusty and light, with deep wells of slackened, sugar-glazed fruit." Naturally, I couldn't leave well enough alone, but have tweaked it to include a few flavors that I think further exalt this immensely satisfying and absurdly easy recipe. Any leftovers should be covered with foil, stored on the counter and eaten the next morning for breakfast, with or without a dollop of yogurt. Now that's living.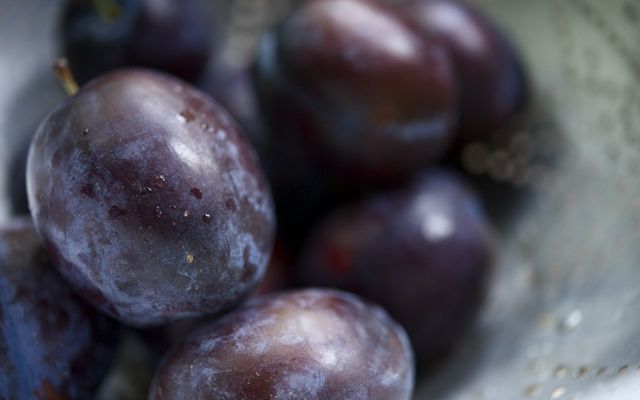 Italian plums are OK eaten out of hand but really come into their own when stewed with a little sugar, cinnamon and orange zest, or baked in rustic tarts and cakes. (Technically, a torte tends to have less flour, more nuts and an icing, so I'm not sure why this isn't called a cake—maybe the addition of whole fruit?) They are also excellent dried, as in "prunes." Their meaty flesh is a yellow-greenish color that turns a beautiful dark pink when cooked.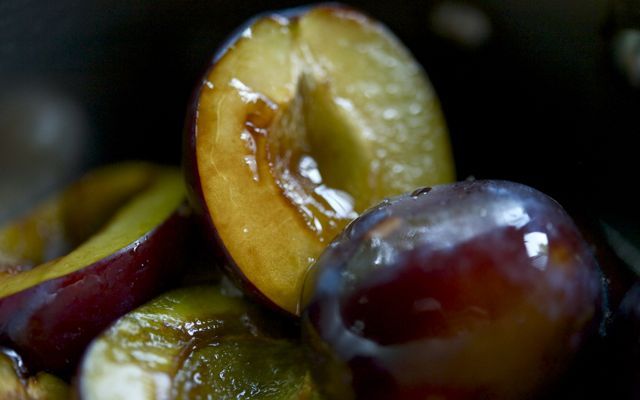 The original recipe called for a sprinkling of lemon juice over the cut plums, but I decided to toss mine with a little sugar and some balsamic vinegar. You may want to adjust the amounts depending on how ripe/sweet your fruit is.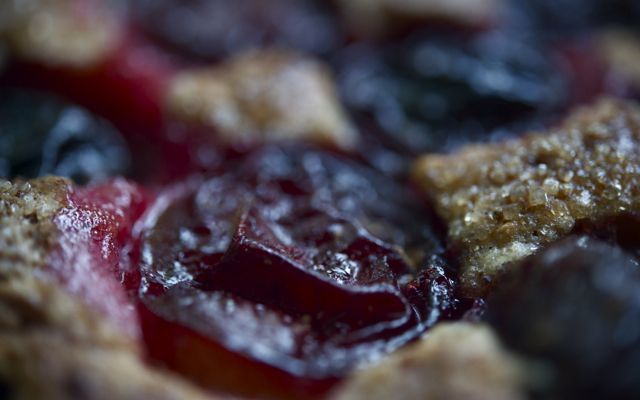 My other changes include the addition of cardamom—its spicy floral notes go so perfectly with plums—and a little lemon zest that just brightened the whole thing up a touch. I also sprinkled some coarse turbinado sugar over the entire surface to further enhance the crunchy crust. (Note: I used
gluten-free flour
and, though it doesn't puff up quite as much, it was still quite delicious.) To get a sense of how much people love this torte, read this amusing story
here
. Bake one now while Italian plums are at their peak, and join the legions of fans.
Plum Torte
adapted from the New York Times; serves 8
— 12

Italian plums, halved and pitted (other plums are also fine)

— 2 tablespoons

balsamic vinegar

— 3/4 cup

organic cane sugar, plus 1-2 additional tablespoon

— 8 tablespoons

unsalted butter, softened

— 2

large eggs

— 1 teaspoon

lemon zest

— 1 cup

unbleached all-purpose flour

— 1 teaspoon

baking powder

— 1/2 teaspoon

cardamom

— Large pinch

sea salt

— 1 teaspoon

ground cinnamon

— 2 tablespoons

turbinado sugar
Preheat oven to 350 degrees.

Toss the pitted plum halves with the balsamic vinegar and 1-2 tablespoons sugar (depending on tartness of fruit) and set bowl aside.

Sift the flour with the baking powder, cardamom and salt.

Cream the sugar and butter in another large bowl (use a hand mixer, or use your stand mixer) until light and creamy. Add the flour mixture, then beat in the eggs. Stir in the lemon zest.

Spoon the batter into an ungreased 9" springform pan. Place the plum halves, skin side up, on top of the batter. Dust lightly with cinnamon, then sprinkle the entire surface generously with turbinado sugar.

Bake until golden and the plums are bubbly, 45-60 minutes. Remove from oven and cool before unmolding. Serve plain or with whipped cream or crème fraîche.

NOTE: To freeze, double-wrap torte in foil, place in a plastic bag and seal.

To serve a torte that was frozen, defrost and reheat it briefly at 300 degrees.



Download Recipe