9.7.12
Salad Greens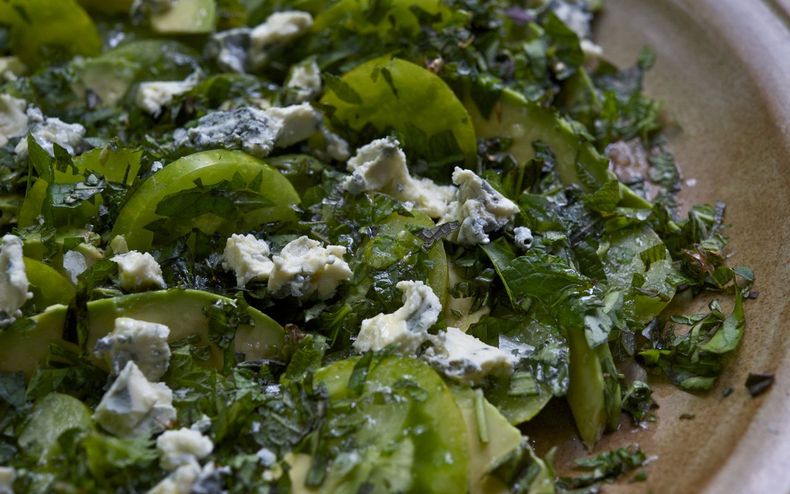 This has been a good year for tomatoes. The Brandywines are bodacious. The cherry tomatoes are sweet as candy. And the Green Zebras are running wild. Every time I turn around Mr. Green Thumb has sneaked a few more into the kitchen. Green gazpacho will be on the menu this weekend. What do you call a Bloody Mary made with green tomatoes? Don't answer that. (Shades of Linda Blair, people. If you're too young to catch that reference, consider yourself lucky.) I'm thinking green tomato sorbet, spicy green tomato jam. These are not unripe tomatoes, by the way. If you don't know Green Zebras, it's time you discovered this wonderful variety. Our local farm doesn't grow them because they can't get people to buy a green tomato. Really? These have a wonderfully clean flavor with a zingy tartness. They're no bigger than a very large plum but they pack a lot of taste. And their chartreuse color with stripes a shade darker is so very chic. Their vivid hue inspired me to make a salad with all the green things I could get my hands on, many of them from my own garden. It's art. It's health food. It's life, liberty and the pursuit of happiness on a plate.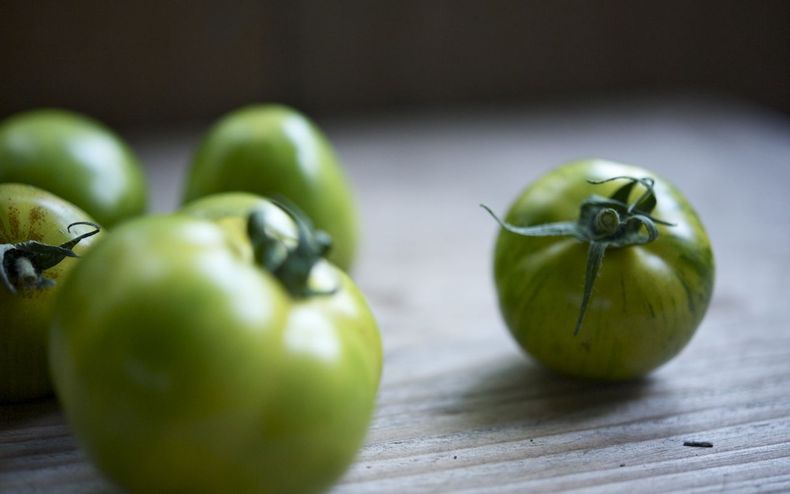 Green Zebras are not strictly heirlooms, though many people refer to them as such. When they're not good, they tend toward the mealy. Make sure you choose firm ones and hope for the best. Ours have been—and continue to be, in droves—perfection.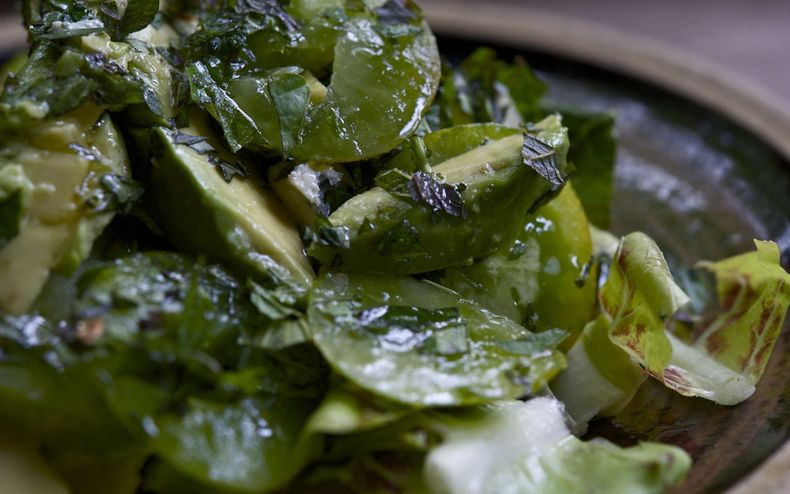 On a base of slightly bitter homegrown endive, I piled sliced green tomatoes, sliced avocado and more basil and mint than you would think advisable if you didn't have huge patches of both out back. Some crumbled blue cheese, a squeeze of fresh lime juice and a slick gloss of spicy green olive oil helped balance the flavors. This makes a perfect lunch, or a great accompaniment to anything off the grill. I'll be eating it again this weekend, as much in protest as in celebration of the garden's bounty.
Green Zebra Salad
Go crazy with the substitutions here. Think of this as inspiration, not recipe. No green zebras? Use the tomatoes you have. No blue cheese? Try a fresh chèvre. Any fresh herbs will be delicious.
—

crunchy greens, like endive or arugula, torn into bite-size pieces

—

perfectly ripe Green Zebra tomatoes, thickly sliced

—

perfectly ripe avocado, thinly sliced

—

fresh basil, mint and cilantro, roughly chopped

—

soft blue cheese, crumbled

—

fresh lime juice

—

spicy green olive oil

—

flaky sea salt, like Maldon
Build your salad by spreading a few handful of greens on a large plate. Lay slices of tomato on top and tuck slices of avocado between them. Liberally scatter herbs over all this. Dot the surface with crumbles of cheese. Sprinkle lime juice over everything and drizzle with olive oil. Shower the plate with crunchy sea salt.



Download Recipe