6.8.12
Jersey Girls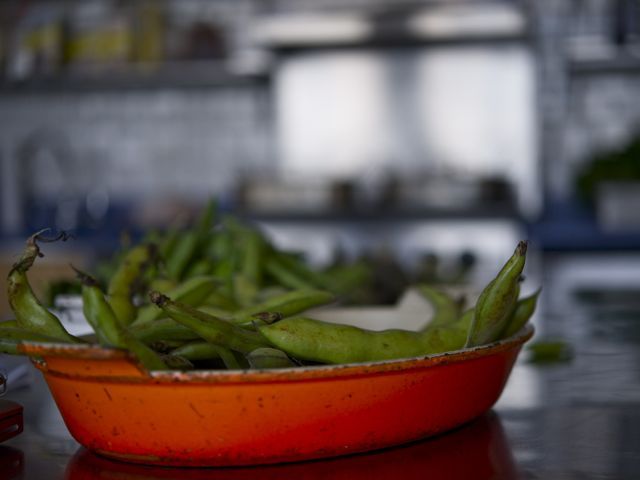 It's kind of a cliché that you run the risk of being disenchanted when you meet your heroes. Depending on how high you've raised that pedestal, it may be impossible for anyone to meet your expectations. Or, someone's private persona simply may not match a carefully cultivated public image. So it was wonderfully reassuring to encounter the women of
Canal House
this week at
ICE
—their workshop was on writing and photographing recipes (and cooking them)—and discover that they are every bit as warm and wise as I had hoped. For those of you who don't know them, Christopher Hirsheimer and Melissa Hamilton are a food writing and photography team that produces Canal House Cooking, a gorgeous series of seasonal cookbooks that has defined a new space in the publishing world. In their past lives they both worked at
Saveur
, where Christoper was a founding editor and Melissa was director of the test kitchen. (Still a favorite of mine, this magazine was truly a revelation in its earliest incarnation.) They refer to themselves as "home cooks," but this is a bit like Einstein calling himself a professor.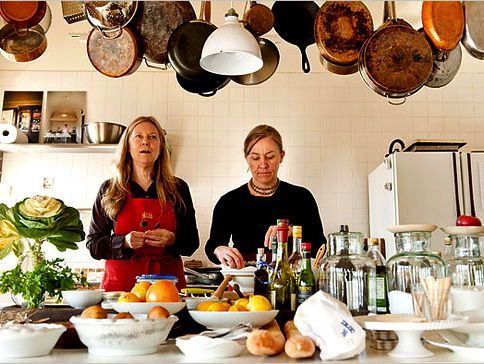 I love that Christoper and Melissa found a way to reinvent themselves outside the traditional parameters of the magazine and cookbook worlds; that they live outside Manhattan but are still making a splash; that they cook with local ingredients but will pick up and move to Tuscany for a month to immerse themselves in Italian cooking. Canal House is their studio and kitchen in Lambertville, New Jersey, a former newspaper office with a sunny kitchen and a view onto a towpath of the Delaware Canal. Apparently it's as picturesque as it sounds.
They brought lots of seasonal, farm-fresh stuff for our lunch at ICE, including fat Jersey asparagus, English peas and fava beans—a splendid spring trifecta.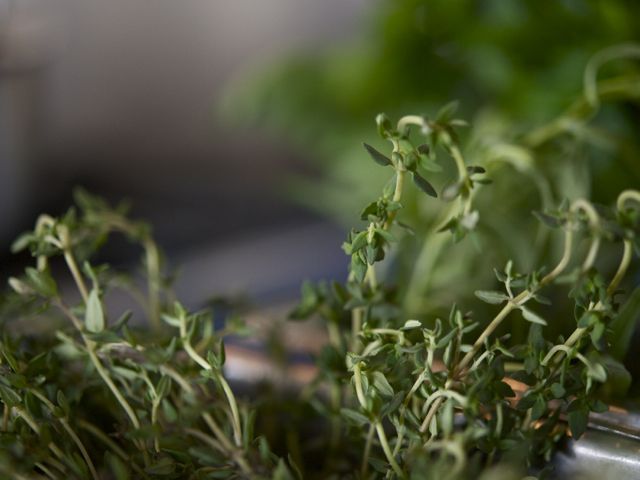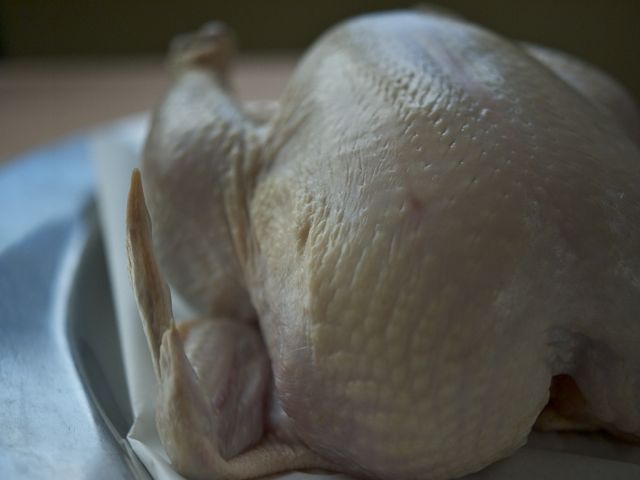 There were also a couple of bodacious birds, as fresh and glistening as can be. Christopher referred to one as "Marilyn Monroe," it was so creamy and voluptuous.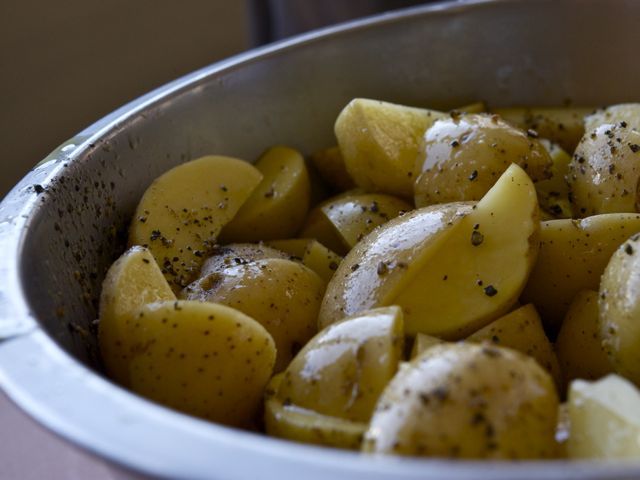 Quartered potatoes, doused with olive oil and plenty of black pepper (freshly cracked with a mortar and pestle) were set into a pan to catch the drips from a butter-rubbed chicken roasting directly on the oven rack above. They came out soft and saturated with flavor, wonderfully caramelized around the edges.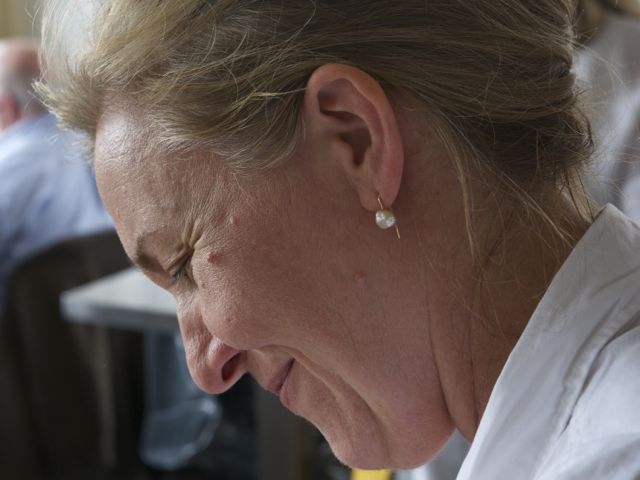 If you read
Blood, Bones and Butter
, the memoir written by Melissa's sister Gabrielle, you know about the pervasive influence of their French mother. You can see it in Melissa's upswept hair and neatly cinched apron, in her perfect vinaigrette (on a delectable escarole salad with preserved lemon) and in the way she quickly and efficiently removed Marilyn's backbone.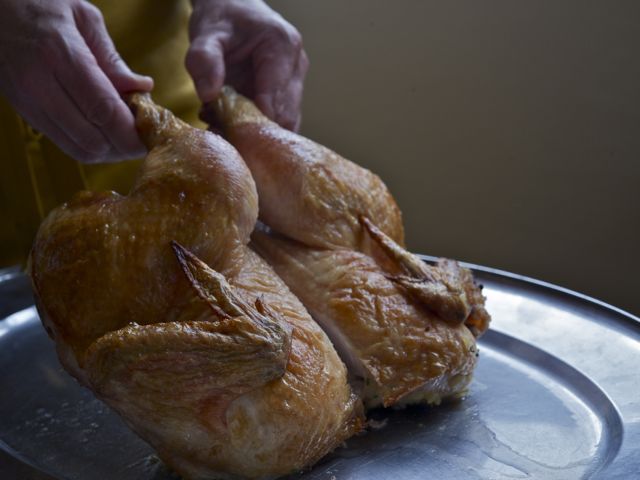 The result was a beautifully
spatchcocked
chicken that cooked flat to a crispy burnished perfection.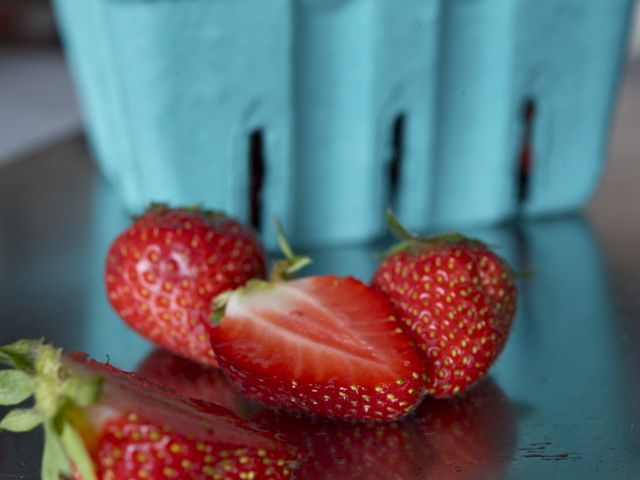 There were 9 of us in the workshop and, as we all pitched in to shell and hull, we also grabbed our cameras to document the lovely moments happening. It was a relaxed and informal atmosphere, full of the Canal House aesthetic referred to by the New York Times as "artful neglect." Christopher and Melissa called out helpful tidbits of information, encouraging us to let the ingredients shine, to seek out the prettiest light and, most of all, to cultivate our own unique viewpoints. When I complained about my ineptitude with the whole lotta camera that is G's Nikon (and also my ignorance of Photoshop), I was told to simply learn what I needed, as I needed it. Wise words, and rather comforting.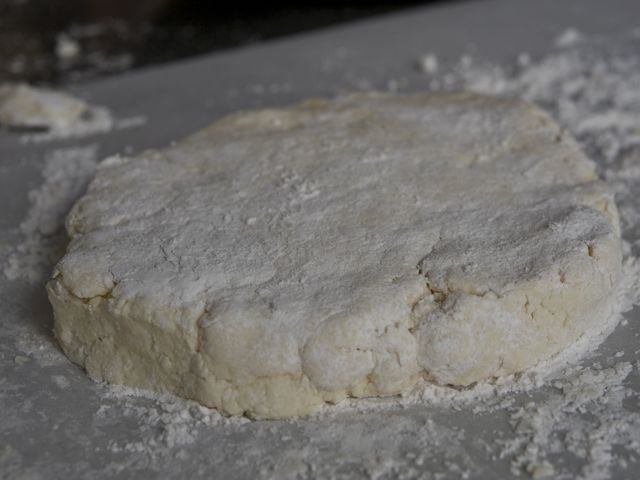 For dessert there was strawberry shortcake with astoundingly tender cream biscuits made from Christopher's family recipe and the reddest, ripest "masherated" berries (a new word I coined for when you sugar and smash them into a juicy mass).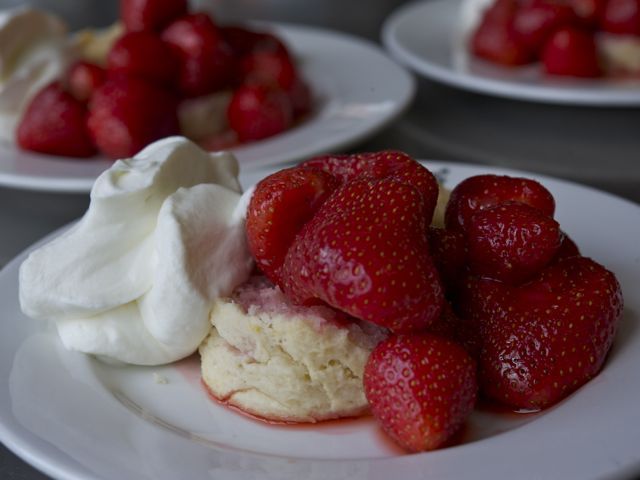 I left the workshop feeling sated, truly satisfied. Despite their success and sophistication, these women are the salt of the earth, open and engaged and generous with what they know. They even
post
what they eat for lunch every day. And really, that says it all.
Strawberry Shortcake
from Canal House Cooks Every Day in Spring
serves 6-8
— 2 tablespoons

salted butter, softened

— 2 tablespoons

melted butter

— 1 1/2 cups

chilled heavy cream

— 1 teaspoon

salt

— 2 teaspoons

sugar, plus more for sprinkling on top

— 1 cup

cake flour

— 1 tablespoon

baking powder (preferably aluminum-free)

— 1 cup

all-purpose flour

— 6 cups

small ripe strawberries, hulled and macerated with 1/4 cup sugar

— 1 cup

heavy cream, whipped to soft peaks
Preheat the oven to 425.


Whisk together the flours, baking powder, sugar and salt in a mixing bowl. Add the cream, and gently mix with your hands until the dough holds together. Place dough on a lightly floured surface and knead a few times (don't overwork the dough or it will become tough). Gently flatten the dough with your hands and shape into an 8" round about 1/2" thick.


Slide the dough onto a cookie sheet. Brush the top and sides with melted butter and sprinkle with a little sugar. Bake for 15 minutes, then reduce the oven temperature to 325 and bake for 10 minutes more. While the biscuit is warm spread with the softened butter.


Place the biscuit on a cake plate, spoon the strawberries with their syrupy juices over it, and top with whipped cream.



Download Recipe