6.22.12
Portlandia!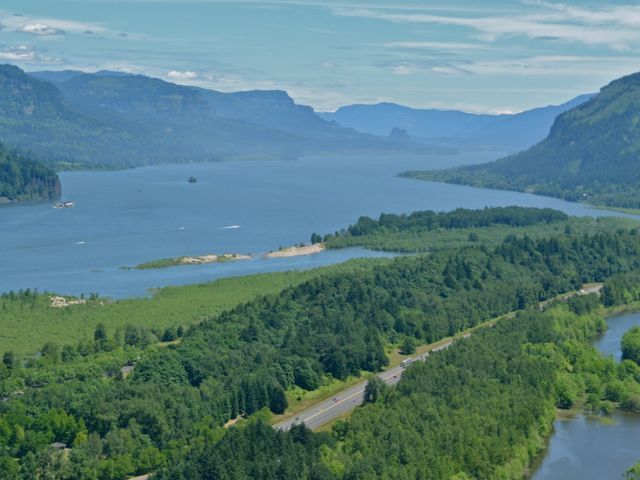 There are things to do in Portland besides eat. It's the perfect place to stop and smell the roses, quite literally. The gardens there are full of them, overblown heirloom beauties, the more delicate wild ones, and climbing roses draped over fences and arbors. We actually saw a huge tree that had been entirely and spectacularly overtaken by one of these! If you know nothing about Portland, you can always get a quick primer from
Portlandia
, the IFC comedy written by and starring Carrie Brownstein and Fred Armisen. We didn't ask any locals what they think about this wacky and loving spoof of their hometown, but I imagine they are secretly flattered. The show even coined the indie-ubiquitous tagline "Put a bird on it!"—a reference to the way the artisanal/locavore/crafts movement seems to think everything (coasters, t-shirts, cupcakes) can be improved with an illustration of a bird. Amusing. Anyway, there's no doubt that Portland is full of freaks, and I say that with full admiration. White dreadlocks, rococo tattoos and more than the average number of people muttering to themselves, not to mention an assload of Birkenstocks and Patagonia. Shades of my own hometown, Santa Cruz, California. The people-watching is good, as is the hiking and, believe it or not, the shopping.
The natural beauty of the Pacific Northwest is legendary, and the Portland area is especially known for the Gorge, an 80-mile stretch of canyon where the Columbia river winds westward through the Cascade Range. It contains various ecosystems, from rain forest with amazing waterfalls to grasslands to dry woodlands full of conifers, maples, cottonwood, Oregon ash, and oak. Lots of wildflowers thrive here, but we just missed their peak. If you look closely at the photo above, you can see the meadow still dotted with the electric blue mop-tops of bachelor buttons. We hiked out to the
Rowena Plateau
at the Tom McCall nature preserve and enjoyed the gorgeous vistas.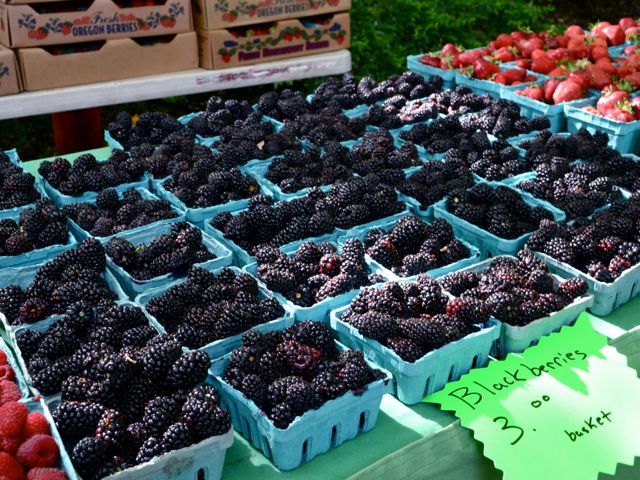 On Saturday mornings, on the university campus, there is a
farmers market
that is not to be missed. I was desperately sad not to be cooking as the local produce was pristine, including artichokes to rival anything I saw in Venice and the most amazing berries ever—firm, juicy cherries; enormous, sweetly funky blackberries; perfumey first crop strawberries.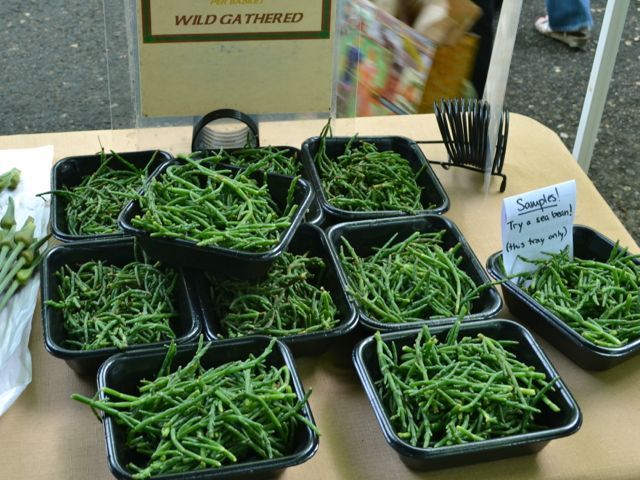 We did get to try these local sea beans at Ned Ludd; they're a bit watery and briny, and I've yet to really fall in love with them. I'd like a chance to prepare them myself. Maybe fry them in a tempura batter.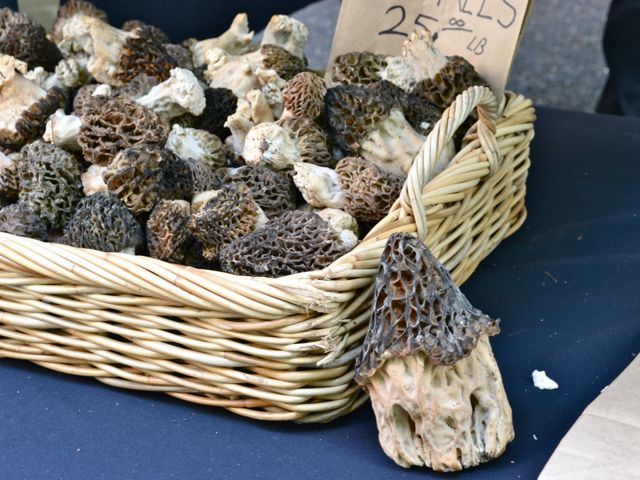 Some of the morels were as big as my fist! The forager told me that the season for them in Oregon lasts about 3 months (compared to the 3 days we get here, if we can find any). We ate some at Navarre and they were earthy, dark and wonderfully spongey, the perfect vehicle for a rich, buttery sauce.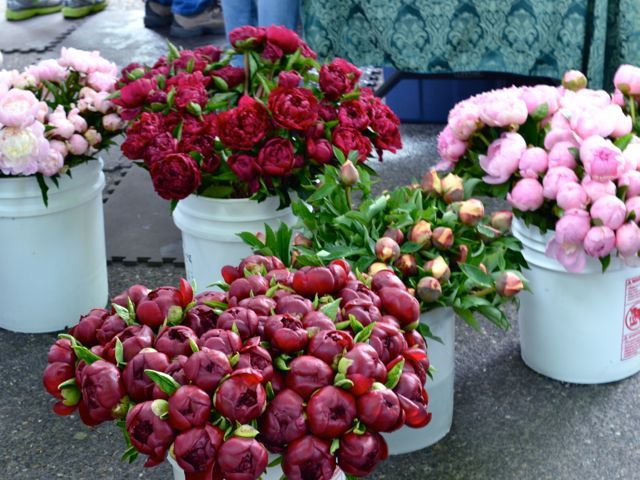 What I would have given to be able to fill my house with these peonies! Are you beginning to get a sense of just how lush things were in Portland? They even had the heartbreakingly beautiful coral ones that are rarely seen in markets. I am already thinking about where I can squeeze some into my garden (which has simply exploded, by the way.)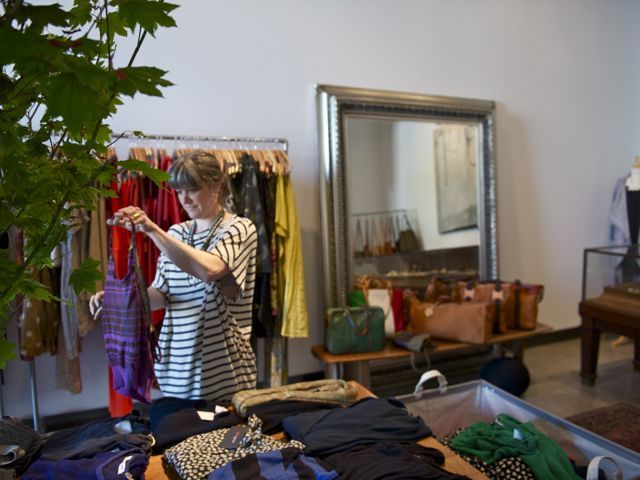 My first stop in Portland was
Una
, the extremely tasty boutique of my new friend Giovanna. Not only does the woman know how to eat (she married a chef!) but she has exquisite taste and wonderfully eclectic style. It might just be wishful thinking, but I do feel like we were separated at birth. I wanted everything in the store, from Monica Castiglioni's sculptural bronze jewelry to a funky Rodejber caftan (which I bought) to the
jolie-laide
70s pottery that is so up my alley. G has already been alerted that he can shop on the website.After hearing me profess my love for an upstate life of overalls and sweats, Giovanna sent us to
Hand Eye Supply
, a fantastic shop specializing in workwear, tools and design supplies for artists and people who like to muck about in the dirt. I got a fabulous demin coverall that I will wear to death.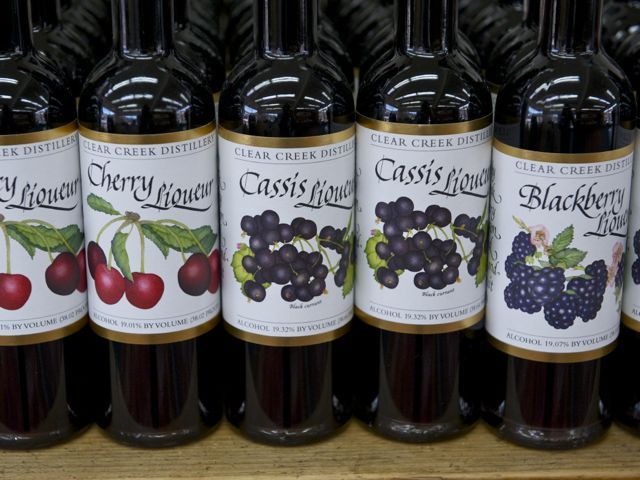 Portland has quite a few breweries and distilleries, and we were able to squeeze in a visit to the renowned
Clear Creek Distillery
, where they use traditional European pot stills to transform Oregon's motherlode of delectable fruits into some stellar eaux de vie. We bought many flavors—including a loganberry liqueur that is satiny and sweet—and soon I'll begin experimenting with different ways to cook with and drink them.
Most of what they offer is fairly traditional (in a good way), but they do make an eau de vie from the young tips of the Douglas fir tree that they harvest locally. It is piney, sharp and highly aromatic, not unlike my
white pine syrup
. I see these two meeting up in a cocktail very soon.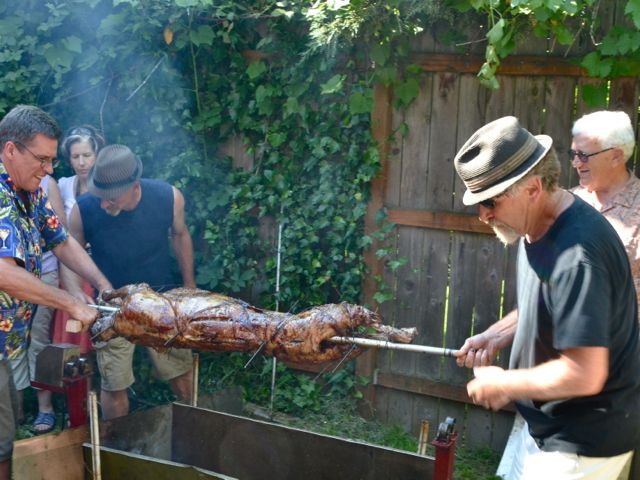 The real impetus for our trip to Oregon was to see my nephew graduate from University of Eugene. The day before, family and friends got together for a celebration that featured a whole local lamb roasted to perfection on a homemade spit (mechanized, not hand-cranked).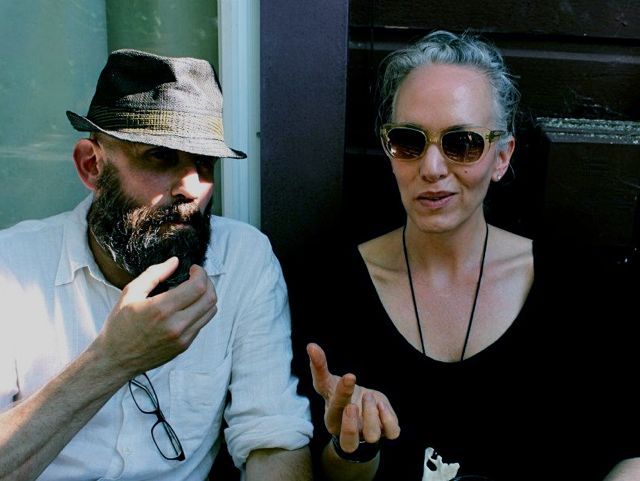 It was a beautiful day, a happy occasion and, as you can see, when in Oregon you're never far from a good meal. The state motto is "She Flies With Her Own Wings"—it's either an allusion to letting your freak flag fly, or a suggestion for how to drop a few pounds on your way home. Maybe I should have skipped the plane...