6.20.12
PDX: R&R&R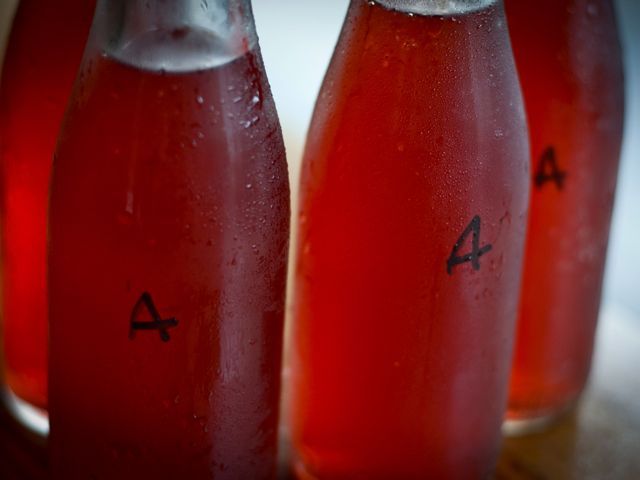 PDX is the code for Portland International Airport, and it's ubiquitous there as a shorthand brand, sort of like Manhattanites use NYC. We went there for some R&R&R—that's rest, relaxation and restaurants. We got very little of the former and plenty of the latter. What a gorgeous place! I discovered that it's known as "The City of Roses" because its climate—warm, dry summers and wet but mild winters—is ideal for these sometimes finicky flowers. All over town we saw lush gardens overflowing with fragrant roses and other blooms, tall grasses and incredible old trees. We stayed at the
Ace
, a slightly more quirky and rustic version of the one we stay at in New York, and I recommend it, especially if you don't mind rickety elevators, super-casual service and a Stumptown coffee outpost in the lobby. Even better, off the other side of the lobby is
Clyde Common
, a sweet place that describes itself as a "European style tavern," although I'm not really sure why. It's definitely the prototypical Portland-style farm-to-table eatery. The bar, run by cocktail king
Jeffrey Morgenthaler
, is not to be missed. We were instantly addicted to his clever new take on the Americano—a mix of sweet vermouth, Campari and orange oil that he carbonates and bottles himself. We will be doing that at home very soon, so stay tuned.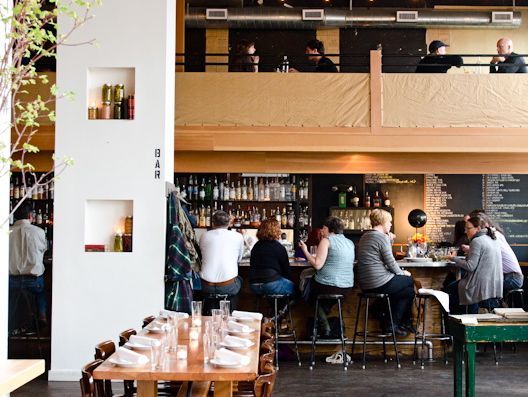 Sitting at the bar, eating truffled popcorn and sipping icy Americanos, watching the tattooed youth of Portland do its thing, is not a bad way to while away a couple of hours. I also enjoyed a delicious strawberry salad with buttermilk granità and a garnish of fresh chives.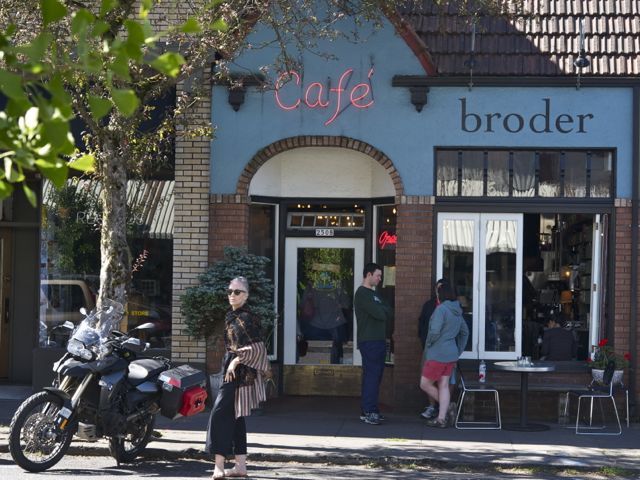 Our first morning in Portland, we ate at
Broder
, a cozy Swedish café known for brunch. A cool breeze wafted through the open window as we sipped spicy Danish Marys.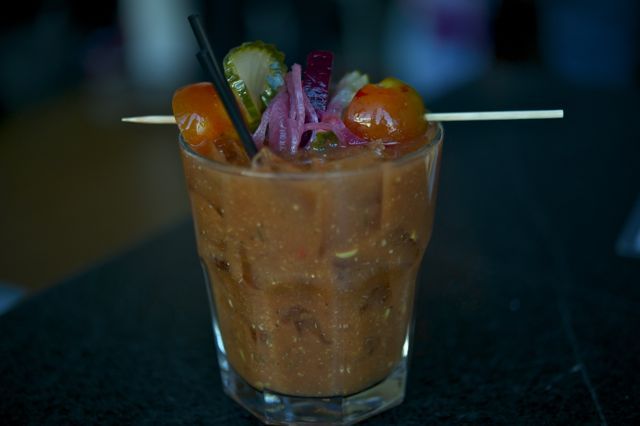 We had ours virgin, but they are also available spiked with Aquavit. They come fully loaded with cumin, coriander, caraway, cracked pepper, a celery-salted rim and a toothpick full of pickled vegetables. Will also be recreating this soon...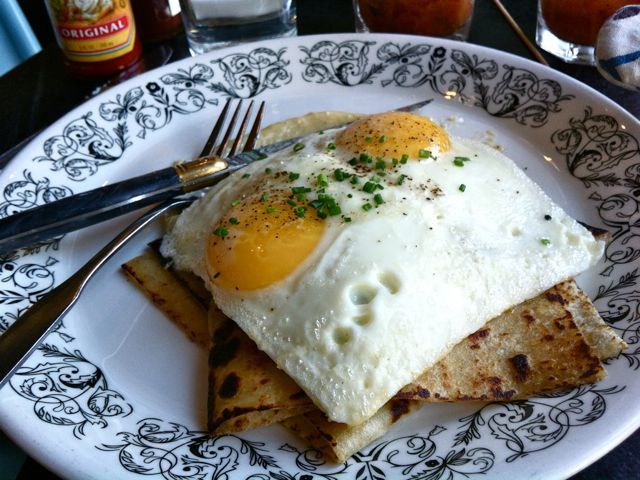 My lefse—Norwegian potato crepe—was a revelation, something like a very fine, chewy flatbread. It was stuffed with thinly sliced ham and a bit of farmers cheese and garnished with a couple of fried eggs. Reader, I ate only half, I swear, but it was a challenge. Broder is highly recommended as a fortifying way to start a Portland day of hiking or competitive shopping.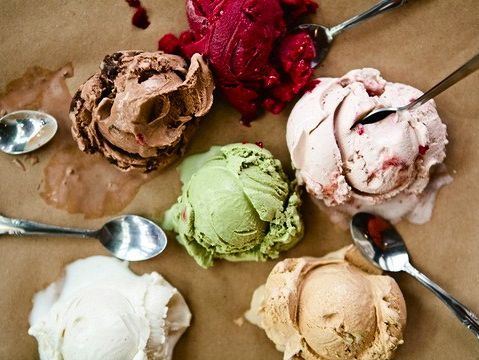 After that breakfast— and because we had exciting dinner plans—we decided to skip lunch in favor of ice cream. This is the sort of thing you can do on vacation. We made our way to
Salt & Straw
, where ice cream is made by hand in small batches from farm-fresh ingredients. They collaborate with local restaurants on limited runs, and I had read about their lemongrass and kaffir lime ice cream swirled with fish sauce caramel and showered with Korean chili flakes that was the result of a gonzo partnership with
Boke Bowl
, but "alas" had to settle for
Aviary
's toasted coconut with sesame crunch and boysenberry-ginger jam (yes, that's all one flavor). Fortunately, they offer a "tasting flight," so I was also able to sample buttery arbequina olive oil, tongue-tingling sea salt with ribbons of caramel, and the decadent honey balsamic strawberry. Glad I don't live nearby.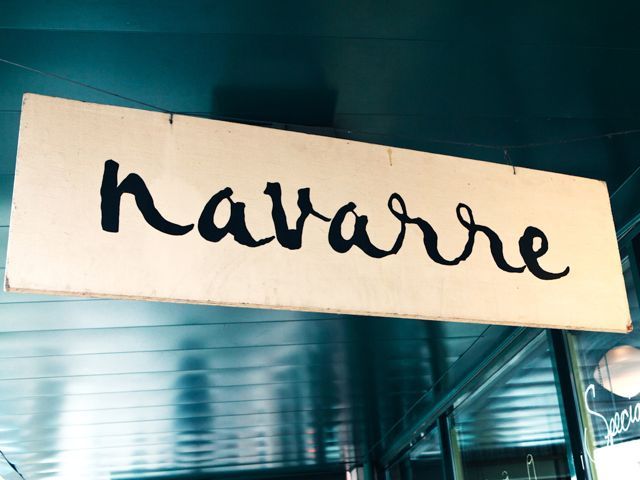 Dinner that night was a splendid occasion, a happy chance to meet one of my readers, Giovanna Parolari, who lives in Portland and runs a fabulous boutique,
Una
, (more on that later) and two restaurants (a third one is coming!) with her chef-husband, John Taboada. When you get an invitation to dine with the chef/owners, well, what could be better?
It turns out that
Navarre
pioneered Portland's Eastside food scene when it opened in 2001, and it's still going strong. John's menu draws upon French, Spanish and Italian influences, and so does the ambiance. The place is warm and casual, super congenial and bursting with great food and wine. Walls are lined with shelves stocked with preserves, made with the overflow from the fresh produce of a nearby farm to which John is firmly committed. He cooks according to what this farm produces, and he also butchers local meat and makes charcuterie. The food is authentic, creative and delicious.
Higher praise cannot be delivered than to say I was way too busy enjoying to take any photos. I did manage a few notes, and so can give you highlights of our meal at Navarre: a big hunk of fried Montasio cheese (crispy, gooey, INSANE, maybe my favorite thing of the whole evening); thinly sliced potatoes layered with nettles, doused with milk and cooked into a sultry, melting cake; crab cakes with green tomato jam; tart wood sorrel salad; foie gras with a purple-tinged edge from poaching in port and wine, imbued with an agreeable hint of cumin; pea shoot salad with cherries and cheese; fresh chorizo (the Spanish kind) fried in red wine; head cheese; country paté; bratwurst with pickled beets; pork belly with pickled watermelon rind; tiny turnips with mustard; fresh strawberries with whipped yogurt...oh, and the wines. All I remember is a crisp white from Slovenia that tasted of minerals and greens...but there were many, each more delicious than the last, from sparkling to red and back again.
If you can only eat at one place in Portland, skip Pok Pok and head straight to Navarre.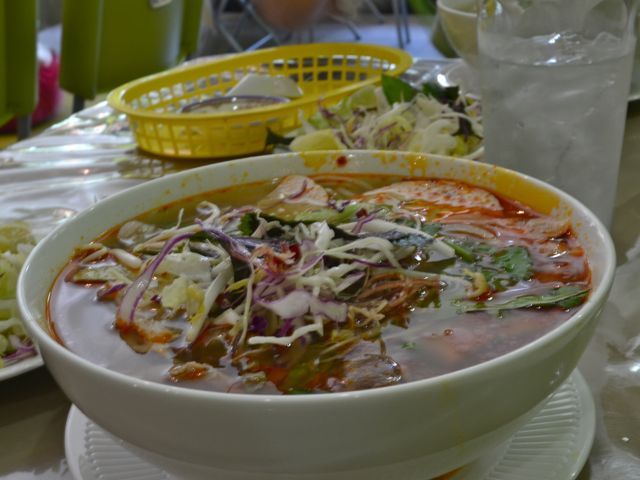 When we were ready to eat again—many,
many
hours later—we went, on John and Giovanna's recommendation, to a little Vietnamese noodle joint in a mini-mall in the middle of nowhere.
Ha VL
serves traditional soups,
banh mi
sandwiches and fruit smoothies to the local Asian community and in-the-know gringos. Delicious rich broths hold slurp-worthy noodles and a few slices of meat to which you add fresh herbs, sprouts, shredded cabbage and lime. My spicy pork version had me schvizting in no time. G's mango smoothie was divine. After lunch, stroll over to the Asian supermarket next door. I picked up some palm sugar, a jar of crab paste and a big bag of fried shallots before I was dragged away to go hiking in the Gorge.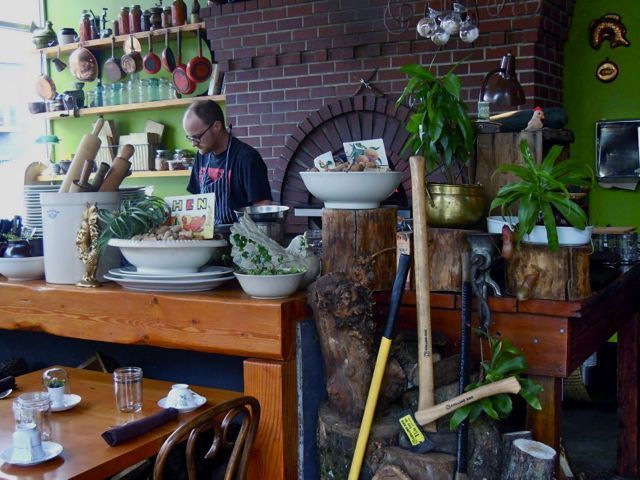 We were hard pressed to choose among Portland's many lauded eateries, but Ned Ludd came recommended by a few friends. G thought the place would be lit by candles and serving food from the grill only (the term
Luddite
derives from the restaurant's namesake) but it was rather more conventional than that. Very homey and rustic, it also upholds the farm-to-table ethos, featuring only what's in season.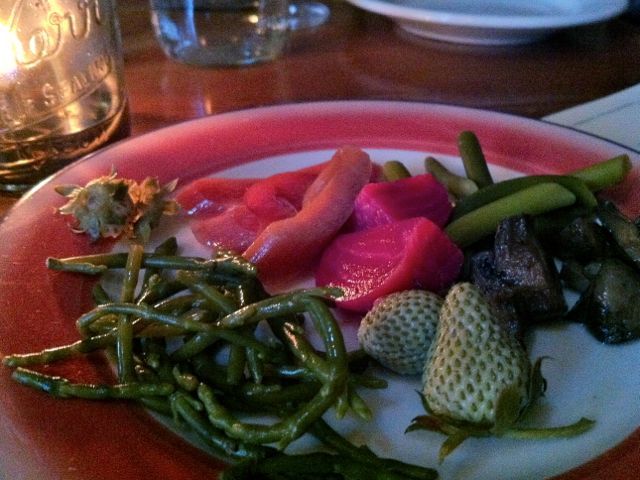 I enjoyed this plate of pickles with beets, rhubarb (delicious), green strawberries (intriguing) and sea beans, a succulent also known as "glasswort" that thrives in a saline environment.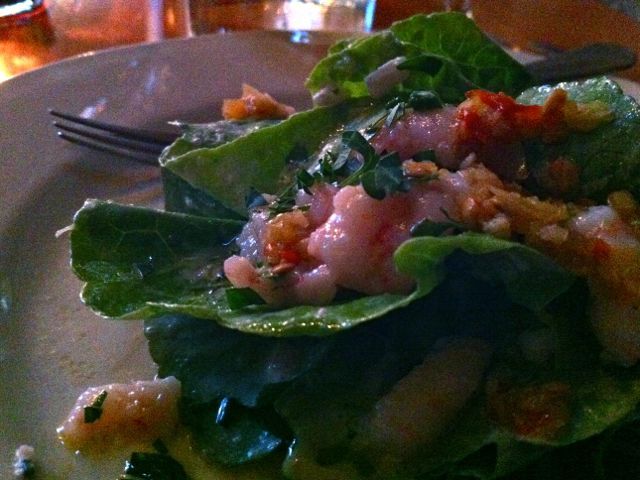 I liked this simple salad of little gem lettuce and tiny, sweet bay shrimp, and G had a wonderful wild salmon, but overall, the meal was not especially memorable.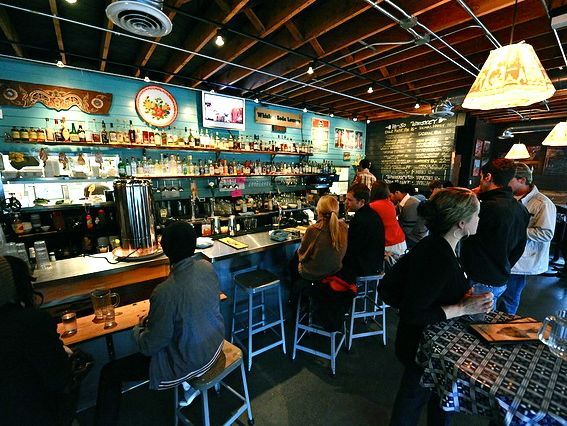 The same cannot be said for our visit to the world of Andy Ricker on our last night in Portland. We turned up at
Pok Pok
early on a Monday night and there was still an hour wait! Luckily, they got smart and opened
Whiskey Soda Lounge
across the street. It's basically a holding tank for people waiting on tables at Pok Pok, but you could get caught up and never leave. The cocktails are fresh and imaginative, and the snacks make a memorable meal.
I had two of these: fresh grapefruit juice, tequila and Pok Pok Som's honey drinking vinegar. Ricker has created a whole line of these sweet-tart elixirs in flavors from pomegranate and rhubarb to lovage and tamarind. They're great for cocktails or stirred into soda, and you can buy a few flavors
here
. (The bartender told me they cook fresh fruit down to really reduced syrups and stir them into coconut vinegar, so they are not actually a fermented product.)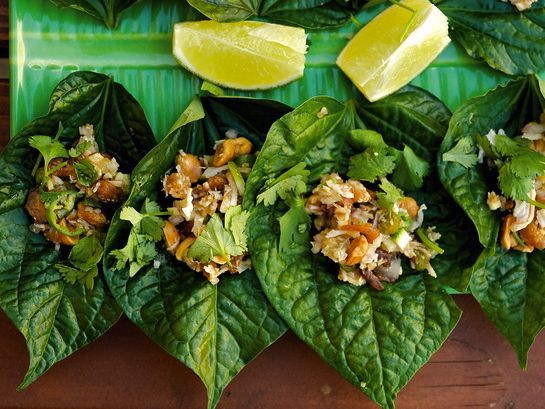 These little green flavor bundles, miang kham, are typical of Thai or Laotian street food. Fiery hot chiles, ginger, peanuts, dried shrimp, lime, shallot and coconut are wrapped in betel leaves. They were so spicy that the women eating them at the next table were crying, but so good that none of us could stop.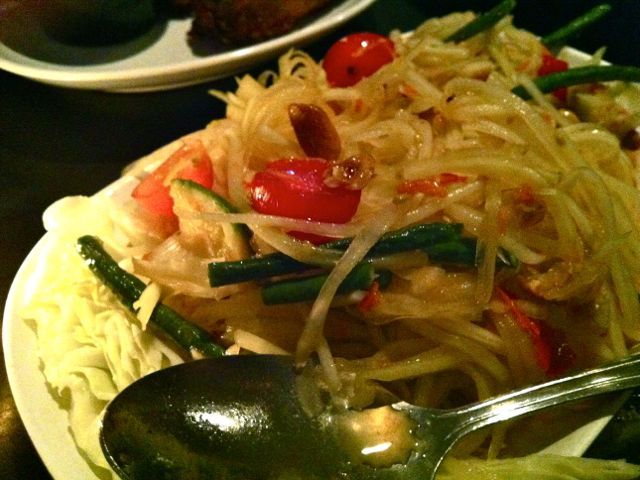 By the time we got back to Pok Pok—a dark and cheery warren of indoor and outdoor spaces—we were a little worse for wear, but still managed to sample quite a few dishes. Highly recommended: the now legendary chicken wings, deep fried and lacquered with fish sauce and fresh garlic; get the spicy version. A very good papaya salad that was neither spicy enough nor properly salted (OK, I'm picky but I've been to the source and I know what's what.) Whole ears of corn grilled and slathered with coconut cream. Baby back ribs that tasted like they were from
Shun Lee
, which is not exactly a compliment but not a total dis. And plenty of sticky rice to go with all of it. Can't make it to Portland? Pok Pok has now opened an
outpost
in Brooklyn.
But, if I know you, after reading this, you're already planning your trip. (Stay tuned for Friday's post on less foodcentric pastimes in the City of Roses!)