5.31.12
Stalking Spring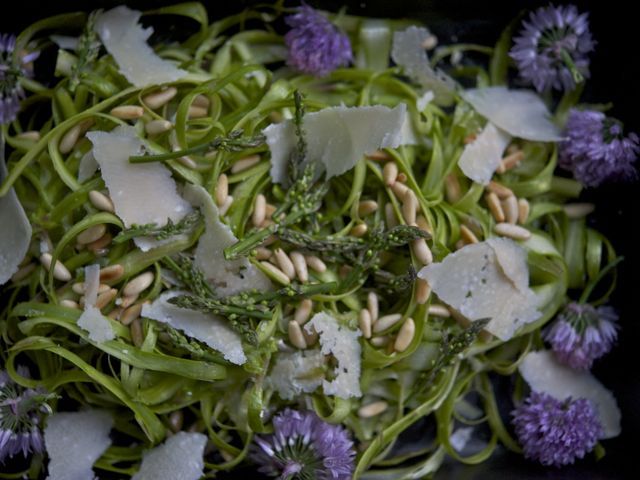 The only thing better than seeing the first asparagus at the farmer's market? Finding a patch of wild asparagus. It can be hard to get to before the deer. When you spy those leggy green stalks swaying in the breeze, it really hits home that it's a sort of grass. This herbaceous vegetable has been enjoyed throughout history, from the time of the ancient Greeks and Egyptians. Madame de Pompadour enjoyed asparagus' delicate
points d'amour
("love tips"). I didn't find enough in the wild to make a whole dish, just enough to garnish a platter of raw asparagus ribbons from the farmers marker, punctuated with the onion pungency of purple chive blossoms. This salad is actually a riff on
this one
, and is similarly adorned with thin shavings of parmesan, toasted pine nuts and a light dressing of olive oil and lemon juice. That's your recipe.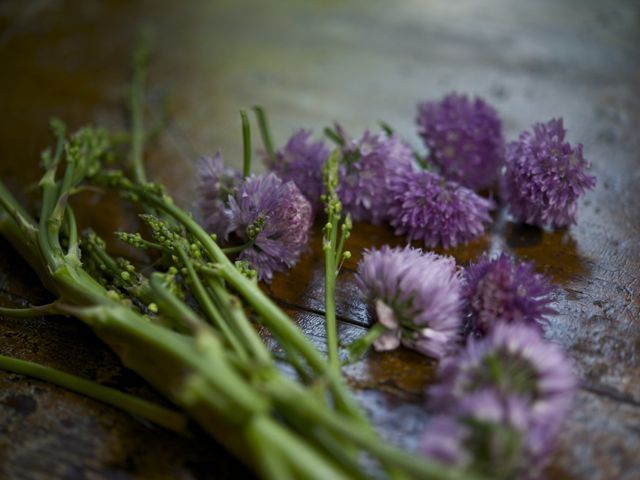 If you don't have chive blossoms in your garden, consider growing this resilient plant. It requires little from you and returns year after year. City dwellers could easily plant some in a window box. They come up early and their lavender puffs are always a welcome sign of spring.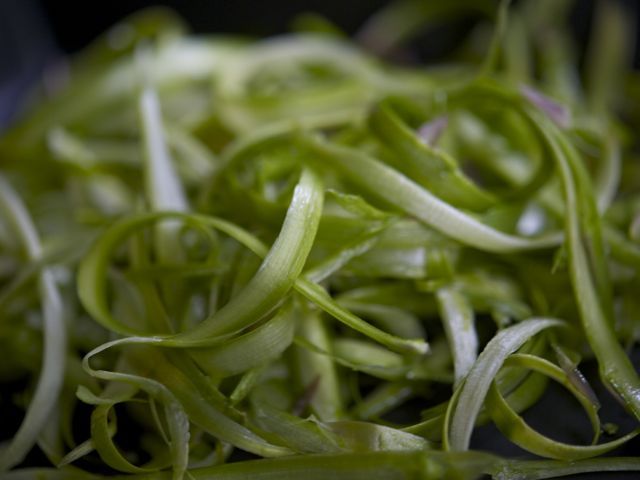 The only trick to this salad is shaving the asparagus. Hopefully your peeler is fairly sharp. Trim off the woody ends and the tender tips of the asparagus and lay each stalk flat on your cutting board. (Discard the ends, but retain the tips for later.) Firmly but gently, run the peeler from one end to the other. I wound up with lots of bits and pieces that weren't the right shape for the salad. Do not discard these! You can repurpose them in soup.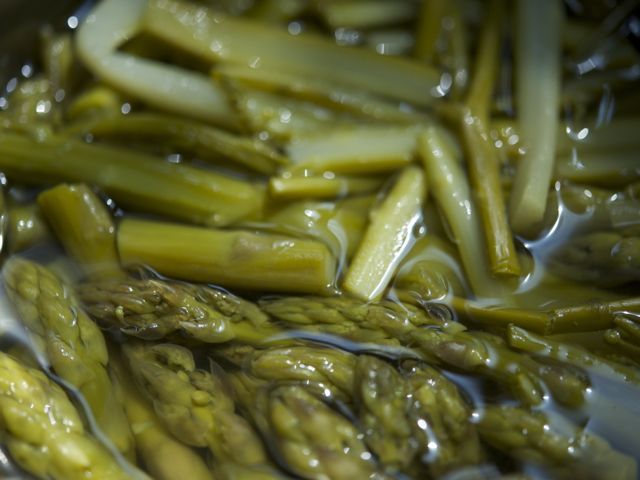 Cold soups are a staple for me in the warm weather. They are light and refreshing, and they're good vehicles for things like toasted nuts and seeds, fresh herbs, croutons, swirls of crème fraîche, lemon zest, flavored oils...you get the idea.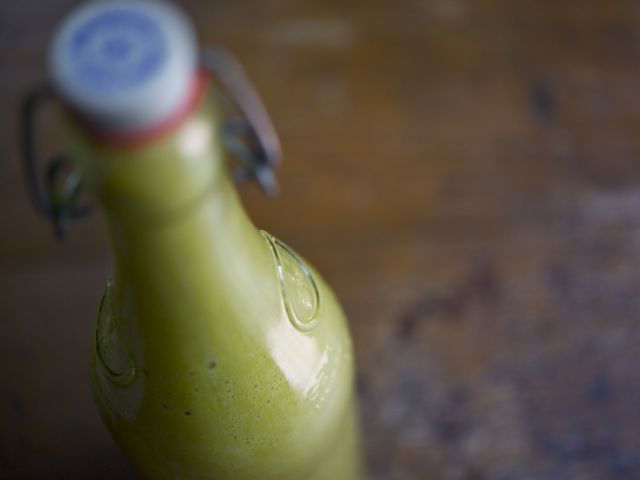 This is probably a good time for me to tell you how much I love my
Vitamix
. I use it a lot (which is good because it wasn't cheap). It's fantastic for making smoothies and slushies, and it's also great for my latest obsession: walnut milk. Have you gotten into alternative milks yet? The boxed versions really can't compare to homemade. But I digress, this is about soup. The Vitamix is so powerful it can even make
hot
soup. But this one's cold and doesn't take much time or many ingredients. See the recipe below.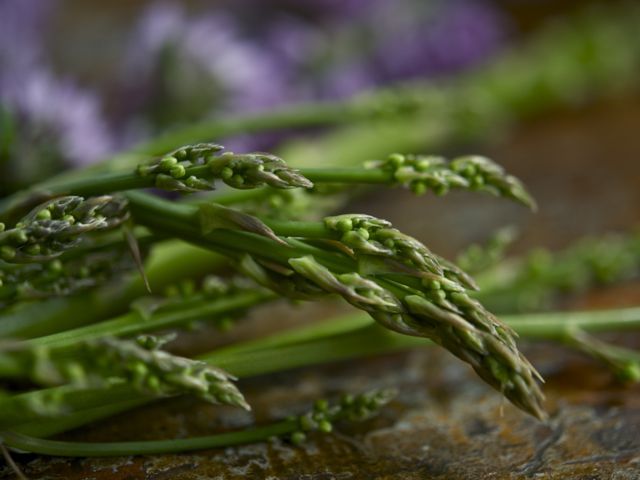 Oh, and those tips? Saute them lightly in plenty of butter and set them atop a pile of the fluffiest, creamiest scrambled eggs ever. I could tell you all the secrets to making these cloud-like eggs, but just watch
this video
, in which Jean Georges Vongerichten shows
Bon Appétit
's dapper Adam Rappaport exactly how it's done. These eggs + buttery asparagus tips + cold asparagus soup + chilled rosé = the most elegant Sunday brunch.
Cold Asparagus Soup
serves 4
—

minced chives, as garnish

—

sea salt, to taste

—

olive oil, to finish

— 1 tablespoon

fresh lemon juice

— 2

shallots, peeled and chopped

— 2 teaspoons

ground coriander

— 1 cup

buttermilk (the real stuff, if possible)

— 1 bunch

asparagus (plus any odd bits you may have left over from making the raw salad)
Trim asparagus, discarding woody ends, and cut into 1" pieces. Combine pieces with minced shallot in a large medium pot and add water to barely cover. Bring to a boil over medium-high heat, then reduce flame and simmer until very tender, about 15 minutes. Remove from heat and allow to cool.


Transfer to a Vitamix or food processor, add coriander and buttermilk, and blend until velvety smooth. Add a little more water or buttermilk as needed to achieve the texture you like. Stir in lemon juice and a couple of pinches of salt. Refrigerate until cold.


When ready to serve, pour soup into small bowls or rocks glasses, drizzle with olive oil and sprinkle on a little coarse sea salt and some chives. Eat with a spoon or drink up!



Download Recipe