4.2.12
Mother's Little Helpers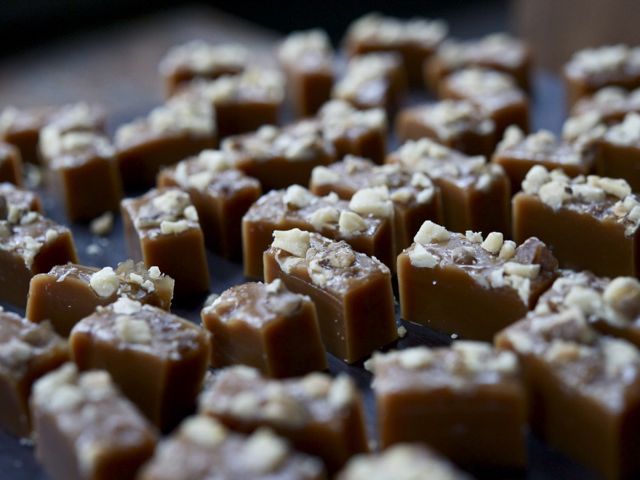 Life is so short. And every year it seems to slip by more quickly, doesn't it? So I try to focus mostly on doing what I want, being with those I love and feeling as good as possible. This doesn't mean I don't have the occasional hissy-fit or melt-down, but I've worked hard to create a life that keeps those to a minimum. Recently, I read an
article
that ran in
New York
magazine about the popularity of Xanax and how anti-anxiety drugs are so commonplace and
essential
in these fraught, post-911 times. We're all deeply aware that the economy has collapsed, the environment is not far behind and terrorists could strike any time, any place. As the article, written by Lisa Miller, says, "
The crises people face in these early months of 2012 are individual and circumstantial, yes, but they're global and abstract as well, stemming largely from the haunting awareness (it's certainly haunting me) that the fates of everyone in the world are intertwined and the job of protecting civilization from assorted inevitable disasters seems to have fallen to no one.
" But I'm wondering: is the world really any scarier than when we were afraid of "The Bomb," or of AIDS, or of polio, for that matter? How did people get through the Great Depression without Ativan? And why is everyone now so sure that relief lies in taking a pill?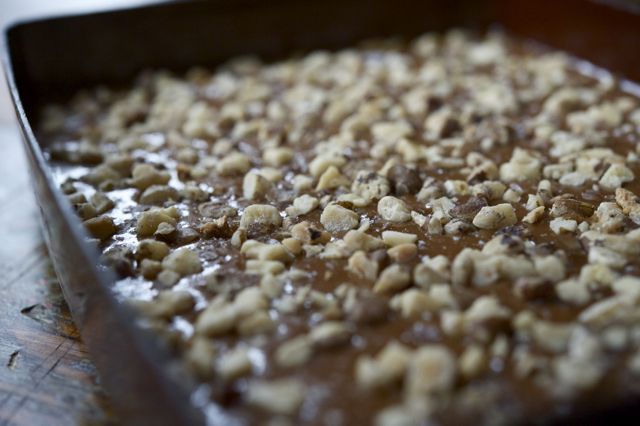 What would happen if doctors prescribed meditation instead? Or told people to listen to Bach for half an hour every morning? What if we took a walk in the park when we felt anxious? Or played with our pets? Do people of faith have these same issues?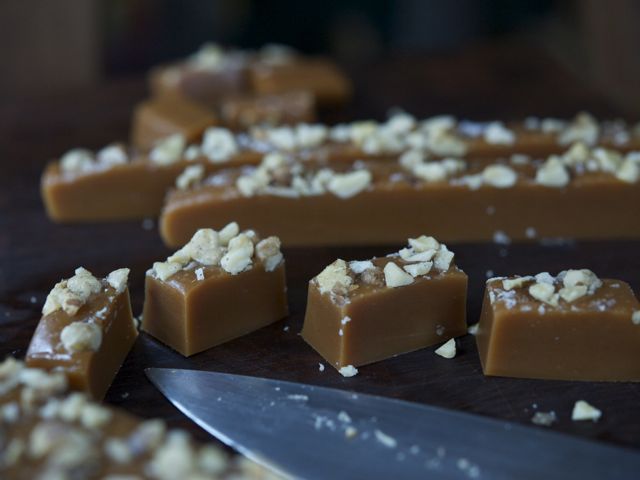 I don't have the answers, and I'm not judging people who take drugs to alleviate these horrible creeping feelings, these gnawing anxieties. But I can't help wondering why this is the way we choose to deal with reality. Is it really that much worse than before? Same as it ever was, if you ask me. Plus global warming.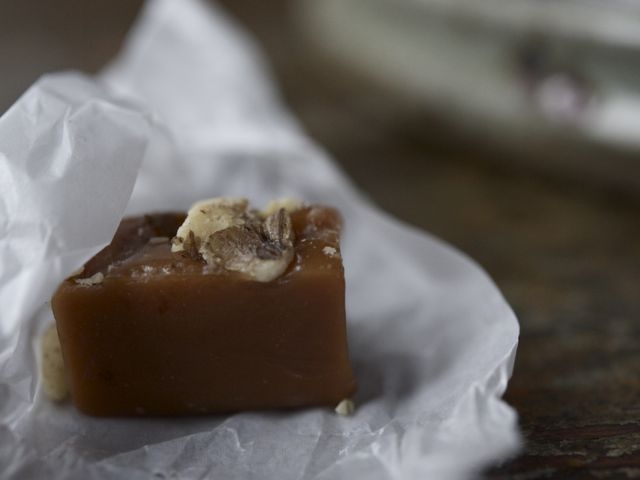 I realize I'm not offering you much wisdom, so let me make it up to you with a recipe. It's one I actually spent some time developing— a rich and chewy delivery system for maple syrup and honey. (The sap, by the way, is flowing now, although I've heard it's not a great year for the sugar maples.) These caramels are made with no corn syrup and very little sugar. Oh sure, they're loaded with sweetness—they are caramels, after all. Mine have a sprinkling of Maldon salt and a layer of toasted black walnuts, but you can substitute any nuts or seeds you like, or leave them out altogether. They've got a wonderful texture and an addictive, buttery flavor. And perhaps they can offer an alternative to Xanax when you need a little something to smooth out the edges.
Maple-Honey Caramels
makes about 100 caramels
— 2 teaspoons

vanilla

— 1 stick (4 ozs)

unsalted organic butter, cut into 8 pieces

— 1/2 teaspoon

fine sea salt

— 1 cup

(packed) light muscovado sugar

— 1 cup

raw wildflower honey

— 2 cups

grade B maple syrup

— 2 1/2 cups

organic heavy cream

— 1 cup

chopped, toasted black walnuts

—

flaky sea salt for sprinkling (Maldon is great)
Spray an 8 x 10-inch baking pan with vegetable-oil spray. Set aside in a spot where it will not be moved. Pour cream into a small saucepan and set aside.


In a large pot, combine maple syrup, 1/4 cup water, honey, sugar and salt. Clip on candy thermometer. Over high heat, cook until well combined, stirring with a wooden spoon, 8-12 minutes. Brush down sides of pan with a pastry brush dipped in water as needed.


Stop stirring, reduce heat to medium, and bring to a boil. Cook, without stirring, until temperature reaches 250º (hard-ball stage), about 45-60 minutes. Meanwhile, gently heat cream until just warm. Do not boil. When sugar mixture reaches 250º, slowly stir in butter and warmed cream, keeping mixture boiling at all times. Stirring constantly, cook over medium heat until thermometer reaches 244º (firm-ball stage), about 55-75 minutes.


Stir in vanilla. Immediately pour into prepared pan without scraping pot. After it cools slightly, sprinkle with salt and walnuts, lightly pressing to embed. Let stand uncovered at room temperature for 24 hours without moving.


To cut, unmold caramel from pan onto a large cutting board. Use a sharp, sturdy knife to cut into 1"-by-1 1/4" pieces, or other any size you desire. Wrap each in waxed paper.



Download Recipe