4.11.12
Eastover 2012: Part 3, Quenelles de Brochet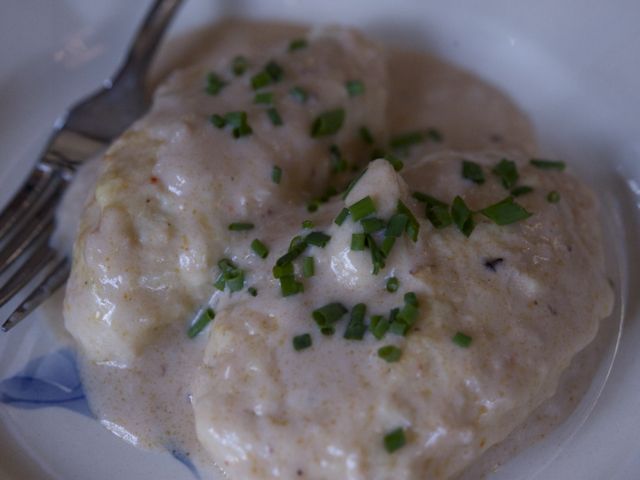 Let me just say, that picture does not do them justice. Quenelle is a generic term for a mixture of creamed fish, chicken or meat, sometimes combined with breadcrumbs and lightly bound with egg. Essentially glorified dumplings, they are usually poached and were often used as a garnish in traditional French haute cuisine. Quenelle has also come to refer to the gently rounded shape, made by passing the mixture from one spoon to the next, until it resembles a tiny football. I'm not sure where I tasted my first quenelle de brochet, the pike mousseline version that is a classic of Lyonnaise cooking, but it remains one of my favorite treats. Rarely seen on menus at this point (and when they are, you'd better be at a reliably good French restaurant), you'd have to go to France to sample one—or man up and make them yourself. I envisioned them as the perfect replacement for the much-maligned and rejected gefilte fish—essentially a cold, butter-&-creamless version of the quenelle.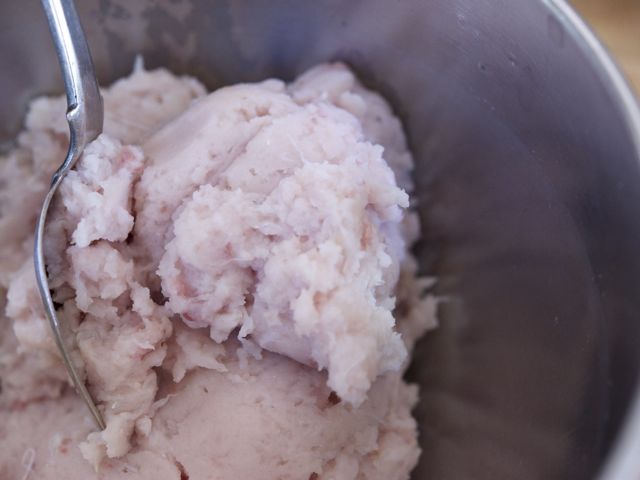 I'm not going to lie to you: making quenelles requires some work. The only classic French cookbook I have (an original Julia Child from my mother's collection) is buried in storage somewhere, so I was casting about on the interwebs for a good recipe. I came across several, including a very recent, very authentic and very beautifully detailed one posted by the prolific Francis Lam in his latest incarnation on
Gilt Taste
. (He also says you can get a good quenelle de brochet in Manhattan,
here
.) In the end, I combined much of his recipe with elements from a few others, to create a flourless, somewhat less labor-intensive quenelle that turned out light as air yet paradoxically richer than Croesus. You start, as above, by processing skinless fish filets into a puree. I used pike with a little carp thrown in; trout would also work.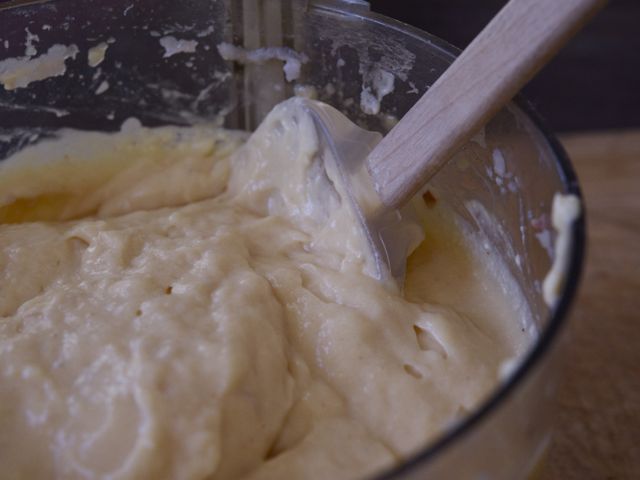 Then you add eggs, cream and butter and whip it into a silky smooth paste. Season this with salt and cayenne. White pepper is traditional but I think it smells and taste like horse manure so I left it out. The paste is then refrigerated for 12 hours, which allows it to set enough that you can form it into its requisite shape.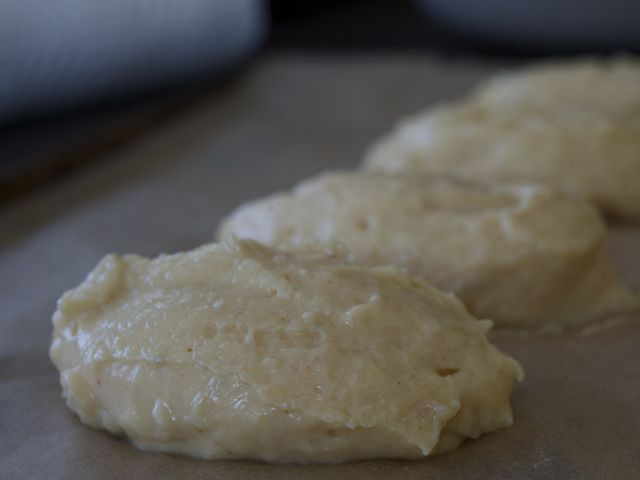 Shaping the quenelles was perhaps the most challenging step. I think if you make the traditional "panade," which uses flour as a thickening agent, the paste holds up a bit more. I opted for a gluten-free version and so ended up with a slightly looser paste. BUT, it still worked, and may have resulted in an even more gossamer quenelle. For a brief tutorial in shaping the quenelles, Francis refers you to this
video
. You'll get the general idea, though the chef mispronounces "quenelle" and skips what I think is a crucial step—rinsing the spoons in hot water between the forming of each one. As in all things, practice makes perfect. I made about 35 of these and, by the end, they looked a lot better.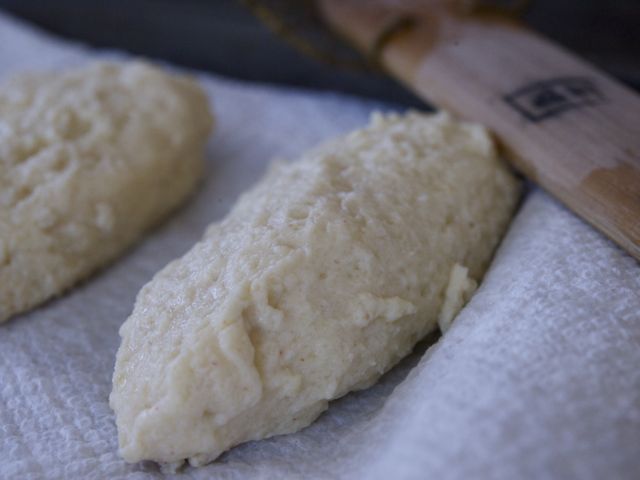 You poach them in batches in simmering, well-salted water. Nude and vulnerable, they cry out for a lovely sauce. Traditionally, it's a creamy crayfish sauce but I took Francis' advice and bought some lobster bisque from my fishmonger (sacrilege! but so convenient) and doctored it up with a little cognac and—in yet another nod to Passover—a heaping cup of freshly grated horseradish. Bathed in this dreamy sauce, puffed up in a hot oven and liberally garnished with chives, this was a first course worthy of celebration. One of our guests said it was the best thing he had ever eaten. That's no faint praise.
Quenelles de Brochet
serves 18 (recipe is scaleable, up or down)
— 12 ounces

cold unsalted butter, preferably cultured, cut into small pieces

— 12 pinches

cayenne pepper

—

sea salt, to taste

— 3 3/4 cups

organic heavy cream

— 1 dozen

large eggs, broken into a bowl

— 2 1/2 pounds

skinless pike or trout filets

— 2 1/2 quarts

lobster bisque

— 1/2 - 1 cup

freshly grated horseradish

—

chopped fresh chives, for garnish
Cut the fish into chunks and transfer to the blender or food processor fitted with the steel blade. Blend or process to a fine purée. With the machine running, add the eggs one at a time then add the cream, the cayenne and a little salt. Add the butter one piece at a time until it is all incorporated and the mixture is very smooth. Taste and add more salt, as needed. Transfer the mixture to a bowl, cover with plastic wrap and refrigerate for 12 hours.


Cover a tray in plastic wrap. Using two large spoons, form 4-ounce footballs of the fish mixture and lay them gently on the tray.


While you're still forming the quenelles, get a large pot of salted water simmering hot, just under boiling. Gently lower the quenelles in, without crowding (you can do this in batches). Keep the water at a bubble-less simmer, about 165º, and poach them for about 10 minutes, flipping them occasionally. They will float almost instantly, so you can't judge their doneness that way. When they're ready, they will be set, but not stiff; you want them a little jiggly. Remove them with a slotted spoon and drain on paper towels. At this point you can cover and store in the fridge; just bring them back to room temp when you're ready to serve.


Preheat oven to 365º. Stir the horseradish into the lobster bisque and heat thoroughly over medium flame. Spread a few cups of bisque in the bottom of a large roasting pan. Set the quenelles in the pan and ladle bisque over, up to about ¾ of their depth. Bake for 10 minutes, until the quenelles have puffed up and absorbed some of the bisque, and just started to turn golden on top. If you're careful, you can broil lightly for a moment.


Serve immediately, topped with a sprinkling of chopped chives.



Download Recipe