4.12.12
Eastover 2012: Part 4, For the Halibut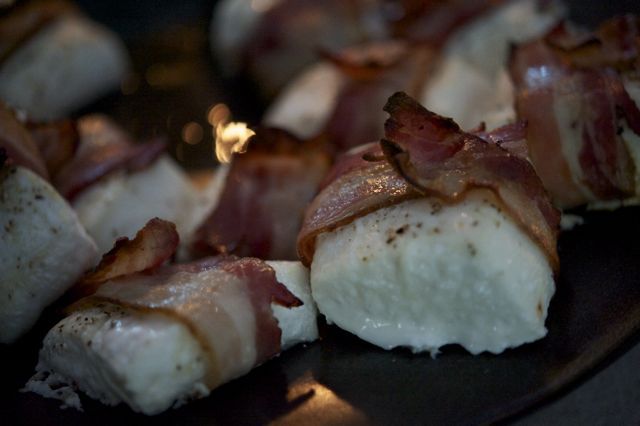 The main course for our Eastover celebration was this bacon-wrapped halibut and I'm pretty pleased with how it turned out. I had originally wanted to serve local trout but there was none to be had. Those few days of exceedingly warm temperatures had me (and many of my plants) fooled into thinking spring had actually arrived, but the sad reality is that it's been dropping to the 20s at night. G is outside right now building two new raised beds and we're itching to start planting...but I digress. I arrived at the fish market last week, firmly intending to buy 17 whole branzini (sea bass), but changed my mind when I realized how much work that would be for some of my guests. Instead, I came away with two enormous, thick and gorgeous wild-caught Pacific halibut filets. (Need to know which fish are sustainable and thus a better choice? Go
here.
) My plan was to wrap them in bacon and roast them in the oven.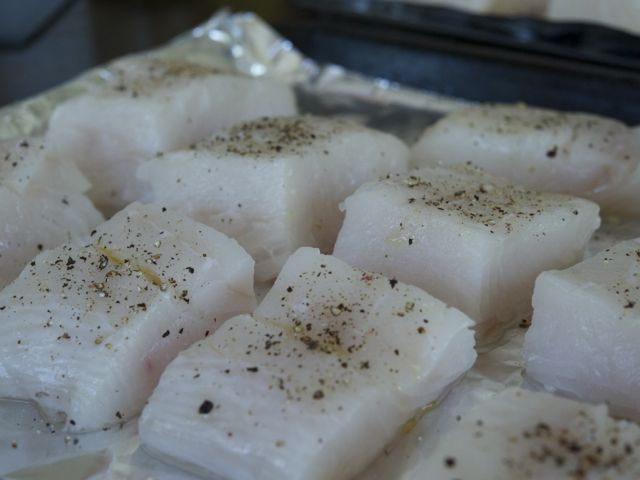 Turns out I am not the first person to think of bacon-wrapped halibut. People like Oprah and Rachel Ray have recipes for this online. But I did it my way. I had to, because there was no way I was going to sauté 17 pieces of fish on top of the stove. Mine is a dead-simple technique and the result it truly delicious. I think it would work with any thick, meaty fish. I simply removed the skin, cut the fish into chunks roughly the same size, and rubbed them with olive oil and pepper.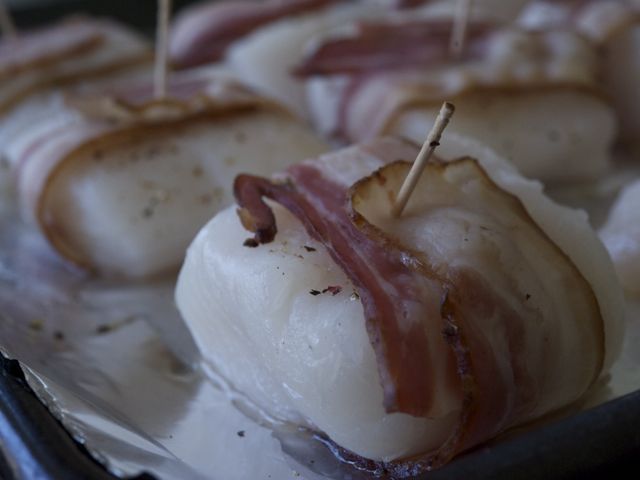 My one trick? I pre-cooked the bacon—not all the way, it needs to remain pliable enough to wrap around the fish. I decided this would help it attain the right crispiness, and also cook off some of the excess fat. I even blitzed the fish under the broiler for the last couple of minutes to bring it on home. As far as how long to cook your fish, it really depends on the thickness. You don't want to wait until you see the fish flaking, and if it starts to ooze that white stuff (I think it's albumen, a kind of protein), you've definitely overdone it. 10 minutes per inch of thickness is a loose rule. Mine was perfectly cooked and infused with a subtly smoky saltiness that offset the mild flavor of the halibut quite nicely. I encourage you to go fish.
Bacon-Wrapped Halibut
serves 4
—

freshly ground black pepper

—

olive oil

— 4 6-ounce

halibut filets, ideally 2+"-thick chunks

— 4 slices

bacon (not too thick)
Preheat oven to 400º. Bring fish to room temperature.


In a heavy skillet over medium-low heat, cook bacon until it is lightly brown but still soft. Drain bacon on paper towels and set aside. Save rendered fat for another use.


Rub fish with a little olive oil and grind some fresh pepper over the top. Wrap each filet with a slice of bacon, securing the two ends on top with a toothpick.


Place on a foil-wrapped baking sheet and roast in the oven for about 15 minutes. Then set the oven to broil and let the bacon brown, about 2 minutes. Remove from oven, discard toothpick and serve right away.



Download Recipe