2.9.12
Bundles of Joy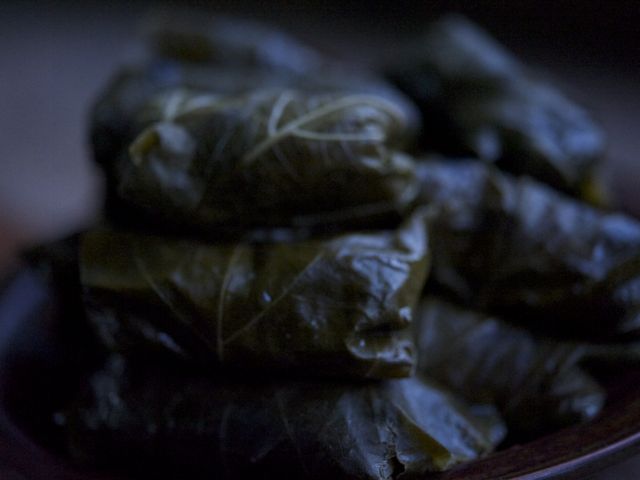 The other day, when trawling the aisles of a favorite ethnic market in my quest for inspiring ingredients, I came across a package of brined grape leaves in the refrigerator section. It has long been my intention to try my hand at stuffing these, part of the tradition of dolma, the stuffed vegetable dishes prevalent in the cuisines of the former Ottoman Empire and surrounding regions such as Russia, the Middle East, the Caucasus, and Central and South Asia. In addition to grape leaves, onion, zucchini, eggplant, tomato and peppers are also stuffed with either a meat filling (lamb, beef or pork) or a rice- or grain-based mixture that often includes dried fruit and/or nuts. This summer I plucked handfuls of grape leaves off the vines at River Brook Farm, carefully blanched, rolled and tied them, then placed them in the freezer chest in our basement where they now languish, buried somewhere beneath the bags of golden raspberries, jars of shrimp stock and legs of goat. So I was quite pleased to find the ready-packaged alternative.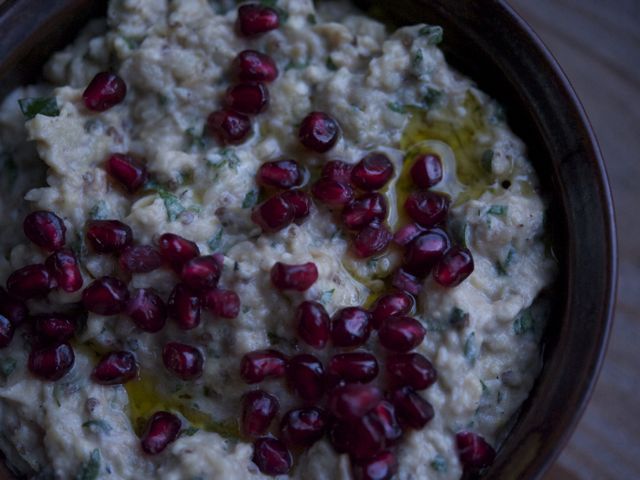 Along with the dolmades (that's the plural), I decided to head East with an eggplant I had on hand...Middle East, that is. I leafed through
Plenty
, and my recently acquired
Mourad: New Moroccan,
and saw that both have recipes for a dip/spread à la
baba ganoush
that involves charring the eggplant in different ways. Yotam Ottolenghi has you do the whole thing right on your gas burner (or under the broiler), while Mourad advises you to slice it up and scorch each piece in a hot pan. I opted to follow the recipe in
Plenty
, not only because it seemed easier, but because I loved the addition of fresh pomegranate seeds.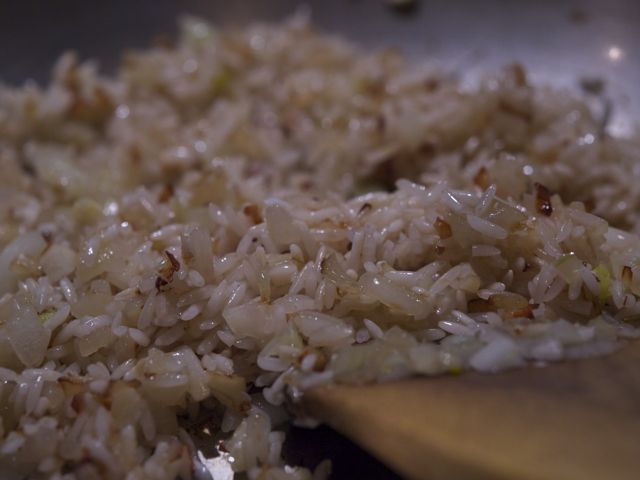 I made a vegetarian filling for the grape leaves with jasmine rice, onions, garlic, fennel, fresh mint and parsley.
I toasted and chopped some pine nuts and threw those in as well. Incidentally, I avoid buying Chinese pine nuts ever since I
read
that some people have an adverse reaction to them that results in a bitter aftertaste lingering in the mouth for weeks! And supposedly they can also cause headaches.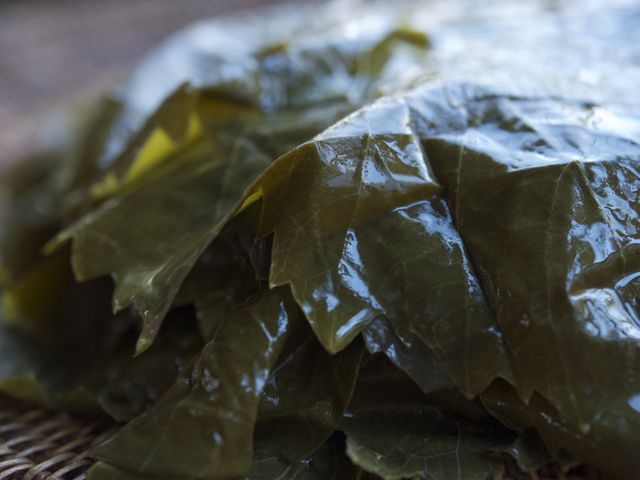 Grape leaves are preserved in a salty brine, so it's important to rinse them well before using. With hindsight, I might even recommend soaking them for 15 minutes in cold water, as mine were quite salty. They are surprisingly tough and can stand up to a fair amount of manhandling, so don't be afraid to work with them.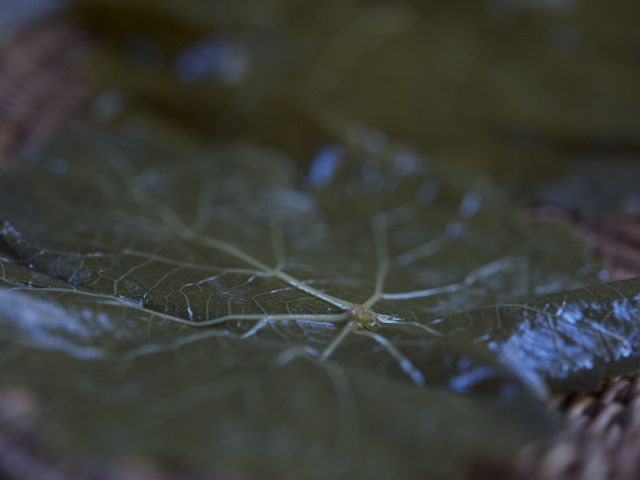 The big center vein that runs through the leaves can be a bit stringy. Once you've rolled them up, the stuffed leaves need to be steamed or baked to render them tender.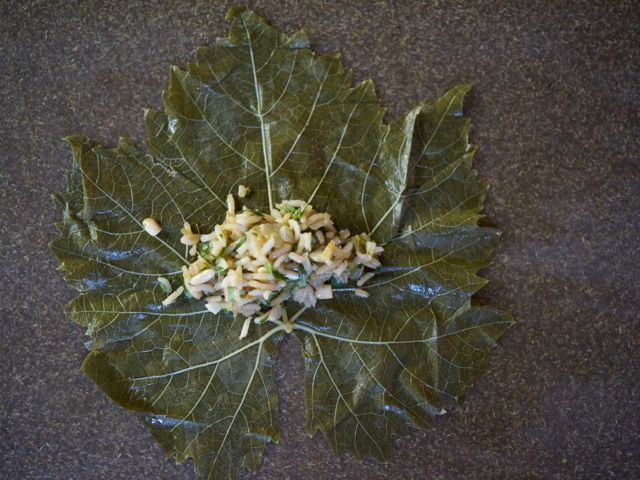 To stuff, lay a leaf—ridged vein side up—on a flat surface and spread it out completely. Place a scant tablespoon of filling (or less, depending on size of leaf) at the bottom.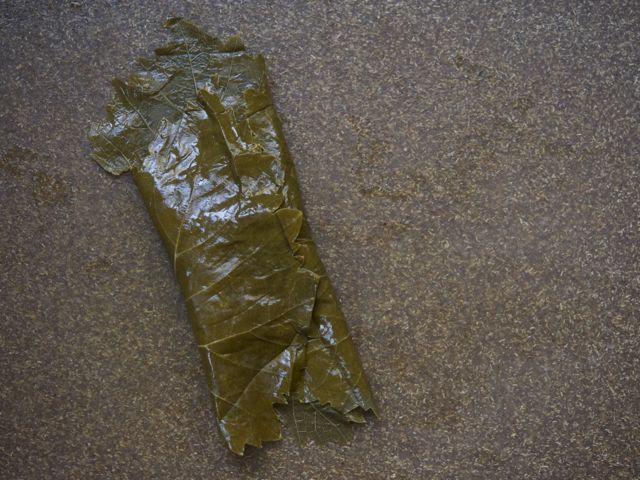 Then you fold the sides in and roll it up from the bottom into a cigar-like bundle. You want it tight, but not too tight. Some recipes have you use raw rice and, in that case, you want to leave it considerably looser as the rice expands in cooking. Mine could have been a tad tighter. But then so could my thighs.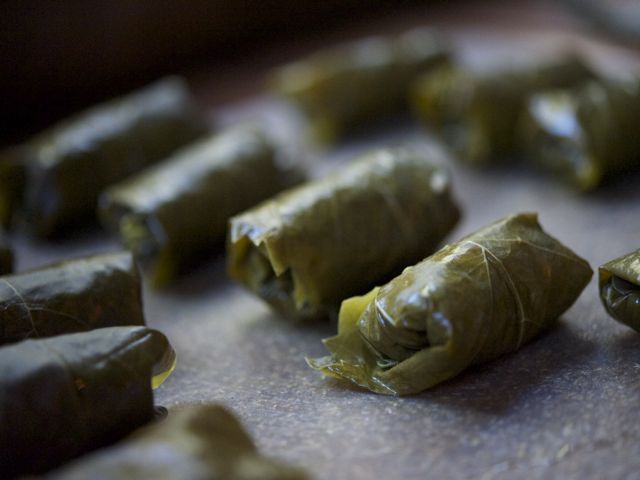 We ate these for dinner with an accompanying sauce made with yogurt and cucumbers, the rich and creamy eggplant and a little stack of mini papadums, the Indian lentil cracker. Stuffed grape leaves can be made well in advance and served hot or at room temp, making them ideal hors d'oeuvres at a cocktail party.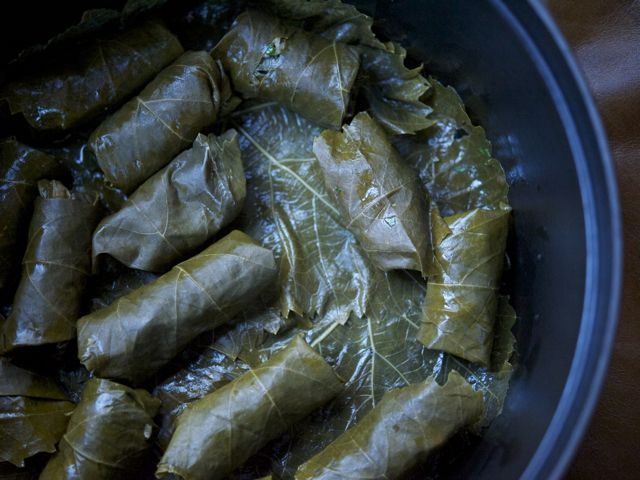 I steamed mine in a Dutch oven with a little water and lemon juice, stacked in layers atop a bed of leaves.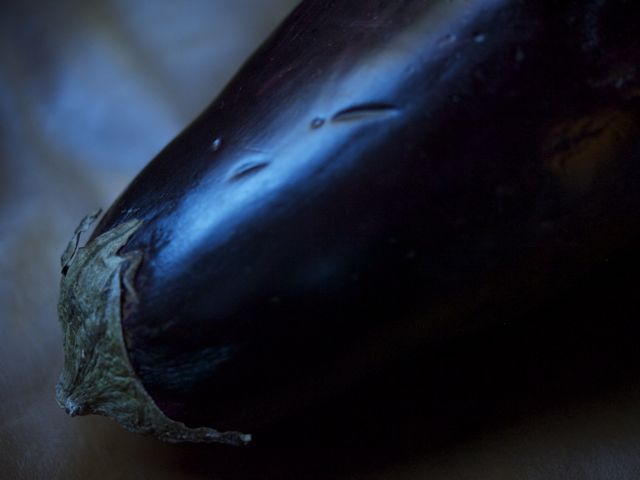 Along with potatoes and tomatoes, eggplant is part of the nightshade family, Solanum. It is rich in alkaloids, which prove irritating to some people. Nicotine is actually a similar alkaloid.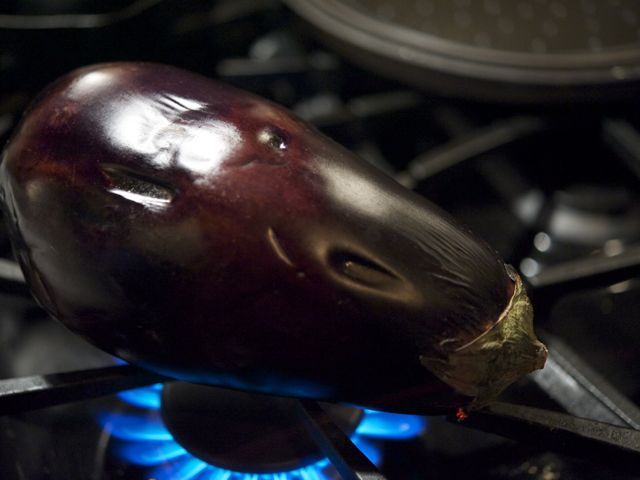 There is something very satisfyingly primal about plopping an eggplant right on the flame. Use tongs to turn it, and be vigilant lest it catch fire. Mine never did, it just seared, scorched and smoked, until it was blackened and began to collapse.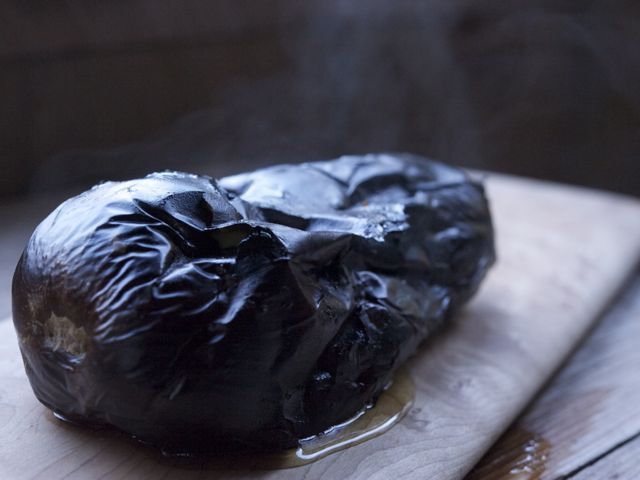 Let it cool off near a sink, as the blackened eggplant will ooze a surprising amount of liquid. Once you can handle it comfortably, peel off the skin. It comes off pretty easily, leaving behind a soft heap of smoky flesh.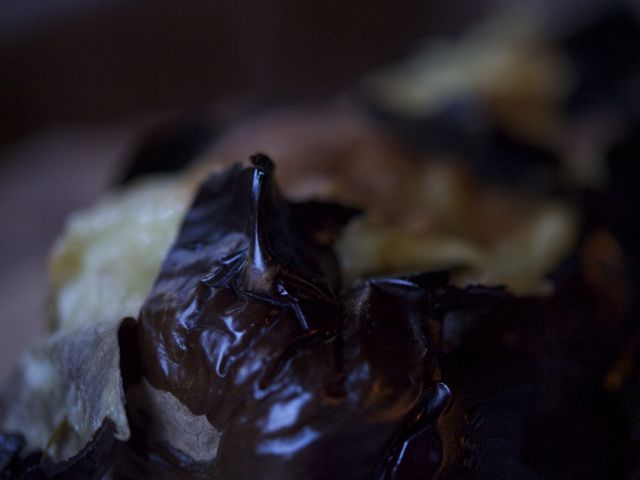 Discard the skin and chop the eggplant, which you then set aside in a colander to drain out more of the copious liquid. (I didn't really think through the possibilities of a cocktail made with smoky eggplant juice, but it's sounding pretty gross now that I do...)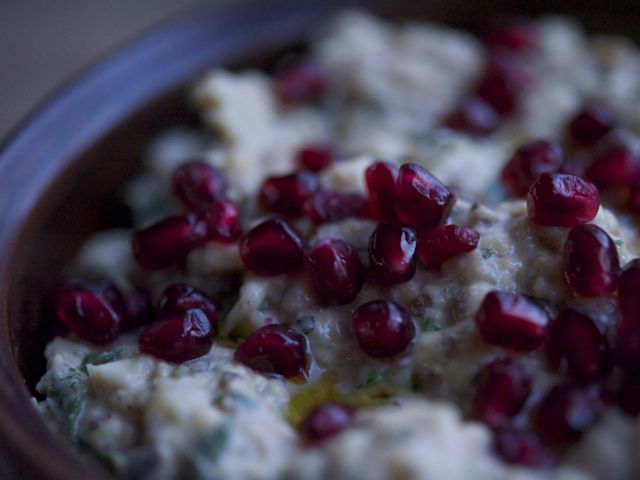 Mashed with tahini (sesame paste), pomegranate molasses and lemon juice, the eggplant takes on a wonderful creaminess and a rich, complex flavor. A little minced garlic and some chopped mint enhance taste and texture, and a generous handful of pomegranate seeds adds fantastic pops of sweet crunch that make an ideal counterpoint. (If you're allergic to sesame, you could just leave out the tahini and I think this would be equally delicious. Maybe try stirring in a little thickened yogurt instead.) This is a new favorite, and I will still be serving it when summer comes with grilled fish or lamb. Come to think of it, a hot grill would make short work of blackening that eggplant, too.
Stuffed Grape Leaves (Dolmades)
makes about 2 dozen
— 4 tablespoons

finely diced fennel

— 1

large clove garlic, minced

— 1

small onion, minced

— 1/2 cup

jasmine or basmati rice

— 1/2 teaspoon

ground cumin

— 1/2 teaspoon

pimentón

— 1/4 cup

minced parley

— 1/4 cup

minced fresh mint

— 1/4 cup

pine nuts, toasted and chopped

— about 30

brined grape leaves

— 1/4 cup

fresh lemon juice
Rinse grape leaves very well—or leave to soak in a bowl of water for 15 minutes—then drain.


Heat 2 tablespoons olive oil in a large heavy skillet over medium-high heat. Add fennel, garlic and onion and cook until soft, 3–4 minutes. Add rice and toast for few minutes. Add spiced and 1 1?2 cups water. Season with salt and pepper. Bring to a boil, then reduce heat to medium-low and simmer until rice has absorbed water, about 14 minutes. Stir in 1 tablespoon olive oil along with parsley and mint. Set aside to cool.


Coat bottom of a large saucepan or Dutch oven with some olive oil and add 4 tablespoons water. Cover bottom of pot with a layer of grape leaves. Set remaining grape leaves on a flat work surface, vein side up. Take one leaf, flatten completely and place 2-3 teaspoons rice mixture in center. Fold in sides, then roll up from bottom into a tight cylinder. Transfer, seam side down, to pot. Repeat with remaining leaves.


Add lemon juice to pot and enough water to cover grape leaves. Lay a small plate on top to keep them submerged. Bring to a boil, then reduce heat to medium-low and simmer until tender, 20-30 minutes. Serve hot, cold or at room temperature.



Download Recipe
Burnt Eggplant with Tahini
very lightly adapted from Yotam Ottolenghi's Plenty
serves 2-4
— 2 tablespoons

chopped parsley

— 3 tablespoons

chopped mint

— 1

clove garlic, minced

— 1 tablespoon

fresh lemon juice

— 2 teaspoons

pomegranate molasses

— 1/4 cup

hot water

— 1/3 cup

tahini

— 1

large eggplant

—

sea salt & fresh pepper, to taste

—

seeds from 1/2 a large pomegranate
First, burn the eggplant. To cook the eggplant on a gas stovetop (the most effective way), start by lining the area around the burners with foil to protect them. Put the eggplant directly over a moderate flame and roast for 12-15 minutes, turning frequently with metal tongs, until the flesh is soft and smoky and the skin is burnt all over. Keep an eye on them the whole time so they don't catch fire. For an electric stove, pierce the eggplant with a sharp knife in a few places. Place it on a foil-lined tray directly under a hot broiler for 1 hour, turning a few times. The eggplant needs to deflate completely and the skin should burn and break. When cool enough to handle, scoop out the flesh into a colander, discarding the blackened skin. Leave to drain for at least 30 minutes.


Chop the eggplant flesh roughly and transfer to a medium mixing bowl. Add the tahini, water, pomegranate molasses, lemon juice, garlic, mint, parsley and some salt and pepper; mix well.


Taste and adjust the seasoning, adding more lemon juice or molasses if needed. You want the salad to have a robust sour/slightly sweet flavor.


To serve, spread in a shallow dish, scatter the pomegranate seeds on top and drizzle with olive oil.





Download Recipe