2.13.12
Tai One On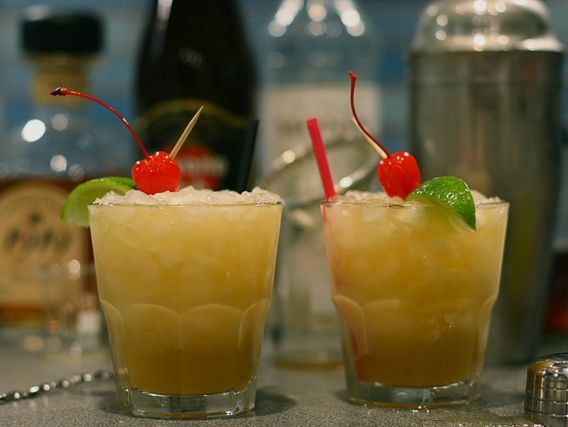 We've been in Florida since Friday. Palm Beach Gardens. First it rained, and now it's 45 degrees. Need I say more? On the bright side: Some quality time with my lovely in-laws, and the perfect Mai Tai, mixed by G's dad. His secret recipe is pretty close to the 1944 original from Trader Vic's, though I suspect his contains a maverick touch of pineapple juice. (As a point of interest, "Maita'i" is the Tahitian word for "good.") Along with the pupu platter, this tangy and potent cocktail is a fabulous relic of the Tiki culture that was all the rage in the 50s and 60s. Though I'm not sure crab rangoon deserves a comeback, I'm positive the Mai Tai belongs in the pantheon of classics.
A true Mai Tai contains Trader Vic's Rock Candy Syrup (essentially a branded simple syrup with a hint of vanilla) and orgeat, a delicious sweet concoction made from almonds, sugar and rose water and/or orange flower water.
Here's
an interesting recipe for making your own orgeat. I couldn't find the brand referenced for sale online, but
this
should be a worthy substitute.
Mai Tai
Trader Vic's original 1944 recipe
makes 1 cocktail
— 1/4 ounce

Trader Vic's Rock Candy Syrup

— 1/2 ounce

Orange Curaçao

— 2 ounces

aged rum, such as 17-yr-old J. Wray & Nephew

—

juice of one fresh lime

— 1/2 ounce

French Garier Orgeat Syrup
Combine ingredients in a shaker with lots of shaved ice. Shake vigorously. Serve in a rocks glass garnished with a sprig of fresh mint. (Cherry is optional.)



Download Recipe