1.9.12
Dum & Dummer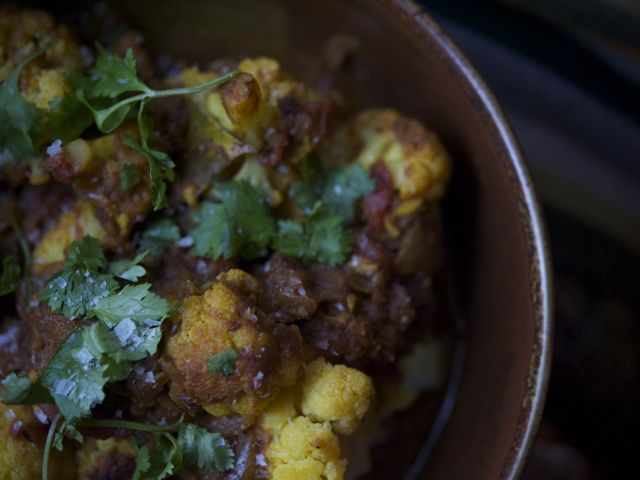 I'm sure it will come as no surprise to you that the firm white head of the cauliflower is referred to as "the white curd," for it looks like nothing so much as a big virginal cheese. Of course it comes in other colors—orange, green, even purple—but it is the white that is the most common, the most classic and perhaps the most invitingly pristine. It's lovely baked with cheese sauce, pureed into a creamy soup or steamed whole and dressed with a caper vinaigrette and toasted breadcrumbs, but it's also a rather surprisingly capable foil to far more assertive flavors. This Indian "dum," a type of steaming done in a tightly sealed pot, traditionally over a wood or charcoal fire, transforms the cauliflower into a velvety heap cloaked in a fragrant and highly-spiced sauce. You can make a simple meal of it along with a pile of nutty basmati rice, or serve it as part of a larger repast with braised lamb or grilled chicken. Either way, it's certainly no wallflower.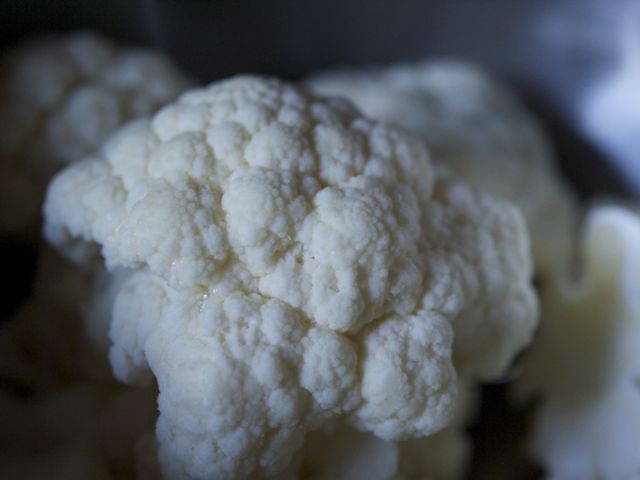 Cauliflower was introduced to France from Genoa in the 16th century, and has been well loved for centuries. Its name is from caulis, the Latin  for cabbage, and flower, acknowledging its unusual place among a family of food plants—Brassica oleracea—which normally produces only leafy greens.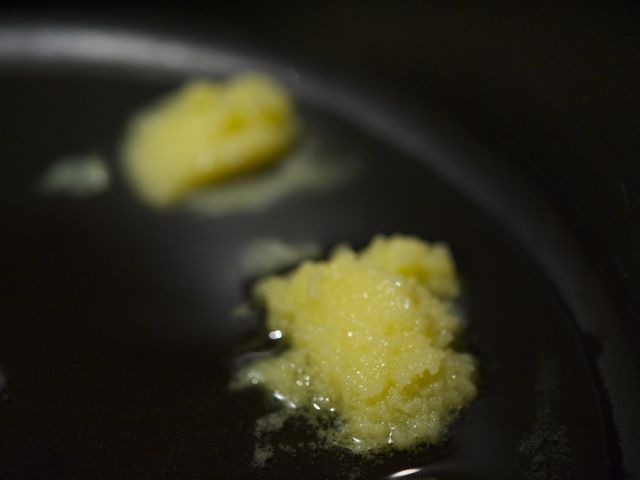 After breaking a large head up into florets (Floret would be a great name for a sweet white kitten, no?), you brown it on all sides. You can use vegetable oil (preferably something less refined but good for frying) or ghee. Still a mystery to you? I really recommend that you pick up a jar of this Indian clarified butter, or order one
here
. (The Niter Kibbeh flavored with cardamom, cinnamon, coriander, cumin, turmeric and nutmeg is divine melted on a piping hot sweet potato.)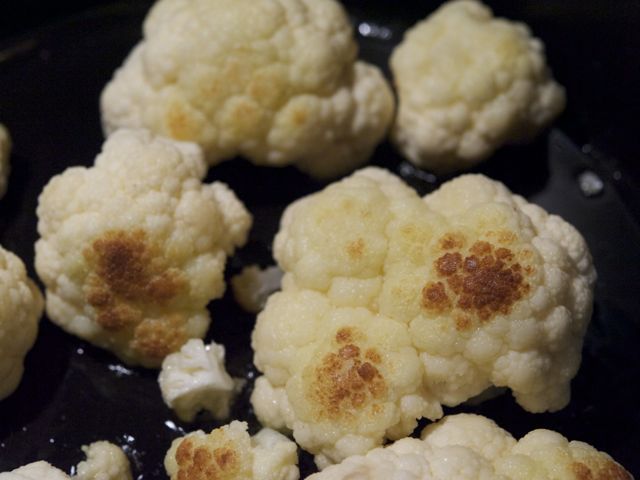 Use a long pair of tongs to keep turning it around in the pan, so that it browns all over, much like prepping a piece of meat for braising. This brings out all sorts of toasty, caramelized notes that you want.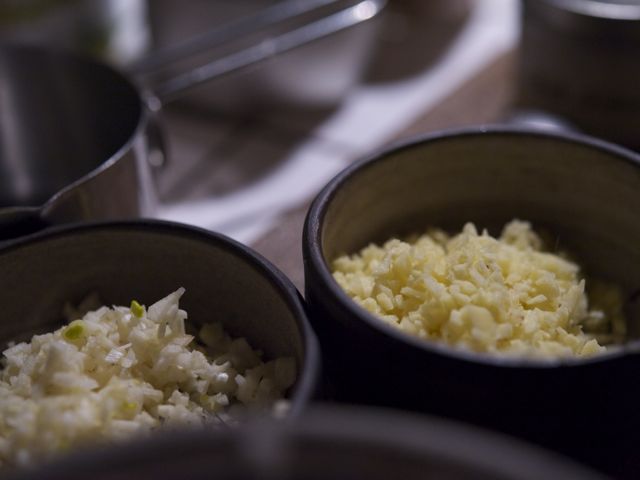 Then you pull the browned florets out of the pan, set them aside, and set to frying the aromatics and spices. As always, I counsel you to do your mincing and slicing ahead of time.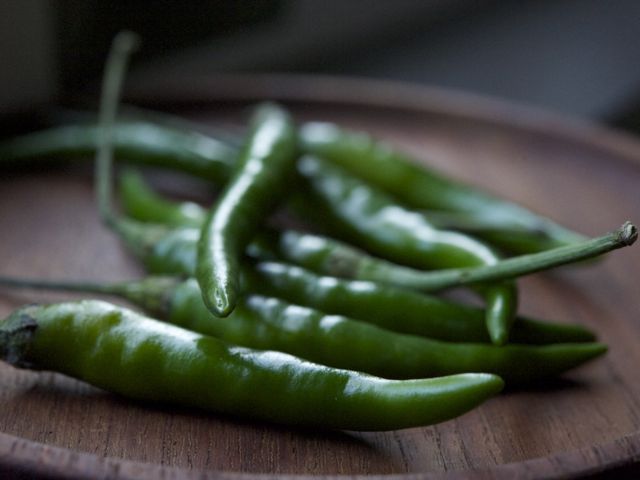 The recipe, yet another winner from Naomi Duguid and Jeffrey Alford's wonderful
Mangoes & Curry Leaves
, calls for long green cayenne chiles. I only had the slightly smaller Thai green chiles; these were fine, or you could even substitute jalapeños, serranos or any dried spicy chile—just stay on top of the heat factor.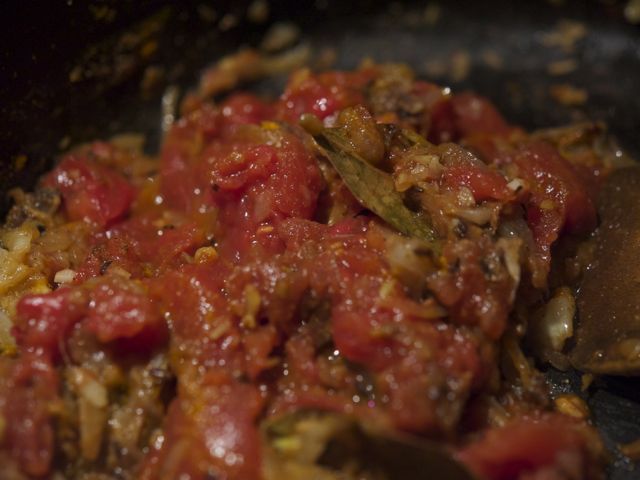 Adding onions and tomatoes to the ginger, garlic and spices, you're essentially cooking up a loose flavor paste.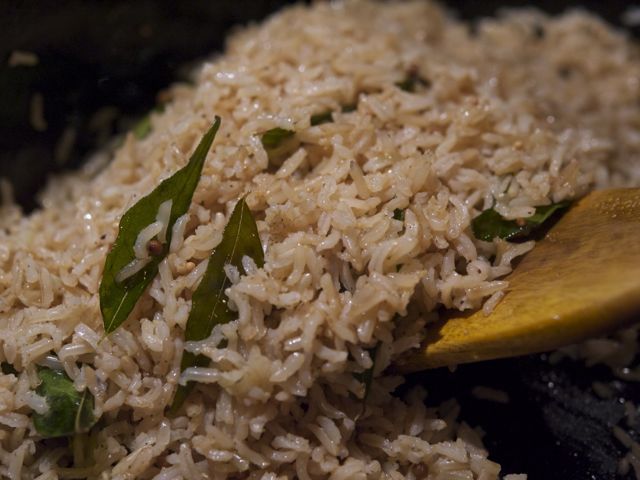 If you haven't yet discovered the joys of brown basmati rice, now's your chance. What you want is imported
brown basmati
from northern India, an unhulled variety with a rich, nutty aroma and flavor; it's superior to the one grown in California. White basmati is not as nutritionally complete as brown, but it's still healthy and delicious.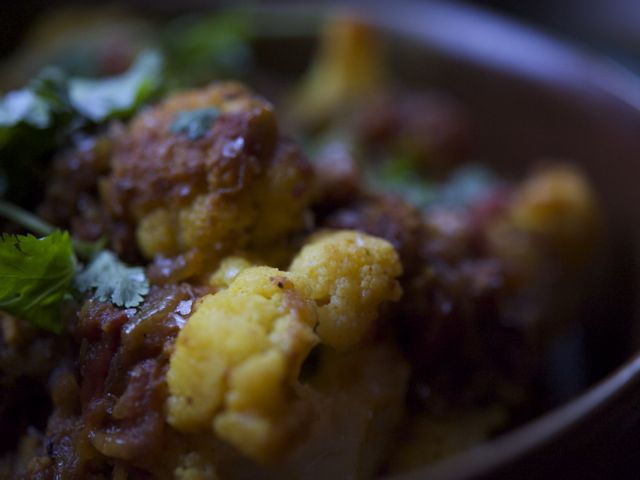 G requested Indian food for his birthday, so I served him this cauliflower and rice along with some highly spiced, Pakistani-style lamb kebabs. He was satisfied.
Cauliflower Dum
from Mangoes & Curry Leaves
serves 4
— 1

medium cauliflower, about 1.5 lbs

— 1/4 cup

ghee, vegetable oil or peanut oil

— 1 teaspoon

cumin seeds

— 1-2

bay leaves

— 1 teaspoon

minced garlic, or mashed to a paste

— 2 teaspoons

minced ginger, or mashed to a paste

— 1 cup

grated onion

— 1 cup

diced tomatoes, fresh or canned

— 1 teaspoon

salt

— 1 tablespoon

ground coriander

— 1/2 teaspoon

garam masala

— 1/4 teaspoon

cayenne

— 1/2 teaspoon

turmeric

— 2

green cayenne chiles, stemmed and slit lengthwise

— 1 cup

water

— 2-3 tablespoons

fresh coriander leaves
Preheat the oven to 350º and set a rack in the center.


Trim the cauliflower leaves, core and cut it into large florets.


Place a large, heavy ovenproof casserole with a tight-fitting lid over medium heat. Add the ghee or oil, then add the florets and cook (do in batches if it doesn't all fit), turning every 2-3 minutes until they are tinged with brown all over. Cover pot partially as you cook to keep oil from spattering all over. Using tongs, remove the cauliflower from the pan and set aside.


Place the pot back over medium heat and toss in the cumin seeds and bay leaves. As soon as the seeds start to sputter, less than a minute, add the garlic and ginger, stir-frying briefly. Add the onions and cook, stirring frequently, until they soften and turn golden throughout, 8-10 minutes.


Add the tomatoes, salt, coriander, garam masala, cayenne and turmeric and stir to blend. Cook, stirring often, until you see the oil rise, 6-7 minutes. Add the chiles and cook for another 2-3 minutes.


Add the water, stir well and raise the heat to bring to a boil. Lower the heat and simmer, uncovered, for 5 minutes, stirring occasionally. The flavor paste will be thick and wet. Add the cauliflower to the pot and gently stir until well coated with the spice paste.


Cover pot with foil to seal, then place lid tightly on top. Transfer to the oven and bake for 20 minutes.


Open the pot carefully, releasing the steam away from you. Taste and add salt as needed.


Spoon the cauliflower and sauce into a shallow bowl and garnish with coriander leaves.



Download Recipe
Brown Basmati Pilaf
serves 4
— 2 teaspoons

sea salt

— 2 tablespoons

whole coriander seeds

— 4 cups

water

— 2 cups

brown basmati rice

— 3

bay leaves

— 4 tablespoons

ghee

— 3 teaspoons

mustard seeds

— 12

curry leaves
Place rice in a strainer and rinse well with cool water. Drain and place in a large saucepan. Add 4 cups water and soak for 30 minutes.


Add coriander seeds, salt and bay leaves. Bring rice to a boil over medium-high heat. Stir once and cover with a tight-fitting lid. Turn heat down and simmer rice for 40 minutes. Remove from heat and allow to steam for 10 minutes.


Remove lid and fluff with a fork. Serve right away or cool to room temperature if you're planning to stir-fry.


To stir-fry, melt ghee in a large skillet and toss in mustard seeds. When they begin to sputter, add rice and curry leaves and stir to coat well. Cook until quite hot, then taste for salt and serve immediately.



Download Recipe