1.10.12
Chestnuts, Old & New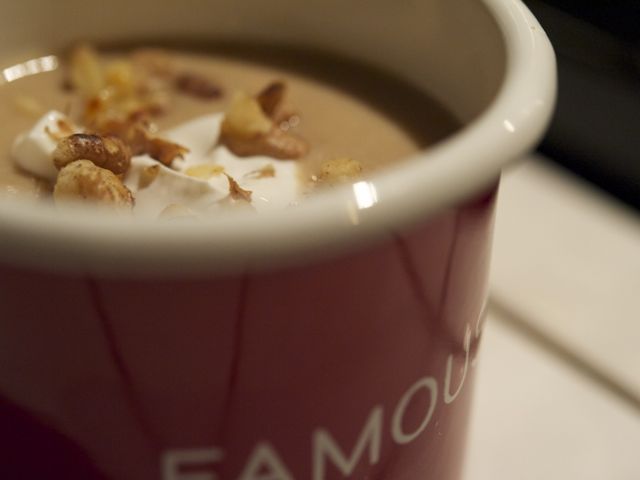 Hoary old chestnuts. Those are well-worn aphorisms and anecdotes, close kin to the cliché. Curious as to the origin of this phrase, I searched online and found a long-winded reference tracing it back to an English play of the mid-19th century. I had thought it would refer to the fact that chestnuts, encased in their hard shells, last a rather long time. Did you know the chestnut is also called chinkapin or chinquapin? By any other name, it's still the nut of a tree that belongs to the same family as the beech and the oak. I'd never prepared chestnuts, nor particularly enjoyed eating them on the rare occasion they appeared on my plate. They're always so dry and chalky. People do seem to love them, though—Americans in their Thanksgiving stuffing, the French obsessed with their marrons glacés. Vendors with carts full of roasting chestnuts—a romantic throwback to sweeter times—are still a common sight in many cities (London, New York, Rome), but I have to confess that acrid and sooty smell has never been my favorite. So it's no wonder that the jar I convinced myself to buy last year sat forlornly at the back of my cupboard these long months, getting hoary. Then I came across a recipe for chestnut and parsnip bisque. A vegan recipe, no less.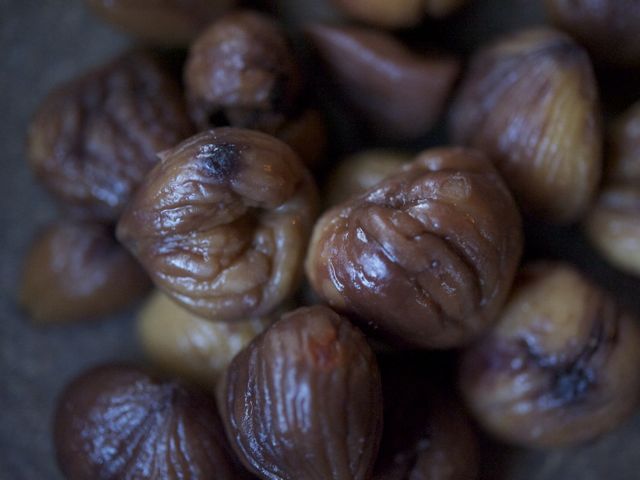 You can roast the chestnuts yourself, but it's easiest to buy them in a jar or package, already prepped. They are low in calories and contain no cholesterol, no gluten and very little fat, mostly unsaturated. With twice as much starch as potatoes, they do a beautiful job of thickening and are also made into flour which is used for dense, rich breads and cakes. The only nut that contains vitamin C, chestnuts lose almost half of it when heated.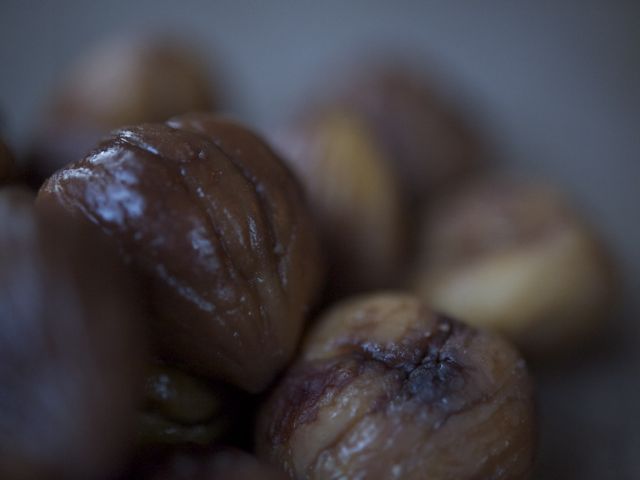 Chestnuts, quite popular in Asia, are traditionally served around the New Year in Japan, so this seemed like the perfect time to try this bisque. The recipe, posted on
Tasting Table
, is from a new "vegetable restaurant" in Philadelphia,
Vedge
. The chefs—a husband-&-wife team named Richard Landau and Kate Jacoby—have been getting lots of praise for their inventive and delicious food. I followed their recipe pretty closely, which meant buying tofu sour cream, something that is not usually found in my fridge. It doesn't taste anything like "real" sour cream, but it did add a rich smoothness to the soup and a dollop of it even made a very nice garnish.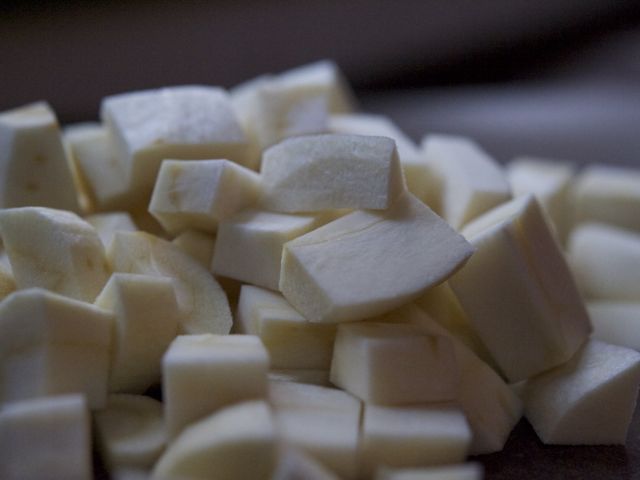 The chestnuts are paired with parsnips, which have a slightly buttery, sweet flavor with a subtle hint of cardamom. These are sauteed in olive oil with some onions or shallots, and cooked down with a splash of sweet Marsala wine. Vegetable stock is added and some warming spices—allspice, clove, nutmeg; a light hand is essential here as these can be overwhelming. Once the parsnips are tender, you puree everything together with some tofu sour cream or cream cheese. I used my new
Vitamix
, which is amazingly efficient at creating a frothy liquid in no time.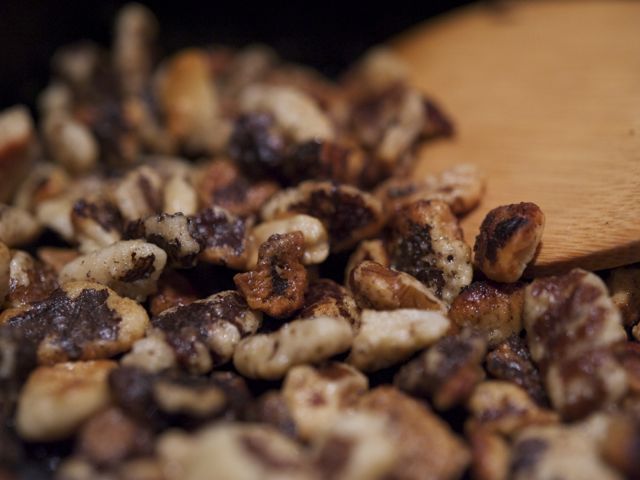 The soup was delicious—rich, velvety, subtly nutty—but it looked a little drab in the bowl. This is where finishing touches make all the difference. I toasted some black walnuts in a small skillet (regular ones would also be lovely) and sprinkled them on top along with a flurry of flaky Maldon sea salt and a generous blob of the tofu sour cream. Alongside a radicchio-&-apple salad cloaked in a sharp mustard dressing, this was dinner last night.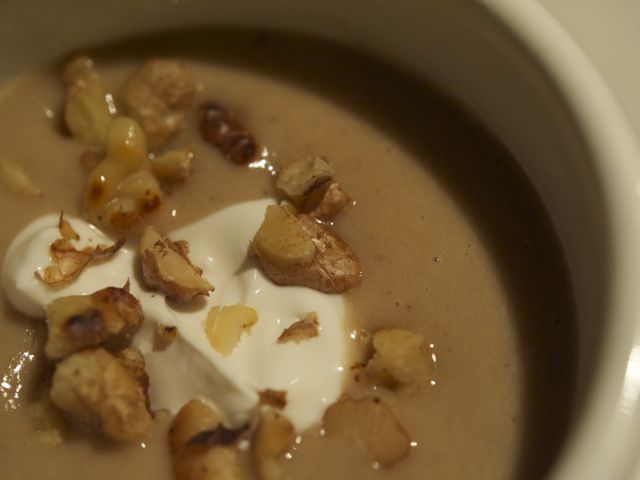 In addition to this lovely recipe, I'll leave you with a couple favorite old chestnuts:

Slow and steady wins the race.

This, too, shall pass.
Parsnip & Chestnut Bisque
lightly adapted from Richard Landau of Vedge in Philadelphia
serves 6-8
— 1/4 teaspoon

ground nutmeg

— 1/4 teaspoon

ground cloves

— 1/2 teaspoon

ground allspice

— 2 cups

jarred peeled chestnuts

— 8 cups

vegetable stock

— 1/4 cup

sweet Marsala wine (plus more as needed)

— 1 pound

parsnips, peeled and roughly chopped

— 2

garlic cloves, crushed

— 1

small yellow onion or a couple of shallots, chopped

— 2 tablespoons

extra-virgin olive oil

— 1/2 cup

tofu sour cream or cream cheese

—

sea salt & freshly ground black pepper

— 1/2 cup

toasted walnuts, chopped

—

tofu sour cream, for garnish
In a medium stockpot set over medium heat, heat the olive oil. Add the onion, garlic and parsnips and saute until the parsnips begin to brown, about 5 to 6 minutes.


Add 1/4 cup of Marsala and cook until reduced by half, about 2 minutes. Stir in the vegetable stock, chestnuts, allspice, cloves, nutmeg and tofu sour cream/cream cheese and bring to a simmer. Cook until the parsnips are tender, about 8 to 10 minutes. Remove from the heat and set aside; allow the mixture to cool slightly.


Carefully puree the cooled mixture in a blender. Taste and add salt and more Marsala if you like (I did). Ladle into bowls and top each serving with some walnuts, sea salt, a dollop of sour cream and a few grindings of fresh pepper. Serve hot.



Download Recipe