1.24.12
Beets Me
I have always had a passion for beets. Never a picky eater, I enjoyed these somewhat polarizing purple root vegetables from an early age. I can still remember the thrill of seeing my pee, subtly pink, circling the bowl. In college, I seemed to be the only one helping myself to Harvard beets, a sweet-tart staple of the dining hall salad bar. Although beets are now widely embraced as part of the unavoidable farm-to-table syndrome, they rarely make an appearance in our home as they are one of the few things for which my husband simply does not care. With their assertive color and distinctive earthy sweetness, they're not exactly the sort of thing you can just slip into a dish. Although I may roast a few on occasion for my own consumption, I am not in the habit of adding them to our morning juice or recreating the divine beet crumble from
The Fat Radish
. So you can imagine my delight when G urged me to go ahead and make that borscht I was daydreaming about. Not that I needed his permission, but it's kind of lonely to cook up a whole pot of soup and then have to eat it alone. Cooking for one is a very specific thing that lends itself more to simple pastas, elaborate salads and the occasional pot pie, don't you think?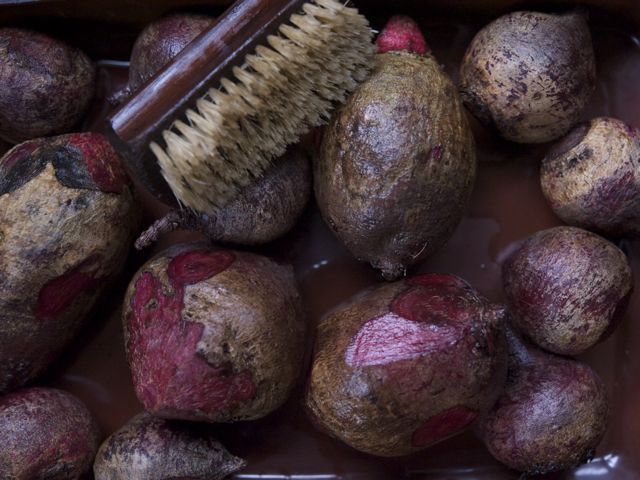 The Brits call it beetroot. (They've got so many fanciful names for vegetables: mangetout for snow peas; aubergine for eggplant; marrow for squash; courgette for zucchini; swedes for rutagbagas.) The Beta vulgaris was cultivated all the way back in the second millennium B.C. somewhere along the Mediterranean, then it spread to Babylonia by the 8th century and as far east as China by 850 AD. It is currently a widely cultivated commercial crop for producing table sugar.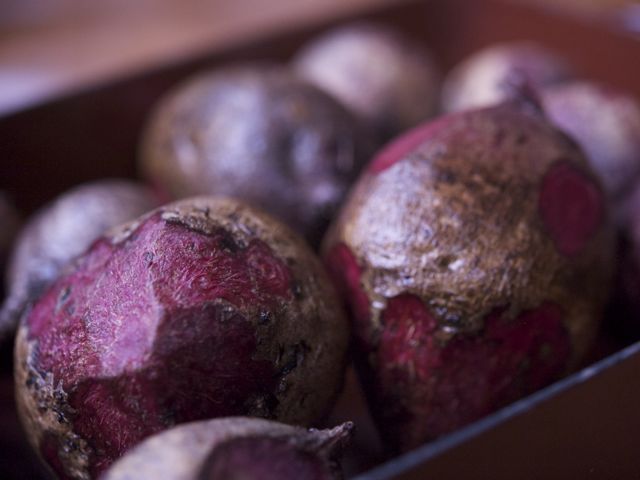 Beets are a unique source of betalains, phytonutrients that are antioxidant, anti-inflammatory and detoxifying. They've been shown to be an important contributor of two carotenoids, lutein and zeaxanthin, which are especially beneficial to eye health and common age-related eye problems involving the macula and the retina. Another interesting tidbit is that only about 10% of people experience beeturia (the reddening of the urine), similar to how only a percentage of people can detect that weird post-asparagus pee smell.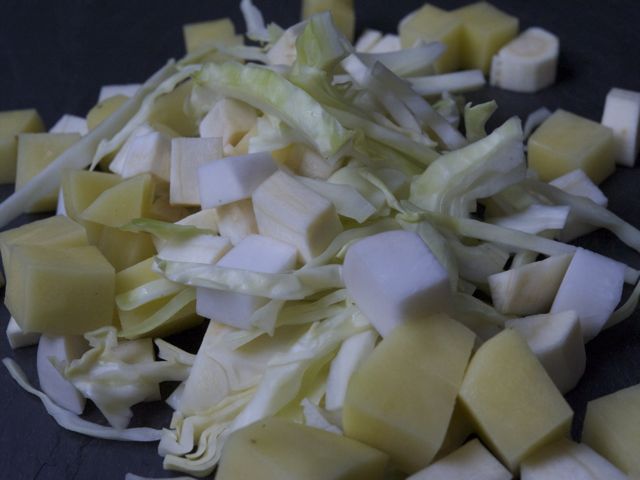 There are so many different kinds of borscht, a Central and Eastern European staple: with and without meat; with beef; with pork; beets only, or loaded up with other root vegetables. One standard bearer is from
Veselka
, the longstanding East Village fixture and bastion of Ukrainian soul food, which is made with pork butt, beef stock and lima beans. Mine is a sort of hybrid of various kinds I've eaten over the years. It's made with beef stock and meat and, in addition to beets, has turnips, parsnip, potato and cabbage. I use some allspice and caraway, but I go easy on the clove as it can be too strong if you're not careful.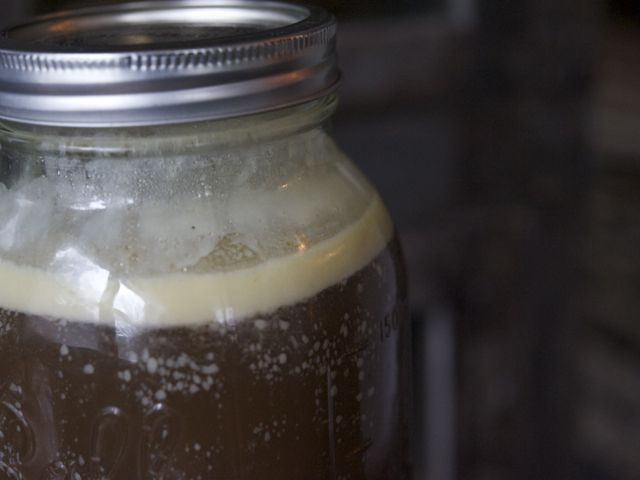 I don't know if you've tried, but I find it incredibly difficult to get my hands on any conscientiously raised beef bones in Manhattan. Seems like chefs are snapping them up, plus so many good butchers now have adjacent kitchens that press them into service. Since this recipe also calls for meat, you can make the stock with oxtails or short ribs, and it works out rather well.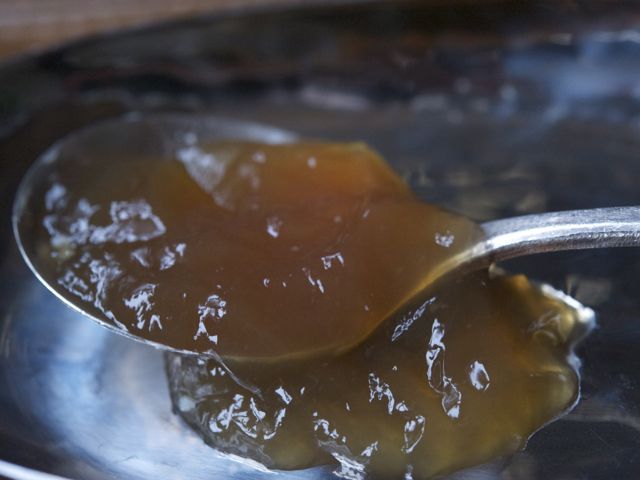 I roasted oxtails in a hot oven along with some onions and carrots until it was well browned and caramelized; deglazed the pan with a little white wine; then poured it all into a big stockpot with plenty of water to simmer for a few hours. I removed the meaty bones and stored them separately, and strained the stock to chill overnight. The next day, I discarded the layer of fat and was ready to assemble my borscht.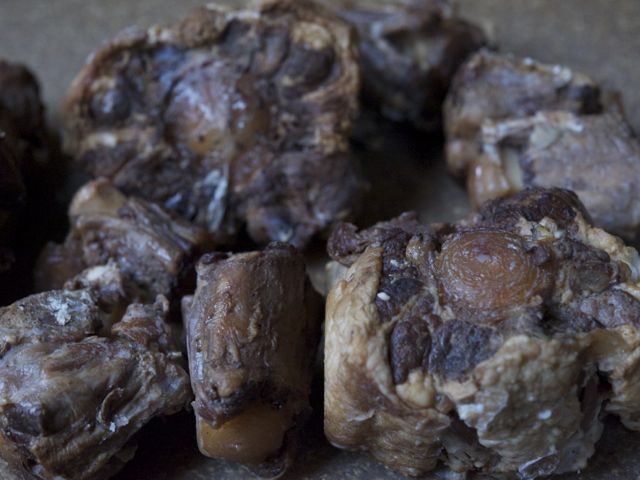 Once cold, it's easy to pull the fat from the meat, and the meat from the bones. If you've never had it, oxtail is rich and flavorful, much like short ribs or brisket. It makes a wonderfully gelatinous stock that's full of nutrition.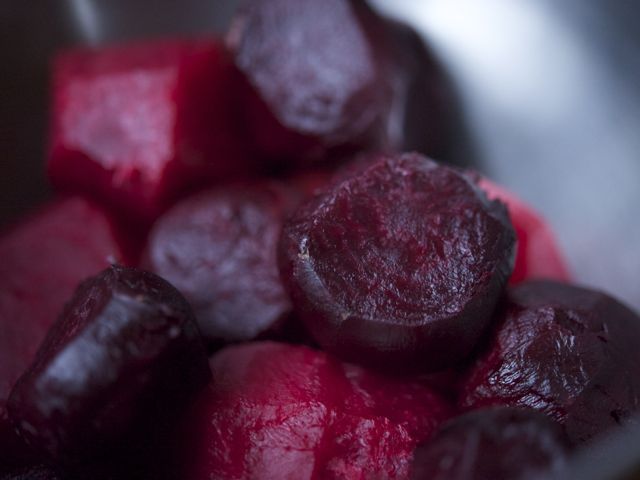 Scrub the beets, wrap them in foil and roast them in the oven until tender. Cool slightly, slip off the peels and grate them coarsely. Of course they impart their beautiful magenta hue to the soup.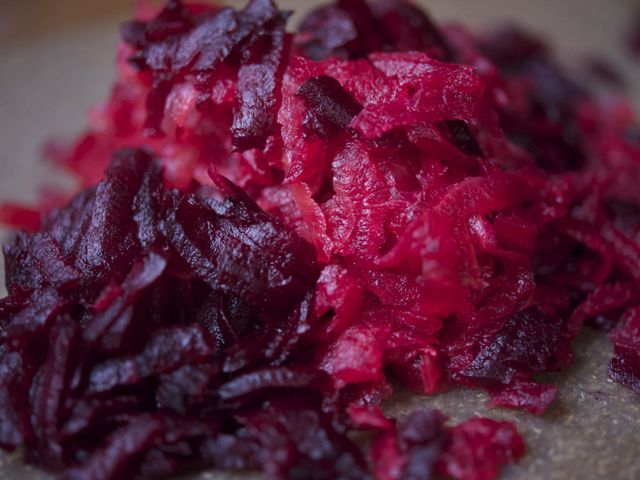 As you can see, I had two different kinds of beets. The larger, paler ones were much less sweet than the small deep purple ones. Isn't the color extraordinary? (As an aside, I once tried to use beet juice to dye a caftan and it turned it yellow!)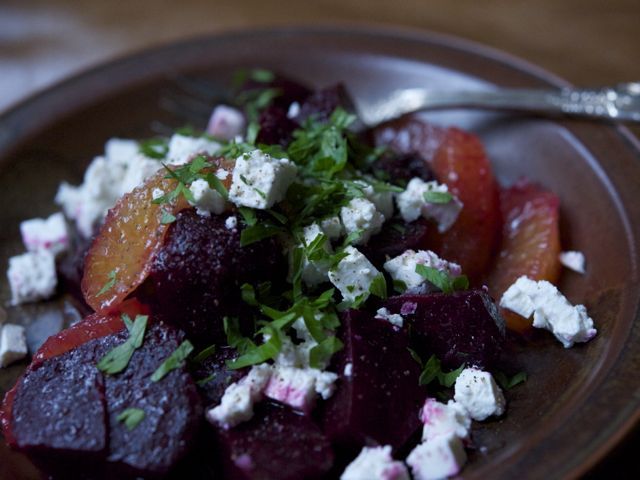 Even knowing that I would have borscht for dinner, I couldn't resist eating the extra few beets for lunch. I quartered them, tossed them with some orange slices, sheep's milk feta and a spicy olive oil and sprinkled minced parsley and coarse sea salt on top. It was the ideal solo meal. And later, I affirmed once again that I do indeed belong to the lucky 10%.
Borscht
serves 4
— 4

medium beets, roasted* and grated

— 2 cups

cooked beef, roughly chopped

— 6-8 cups

beef stock

— 2 teaspoons

tomato paste

— 1/2 teaspoon

ground caraway

— pinch

ground cloves

— 1/2 teaspoon

ground allspice

— 1 teaspoon

sea salt

— 1/4

head green cabbage, thinly sliced

— 1

medium potato, peeled and cut into 1/2" dice

— 1

medium turnip, peeled and cut into 1/2" dice

— 1

medium parsnip, peeled and cut into 1/2" dice

— 1 tablespoon

olive oil

— 1 tablespoon

butter

— 2

cloves garlic, minced

— 1

medium onion, peeled and chopped

—

juice of 1/2 lemon

— 1/2 cup

sour cream

— 2 generous tablespoons

prepared horseradish

—

chopped fresh dill, optional
In a large stockpot, combine butter and olive oil, then cook onion and garlic over medium-high heat for 2-3 minutes. Add parsnip, potato, turnip and cabbage and saute for about 5 minutes. Stir in salt, allspice, caraway, clove and tomato paste, and cook for another couple of minutes.


Pour in beef stock, and add meat and add grated beets. Bring to a boil, then reduce heat and simmer until vegetables are tender, about 20 minutes.


Combine sour cream and horseradish in a small bowl and set aside.


Just before serving, stir in lemon juice. Taste and add salt as needed. Serve with a large dollop of sour cream and a generous sprinkling of dill, if desired.


* Preheat oven to 400°F. Scrub beets, wrap in foil and bake for about an hour. Poke with skewer to check for doneness. Peel beets and coarsely shred with a grater.



Download Recipe