1.23.12
Top Banana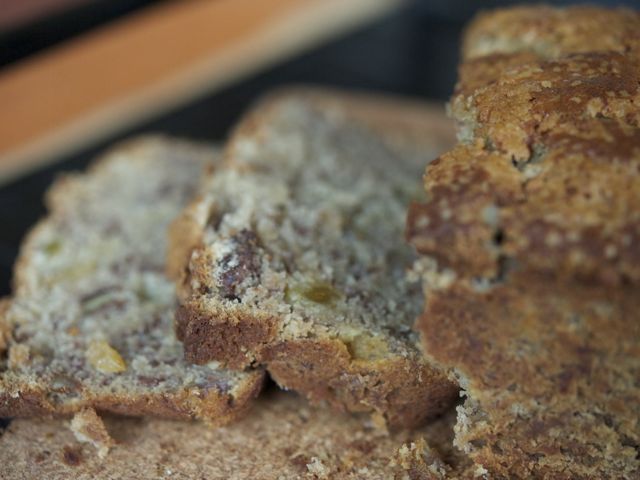 I turned 49 yesterday. Slightly surreal. I'm a little thicker around the middle than I'd like to be, but otherwise I'm pretty damn happy with things. I've always been a little superstitious about the evil eye, never wanting to call too much attention to my good fortune. I remember my mother telling me about a moment she had while driving, feeling the sun on her face, the breeze in her hair, and thinking to herself Everything is wonderful and then, suddenly, my dad was diagnosed with cancer and her own health began to fail rapidly. Life can change seemingly in an instant, which is why we must pay such close attention to the here and now, seeking joy in the moment. Lofty ambitions and long-term plans have their place, but there's also something invaluable in the simplest pastimes: a long walk in the snow; organizing your drawers; playing catch; baking a loaf of banana bread.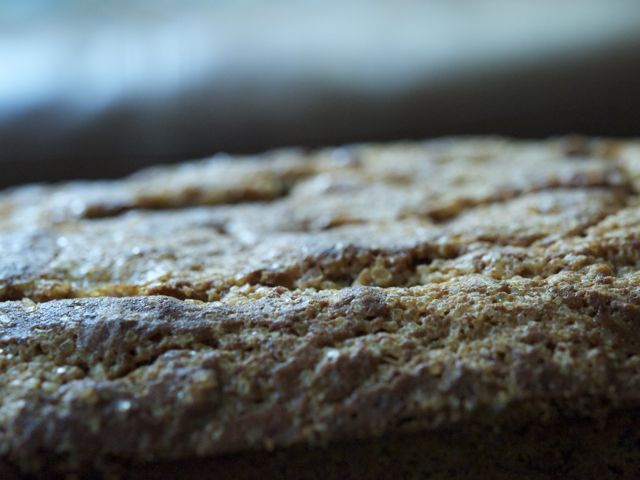 I find cooking to be very relaxing, a creative endeavor which, unlike writing, rarely causes me anxiety. Your hands get busy, your mind wanders and the senses take over. And, in the end, you are rewarded with something tangible, edible, shareable. It's a peaceful feeling of accomplishment.I like to make this banana bread and then eat a piece as soon as it's cool enough to slice, slathered with salty butter. It's also good with peanut butter or cream cheese. By the next day, I like to eat it toasted. I'll usually freeze half the loaf for another time.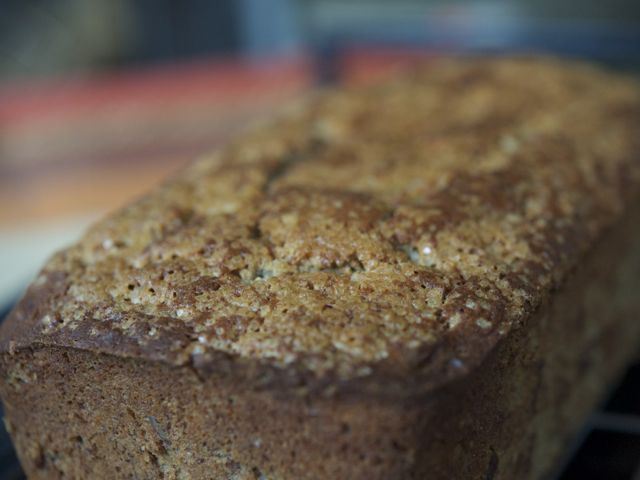 Banana bread is a simple homey pleasure. It's also easily modified to suit what you have on hand or feel like including. This gluten-free recipe calls for brown rice flour and potato starch, but an all-purpose gluten-free mix, regular all-purpose flour, or some combination of unbleached white, whole wheat pastry and buckwheat flours would all work. You can use all sugar—light, dark, refined, cane—or substitute honey, maple syrup, agave or molasses as you wish. Raisins are lovely, but dried cranberries, goji berries, chopped dates, dried apricots or figs would be equally so. Leave out the nuts, or try pecans, peanuts, macadamias or pistachios. Use butter or olive oil instead of the coconut butter. Other possible mix-ins: dried coconut, carob or chocolate chips, crystallized ginger, citrus zest, marmalade. Restrain yourself to 2 or 3 that complement each other.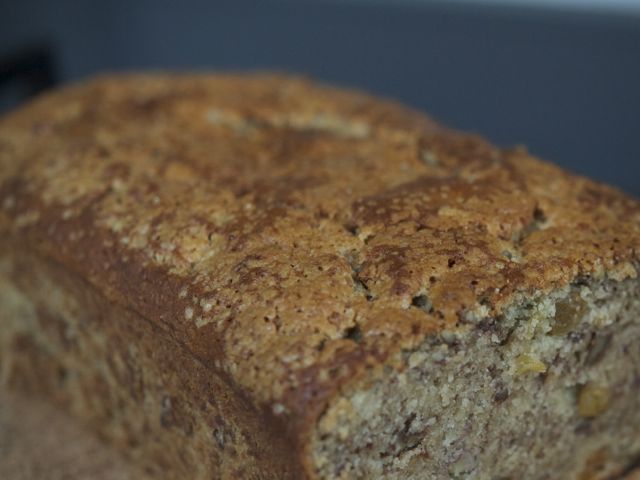 I learned a nice trick for banana bread from the Blackbird Bakery
cookbook
. You roast the bananas, skins on, for 15 minutes, being sure to prick them with a fork first so they don't burst. This adds an extra dimension to the flavor of the bread. It's not an essential step, but what's an extra 15 minutes in the grand scheme of things? Take your time.
Banana Bread
makes one loaf
— 2 tablespoons

turbinado sugar

— 1/2 cup

chopped walnuts

— 1/2 cup

golden raisins

— 2 tablespoons

flax seed

— 1 cup

mashed banana

— 3/4 cup

coconut oil

— 1/2 cup

maple syrup

— 2

large eggs

— 1/2 cup

light muscovado

— 1/2 teaspoon

nutmeg

— 1/2 teaspoon

cinnamon

— 1 teaspoon

baking soda

— 1 teaspoon

baking powder

— 1/2 teaspoon

sea salt

— 1/3 cup

potato starch

— 1/3 cup

brown rice flour
Preheat oven to 350º. Grease a 9"x9" or loaf pan.


In a medium bowl, sift dry ingredients together.


In a separate, larger bowl, beat eggs until light and fluffy. Gradually add sugar and beat well. Add in maple syrup, then oil, mixing well.


Add flour mixture alternately with the banana to egg mixture, stirring to incorporate well. Mix in flax, fruit and nuts.


Pour batter into pan. Sprinkle top with turbinado sugar. Bake for 45 minutes or until an inserted toothpick comes out clean.



Download Recipe