12.27.11
Sweet & Salty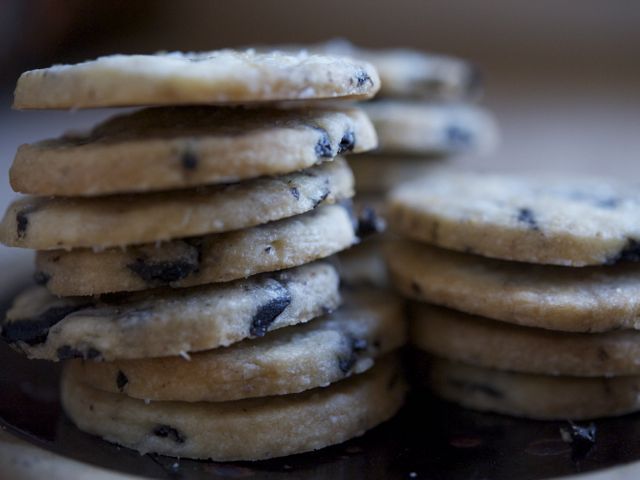 Like other legendary odd couples—Harold & Maude, Oscar & Felix—sweet and salty rub up against each other and achieve a sort of sublime friction. Not exactly opposites, they speak the same language but with very different accents. It's now well-known that the trifecta of sweet-salty-fatty proves virtually irresistible to the human palate, making things like Doritos and kettle corn the equivalent of edible crack. A decidedly much more highbrow—and indeed healthier—precursor that plays with that same equation is the delectable
scourtin
. A close cousin of shortbread, these crisp, buttery biscuits studded with briny black olives were originally made at Les Vieux Moulins in Nyons, France, an ancient Provençal olive mill. The owner, Jean-Pierre Autrand, shared his family's recipe with
Susan Herrmann Loomis
, an ex-pat expert on French cuisine. And I'm sharing it with you. For very little effort, you get a truly great cookie whose pitch-perfect sweet-salty flavor goes just as well with a dry martini or a glass of prosecco as it does with a cup of chamomile tea. (Much like
these
inspired cookies.) Make a batch
immediately
.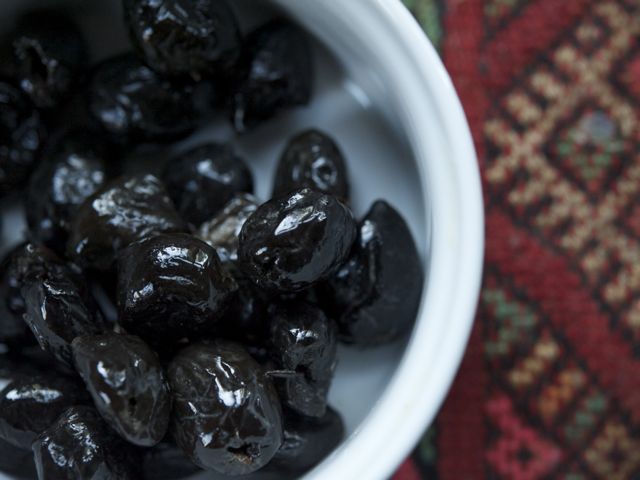 Known as la perle noire—the black pearl—olives from Nyons are from a French olive cultivar called the tanche. It is said to have been introduced to France by the Greeks in the 4th century B.C. The fully mature olives are a striking violet-black color with a slightly wrinkled skin, and have a mild, salty bitterness. They are usually dry-cured and packed in olive oil.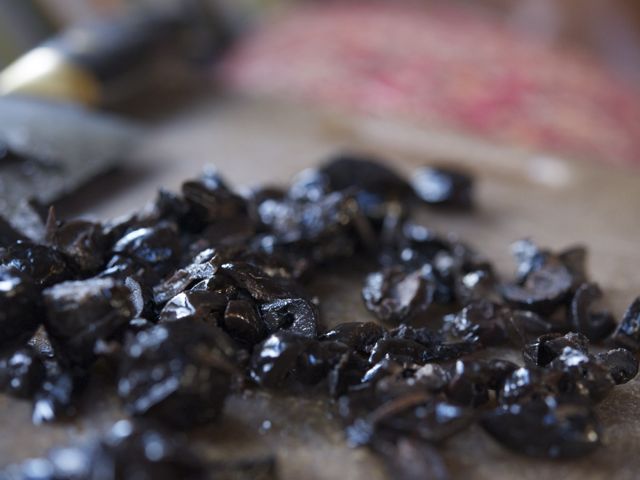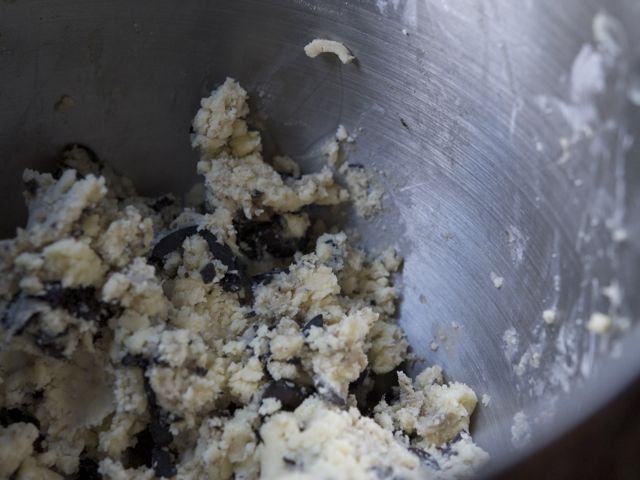 Although I'm not much of a baker, I do possess a KitchenAid which makes these endeavors rather easier. The dough is a simple affair of butter, flour, powdered sugar and a touch of olive oil. Naturally, the quality of all these ingredients matters very much. I used cultured butter from Vermont that I bought at Il Buco's new
Alimenatari e Vineria
. After eating a wonderful dinner (grilled octopus, fresh fettucine with ragú, lots of wine) at a long communal table, I couldn't leave without picking up "a few things" from the little grocery in front: mortadella, Il Buco's own grassy olive oil, calabrian chiles in oil, almond cookies, Italian sea salt... I admired the vast white mountain of whipped lardo flecked with rosemary, but went for the aforementioned butter instead.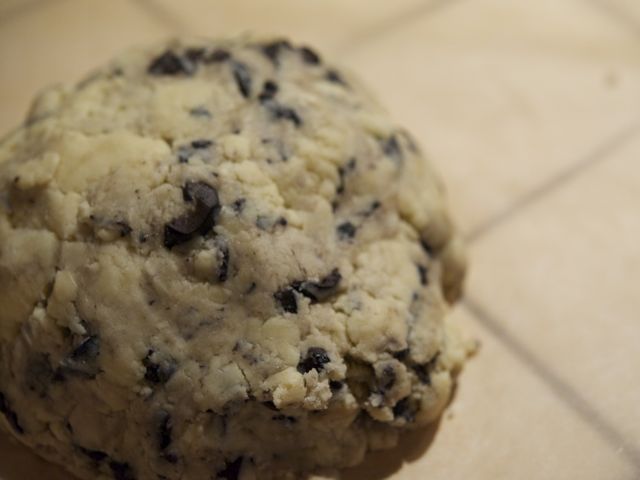 The dough comes together in a flash, then you stir in lots of chopped Nyons olives. I saw a couple of recipes that added some lemon zest, which sounds good; I'll bet a little chopped fresh rosemary or a few toasted fennel seeds would also be nice additions.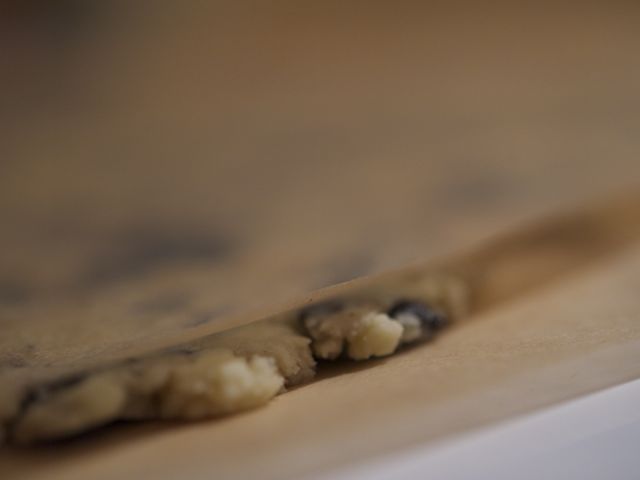 I admit to getting a little panicky when it comes to rolling out dough, but this couldn't be easier because you do it between two sheets of parchment paper. So nothing sticks and there's no need to be anxiously throwing on more flour.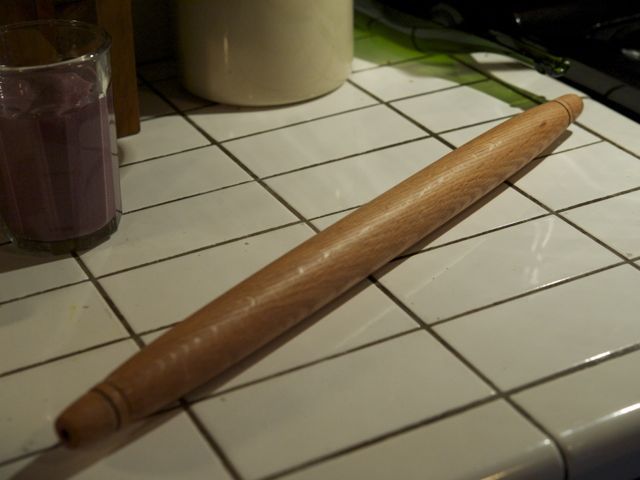 I used my new
rolling pin
handcrafted of New Hampshire red oak, a gift to myself this holiday season. (I confess to falling prey to the "one for you, one for me" approach to gift-giving.)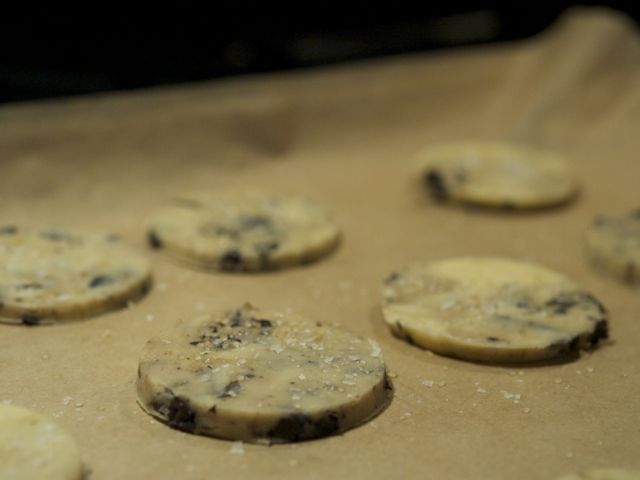 Once it's rolled out, the dough must chill. This makes it much easier to handle, so don't skip this crucial step. Next, the recipe calls for you to cut out rounds, which I did with a small glass. Other people cut rectangles, or simply press the dough into a pan, score it before baking, then break it apart like shortbread. Another way to go is to roll the dough in parchment into a couple of logs, chill that, then slice it into coins for baking. I think you can experiment, but the point is not to subject the dough to a lot of rolling or handling.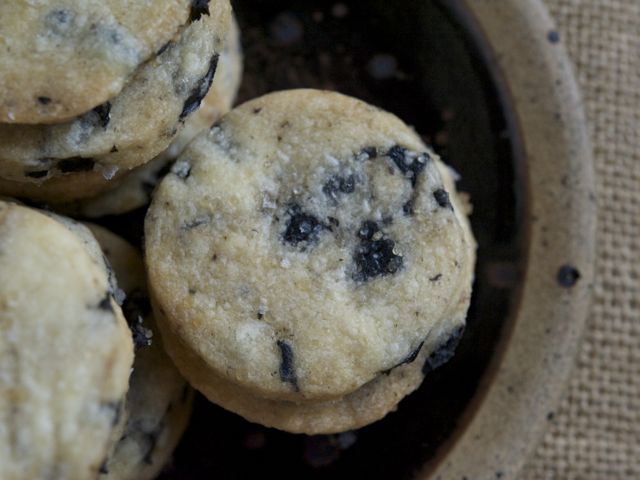 Remove them from the oven just as they begin to turn golden. Giovanna, the dear reader who recommended this recipe, says that too dark and the flavor turns. I remain forever indebted to her for introducing me to the wonder that is the scourtin.*Update: I forgot to mention that I sprinkled pinches of turbinado sugar and Maldon sea salt atop each cookie before baking, and it added yet another level of sweet-salty crunch.
Les Scourtins aux Olives de Nyons (aka Scourtins)
from Jean-Pierre Autrand via Susan Herrmann Loomis
makes about 34

— 1/2 cup

black Nyons olives, roughly chopped

— 3/4 cup

confectioner's sugar, sifted

— 1 tablespoon

extra-virgin olive oil

— 1 1/4 cups

all-purpose flour

— 9 tablespoons (4.5 ounces)

unsalted butter, softened

—

turbinado sugar

—

flaky sea salt, like Maldon
Preheat the oven to 350°F. Line two baking sheets with parchment paper.


In a large bowl or the bowl of an electric mixer, cream the butter until it is soft and pale yellow. Mix in the sugar until blended, then drizzle in the olive oil and mix until combined. Add the flour and mix gently but thoroughly until the dough is smooth, then add the olives and mix until they are thoroughly incorporated into the dough.


Place a piece of waxed or parchment paper on a work surface, and place the dough in the middle. Cover it with another piece of waxed paper or parchment paper and roll out the dough until it is about 1/4-inch thick (the dough is very sticky, and the paper makes it possible to roll out). Refrigerate the dough for at least 30 minutes, and up to 24 hours.


Cut out 2-inch rounds of dough and place them about 1/2 inch apart on the prepared baking sheets. Scatter with turbinado sugar and sea salt. Bake until the scourtins are just golden, about 15 minutes. Remove from the oven and cool on wire racks.


Meanwhile, gather the trimmings into a ball and roll it into a 1" diameter log. Wrap well and refrigerate until you are ready to bake. Cut off ¼" thick rounds (this avoids over-rolling the dough) and bake as above.



Download Recipe