12.28.11
Roe, Roe, Roe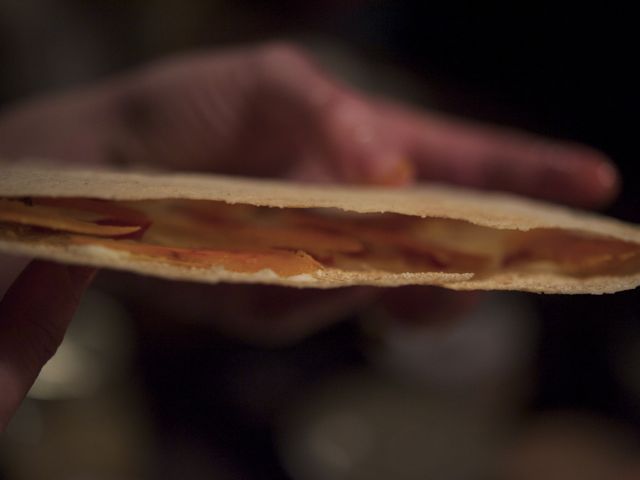 I saw an
article
recently on NPR's food blog that pointed to the way North American cooks rely on flavors that are related, while East Asians go for sharp contrasts. The former tend toward things like milk, egg, butter, cocoa, and vanilla, while the latter combine foods like shrimp, lemon, ginger, soy sauce and hot peppers. I prefer to have one foot planted in each camp and, if I had to choose, would be the exception that proved the North American rule. Unlike so many other blogs and cooking resources out there, I don't rely so heavily on "comfort food." Sometimes I think that's just a euphemism for bland and fattening. I love bold, sharp flavors and ringing contrasts in texture and taste. Even yesterday's scourtins, buttery as they are, have the salty, bitter kick of black olives. Assertive flavors can really get under your skin (your tongue?). Ever since I ordered this crazy fish roe sandwich at The John Dory, it's spicy-salty-umami deliciousness had haunted me, and I became determined to recreate it in my own kitchen. Turns out chef April Bloomfield first tried this simple snack at the home of Italian culinary legend Marcella Hazan and she, too, was intrigued.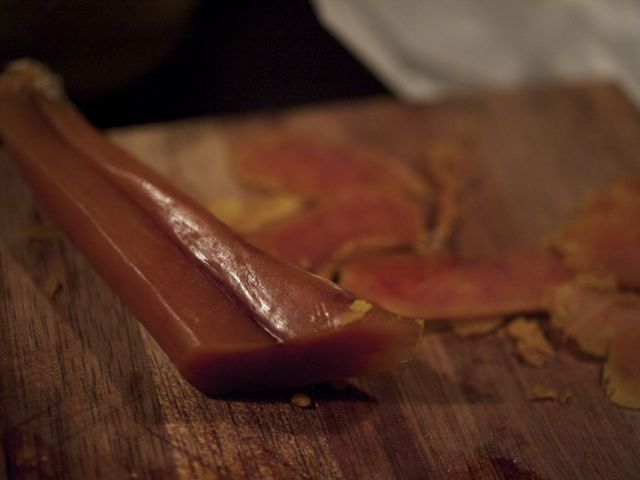 It's a wafer-thin sandwich made with crackly Sardininan flatbread that's the perfect showcase for
bottarga
, the roe pouch of grey mullet, much used in Sardinian and Sicilian cooking. It is massaged by hand to eliminate air pockets, then dried and cured in sea salt until it becomes a hard slab. I know it doesn't sound all that appealing, and it's not really the sort of thing I would want to eat just plain, but grated over hot pasta or shaved paper-thin for this sandwich, it has an addictively salty, briny kick. It ain't cheap, but you're generally using small quantities as the flavor is so powerful. There's also a version made from tuna roe which is even more expensive but I think the grey mullet is a bit more traditional.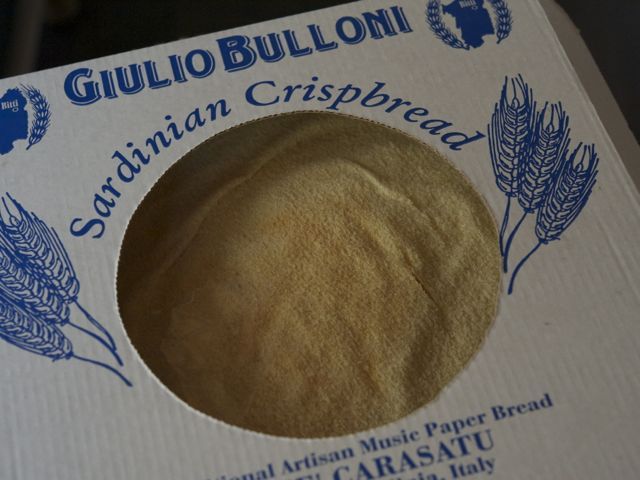 The flatbread is called pane carasatu, or carasau, or carta de musica, meaning sheet music, because it's so thin and almost papery. It's not a common item in the supermarket, but I found mine at Eataly. Try an Italian grocer or order some
online
. It's a very ancient food that was conceived for shepherds, who used to stay far from home for months at a time. It lasts up to a year if kept dry. The bread can also be eaten wet, made soggy with water, wine or sauce.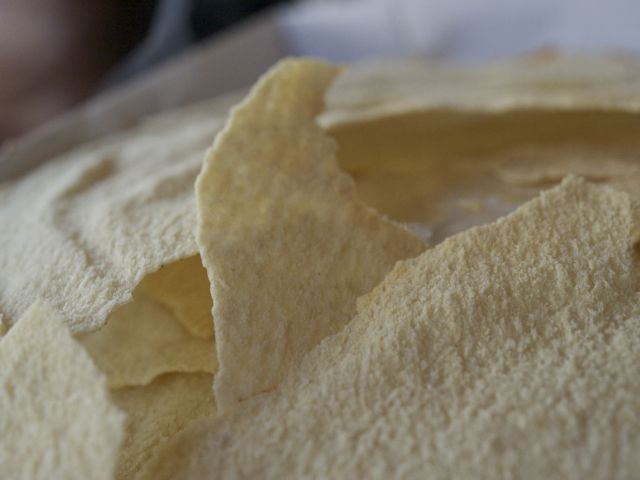 Remains of pane carasau were found in archeological excavations of nuraghi (traditional Sardinian stone buildings), so it's known to have been eaten on the island before 1,000 B.C. Because it's so thin, the flatbread shatters quite easily and must be handled with care in the preparation of this sandwich.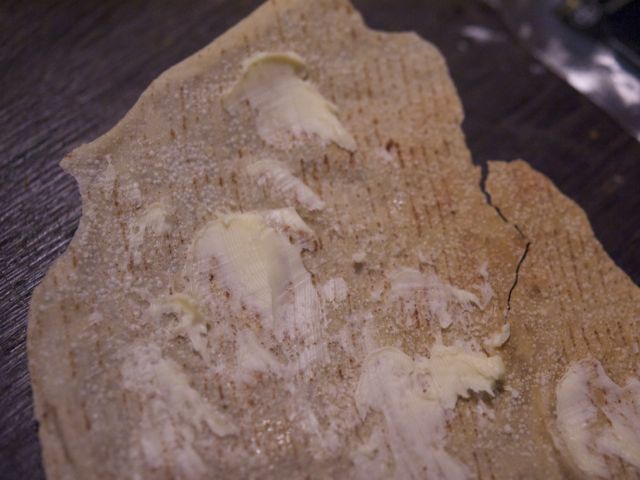 Use a wonderful sweet cultured butter that you have left at room temperature to get very soft. Spread a generous layer of this over a piece of flatbread.  Can't find carta de musica? Use the thinnest, crispest cracker you can get your paws on.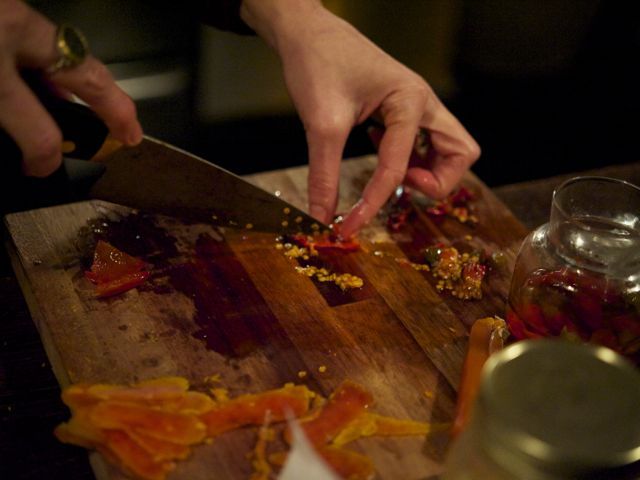 Atop the buttered flatbread go slivers of hot chile and the thinnest slices of bottarga. That's it. I'm pretty sure Chef Bloomfield also adds a slick of olive oil and some salt to her version, but I don't think either is necessary. You can experiment with what you like. I used the very spicy Calabrian chiles I bought at Il Buco's new grocery store. You'll usually find this small red chile packaged whole, in brine or oil, or ground into a paste with salt and oil. It's got a complex fruity spice. You could even just sprinkle on some dried red pepper flakes, or some cayenne.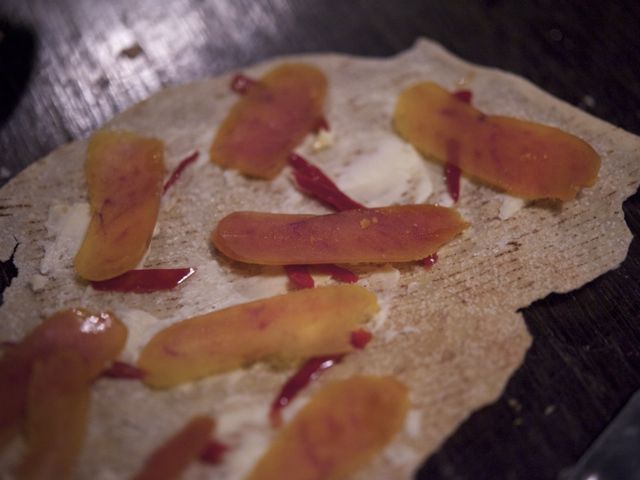 All these thin slices? You'll need a good knife. I am obsessed with my
newest one
. Read more about it
here
. Worth the investment, no question. It will really enhance your confidence and skill in the kitchen.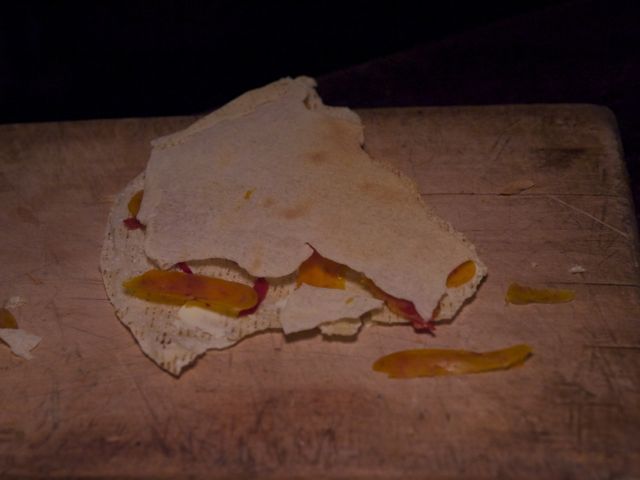 I turned out one after another of these on Christmas Eve as we were drinking cocktails. As you can see, they can get pretty ragged, but it doesn't really matter. All you're looking for is a bit of each ingredient in every bite. Such a stunning combination. Nothing North American about it. And I find that comforting.
Carta da Musica with Bottarga & Chile
inspired by April Bloomfield at The John Dory
makes one sandwich
—

bottarga (red mullet roe)

—

best quality sweet butter, softened

— 2 sheets

pane carasatu (Sardinian flatbread)

—

red chiles, fresh or cured, very thinly sliced
Spread a generous layer of butter on each of the two sheets of flatbread. On one, alternate thin slivers of chile and paper-thin slices of bottarga that do not overlap. Cover with second buttered sheet. Break roughly in four.



Download Recipe