12.21.11
Love Triangles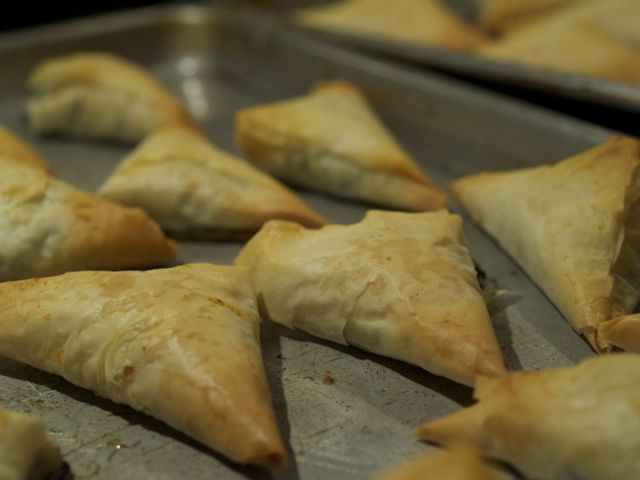 From the time that I was 11 until I left for college at 17, I lived with my parents in an extraordinary architectural house in the redwoods at the top of a mountain looking down over rolling hills and the town all the way to the ocean. My father was the provost of Stevenson College at UC Santa Cruz, and that house came with the job as did a mandate to do lots of entertaining for both students and faculty. Fortunately for my father, he was married to my mother, a consummate hostess. She threw many legendary parties, not the least of which was the annual Christmas party—really two parties. While the adults got plastered on
Fish House Punch
upstairs, the children ran amok downstairs. There was a 20-foot tall Christmas tree, a visit from Santa bearing a huge bag of gifts, live music, and an endless stream of cookies and savory delights, including little phyllo-wrapped pastries. Someday I hope to have a big house that I can fill with loads of people (I can only manage it in my screened-in porch on July 4th), but for now I will content myself with making
burek
.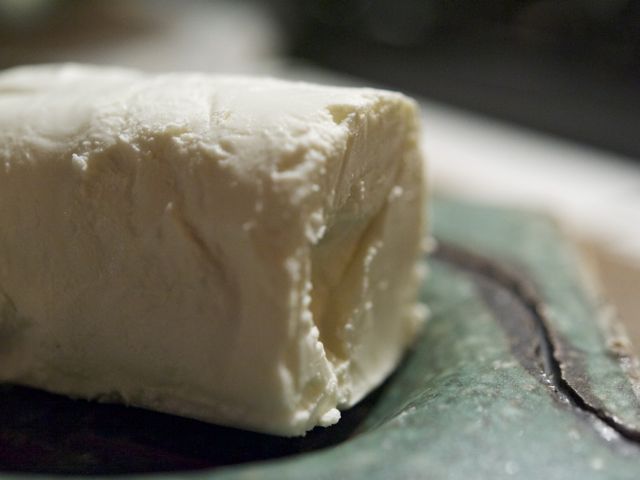 I can still hear my mother, a stickler for grammar and correct pronunciation, saying "spanakopita" and "tiropita" in a perfect Greek (via Spain) accent. One, filled with spinach and feta, and the other, filled with cheese and egg, come from the burek (or börek) family of filled pastries made with thin, flaky phyllo dough. Böreks may be prepared in a large pan and cut into portions after baking, or as individual pastries. Clearly the latter is more fun at a party, the perfect grab-&-go hors d'oeuvre.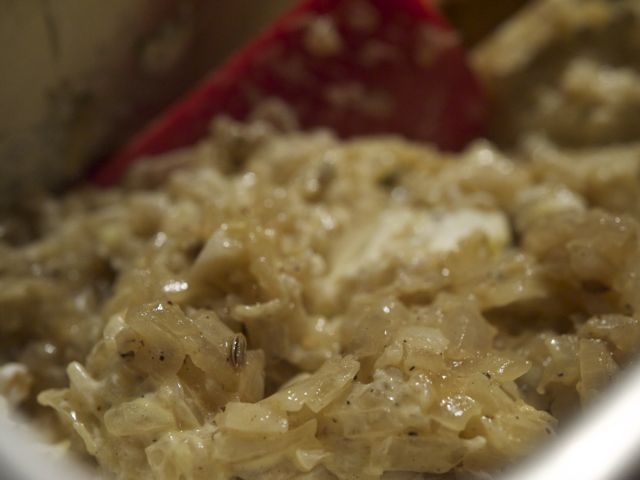 I made two different kinds to bring to some friends' party the other night and they were a hit. One was filled with a mixture of goat cheese and caramelized onion, the other with the classic combination of spinach and feta. Although they can be eaten at room temperature, I really prefer them warm from the oven.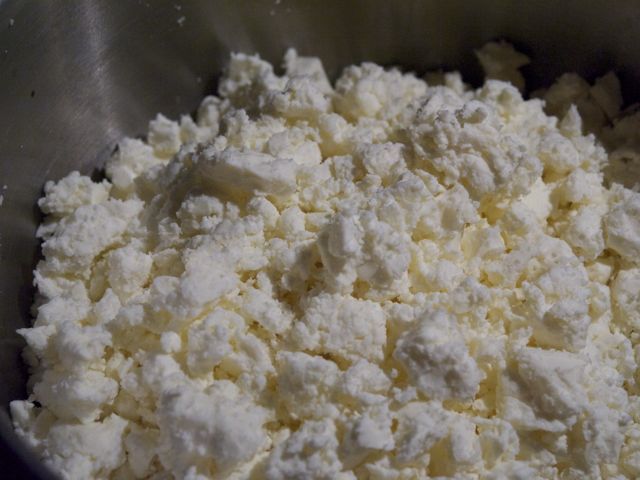 I love the salty chew of feta, it perfectly offsets the mineral quality of spinach. I added some fresh mint to this mix; a little lemon zest would also be nice.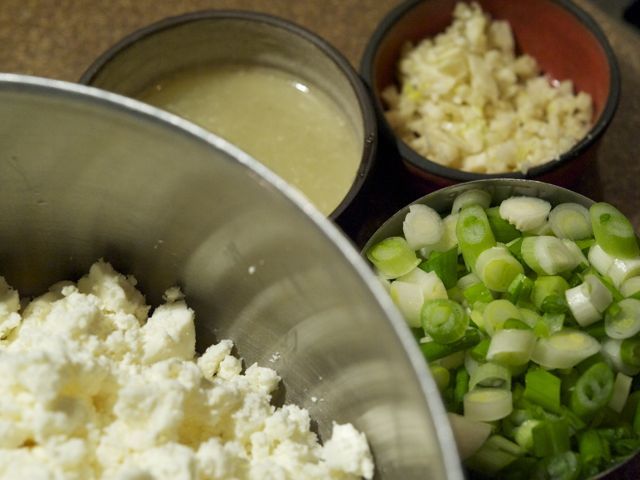 Have you incorporated the concept of mise en place yet in your kitchen? Prepping in advance and having all your ingredients ready and handy makes cooking much more pleasant. All you need are some small bowls.
I prepared both fillings a day ahead of time and stored them in the fridge. The process of wrapping the individual triangles is a bit time-consuming, but once you get the hang of it you can move very quickly. As you know, I love to have entertainment in the kitchen. I'm still working my way through Nip/Tuck (a nasty little habit), but I also like to listen to NPR (mostly
Fresh Air
) and I'm partial to
TED
talks.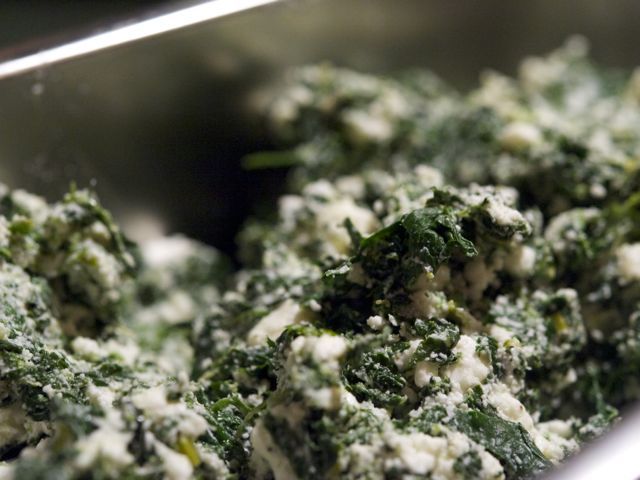 It's shocking how much spinach reduces down when you cook it, isn't it? The key here is to get as much water as possible out of your cooked spinach. I find the best way is to simply wrap it up in a clean kitchen towel and squeeze the bejesus out of it.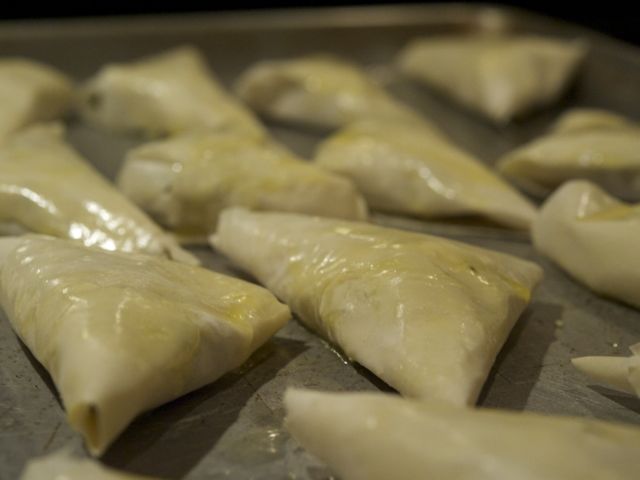 I made and baked about 90 of these babies in less than two hours. A little blob of filling gets folded up in a long strip of layered dough that you've brushed with melted butter. The folding process is exactly like the one you learned at camp for putting away the flag. Place the finished triangle on a baking sheet and brush it with more melted butter. Butter and phyllo are the perfect couple, each enhancing the other's best qualities.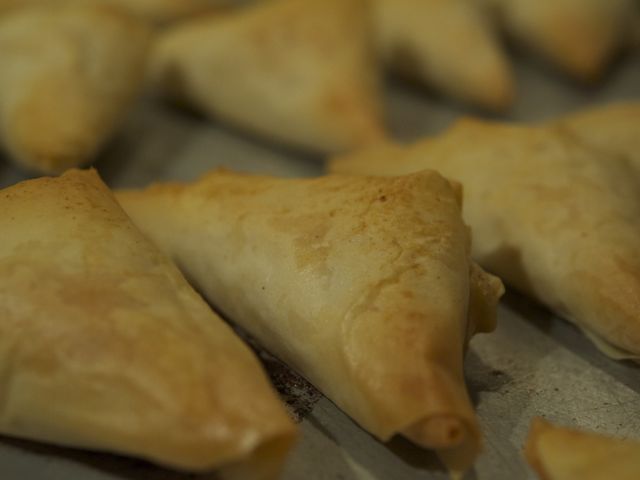 Pass these around, warm from the oven, at your next cocktail party. Another great thing about them is that you can make them ahead of time and keep them frozen, ready to be baked (no defrosting required) for an impromptu gathering or your own personal pleasure. Party of one. Why not?
Phyllo Triangles with Caramelized Onion & Goat Cheese
lightly adapted from Smitten Kitchen
makes about 30 triangles
— 1 heaping tablespoon

Dijon mustard

— 1/2 teaspoon

freshly ground black pepper

— 1/2 teaspoon

cayenne

— 1/2 teaspoon

ground coriander

— 1 teaspoon

sea salt

— 2

large yellow onions, finely chopped

— 1 teaspoon

fennel seeds

— 3 tablespoons

olive oil

— 4 ounces

goat cheese, at room temp
Heat oil in a heavy 12" skillet over medium-high heat until it shimmers, then sauté fennel seeds until a shade darker, about 30 seconds. Stir in onions, salt, spices and pepper, then reduce heat to medium-low. Cook, stirring occasionally, until onions are very tender and lightly golden brown, about 20 to 30 minutes. Let onions cool. Stir in mustard and goat cheese. To make phyllo triangles, follow instructions below.



Download Recipe
Spanakopita (Spinach & Feta Triangles)
lightly adapted from Smitten Kitchen
makes about 30 triangles
— 1 tablespoon

fresh lemon juice

— 2 tablespoons

fresh mint, minced

— 3/4 pound

feta, crumbled

— 1 pound

fresh spinach (coarse stems removed)

— 1

garlic clove, minced

— 1/2 cup

sliced scallions, white & tender green parts

— 1 tablespoon

unsalted butter

—

sea salt & freshly ground black pepper, to taste
Melt butter in a large heavy skillet over moderate heat, add onions and garlic and saute for a minute, then cook spinach, stirring, until wilted and tender, an additional 4 to 8 minutes (less for baby spinach, more for grown-up spinach). Remove from heat and cool, about 10 minutes. Wring mixture in cheesecloth or cotton dish towel to remove as much liquid as possible, then coarsely chop. Transfer to a bowl and stir in feta, mint and lemon juice. Season with salt and pepper to taste. Let filling cool. To make phyllo triangles, follow instructions below.



Download Recipe