12.20.11
Lusty Lasagna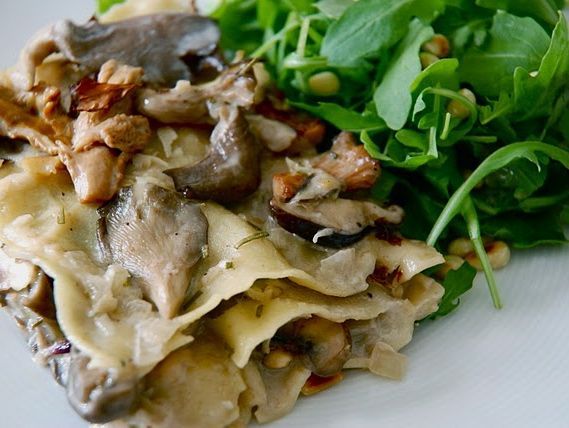 My friend Jim has been chomping at the bit for this mushroom lasagna. I mentioned it in passing on my GFL Facebook page (Still haven't "liked" me yet? Hustle over
there
and help me boost my numbers, yo!) and he started drooling and envisioning a cozy Christmas Eve gathering with this as the irresistible centerpiece. Never mind that I basically kiped the recipe from a
recent article
in the
New York Times
in which editor Sam Sifton waxed eloquent about "a gooey thrill of savory sweetness, salty astringency and the meaty pong of wild mushrooms"—a lasagna made by Monica Byrne of Brooklyn's
Home/Made
. Sifton adapted her recipe for home cooks with a few shortcuts, including no-boil noodles, and I adapted it further to use what I had on hand. Living in the sticks, you can't just run out to the corner store for a ball of smoked mozzarella or some truffle oil whenever the whim strikes. But one of the many beauties of lasagna is that it's pretty forgiving, as long as you're using a light touch and very fresh ingredients, whatever they may be. Personally, I'm not the biggest fan of those leaden layers with all kinds of meat and sausage and an overly seasoned tomato sauce. But this recipe eschews meat altogether in favor of radicchio (though I could definitely see adding in some pancetta or bacon), and the sauce is a garlicky béchamel. It's a rich and creamy dish that's pretty much exactly what you want for dinner on Christmas Eve—unless you're making
tamales
. Or
duck
. Or paella, which is what I'll be eating on the 24th.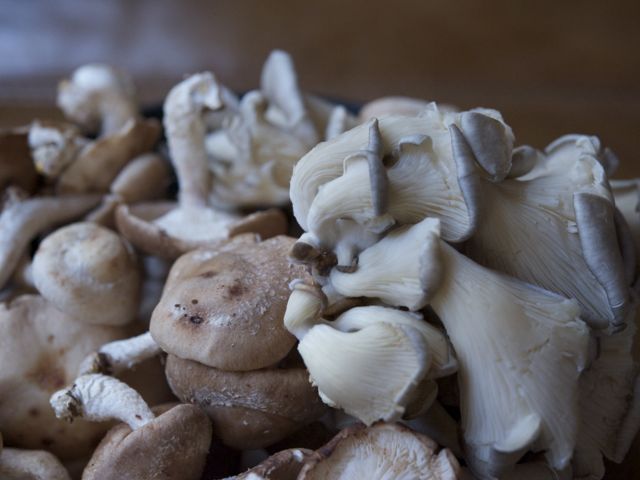 I think by now we're all pretty clear about my passion for mushrooms, wild-foraged or not. The more I learn about them, the more I want to incorporate them into my life. Still skeptical? You absolutely must listen to
this
TED talk by mycologist Paul Stamets. In 18 minutes, he will blow your mind with all the ways that mushrooms are literally saving the world. For the moment, have faith that they can save dinner.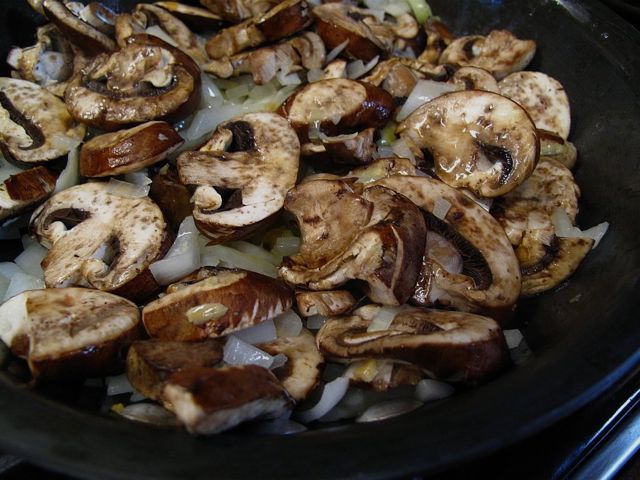 Mushrooms can take quite a bit of cooking. Toss them in a pan and they will release lots of liquid. The secret is to keep cooking them so that liquid evaporates, then add more—like wine or butter or olive oil or vinegar or all of the above—and watch as the mushrooms soak it all back up. They become juicy flavor bombs with caramelized edges. I added about half a teaspoon of thyme as I was sauteeing the mushrooms, and a few pinches of red pepper flakes.
If you already glanced down at the recipe and started to panic because of the long list of ingredients: don't. I didn't use herb oil or truffle oil or smoked mozzarella or Gruyère or Fontina, and my lasagna was still incredibly good. If you're making a special meal, you may as well go out and shop for all the right items, but a real cook (and you're either that already, or aspiring to be that) can look at a recipe and mold it to her own tastes and pantry. I used good olive oil; gluten-free flour for the béchamel; a combination of goat and cow milks; ricotta instead of the mozzarella; and whatever odds and ends of cheese I had—some pecorino, some Parmesan and something melty, I can't remember what. The radicchio's sharpness is a wonderful counterpoint to all that, but I could see substituting chard or kale, if that's all I had.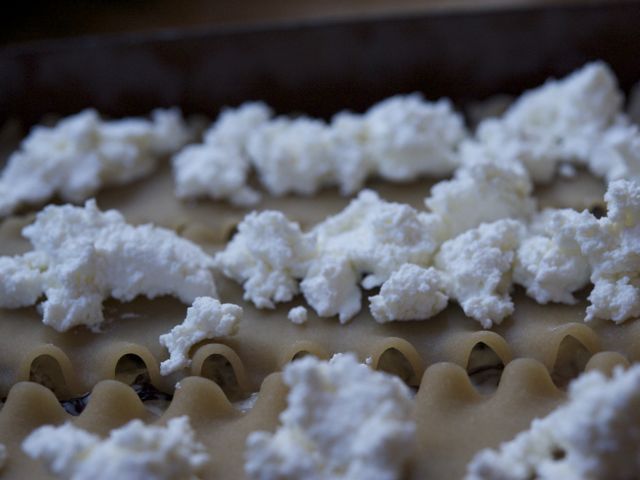 As for the pasta, I used some gluten-free no-boil noodles, and the top layer turned into something approximating a roof tile. I'm guessing that really good quality pasta would make this an extraordinary dish instead of merely a totally delicious one topped with a disposable cracker. And I recommend finishing the dish with a thin layer of sauce and plenty of cheese, to protect your top layer of pasta. By the way, if you are going to make the herb oil, the recipe is
here
.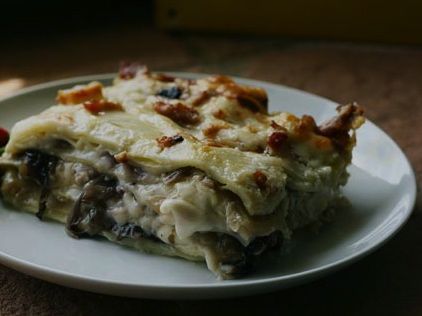 I'm not sure this is a lasagna that you would find in Italy. And on Christmas Eve, real Italians are probably all eating the feast of the seven fishes. But those of us without religious and cultural constraints can freely roam the culinary landscape.To serve alongside? A crisp and refreshing salad. Maybe escarole with a lemony dressing. Or spicy arugula tossed with marinated artichoke hearts. Or thinly sliced fennel and bits of grapefruit drizzled with almond oil. Of course some crusty bread slathered with peppery, garlic-infused olive oil. And a dazzling red wine to drink. Dessert? Dried apricots poached with ginger. Fresh pomegranates. Some little biscotti to dip in vin santo. I'm drunk on the possibilities...
Mushroom Lasagna
adapted from Monica Byrne, Home/Made, Brooklyn
serves 6-8
— 1/2 cup

extra-virgin olive oil, or herb oil

— 6

large shallots, peeled and minced

— 1 1/2 pounds

mushrooms, wild or best available (oyster, shiitake, cremini), trimmed and sliced

— 1 cup

dry white wine

— 1

softball-sized head of radicchio

—

kosher salt & freshly ground pepper

— 4 tablespoons

unsalted butter

— 3

large cloves garlic, peeled and minced

— 4 tablespoons

flour, ideally instant or all-purpose

— 3 cups

whole milk

— 1/2 teaspoon

freshy grated nutmeg

— 1 cup

Gruyère cheese, grated

— 1 cup

Fontina cheese, grated

— 2 tablespoons

best-quality truffle oil (optional)

— 2

9-oz boxes of no-boil lasagna sheets

— 1

baseball-sized ball of smoked mozzarella, sliced

— 1 cup

fresh Parmesan, grated
Preheat oven to 350. Place a large sauté pan over medium-high heat and add 1/4 cup of the olive oil or herb oil. When it begins to shimmer, add half the shallots and cook, stirring occasionally, until translucent. Add mushrooms and toss to coat, then cook until they begin to color but are still plump, approximately 12-15 minutes. Add white wine to deglaze pan and allow to cook down into a syrup, approximately 5 to 7 minutes. Put the mushrooms into a large bowl and reserve.


Meanwhile, in another bowl, toss the radicchio with 1/4 cup olive oil or herb oil and season with salt and pepper. Spread the strips out onto a baking pan and place in the oven until the strips are lightly browned around the edges, approximately 15 minutes. Combine with mushrooms and reserve.


Make the béchamel. Place a saucepan over medium heat and melt the butter. When it foams, add the rest of the shallots and cook until they begin to turn translucent. Add the garlic and stir to combine, then cook until the garlic has started to soften. Sprinkle flour over the top and stir to combine, then cook gently until the mixture has turned light brown and gives off a nutty scent, approximately 10 minutes. Add milk to the mixture, whisking all the while, until the sauce is thick and creamy. Add the nutmeg and 1/4 cup of grated Gruyère and 1/4 cup of grated Fontina, then stir to combine. Season to taste with salt and pepper. Reserve a cup of béchamel. Pour the rest over the mixture of mushrooms and radicchio, and stir to combine. Add truffle oil, if using.


Assemble lasagna. Spread plain béchamel across the bottom of a 9"-x-13" baking pan. Place a layer of lasagna sheets across the sauce, being careful not to overlap. Spread a generous layer of mushroom mixture on top of the pasta, and follow with some grated Fontina and Gruyère. Put another layer of pasta above the cheese, and top with smoked mozzarella. Repeat until the pasta is gone and the pan is full. Top with remaining cheeses and a generous amount of grated Parmesan. Cover with a buttered sheet of aluminum foil and place in the oven for 45 minutes. Remove foil and cook until top is golden and bubbling.



Download Recipe