12.22.11
Small Fry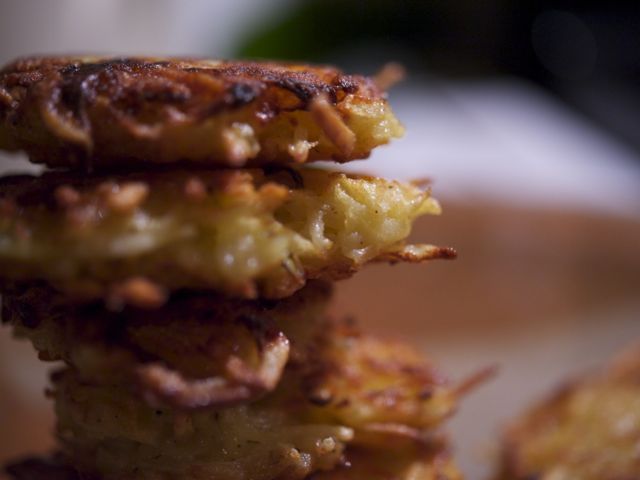 Oil is one of the iconic symbols of Hanukkah, meant to remind us of the oil that kept the Second Temple of ancient Israel lit with a long-lasting flame. This miracle is celebrated with the consumption of all manner of fried treats, and the latke is front and center. Latkes are usually made from potatoes, but can often incorporate other vegetables, including sweet potatoes, celery root, apples, beets or whatever's on hand. This type of pancake is found in the cuisines of Luxembourg (gromperekichelcher), Latvia, Lithuania, Austria, Belarus (draniki), Germany (Kartoffelpuffer), Poland (placki ziemniaczane), Ukraine (deruny), Hungary, Slovakia, Persia and the Czech lands (bramborák)—not to mention India and Korea (pa jeon), among others. It's a simple fritter—easy to make and easy to enjoy—with a very universal appeal. I made some last night for the first night of Hanukkah, and wished my dad were alive so I could share them with him.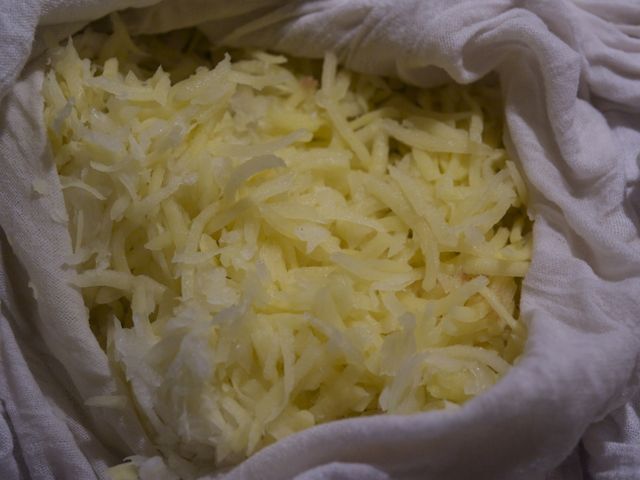 The nice thing about this recipe is that you can adapt it to include whatever vegetables you like. Even carrots or zucchini would work. You can play with the combination of vegetables and the spicing; throw in some fresh herbs; make them  spicy, sweet or savory; and adjust the size. A pancake is an incredibly versatile thing. And it's the perfect vehicle for sauces, chutneys, aiolis, syrups...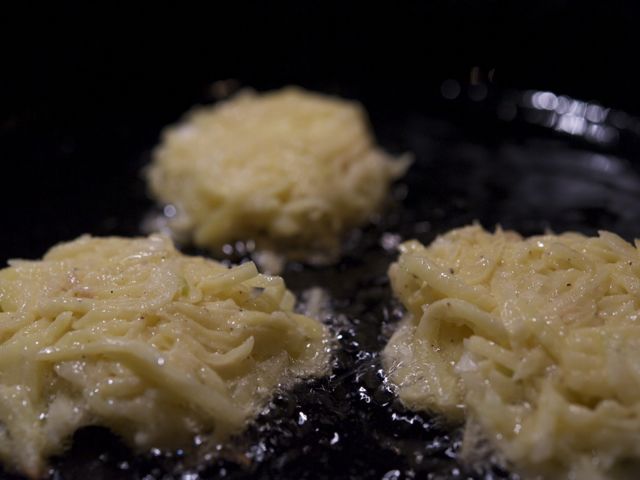 Make sure your oil is hot enough (it should shimmer) and don't flip too soon. A couple of minutes on the first side should give you a nice brown crunch.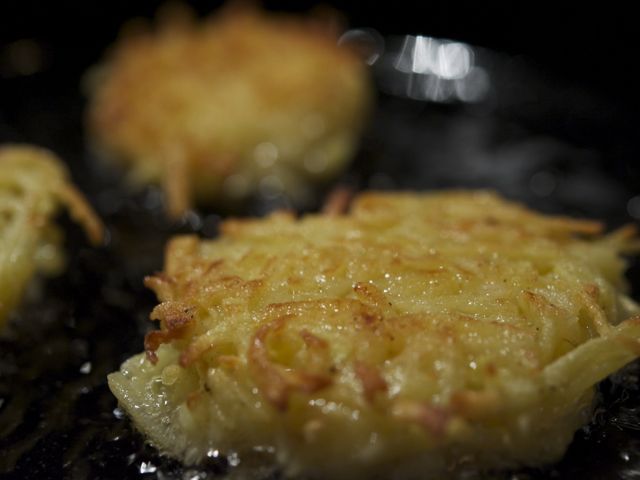 Latkes have a lot in common with hash browns and röstis. The main difference is that the grated vegetables are tossed with a little egg and flour to bind them together. I could see getting crazy and adding some cheese, maybe even a jalapeño. (As you can see, my Mexican roots are deeply entwined with the Jewish ones...)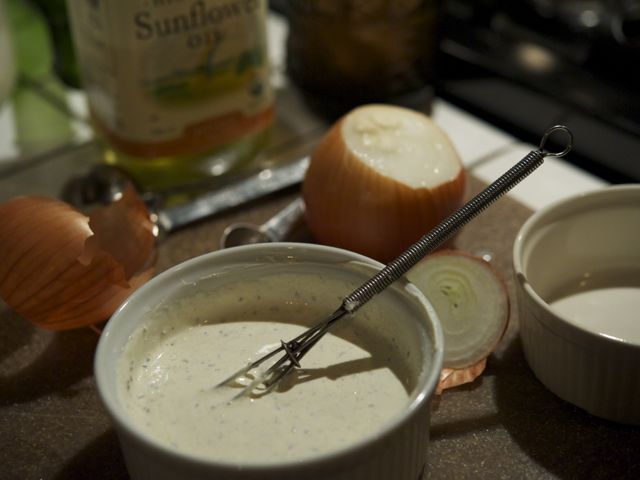 I made small latkes, about 2 1/2" in diameter, and topped them with sable (a smoked, buttery black cod) and a dollop of sour cream into which I stirred some ground caraway. This was my riff on the classic flavors of a Jewish deli, where rye bread is never far away. It was a pretty stellar combination.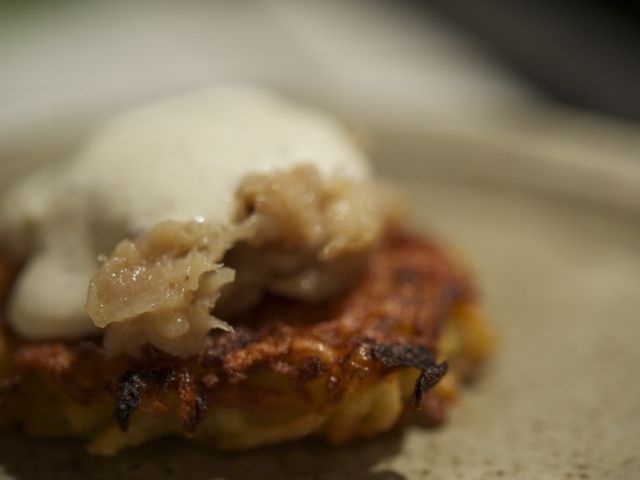 If you made the latkes bit-size, they would be excellent as hors d'oeuvres at a cocktail party. Other toppings to consider: caviar and crème fraîche; garlicky aioli; pepper jelly; applesauce; mustard... These might sound like sacrilege, but latkes aren't just for Hanukkah—or Jews. I encourage you to try them since they're a breeze to make, and to customize. Don't be put off by the whole fried-in-oil thing. It's been demonized by ignorant food nazis. Just be sure to use a good quality oil that's meant for high heat, preferably sunflower or peanut.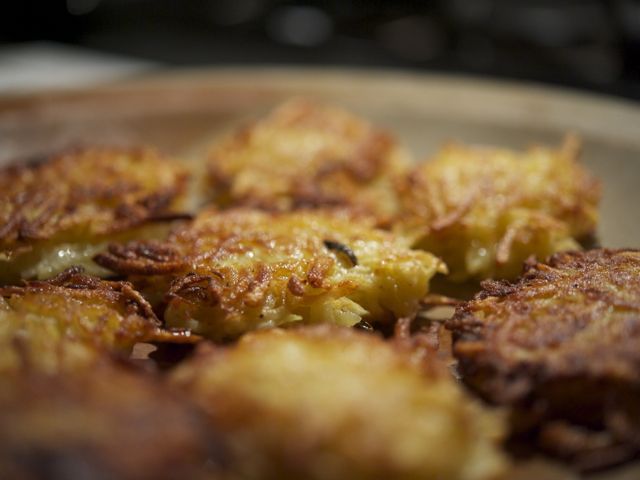 All this talk of latkes made me think of
this
.Are you gearing up for the holiday? G has requested
bouillabaisse
on Christmas, followed by my
coconut sorbet
. What special things will you be cooking?
Latkes (Potato Pancakes)
makes about 10 small or 5 medium pancakes
— 1 teaspoon

sea salt

— 1

farm fresh egg

— 1/4 cup

all-purpose flour

— 1

small onion or a couple of shallots, peeled

— 1

large potato, russet or Yukon Gold

—

freshly ground pepper

—

high-heat oil for frying (sunflower or peanut)
With a food processor or box grater coarsely grate the potato and onion/shallot. Transfer to a thin cotton cheesecloth, and squeeze out as much liquid possible. Let it rest for a few minutes, then squeeze again.


In a large bowl, whisk the flour, egg, salt and pepper together. Stir in the potato onion mixture until all pieces are evenly coated.


In a large heavy skillet (cast iron works well), heat 1/4 cup vegetable oil over medium-high heat. Drop a generous tablespoonful of the potato mixture into the oil and gently press flat with a spatula. Cook until the edges are golden brown, then flip and brown the other side. Drain on paper towels. Repeat with remaining potato mixture.


If you want to keep latkes warm as you are making them, heat oven to 275º and place a parchment-lined baking sheet inside. Once latkes have drained, place them on the baking sheet. They will keep warm in the oven for an hour or so.


Once cooked, latkes will keep in the fridge for a couple of days, or in the freezer, well wrapped in saran, for a few weeks. Reheat them on a cookie sheet in a 400º oven until crisp.



Download Recipe