12.19.11
Musical Selections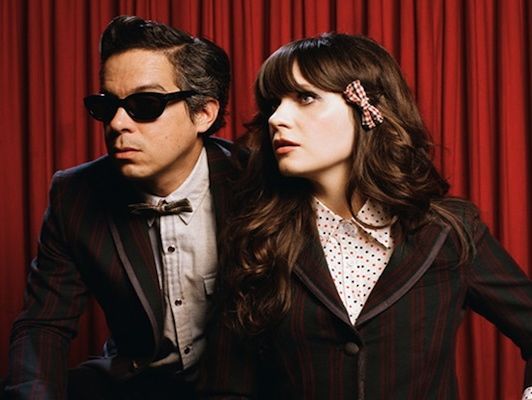 I'm a wee bit pressed for time, having slated today for making two more batches of caramels for my loyal readers. G and I just returned from the city and a round of Christmas parties, and it's already 3pm and things are barely getting going. And then I remembered my promise: the holiday soundtrack. I have all my picks lined up and ready for you. So without further ado (except to say that I am still and always enthralled by the pieces I recommended
last year
), here are my musical selections for Christmas 2011. (Chanukkah music is, sadly, not my forte.)
A Very She & Him Christmas
- This hipster collaboration features the successful though somewhat unlikely pairing of country-folk artist M. Ward and wide-eyed faux naif actress Zooey Deschanel (seen above in an ironically fabulous pose). Highlights: their renditions of
Silver Bells
and
Baby It's Cold Outside
.
Sufjan Stevens Presents Songs for Christmas
- If you're not familiar with the work of this indie rocker, then this may be a good entree for you. This boxed set of five EPs released over six years (the missing year is 2004 when Stevens was too busy recording the fabulous and also highly recommended
Illinoise
) contains collections of stripped-down carols, covers and originals first recorded as gifts for family and friends. There are some pretty genius arrangements, especially his three versions of
O Come O Come Emmanuel
and his take on
O Holy Night
.
A Christmas Gift for You from Phil Spector
- Secular standards (The Ronette's
Sleigh Ride
, Darlene Love's
Winter Wonderland
) are given the Wall of Sound treatment from the legendary
pervert
producer.
Nat King Cole: The Christmas Song
- The crooner to end all crooners, he renders classics like
God Rest Ye Merry Gentleman
sublime with his inimitable velvet voice.
A Very Special Christmas Compilation
- The first in what went on to be a well-received series of albums featuring pop stars' interpretations of traditional Christmas songs, this one from 1990 includes Madonna's breathy version of
Baby It's Cold Outside
(Eartha Kitt's incredible original is on
Purr-Fect
) and a wonderfully throaty Alison Moyet (of Yaz) on
The Coventry Carol
.
Barbra Streisand: A Christmas Album
- Because who does Christmas better than a Jewish princess? This album was first released in 1967 when Streisand was pregnant, which, according to one commenter, gave her voice a gorgeous "reedy" quality. Get this to compare her versions of 
I Wonder As I Wander
and
Ave Maria
with those of Joan Baez on
Noel
.
Elvis Christmas
- 23 songs, crooned like nobody's business. Worth it for
Blue Christmas
alone.
Christmas with the Rat Pack
-
This boozy holiday compilation can be appreciated both with and without a spirit of irony (mostly depending on how old you are). Listening to three of the 20th century's most notorious sinners singing about the virgin birth is worth at least a laugh, and  Dino's dreamy
Peace on Earth/Silent Night
smacks of redemption.
Ray Charles: Spirit of Christmas
- I love Ray. He invests his music with such incredible feeling. His version of
Little Drummer Boy
is a highlight.
Christmas in the Heart: Bob Dylan
- Yes,
that
Bob Dylan. As a concept, it's almost as disturbing as his Born-Again phase. And yet this 2009 album might surprise you. His raspy version of
Do You Hear What I Hear?
is strangely moving.
A Charlie Brown Christmas: Vince Guaraldi Trio
– To a certain generation, that tinkly piano is an instant trip back in time. Charles Schulz's
Peanuts
characters—and our distant childhoods—are brought to life through this whimsical yet deep music. Truly enchanting.
Sacred Classics
- Full of well-known classics (Handel's
Messiah
and Bach's
Jesu Bleibet mein freund
) and some lesser-known greats, like Gregorio Allegri's Renaissance classic chorale
, Misere Mei Deus;
Mozart's glorious
Ave Verum Corpus
; and Brahm's
Ein Deutches Requiem
. If you like choral music, you'll love this.And last, but not at all least, Ariel Ramirez' Misa Criolla, performed by
Mercedes Sosa
- I know I said that I only approve
this version
but, having heard the revered Argentinian diva work her magic, I take it back.What I don't take back is my suggestion that you fill your home with the sounds and smells of the holiday. Light some
fir balsam
or
red cedar
incense, stoke the fire, sip some
gl
ögg
and listen to the sweet strains of Christmas.