11.3.11
Petal Pusher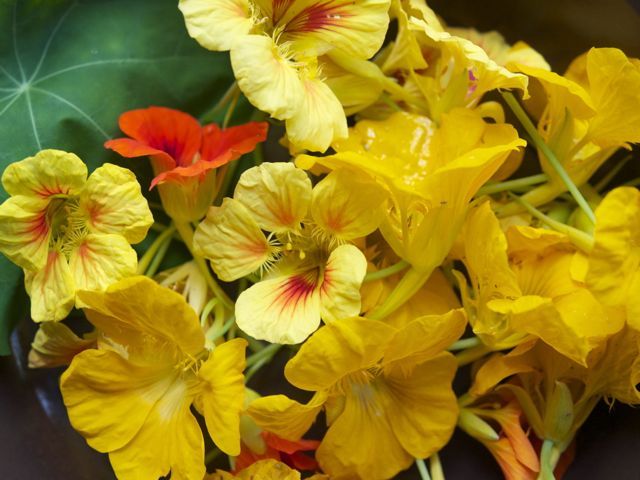 The nasturtiums were among the last things to flourish in the garden, along with mint, rosemary and a host of straggling green tomatoes. Kale and collards are still hanging on, but these vibrant blooms gave up the ghost with the first hard frost. Fortunately, I had harvested a bunch after listening to a recent episode on NPR's
Splendid Table
. I think I've mentioned before my deep and abiding love for host and über-mensch Lynne Rossetto Kasper. My favorite part of the program is when listeners call in to ask for her advice on any number of food and cooking issues. No matter how challenging or arcane the question, Lynne always has the answer. And she's so warm and nurturing! I want to go to dinner at
her
house. Anyway, a woman called in wanting to know what to do with her bumper crop of nasturtiums, and Lynne suggested she candy the petals. Although I didn't want to do this, it got me exploring other ways to use my nasturtiums. Lots of people are eating the flowers raw in salads, and using the peppery leaves to make pesto. But the idea of crushing the petals into a compound butter really captured my fancy.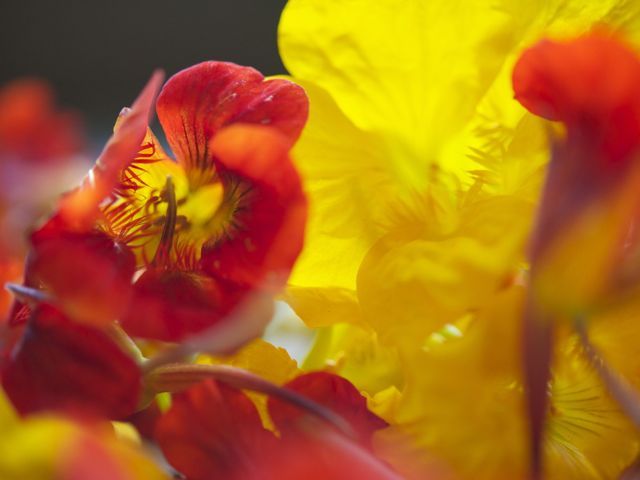 Compound butters are made by whipping herbs, spices or aromatic liquids into softened butter. It's then reformed, usually in plastic wrap or parchment paper, and chilled until it's firm enough to be sliced. These butters can be melted on top of meats and vegetables or used to finish a sauce.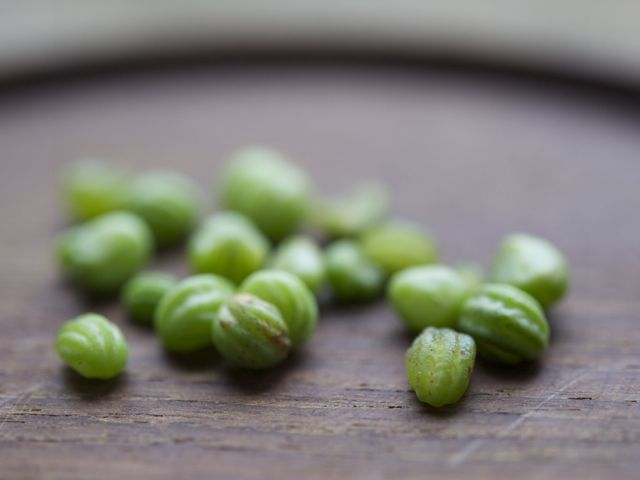 Incidentally, you can also pickle the immature nasturtium seeds, these caper-like berries that are produced at the end of the bloom. They have a very strong almost horseradish-like flavor that is an intense version of the peppery taste of the leaves.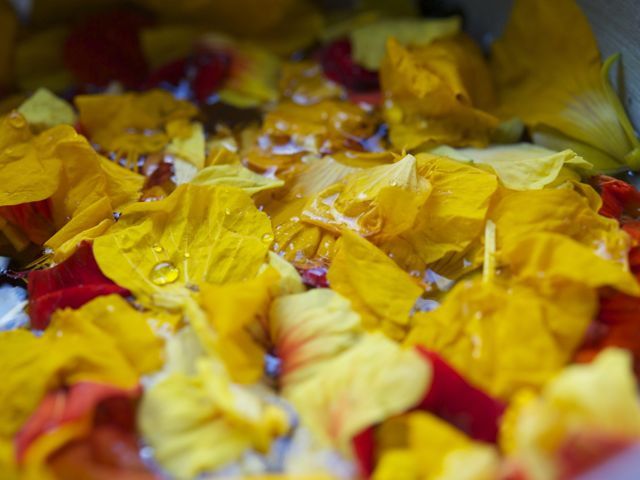 The petals have the mildest flavor of all the edible parts of this plant, and a delicate, almost velvety texture. Once you've plucked them, it's a good idea to give them a good soaking, unless you want a little extra protein in the form of some insect friends.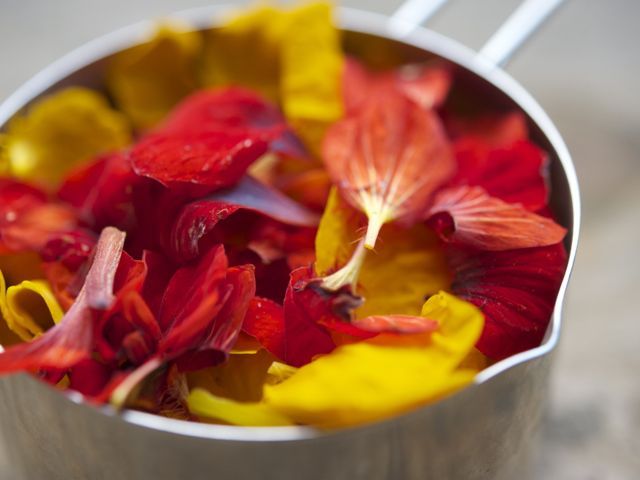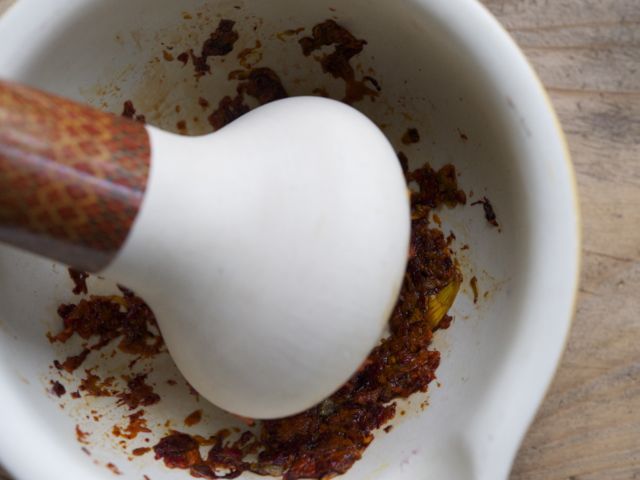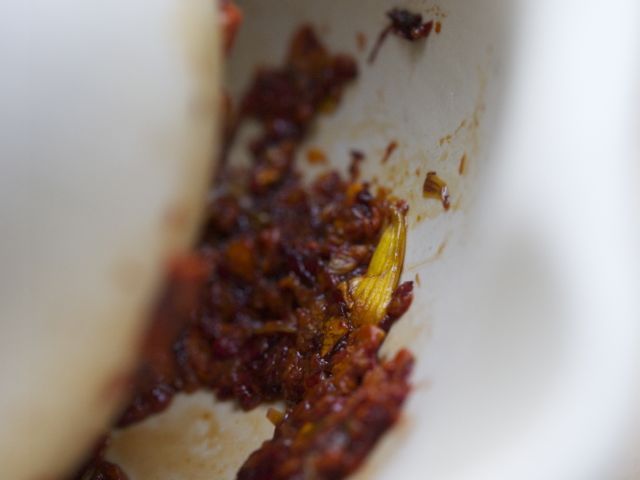 Pounding the petals releases a beautiful saffron-hued juice and seems to intensify all the colors.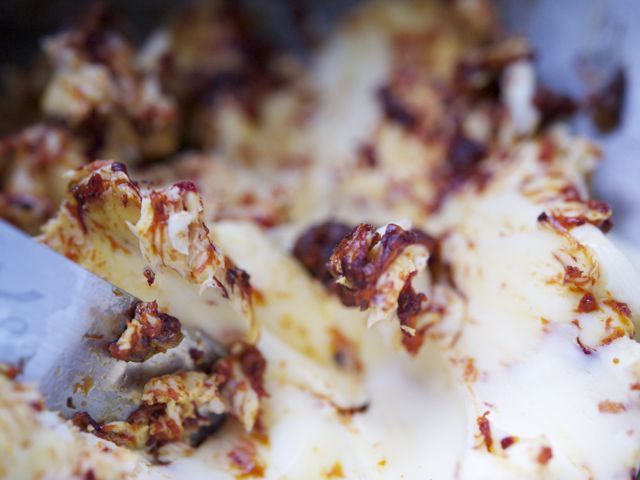 Bring your butter to room temperature so it's soft enough to mix easily. I used one packed cup of nasturtium blossoms to one stick of unsalted butter.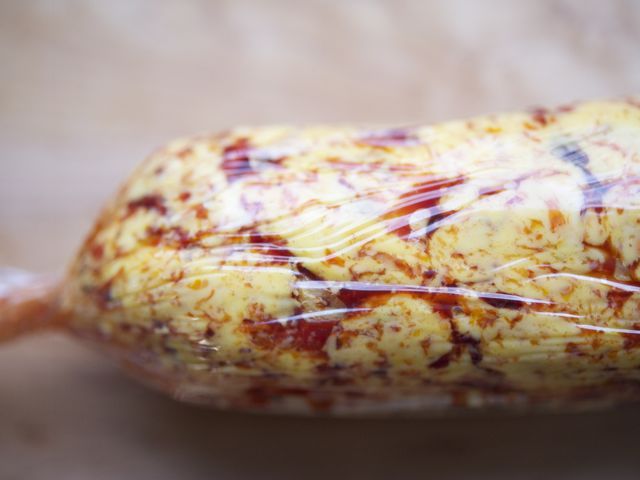 Shape the compound butter into a log using saran or parchment paper, and refrigerate it until quite cold.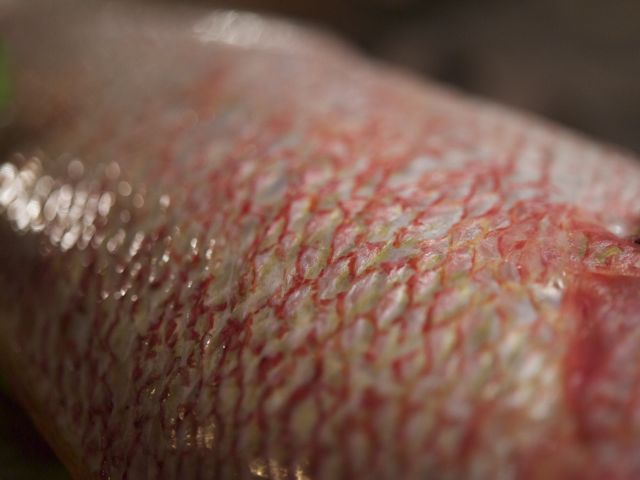 When I saw the gorgeous pink skin of this wild snapper, I knew it would be the perfect canvas for the nasturtium butter. When I roast a whole fish, I always serve it with a drizzle of olive oil and some coarse sea salt, but a slice of butter also works beautifully.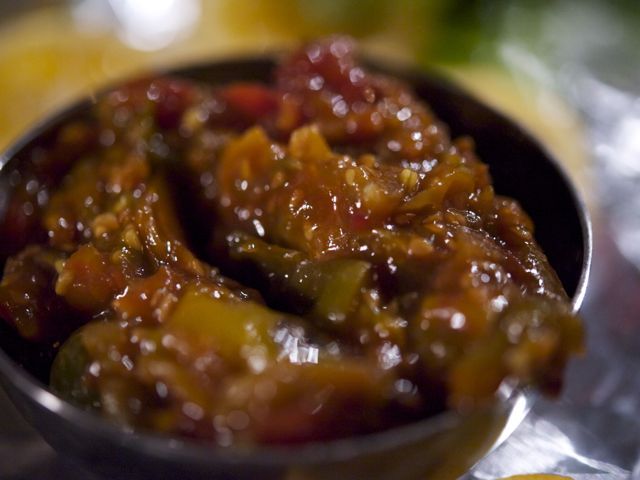 With the last bowl of green, yellow and reddish tomatoes that sat languishing (and attracting fruit flies) on our kitchen counter, I made a batch of chutney. I used a couple of Meyer lemons, rind and all, some Indian spices (fenugreek, mustard seed, nigella) and that ginger-infused palm sugar and cooked it down to a thick, jammy consistency. I spread some of this inside and out on the fish before roasting.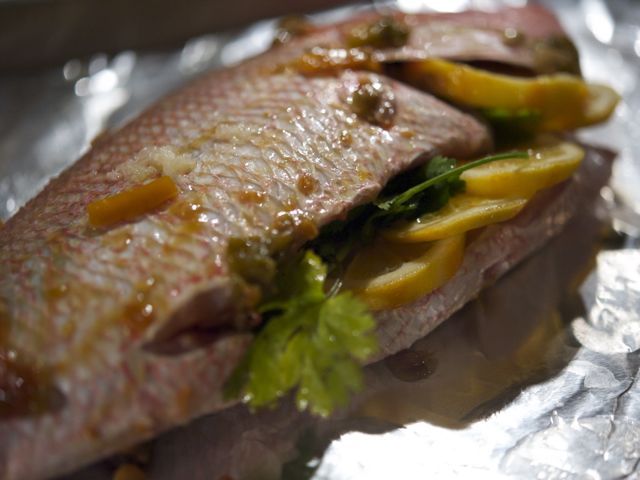 I also stuffed all the cavities with more sliced Meyer lemon and sprigs of cilantro.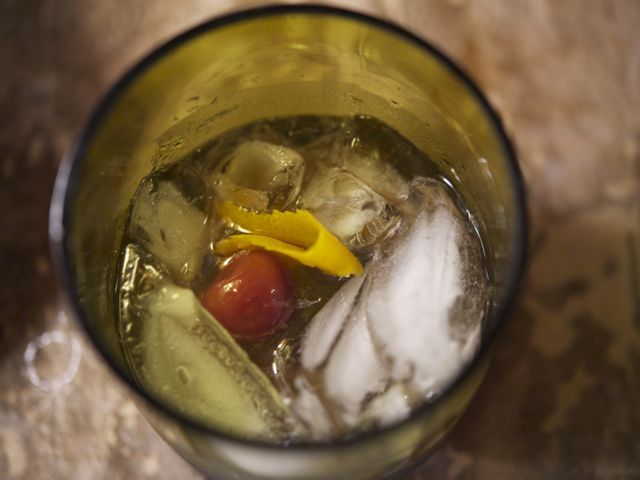 While this 2 1/2 pound fish roasted in a 450º oven for about 25 minutes, I sipped my version of a Manhattan: rye whiskey, cherry liqueur, lemon juice, a little maple syrup and some preserved sour cherries, over ice with a twist of orange rind. I read recently that women who have one alcoholic drink a day are healthier overall and live longer. Hmmm...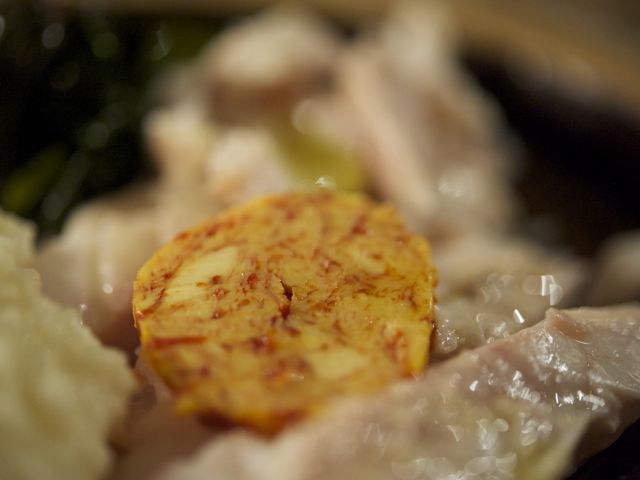 A slice of subtly peppery nasturtium butter with this flaky mild fish and a crystalline sprinkling of
Maldon sea salt
was pretty much perfection. G and I gobbled up the whole fish with pureed
Purple Viking
potatoes (my favorite) and garlicky sauteed chard on the side. This is a very easy weeknight dinner that comes together in under an hour. From what I gather, many of you would be glad to have more simple, time-efficient recipes for healthy meals. True?
Nasturtium Butter
makes about 8 ounces of compound butter
— 1 stick (8 ounces)

organic sweet butter

— 1 packed cup

nasturtium blossoms
Bring butter to room temperature.


Pick petals off nasturtium blossoms and place them in a bowl of cold water to soak for a few minutes, turning them once or twice. Carefully lay the petals on a dish towel or paper towels and gently blot them dry. Get them as dry as possible, since water will not mix into the butter very well.


Using a mortar and pestle, grind the petals into a paste.


In a small bowl, combine the petal paste with the butter and mix well with a silicone or flexible metal spatula.


Scoop the butter onto a piece of saran or parchment paper and shape it into a small log, slightly shorter and fatter than a stick of butter. Twist the ends to seal them off.


Refrigerate until cold and firm. Serve slices of the butter on roasted fish or grilled meat; or spread it on rye bread and top with sliced radishes, or on a roast beef sandwich.



Download Recipe