11.25.11
Recovery Mode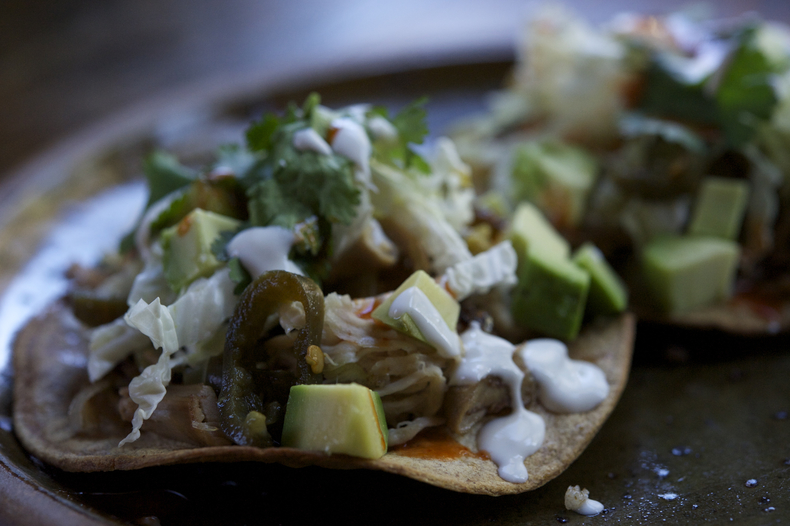 I reckon my own turkey tostada would look a lot better than this, but I have absolutely no intention of making one (and photographing it) in time to inspire you to use your leftovers, so this shot will have to do. Last night, driving home with an overfull belly, I told G that the only thing I wanted to eat today was some grapefruit sorbet. We received a huge box of Florida beauties from his parents last week, and it seems like the one thing that would go down well today. Of course I'll be making turkey soup with the carcass—that will come later—and there will undoubtedly be a sandwich at some point, but for now, I am sitting in front of the fire with a cup of roasted buckwheat tea (my latest obsession) and a tall glass of green juice (apple-celery-parsely-ginger). After throwing my back out on Tuesday, I spent the better part of the next two days on my feet in the kitchen, which was not exactly what the doctor ordered, so today will be all about R&R. I'll be doing some shopping from the safety of my own couch (Aesop is now available online; check out their seasonal kits!), catching up on magazines, and maybe even starting one of the new books I ordered on my Kindle (this, this, or this, all eagerly anticipated). In case you're planning to eat, I'm offering you my recipe for turkey tostadas as well as...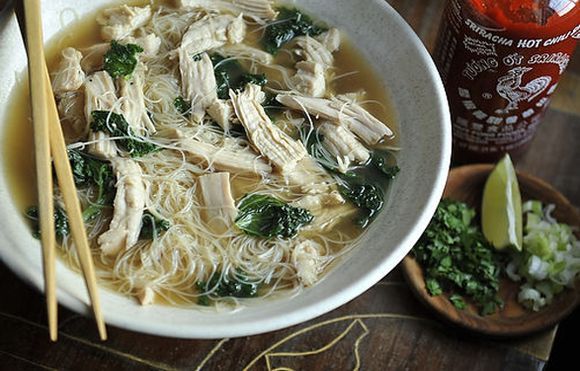 ...another recommendation of Winnie Abramson's hugely appealing turkey pho, a light and flavorful way to use up both turkey meat and the stock you'll make from the carcass.If you're not feeling disgustingly oversated from yesterday, you can always consider making turkey tetrazzini, that retrofabulous classic with a high cozy quotient.Speaking of carcass, it's time mine got horizontal again.
Turkey Tostadas
serves 4
— 4 tablespoons

fresh cilantro leaves, roughly chopped

— 1

lime, quartered

— 1 avocado

diced

— 1 cup

finely shredded cabbage

— 2 tablespoons

chipotle salsa, or other spicy salsa

— 1/4 - 1/2 cup

turkey stock

— 3 cups

leftover roast turkey, in large-ish chunks

— 1

jalapeño, seeded and minced

— 2 teaspoons

each ground cumin and ground coriander

— 4

corn tortillas

— 1 medium

yellow onion, finely chopped

— 4 tablespoons

sour cream, thinned with a little milk or water, optional
You've got 2 ways to go with the tortillas: you can either heat a couple of inches of peanut oil in a heavy skillet and fry them, or you can brush them lightly with oil and toast in a 375º oven until crispy. Either way, you're going for a crisp base for your tostada.


Over medium-high heat, warm a couple of glugs of oil in a large skillet. Add onion, spices and jalapeño, and cook, stirring frequently, until golden.


Add turkey, 1/4 cup stock and salsa and cook until turkey begins to break down into shreds and smaller chunks. Add more stock as needed. Taste and season with sea salt.


Top each of the 4 tortillas with turkey, then a mound of cabbage, some avocado chunks, a squeeze of lime, a sprinkle of cilantro leaves and a drizzle of sour cream. Pass more salsa on the side.



Download Recipe