11.21.11
Proceed Gingerly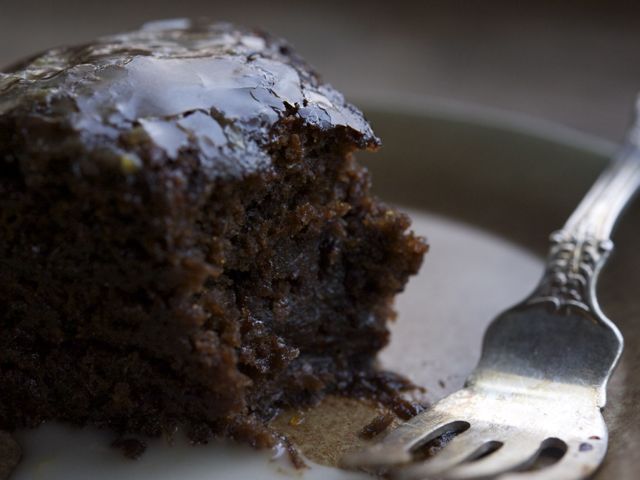 Ever get a craving you just can't shake? A couple of weeks ago, I began dreaming of gingerbread: dense and dark, with chewy edges and chunks of crystallized ginger. The cakey kind, not the drier, more brittle sort used for gingerbread men and their over-decorated houses. I'm partial to a tangy lemon glaze on mine. The crackle finish it makes on top and the way it seeps into the crumb is simply irresistible. You don't need anything else with this gingerbread—no whipped cream, no ice cream, no applesauce—just a nice strong cup of tea. I don't recommend it after a hearty stew or pasta, you'll feel too leaden. It's the perfect cold-weather breakfast, lazy afternoon snack or highly anticipated finish to a light dinner.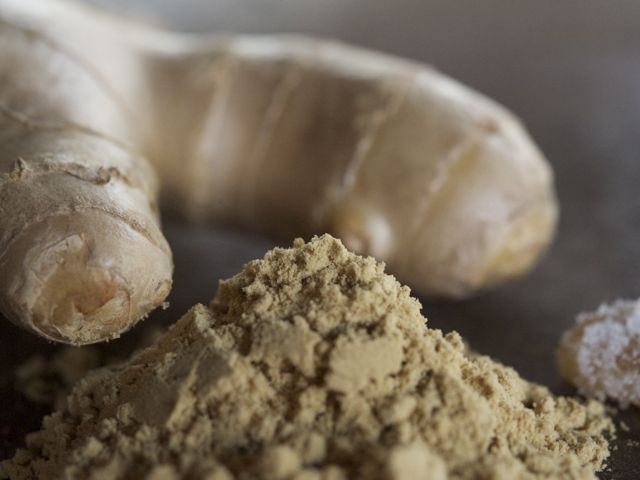 Do a little research on gingerbread and you immediately unearth all sorts of interesting tidbits. Swedish nuns allegedly baked it to help ease digestion but I'm sure there are easier, more effective (and much less indulgent) ways to get ginger into your system. In England, where they sometimes add mustard and pepper, gingerbread is traditionally eaten on Bonfire Night aka Guy Fawkes Night, when the people celebrate the time King James 1 survived an assassination attempt.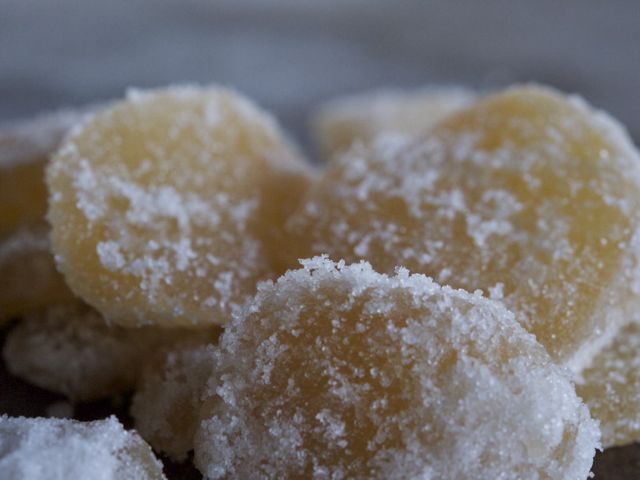 Crystallized ginger is made from slices of the fresh root that have been slowly cooked in simple syrup until soft and chewy, and then rolled in coarse sugar which helps preserve them. It's also known as candied or glacé ginger. It's a great thing to keep in your pantry as it lasts forever and adds a real zip to so many things, from banana bread to yogurt.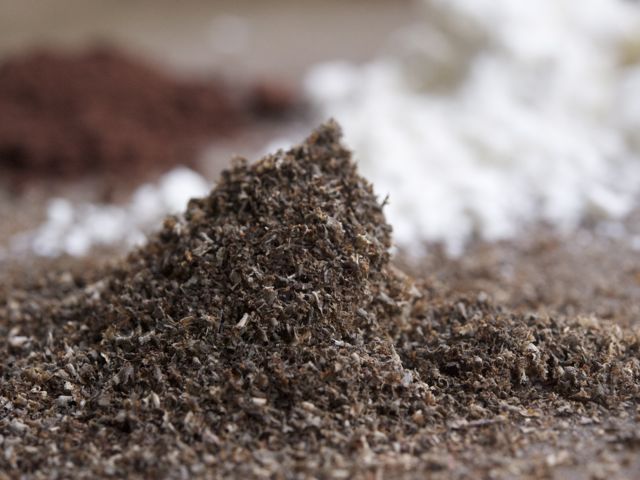 Another thing I keep is a small glass jar full of whole nutmeg because there is no comparison between freshly grated nutmeg and the powdered version. Use your microplane to make short work of it and swoon over the lovely spicy fragrance. In Victorian times, personal nutmeg graters fashioned of silver with beautiful detailing became all the rage. Ladies and gentleman carried them everywhere to grate into their punch and food.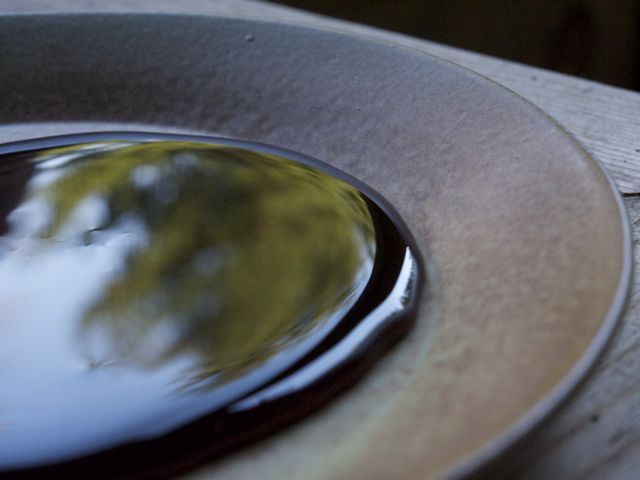 Molasses is a key ingredient in gingerbread. It can be a little confusing because sometimes you see it labeled as "unsulphured" or "blackstrap." There are actually three grades of molasses: mild or Barbados/West Indian, also known as first molasses; dark, or second molasses; and blackstrap. These grades may be sulphured or unsulphured. Sulphured molasses is made from young sugar cane. Sulphur dioxide, added during the sugar extraction process, acts as a preservative. Unsulphured molasses is made from mature sugar cane and does not require such treatment.To make molasses, the cane of a sugar plant is harvested and stripped of its leaves. Its juice is extracted then boiled to concentrate it, which promotes the crystallisation of the sugar. The result of this first boiling and of the sugar crystals is first molasses, which has the highest sugar content because comparatively little sugar has been extracted from the source. Second molasses is created from a second boiling and sugar extraction, and has a slight bitter tinge to its taste. The third boiling of the sugar syrup makes blackstrap molasses. The majority of sucrose from the original juice has been crystallized and removed. The calorie content of blackstrap molasses is still mostly from the small remaining sugar content. However, unlike refined sugars, it contains trace amounts of vitamins and significant amounts of several minerals. Blackstrap molasses is a source of calcium, magnesium, potassium and iron, and is the type most often found in health food stores.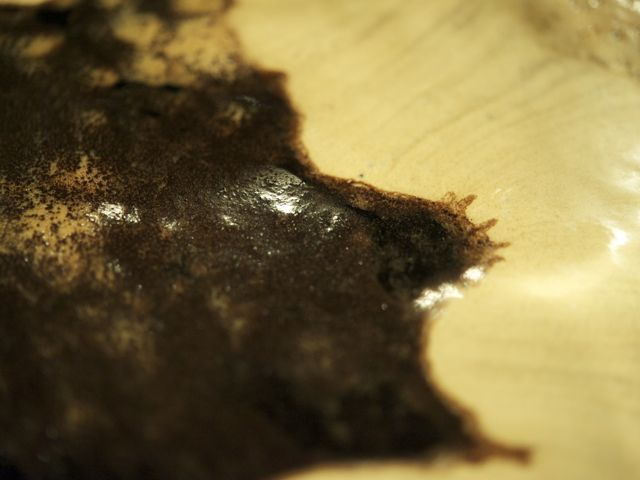 Gingerbread is a particularly easy kind of cake to make since generally the fat is melted and mixed with the flour rather than using the creaming method. However, this recipe uses oil rather than a solid fat, and actually has you heat the coffee, molasses and beer to a boil rather than the fat.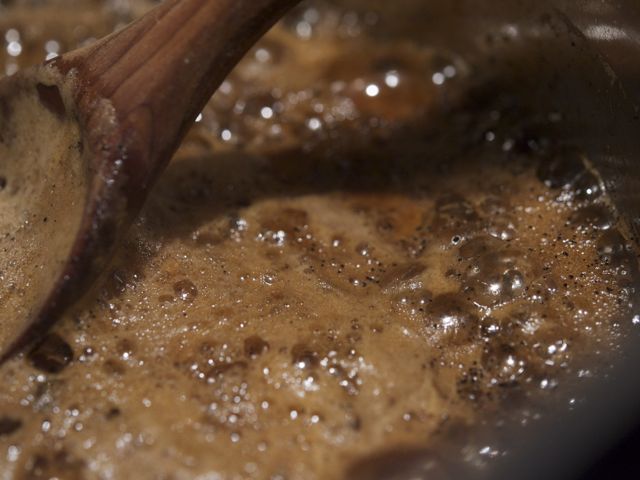 Once it boils, you stir in baking soda, which causes it to foam up. Mixed with the remaining ingredients, it comes together in a dark brown, thick and creamy batter that bakes in a parchment-lined springform pan.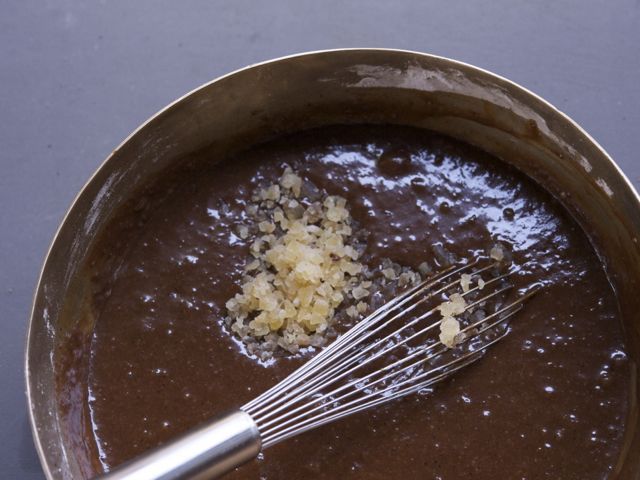 The original recipe called only for fresh ginger, but I added both ground and crystallized to enhance the spicy flavor.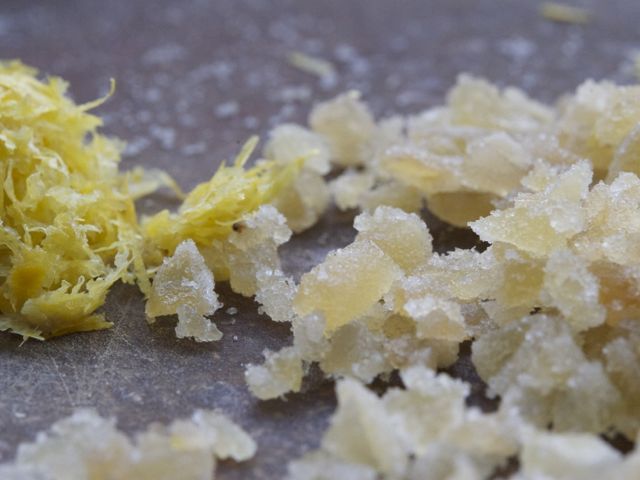 Some lemon zest goes into the cake; the rest is whisked into the lemony glaze.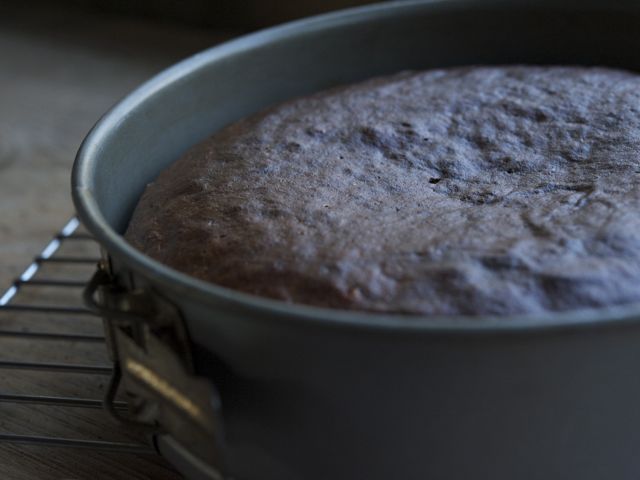 The gingerbread will pull away from the edges of the pan just a bit when it's done. For such a dense, gooey cake it generally does not present much of a problem to unmold, especially with this type of pan and the parchment lining.
The cake would be delicious without the glaze but I find it adds the perfect tart, bright counterpoint to the rich spicy depths.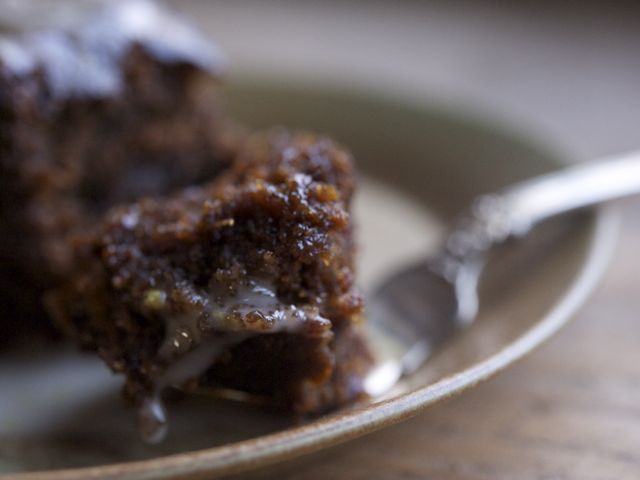 I have to confess that when I made this gingerbread, I forgot to add the egg. So I inadvertently created a vegan version, and it came out just fine! I remembered just after I popped it into the oven, and I sulked for the next hour, sure all my efforts had been for naught. But lo and behold, my gingerbread dreams came true. I had a slice yesterday afternoon and another this morning for breakfast. Let the holidays begin!
Gingerbread with Lemon Glaze
serves 8-10
— 2 cups

all-purpose flour (gluten-free mix is fine)

— 1 tablespoon

unsweetened cocoa powder

— 2 1/4 teaspoons

baking powder

— 1 1/2 teaspoons

ground cinnamon

— 1/2 teaspoon

nutmeg, preferably freshly grated

— 1/2 teaspoon

ground allspice

— 1 tablespoon

ground ginger

— 3/4 teaspoon

sea salt

— 1 packed cup

dark muscovado sugar

— 3 tablespoons

turbinado sugar

— 2 1/2 tablespoons

finely grated fresh ginger

— 3 tablespoons

minced crystallized ginger

—

grated zest of 2 lemons

— 1/2 cup

grape seed or other neutral oil

— 1

large egg

— 3/4 cup

chocolate stout

— 3/4 cup

molasses (not blackstrap)

— 1 cup

brewed espresso

— 3/4 teaspoon

baking soda

—

butter or oil, for greasing

— 1 cup

confectioners' sugar

— 1 teaspoon

freshly ground black pepper

— 2 tablespoons

fresh lemon juice
Preheat oven to 375º. Butter an 8-inch springform cake pan and line bottom with parchment paper. Alternatively, you may use a bundt pan, well buttered.


In a bowl, whisk flour, cocoa, baking powder, cinnamon, nutmeg, allspice, ground ginger and 1/2 teaspoon of the salt. Set aside. In a large bowl combine brown and turbinado sugars, fresh and crystallized gingers, zest of 1 lemon and oil. Beat in egg.


Place beer, molasses and coffee in a deep pot. Bring to a boil. Remove from heat and stir in baking soda. Mixture will bubble up. Allow to cool 5 minutes.


Whisk flour mixture alternately with beer mixture into brown sugar mixture, in 3 increments. Pour batter into pan and bake 40 minutes without opening oven. Give pan a 180-degree turn and bake another 15 minutes, until cake is springy and a toothpick comes out clean. Cool on a rack. Once cool, remove sides of pan, invert briefly to remove bottom of pan and paper and set upright on a plate. If using bundt pan, cool completely on a rack, then invert on a plate.


In a small bowl, whisk confectioners' sugar with remaining zest of 1 lemon, remaining 1/4 teaspoon salt, pepper and lemon juice. Drizzle over top of cake, allowing glaze to drip down the sides.


Cake may be stored well wrapped or in an airtight container, outside the refrigerator but in a cool spot, for 3 days.



Download Recipe