10.13.11
Them Apples
Mark Bittman posted one of his great roundups of recipes in the
Times Magazine
this weekend, featuring less-expected ways to eat
apples
. I'm particularly taken with the cheesy apple fritters and that apple tempura! I'm prone to tossing diced apple into lots of salads—with oil-cured tuna, with walnuts and blue cheese, with all kinds of herbs. And when I make oatmeal, I always grate an apple into the pot. This really supports good digestion. We have a big old apple tree on our property at the lake, and it's covered with mottled green fruit that looks dubious but tastes great. Our friend Julia up the road has an orchard of craggy old trees that produce a lot of fruit, including some of the most flavorful red apples ever and a few pears, too. I've already eaten some super-crunchy and juicy Honey Crisps this year, and I'm a big fan of the Pink Lady with its wonderfully tangy sweetness. There are so many things to be made with all these apples, from pies, crumbles, betties and cakes to butter, fritters, cider...and, pedestrian as it may sound, applesauce.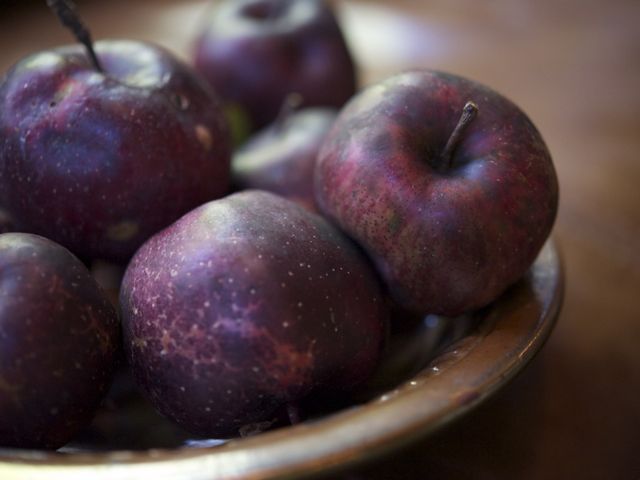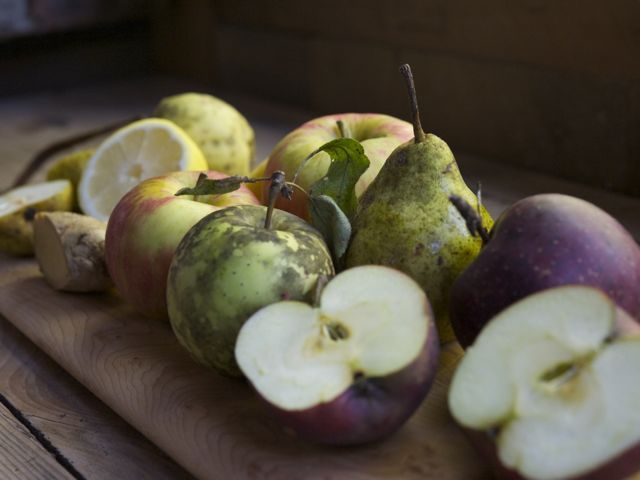 The thing is, applesauce—an innocuous childhood favorite—is only as dull as you make it. By starting with a mix of delicious organic apples, you're already ahead. Then there are so many things you can add in: raisins, cranberries, orange zest, lemon zest, cinnamon, cardamom, nutmeg, ginger, honey, maple syrup, pecans, walnuts, cider, calvados, port...not all of them, of course, but a choice few.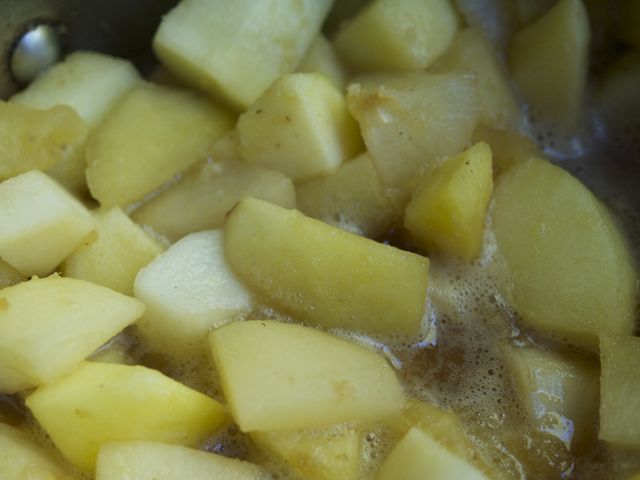 You don't have to peel the apples, but I tend to like the way the peeled chunks break down into a pleasingly soft goop. I threw some pears into this recent batch, along with fresh ginger, just-grated nutmeg and a couple of spoonfuls of calvados. I love eating it warm, maybe with a spoonful of creamy yogurt.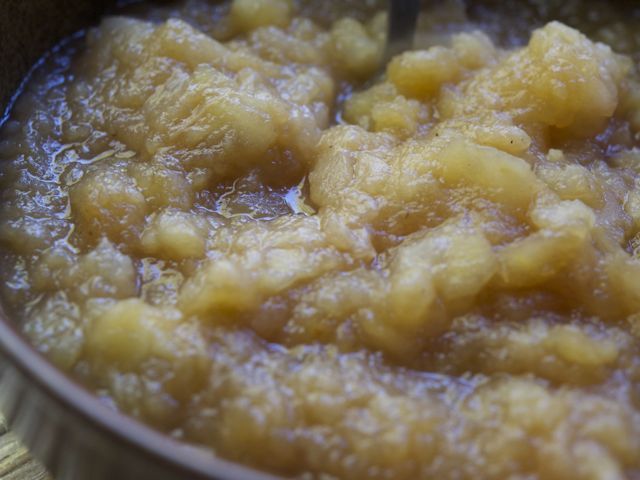 Some people like it pureed to a very smooth texture, but I prefer a chunky style.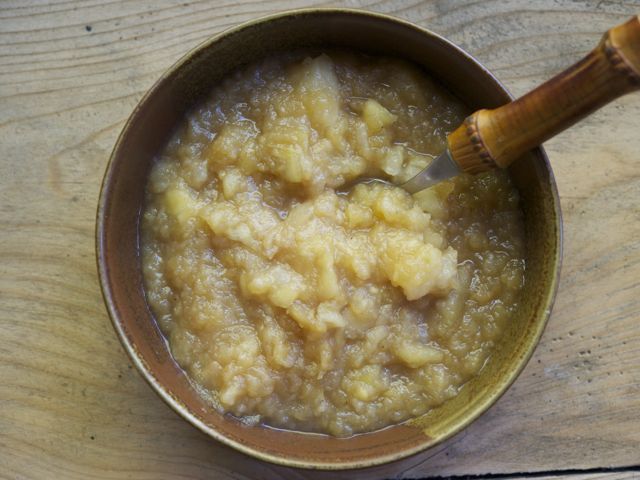 Applesauce is perfection on its own, or stirred into hot cereal; spooned over yogurt; in baked goods, where it can replace other liquids; with pork; with pancakes and waffles; and even with ice cream. Don't let this season (or this week) go by without whipping up a big batch. It's easier than pie.
Ginger-Honey Applesauce
makes about 4 cups
— 1/2 teaspoon (total)

ground nutmeg, cinnamon or cardamom, or a combination

— 1 tablespoon

freshly grated ginger

— 1/3 cup

raw wildflower honey

— 1/2 cup

apple cider

— 3 pounds

assorted fall apples (substitute a few pears if you like)

— pinch

sea salt

— 2 tablespoons

calvados, optional
Peel, core and roughly chop apples. Toss with a little lemon juice so they don't discolor.


Combine apples with remaining ingredients in a medium saucepan and cook over medium-low heat until they are soft and beginning to break down, about 20 minutes.


Remove from heat and mash with a potato masher to achieve desired consistency.


Eat warm, at room temperature or cold. Store covered in the refrigerator.



Download Recipe