10.14.11
I'll Crumble For You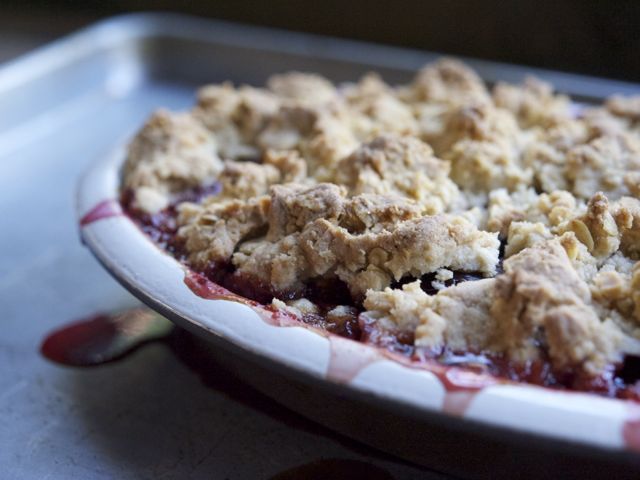 Pretty soon there won't be much fresh fruit to rave about. I'm looking forward to quinces, Bosc and Bartlett pears and of course apples all winter long, but while they're still available, I'm eating plums. The late-season varieties have an intensity of color and sweetness that is like the farewell kiss of a summer romance. There's no better way to showcase them than in a simple crumble. The fruit is the star, and you can accentuate its flavor by imbuing the crunchy topping with some subtle complements. For plums, I like to add a little almond and cardamom. (I know, I put cardamom in everything, but it really does go so well with plums!)
Use perfectly ripe plums that are not mushy. It's nice to use a mix. Toss them with a little honey and some port before layering them in a casserole or pie pan. You could also add some orange zest, fresh grated ginger, even a little marmalade or jam of any kind.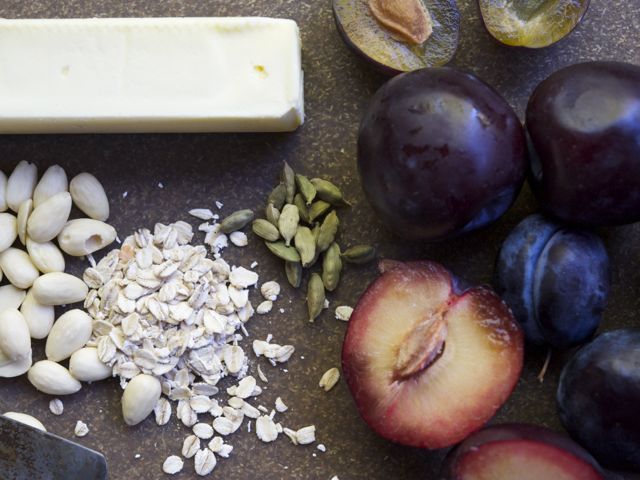 I use organic rolled oats for my crumble topping. These are less processed than quick oats. You can also use flour of various sorts, as well as chopped or ground nuts, or all of these in combination.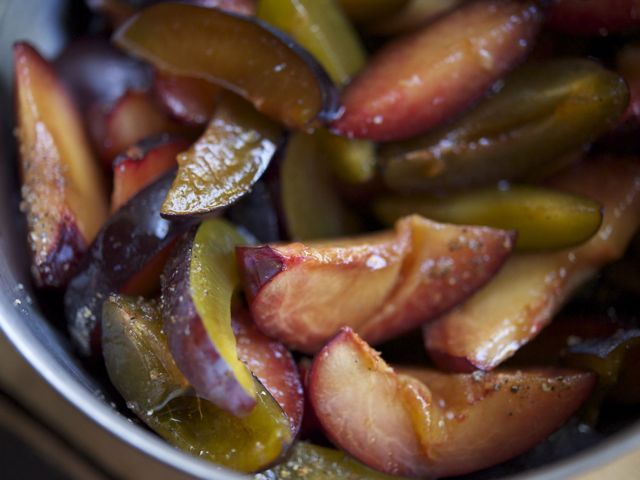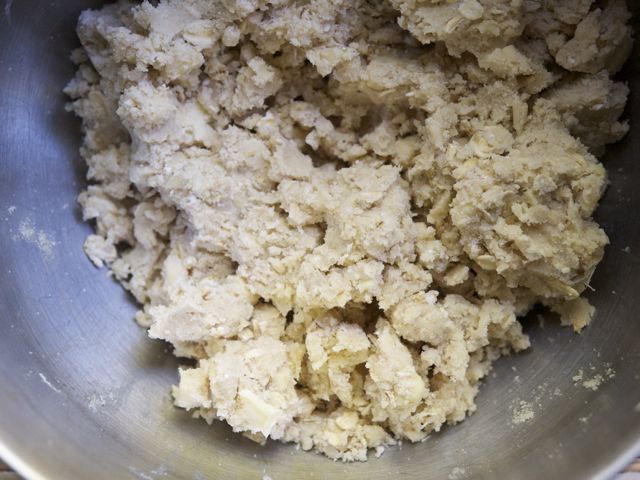 You can make extra of this topping and keep it in the freezer; that way your next crumble is an even faster experience. You simply add pieces of butter to the sugar, oats and nuts and pinch it with your fingers to form those lovely clumps. For this version, I used the
gluten-free flour mix
from Thomas Keller's Bouchon Bakery.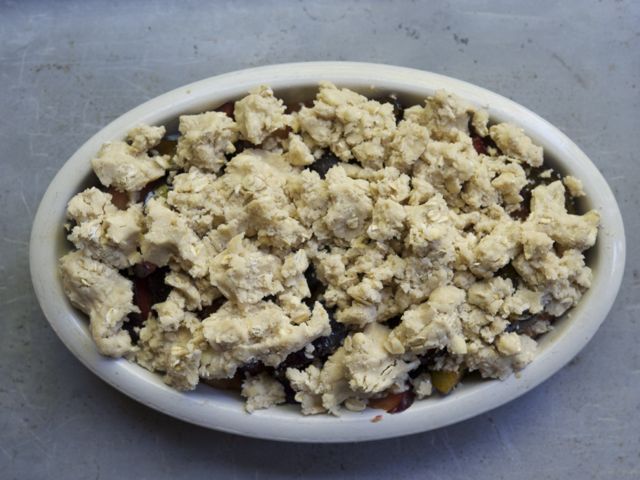 The extra-large crystals from turbinado sugar add a glistening, golden crunch that I happen to love.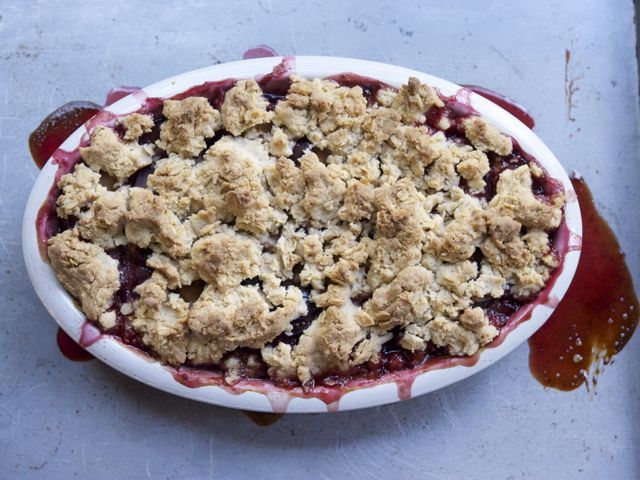 The only thing that improves a warm bowl of this is a dollop of crème fraîche, whipped cream or vanilla ice cream. Any leftovers make an ideal breakfast served with a little Greek yogurt. It's plum perfect.
Plum Crumble
serves 4
— 2 tablespoons

turbinado sugar

— 1 tablespoon

port

— 2 pounds

assorted plums, halved, pitted and thickly sliced

— 1/3 cup

raw honey

— 1/2 cup

chilled salted butter, cut into pieces

— 1/3 cup

organic cane sugar

— 1/2 teaspoon

ground cardamom

— 1/4 cup

almond flour, or finely chopped almonds

— 3/4 cup

organic rolled oats

— 1 cup

all-purpose flour (gluten-free is fine)
Mix flours, oats, 1/3 cup sugar and cardamom in medium bowl. Add butter and rub with fingertips until mixture forms coarse meal. Press with fingertips until mixture begins to clump together. (Crumb topping can be prepared 1 day ahead. Cover and refrigerate.)


Preheat oven to 350°F. Toss plums, honey and port in medium bowl. Transfer to 9-inch deep-dish pie dish. Spread crumb topping over and sprinkle with turbinado sugar. Bake until fruit bubbles and topping browns, about 1 hour. Cool slightly before serving, or eat at room temperature.



Download Recipe