10.10.11
Gather Together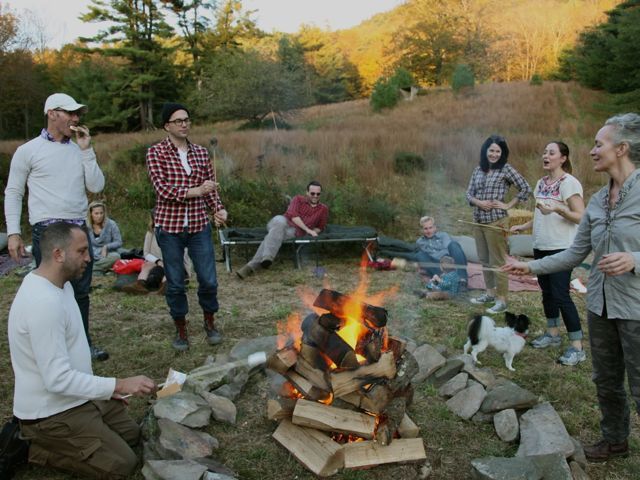 The plan was to invite a bunch of friends to our
new property
by the reservoir in Forestburgh on peak leaf weekend to gather around a big bonfire, eat chili, sip mulled wine and make s'mores.
Wrong.
Each morning during the week leading up to our party, G would tell me the weather forecast, and each day it would go up several degrees. By the time the actual day dawned, we were preparing for a scorcher, and the leaves had only just begun to display their showy colors. But what a glorious day it was! Perfectly clear and without a trace of humidity. I had been threatening to change the menu if the mercury rose above 70º, but in the end—despite it hitting 77º—we stuck with the chili and just swapped out the mulled wine for rosé and cocktails on the rocks. Later this week I'll post the recipe for the thick, brick-red Texas-style chili, made with plenty of beef and no beans; and also for the caramel apples that were dessert, a great easy treat for this time of year. But for now, some photos to inspire you to get together with friends wherever/whenever/however (preferably outdoors while you still can), and a recipe for the perfect bourbon cocktail.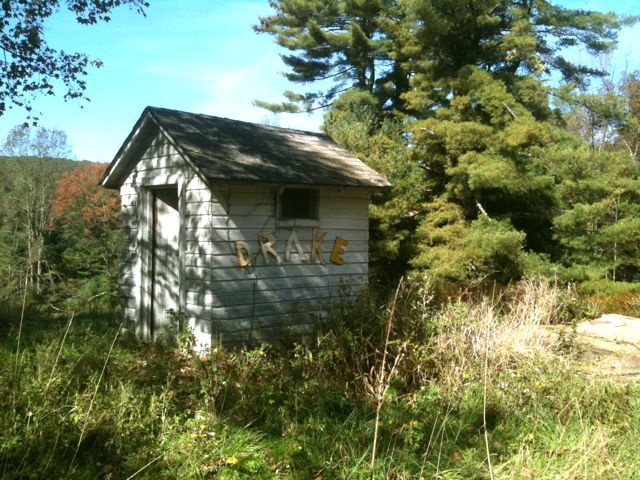 We call our property The Drake, after the old roadside hotel that occupied the land at the turn of the last century. Nothing's left of it now, but there is this old (non-functioning) outhouse at the top of the lot. We nailed up these old metal letters we found at a local thrift shop. Our guests parked at the top of the hill and walked down past the apple tree to the party.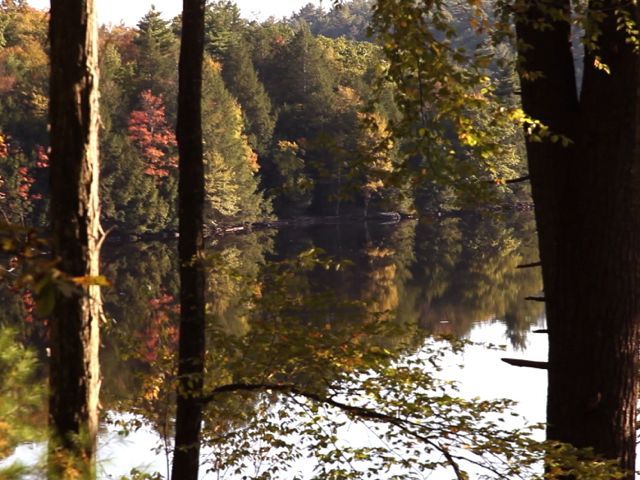 At the bottom of the property is the Rio Reservoir; there are no homes on the other side as it's state-owned land. The whole area is a protected sanctuary for the bald eagle, so we're lucky to have lots of privacy.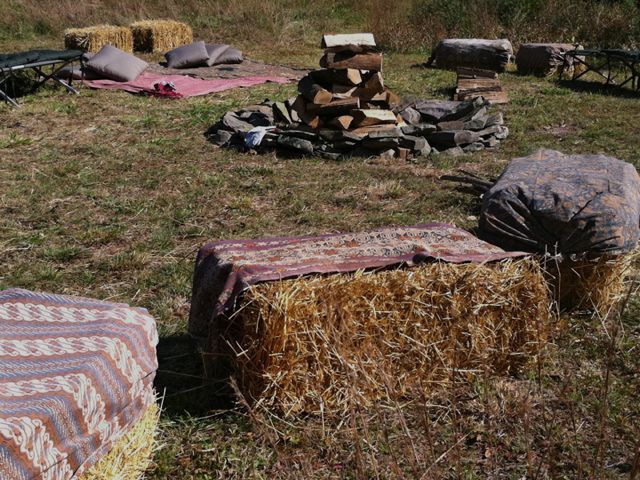 G built a beautiful fire ring with stones from the property, and got bales of hay from the local Agway. I covered these with vintage Indonesian batiks from my large collection of exotic textiles, and we spread various blankets, tapestries and cushions on the ground. Friends also brought excellent camp beds—canvas cots—and with all this we had enough comfortable seating for our crowd of 25 people.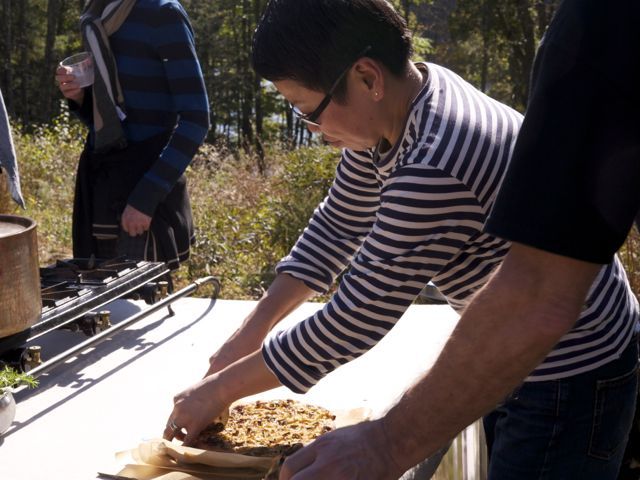 You remember my friend Tomo—she of the
wild mushroom pizza
? Well, she did it again! This time she showed up with three pizzas, each one more delicious than the next.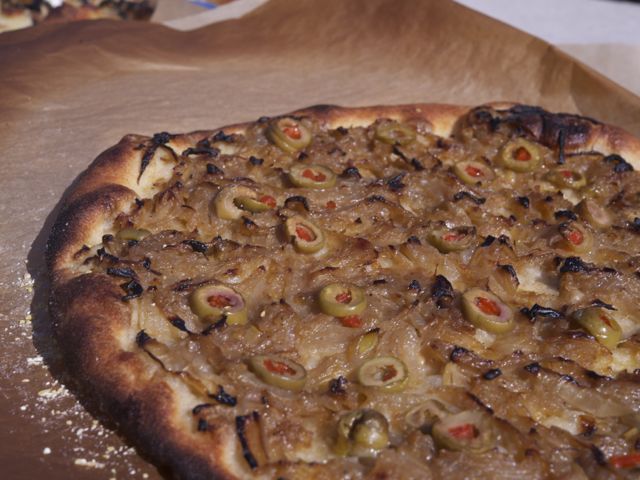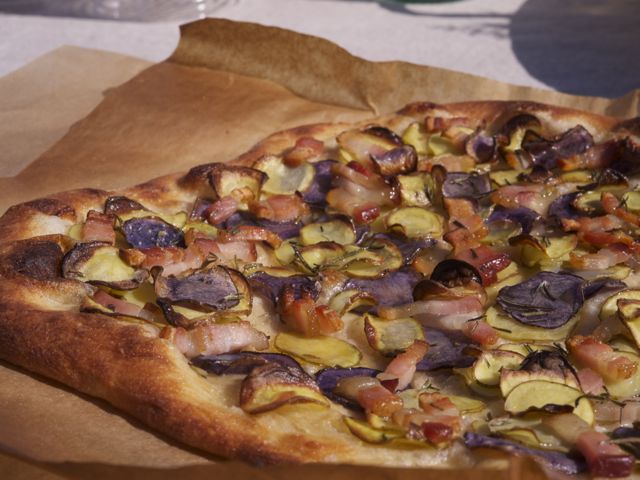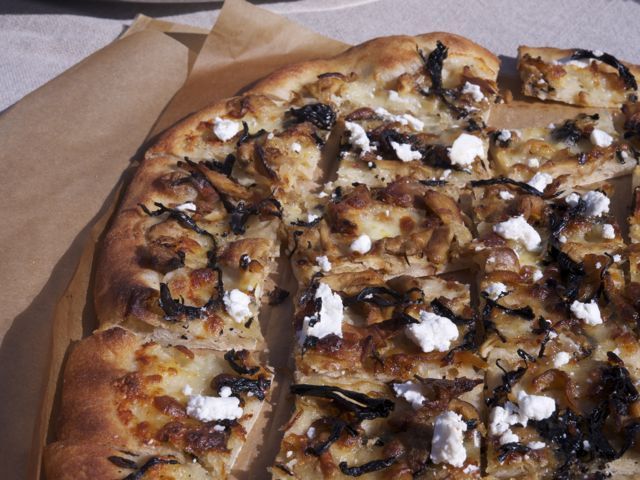 Talk about potluck. It was a great way to get the party started, especially since I had only brought a few pickled radishes for snacking.
My main focus was the chili, which was a rather involved, time-consuming dish, in no small part because I had to dice 12 pounds of chuck roast into quarter-inch cubes. (Next time, I may get my butcher to do that.) It was a pretty big hit, which I attribute not only to the quality of
Dickson's
meat but to the 6 kinds of dried chiles, beer, coffee and Mexican chocolate that went into it.Stephanie brought a delectable chicken soup, chock-full of corn and tomatoes and thickened with tortillas. It was a great light counterpoint to the chili. Sadly, I didn't get a photo of it. Once the party gets started, I tend to forget to pick up the camera.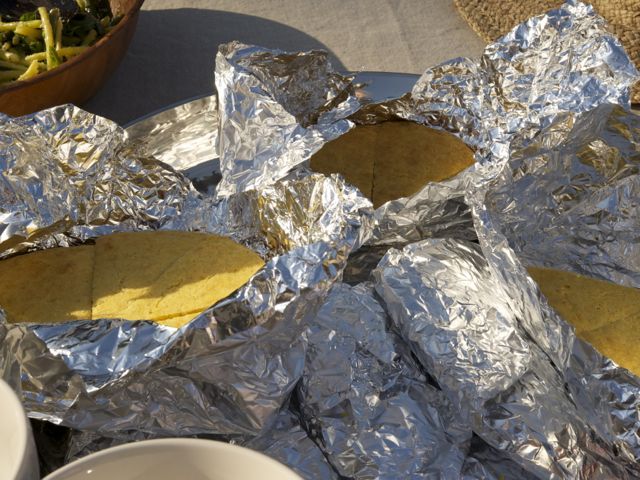 Matthew made the cornbread which was incredibly fluffy and light with a hint of sweetness. He said the great texture was due to minimal mixing, and the toothy crust was from being baked in a skillet. I like to crumble mine up and ladle the chile over it.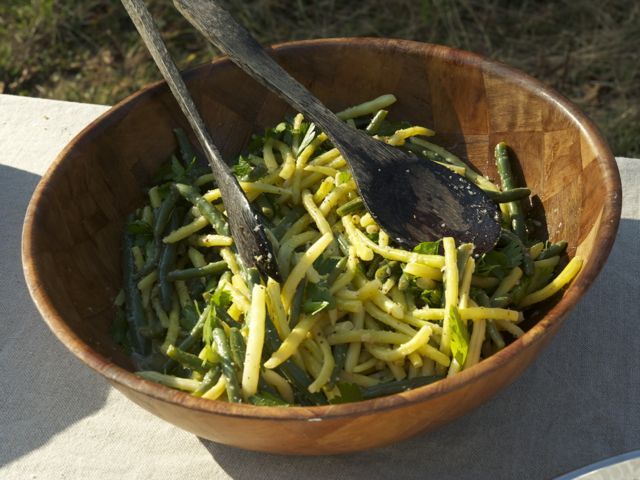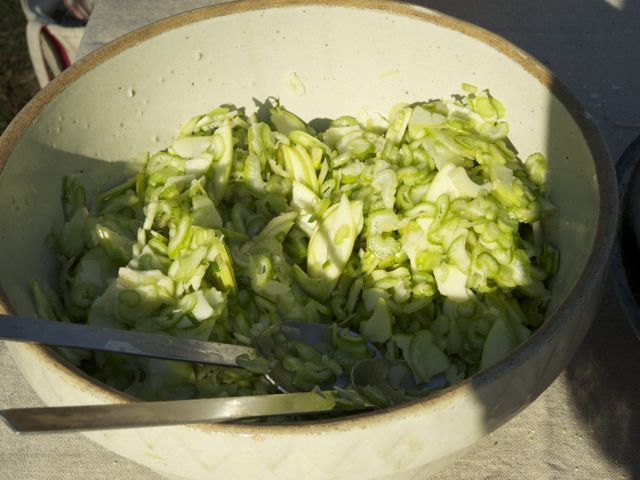 I asked my friend Michael to bring a salad, and he brought two instead, both inspired by what was on offer at the local farmers market. Everything was so crisp and bright and flavorful. Sadly, this past weekend was the last market of the season around here.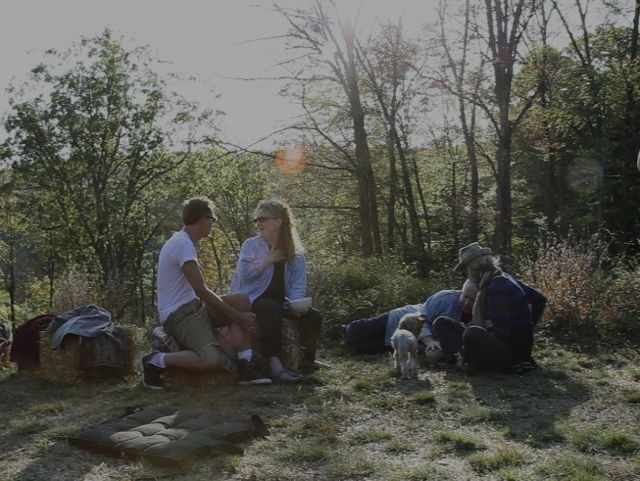 It was kind of sweltering for a while, but there was canoeing over to the incredible waterfall on the other side of the reservoir, apple-picking from the enormous old tree on our land, mushroom foraging (unsuccessful) and lounging in the shade. Eventually, the sun went behind the trees and the air took on a cooling freshness. We lit the bonfire. Long wooden skewers were produced and marshmallows were toasted. S'mores were had. Sighs of contentment were heard.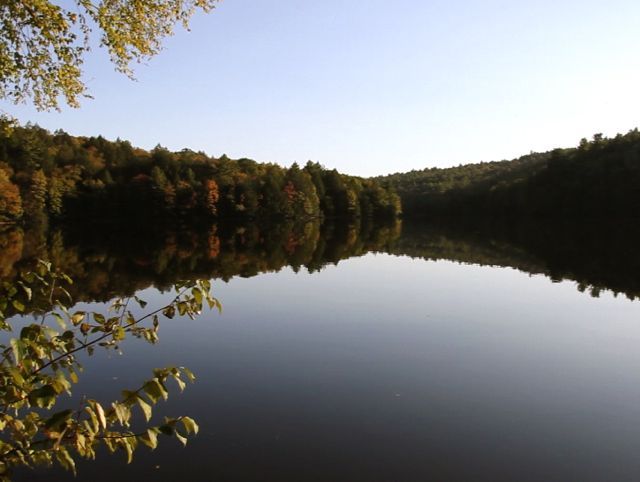 It was the epitome of Indian summer, and a feeling of nostalgia floated through the air like the falling leaves. Much later, we were drawn to the mesmerizing electric-red embers as the moon rose and cast its silvery glow over everything.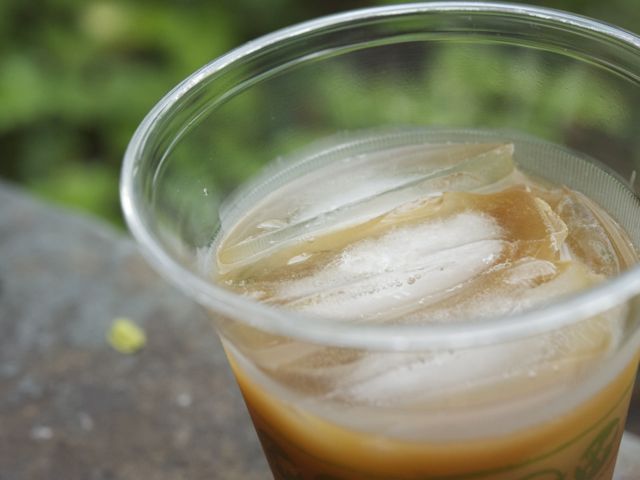 The drink of the day, enjoyed by one and all—including the many wasps drawn to every sugary drizzle—was The Drake. It's essentially a riff on
The Eldred
, the house cocktail enjoyed at our current home in the town for which it is named. We tend to favor Booker's, but any bourbon you like is fine; there are many out there now that it has become so popular among
The New Cocktailians
.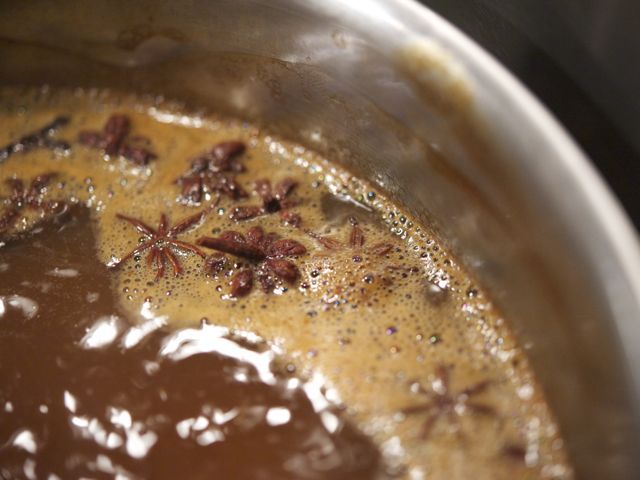 The secret to this simple, three-ingredient cocktail (and, by definition, they do require at least three) is the cider syrup. Made with brown sugar, maple syrup and star anise, and reduced to a thick glaze, the syrup is also nice stirred into applesauce, spooned over ice cream or mixed into yogurt. I like to make a batch and keep it in my fridge for when inspiration strikes. So will you.
The Drake
makes 1 cocktail
— 2 ounces

bourbon

— 1 ounce

fresh lemon juice

— 2 ounces

cider syrup, made with:

— 2 cups

organic apple cider

— 1 tablespoon

dark muscovado sugar

— 1 tablespoon

maple syrup

— 3

star anise
Combine cider syrup, lemon juice and bourbon in a shaker with plenty of ice. Shake briskly and pour into a rocks glass. For a crowd, simply increase quantities, keeping the proportions the same. Mix in a large bowl or pitcher, stirring well and regularly to combine, and pour individual servings into rocks glasses over plenty of ice.

Cider Syrup:
Mix apple cider, muscovado, maple syrup and star anise together in heavy pot and simmer briksly until reduced by half. Strain and cool before using.





Download Recipe
Cider Syrup
makes about 1 cup
— 2 cups

organic apple cider

— 1 tablespoon

dark muscovado

— 1 tablespoon

maple syrup, preferably grade B

— 3

star anise
Combine ingredients in a saucepan and bring to a boil over medium-high heat, stirring to mix in the sugar and syrup.


Lower heat to achieve a steady but small simmer and cook until reduced by half, about 20 minutes.


Cool and store in a glass jar in the fridge.



Download Recipe