10.11.11
Lone Star Stew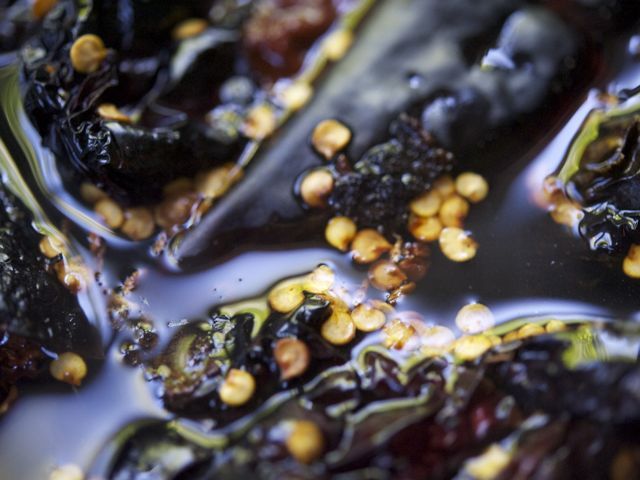 Discussions of chili often lead to fisticuffs. (OK, I just wanted to say
fisticuffs
.) But it really is a very polarizing dish. The purists can go on and on about ground chuck versus cubed, beans or no beans, and the presence of tomatoes. Texans seems to feel very strongly that beans don't belong anywhere near "real" chili—actually an anglicization of
chile con carne
—but some of them include tomatoes and way too many seem to think it's OK to use chile powder rather than starting with whole dried chiles. I ain't afeared of dried chiles, having more than a little New Mexico in my blood, so that was an easy call for me. And the fact that my friend Michael hates beans pretty much tipped me over into the all-beef category. After researching recipes online (
here
are just a few options) I opted for authentic Texas chili as interpreted by blogger
homesicktexan
. For one thing, she spells the dried pepper as "chile," and the dish as "chili," just like I do, so I gravitated to her immediately. Plus she adds beer, coffee and Mexican chocolate to her incredibly dense and musky stew. I'd never made chili this serious before, and I'll never make any other kind again.
Many versions of chili are relatively simple: meat, onions, chile powder. But this one is loaded with spices and aromatics. Cayenne, cumin, coriander, cinnamon and allspice weave a warm and exotic melody through this hearty dish.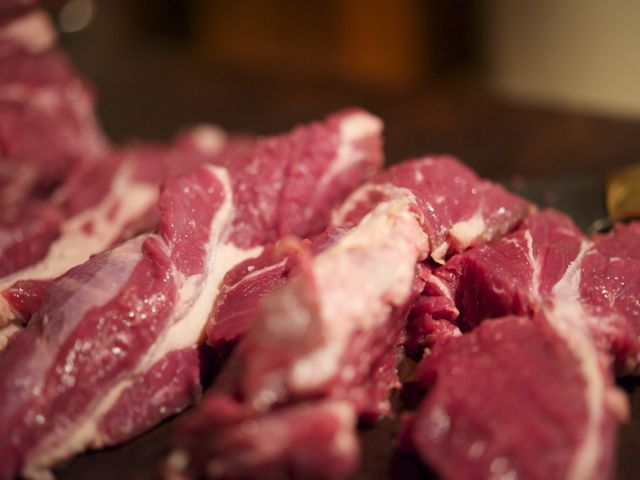 Although ground beef is apparently acceptable, I'm very glad I went for cubed, even though it took me hours to chop up the 12 pounds I had. As it was, I worried that the meat was falling apart a bit too much after 5+ hours of cooking. I really didn't want the end result to be super-gloppy and I can only imagine that it would be even more so with ground meat. Chuck is the cut of choice because it contains a lot of connective tissue, including collagen, that melts and adds richness during cooking, making it especially good for braising. It's most likely what you use for pot roast.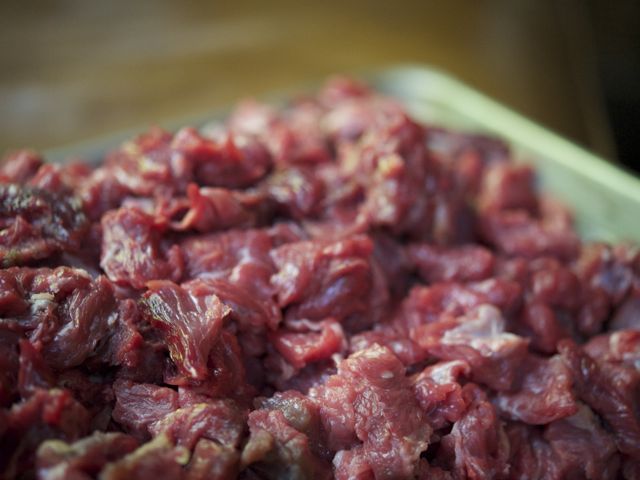 I lost track of how long it took me to dice up this beef but, appropriately, I kept myself entertained with back-to-back episodes of Nip/Tuck. (As penance, I am only listening to NPR now.) I also spent a fair amount of time thinking about the animal I was breaking down. I thanked it and tried to honor it. I'm serious. When you're handling something that was formerly alive, I think the least you can do is try to acknowledge the creature that gave up its existence so you could be nourished.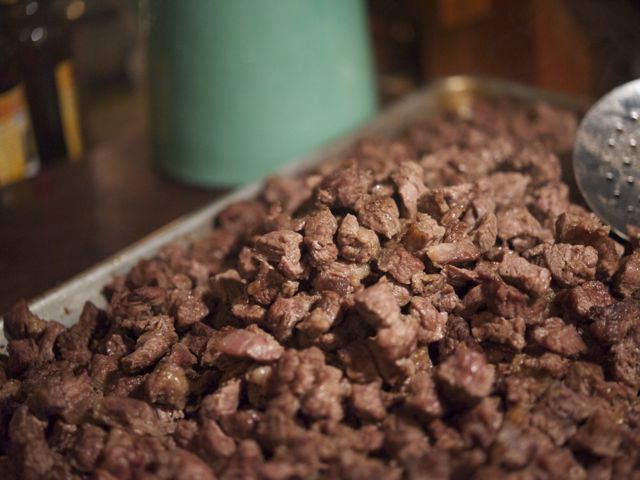 The first step in preparing your chili—after assembling all your ingredients—is to toast your chiles and set them soaking (see below.) Then you brown the meat. Homesicktexan's recipe calls for you to cook up some bacon so you can use the rendered fat. I only had a few slices on hand, so I made up the difference with some duck fat I had hanging around. You can't ever go wrong there, but you could also use a mild olive oil or something neutral like grapeseed.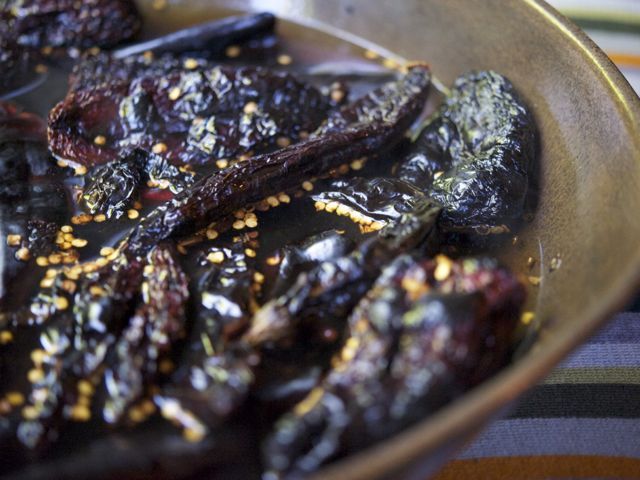 Once you've browned your meat, removed it to a tray and dumped in your pile of chopped onions to cook, it's time to get your chile sauce going. Although you can make chili with chile powder, and there are probably some good quality, artisanal blends on the market, I really encourage you to start from scratch. Once you see how simple it is to work with chiles, you'll be making your own enchilada sauce and
tamales
and pozole, and really digging the difference. It keeps in the fridge and freezer, so make a big batch and use it a bunch of different ways.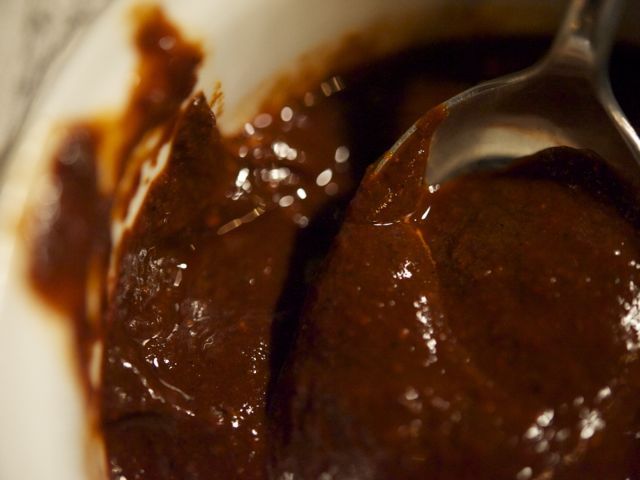 Although it's called 7-Chile Chili, I actually used only 5 kinds. First, I couldn't find any costeñas, and then I spaced and forgot to add the chiles de árbol. Oops! Not a big deal. You can mix and match the chiles depending on what you can get your hands on. You just need to learn a bit about their flavors and levels of heat. Chile heat is measured by Scoville units (see
here
.) Also, you should take care when handling spicy chiles. Some people (you know who you are) like to wear those thin latex surgical gloves. I don't, but I am careful not to touch my eyes or any other mucous membranes, and when I'm done I scrub my hands thoroughly with Dawn. The ads are true: Dawn really does cut through grease, and it's the oil and pith on chiles that carries the burning capsaicin.
This recipe calls for a lot of
anchos
, which are smoky and quite mild; fairly mild and rich
pasillas
; fruity
guajillos
;
costeñas
, which I couldn't find and don't know what they are; small but potent red
chiles de árbol
;
chipotles en adobo
, which are fiery smoked
jalapeños
canned in a thick tomatoey sauce; and, finally, powdered cayenne, also very spicy. I recommend you limit the very spicy chiles, as you can always add in more cayenne and chipotles if you want a hotter kick. Look for dried chiles that are pliant and glossy; they're pretty readily available in most markets now because of the increasing Latino presence in this country.
¡Viva la raza!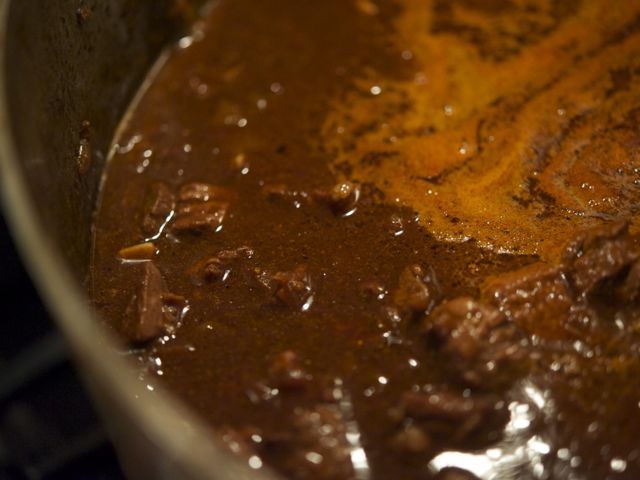 You soak the chiles until soft, then whir them in a blender—or Vitamix, if you have one—with enough water to keep things moving, until you've got a lovely, thick brick-red purée. (I tripled this recipe because I was feeding 25 people, but I only wound up using about two-thirds of the chile. The rest is in the fridge, and I see pozole in our future.) You stir the chile into the beef and onions, add some beer, some brewed coffee and, later, some grated Mexican chocolate. Authentic? Who's to say? Smoky-spicy-rich-sweet-funky-meaty-delicious? Yep. Dish it up and pile on the cheese, onions and cilantro. It's chili today.
Chili (7-Chile Texas Chili)
from HomeSickTexan
serves 8-10


— 4

chiles de árbol

— 2

quajillo chiles

— 8

ancho chiles

— 2

pasilla chiles

— 4 slices

bacon

— 4 pounds

chuck roast, in 1/4" cubes

— 1

large yellow onion, diced

— 6

large cloves garlic, minced

— 1 cup

brewed coffee

— 1 bottle

beer

— 2 cups

hot water

— 1 teaspoon

ground coriander

— 1 tablespoon

cumin

— 1/2 teaspoon each

ground cinnamon, clove, allspice, cayenne

— 2-3

canned chioptles en adobo, or to taste

— 1/3 tablet

Mexican chocolate

— 1/4 cup

masa harina

—

grated sharp cheddar cheese, minced onions & chopped cilantro for garnishes
Place a large cast-iron skillet over medium heat. When quite hot, place a few dried chiles in and cook each side until lightly toasted. Do not blacken or burn, as this will make the taste quite bitter. If you have a lot of chiles, you'll probably need to do this in batches. Once they're all toasted, turn off the heat and add enough water to the skillet to cover the chiles (or do this in a bowl), and let them soak for half an hour or more.


Meanwhile, in a large heavy pot (something copper or a Dutch oven), fry the bacon. When done, remove from pan and set aside. (You can make BLTs or feed it to your dog!) In the remaining fat, about 3 tablespoons, lightly brown the beef in a single layer. This will probably have to cook in batches, as well. Using a slotted spoon, remove the browned beef from the pot. Mine left a lot of liquid behind, so I poured this out and reserved it. I added some duck fat to the pot (you can use pork fat or mild olive or canola oil) and add the onions. Cook on medium until translucent. Add the garlic and cook for another minute.


Return beef back to the pot, and add the coffee, beer, two cups of water (or reserved beef broth plus water to make 2 cups) and the dry spices. Turn the heat up to high and bring to a boil.


Meanwhile, your soaking chiles should be soft. Drain them, discard the soaking water and put them in a blender (or food processor or Vitamix) along with the canned chipotles and one cup of fresh water. Puree until very smooth. Stir the chile puree into the meat. You can add a portion of it now, and more later, as needed.


When the chili begins to boil, turn heat down to low and simmer for five hours, stirring occasionally. If it starts to get too dry, add more liquid; either water or some stock or more chile puree.


After five hours, take a Mexican hot chocolate disc and finely grate 1/3 of it into the pot. Scoop out 1 cup of broth and mix it with the masa harina to make a slurry. Stir this back into the chili, making sure there are no lumps. Taste for seasoning, adding salt and more chile puree or spices, if needed. (I doubled the amount of cumin and added more cayenne and chipotles when I made it.)


When ready to serve, heat the chili through and taste for seasoning once more. Offer cheese, onions and cilantro as garnishes. Tortillas, tostadas and cornbread all make great accompaniments.



Download Recipe