9.8.11
Grecian Formula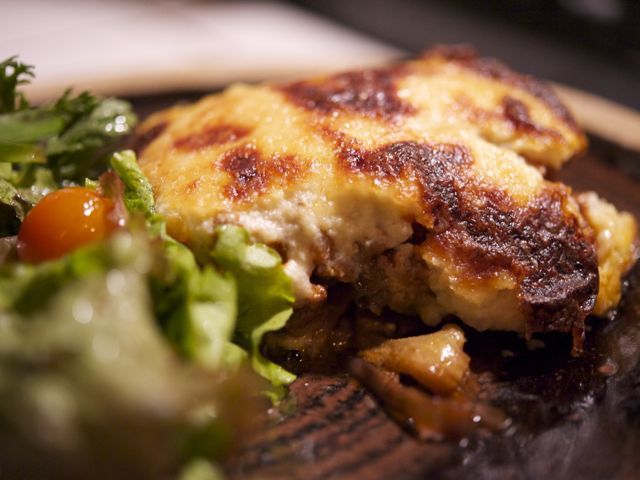 More rain. Lots more. Enough that thoughts begin to turn away from corn salsas and tomato salads and toward cozier soups and stews. So the tomatoes and eggplant that have finally started trickling in from our late-producing garden inspired me to make a dish I'd never before eaten, much less cooked: moussaka. This Mediterranean eggplant-based casserole, eaten as far afield as the Balkans and the Middle East, comes in a few different versions, usually with ground lamb and tomato sauce, and sometimes with a topping of béchamel or custard (á la Elizabeth David, the seminal British cook). I've never been the hugest fan of shepherd's pie, but I thought this might be a slightly lighter and tastier variation on that general idea. I found a recipe online at
Saveur
, but it called for a layer of potatoes, which seemed a bit excessive (plus I didn't have any on hand), so I simply left them out. I also didn't have currants (I used raisins) or bell peppers (ick, in general), but the dish didn't suffer from the lack of either. Although the recipe does look like a lot of steps, it's actually a pretty simple process of making three distinct layers: fried eggplant; a garlicky lamb-&-tomato sauce with piquant spicing; and a rich, creamy topping. With a green salad, it makes a relatively easy and quite delicious weeknight dinner.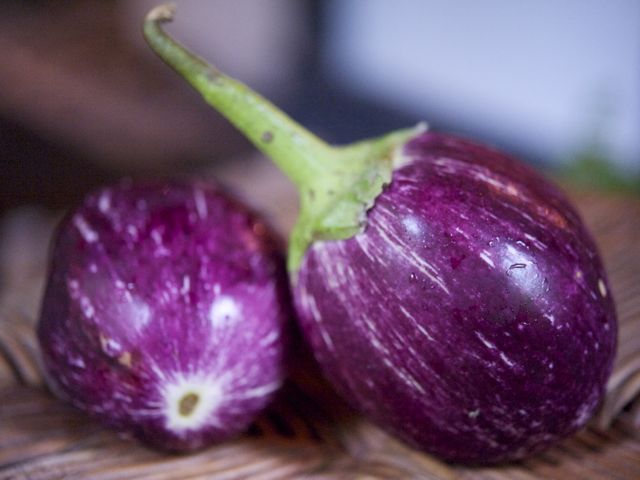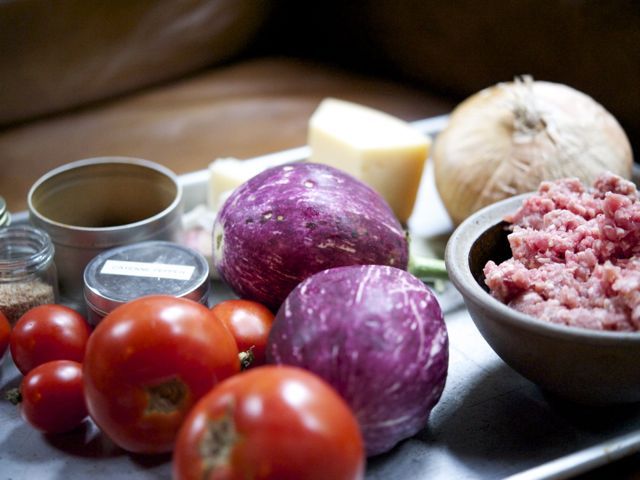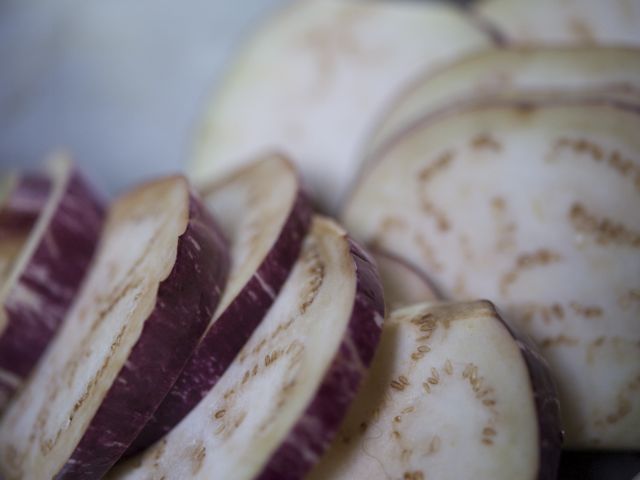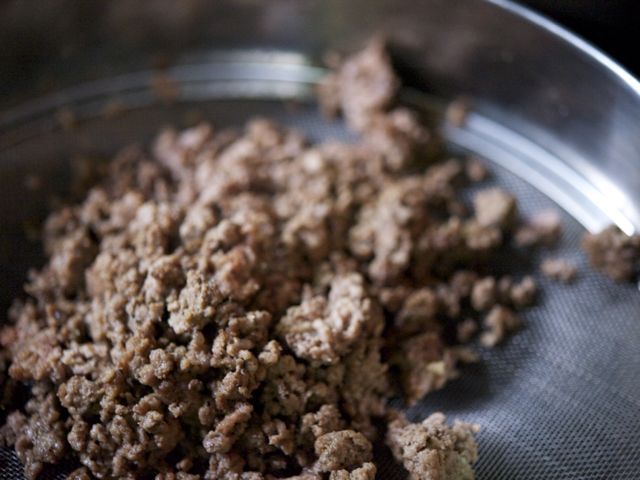 Canned tomatoes are fine but I used fresh. I quickly blanched them, discarded the skins and pureed the rest in my new Vitamix. (More on this exciting purchase another day.) Then I sauteed up onions and garlic, added a little wine (recipe called for red, but I had only white), then tossed in the drained lamb, tomatoes and raisins. While this simmered, I fried the eggplant slices in olive oil.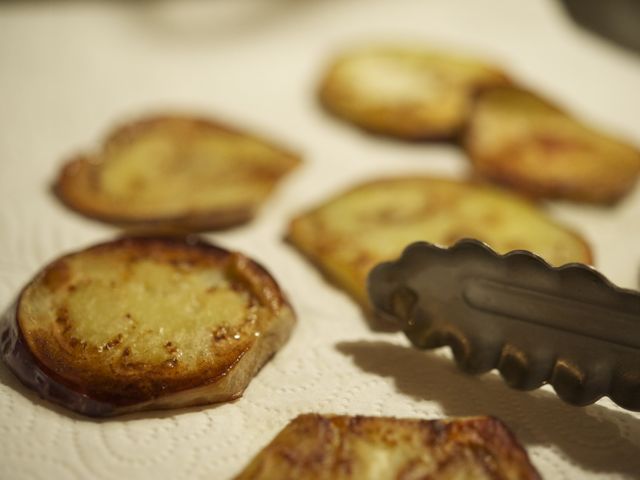 At the same time, I was melting a little butter in a saucepan, stirring in some (gluten-free) flour and then whisking in milk to create a béchamel sauce. I added a bay leaf and some freshly grated nutmeg (use your microplane and indulge in this glorious fragrance!), then took it off the heat and stirred in an egg yolk and some Greek yogurt. Heaven. The last step is to layer the ingredients into an ovenproof dish.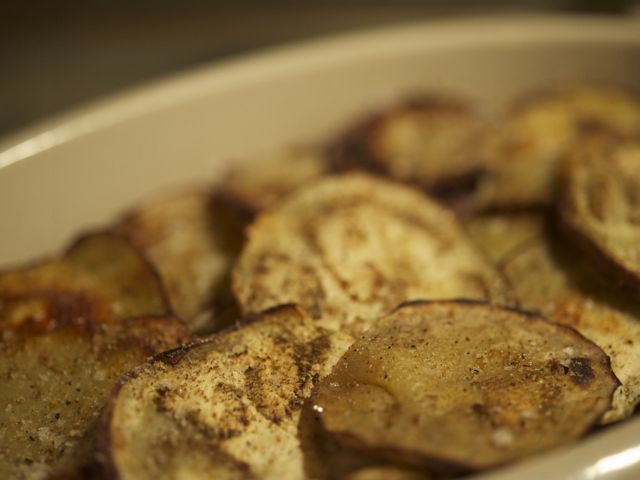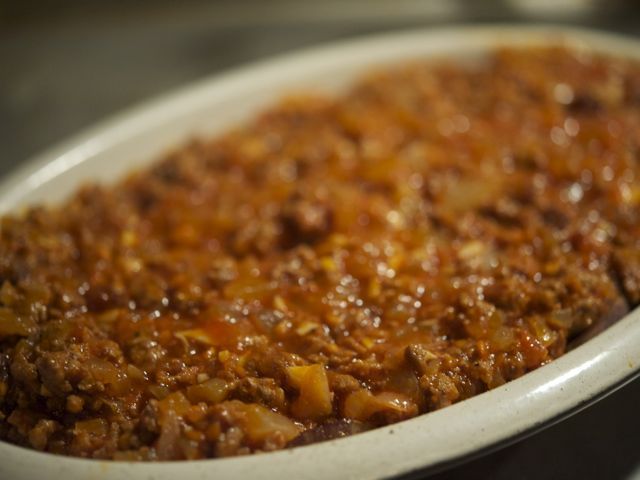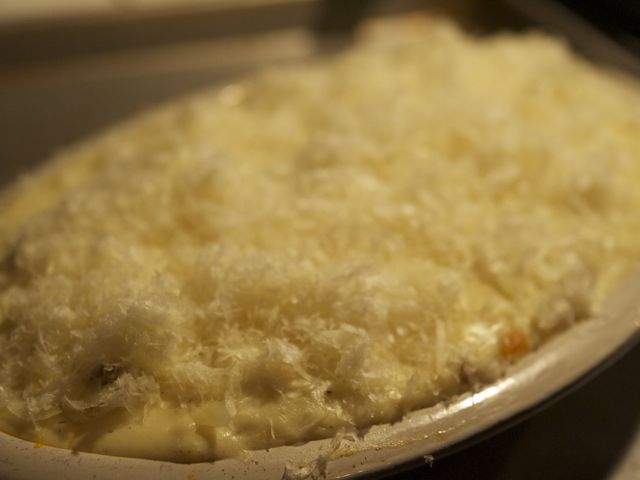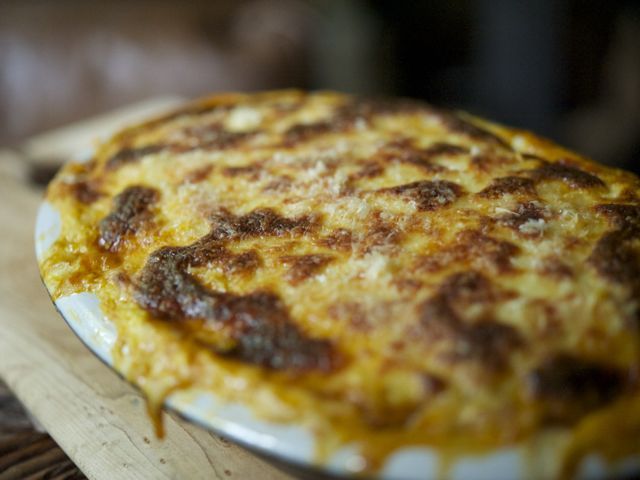 Moussaka is traditionally served at room temperature; this allows it to set a bit and not fall apart when you scoop it out. (It's also really good hot, and not that messy.) I hope this inspires you to try it. In future, I could see following this basic concept but using squash instead of the eggplant, or layering in greens like chard or kale, or substituting ground turkey or beef for the lamb. Now that I understand the fundamentals of moussaka, it's no longer all Greek to me...
Moussaka
adapted from Saveur
serves 4
— 14 ozs

tomatoes, canned or fresh, peeled

— 2 tablespoons

dried currants or raisins

— 1/2 pound

ground lamb

— 1/2 teaspoon

cayenne

— 1/4 teaspoon

ground cinnamon

— 1/4 teaspoon

ground ginger

— 1/4 teaspoon

ground allspice

— 2

large cloves garlic, minced

— 1

large sweet onion, finely chopped

— 1/2 cup

wine, preferably red

— 3/4 pound

eggplant, cut crosswise into 1/4"-thick slices

— 3 tablespoons

unsalted butter

— 3 tablespoons

flour

— 1 generous cup

milk

— 1 bay leaf

—

freshly grated nutmeg, to taste

— 1/4 cup

plain Greek yogurt

— 1

large egg yolk

— 1/2 cup

grated Parmesan
Purée the tomatoes in a blender and set aside. Put currants or raisins into a small bowl and cover with boiling water; let soften for 30 minutes. Drain currants and set aside. Heat 1 tbsp. olive oil in a large heavy saucepan or Dutch oven over medium-high heat. Add the lamb, cayenne, cinnamon, ginger, allspice, and a little sea salt and pepper and cook, stirring to break up the meat, until browned, about 5 minutes. Transfer lamb to a large strainer set over a bowl and drain; discard any liquid left in the pot. Return pot to the heat and add another glug of olive oil along with the garlic and onions, and cook, stirring occasionally, until soft, about 10 minutes. Add the wine and cook, stirring occasionally, until almost evaporated, 10-15 minutes. Add the pureed tomatoes, currants/raisins and lamb and bring to a boil. Reduce the heat to medium-low and simmer until thickened, about 30 minutes. Remove from the heat and set sauce aside.


Heat about a quarter cup olive oil in a large skillet over medium-high heat. Working in batches, add the eggplant slices and fry, turning occasionally, until tender, about 5 minutes. Transfer eggplant slices to paper towels.


To make the béchamel sauce, melt butter in a medium saucepan over medium heat. Add the flour and cook, whisking constantly, until pale and smooth, about 2 minutes. Whisking constantly, add the milk in a steady stream until incorporated; add the bay leaf and cook, whisking often, until reduced to about 1 cup, 15 minutes or less. Season with salt, pepper and nutmeg, and discard the bay leaf. Let sauce cool for 5 minutes. Meanwhile, in a small bowl, whisk together the yogurt and egg yolk and whisk into sauce until smooth.


Heat oven to 400°. Spread a few spoonfuls of the meat sauce over the bottom of an ovenproof casserole. Lay the eggplant slices on top, season with salt and pepper, and then cover with the rest of the meat sauce. Pour the béchamel over the top of the meat sauce and spread evenly with a rubber spatula. Sprinkle Parmesan evenly over the top and bake until browned and bubbly, 45–50 minutes. Let cool for at least 20 minutes before serving.



Download Recipe