9.9.11
Funky Chicken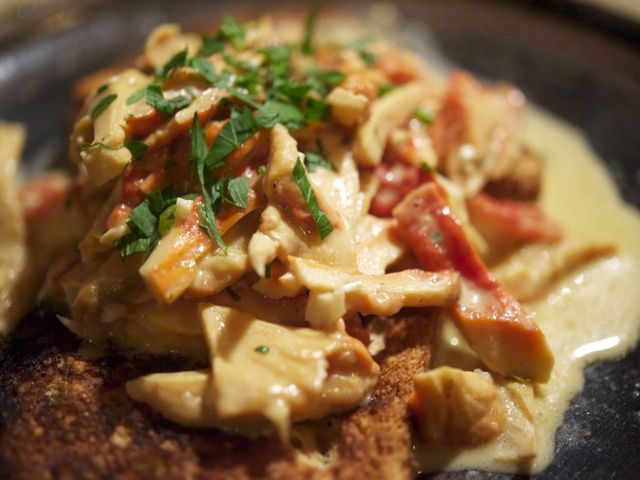 Seek and ye shall find. Friends and fellow foragers, I am beside myself!! Driving to yoga, a flash of orange in the woods caught my eye and I mentally bookmarked it for the ride home. And there it was upon my return—yes, in all its flamboyant and fiery glory—an enormous wild chicken mushroom!! A large-and-in-charge specimen of Laetiporus sulphureus, also known as the Sulfur Shelf mushroom. It's considered a good entry-level wild edible, because it's quite distinctive and really can't be confused with anything remotely poisonous. There were a good 10 pounds of it growing atop a fallen tree trunk, and I took home about half of that, much of it fresh, pliant and begging to be eaten. After a good trimming, a soak in salty water (to clear out any bugs) and a thorough drying, I stashed my haul under a paper towel until dinner time. Sautéed in butter, with a little garlic, thyme, stock and a splash of cream, and served over toast, it was the supper of my dreams: wild, free and spectacularly seasonal.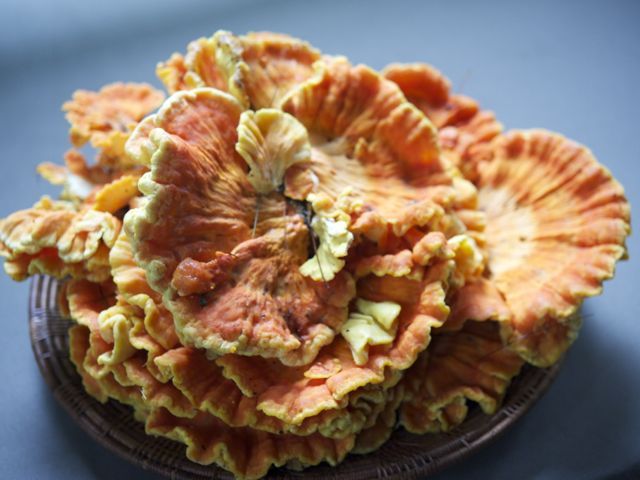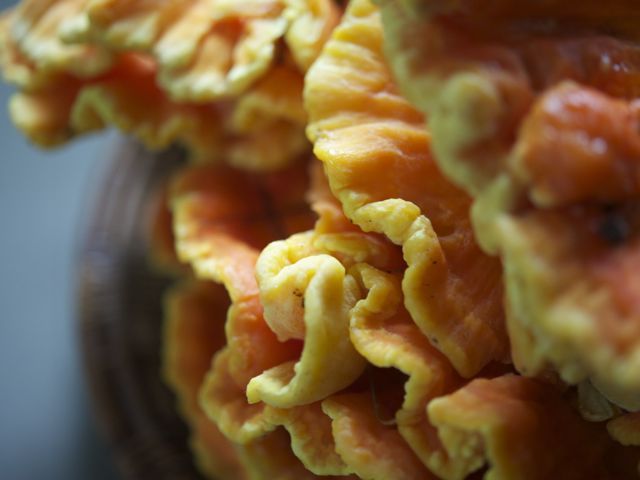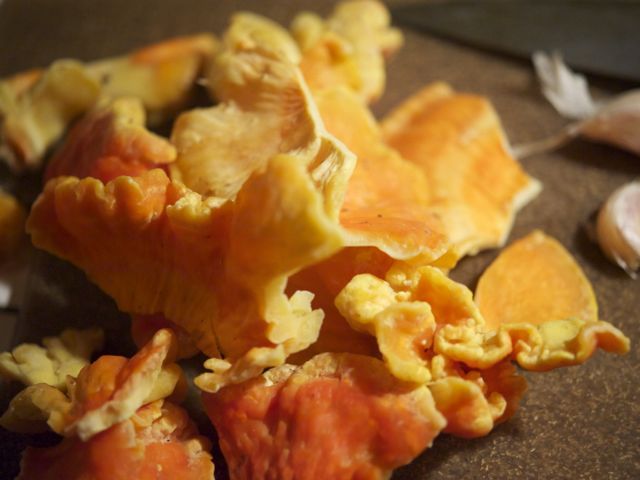 The chicken mushroom gets its name from its firm, meaty consistency and its mild, slightly sweet flavor. I think it would be great in all manner of stir-fries, over polenta and in risotto. I recently discovered some good
gluten-free bread
and I was taken with the idea of serving sauteed mushrooms over toast. This turned out to be a good way to go. The toast soaks up the deliciously rich sauce and is an earthy complement and textural counterpoint to the mushrooms.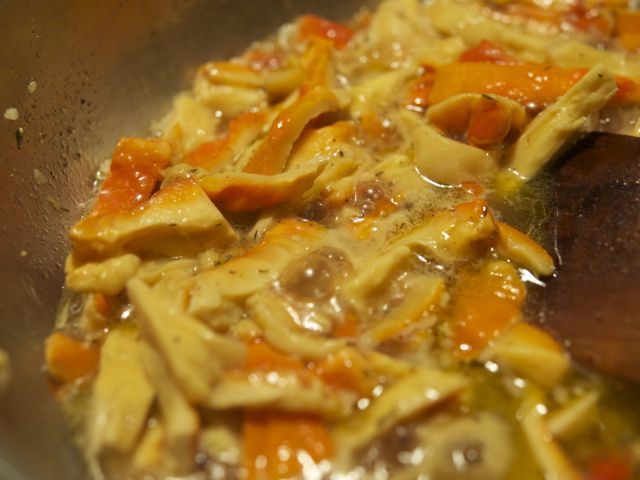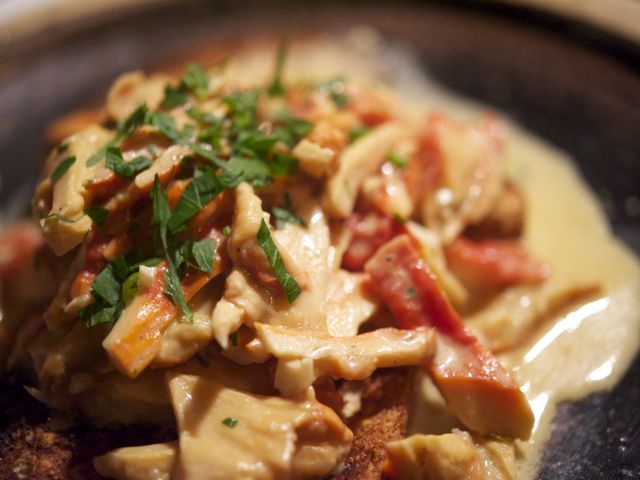 Wild Chicken Mushrooms on Toast
serves 2
— 4 pieces

good quality toast

—

sea salt & fresh pepper, to taste

— 2/3 cup

chicken stock

— 1/3 cup

cream

— 1/2 teaspoon

dried thyme

— 2 tablespoons

olive oil

— 1

small shallot, minced

— 2 tablespoons

unsalted butter

— 1

large clove garlic, minced

— 1 pound

wild chicken mushrooms, young tender parts only

—

minced parsley, for garnish
Make sure mushrooms are clean and dry. Ideally, soak them in salty water for 30 minutes, then rinse and dry, laying them out on paper towels. When ready, slice mushrooms into long slim pieces.


Heat a large, heavy skillet over medium-high heat and add butter and olive oil. When melted, add garlic and shallot, stirring until golden. Add thyme. Toss in mushrooms and stir to coat; sauté for several minutes and then add stock. Cook until stock reduces, then add cream. Raise heat and simmer vigorously, letting sauce thicken. Remove from heat and season to taste with salt and pepper.


Place 2 pieces of toast on 2 plates, spoon mushrooms over and garnish with parsley. Serve immediately!



Download Recipe