9.15.11
Passion Play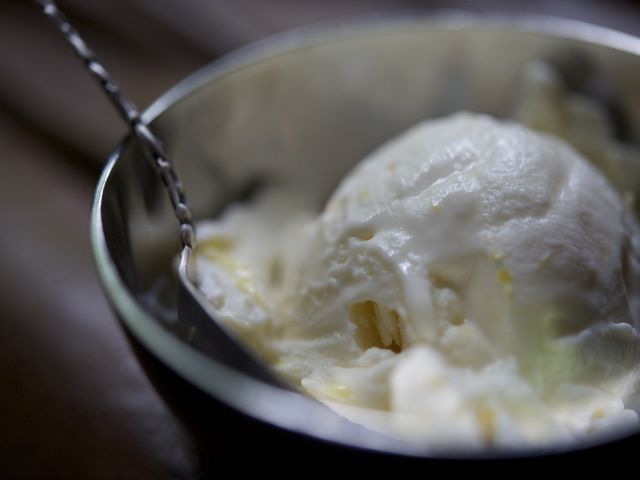 I subscribe to quite a few cooking magazines—
Bon Appétit
(successfully revamped to assuage fans of the now-defunct
Gourmet
);
Saveur
;
Food & Wine
;
Diner Journal
—and also regularly read
Food52
, assorted cooking blogs and random publications like the
Edibles
and
PutAEggOnIt
, so at any given time I have a gazillion recipes rolling around in my head. Lately, I've been seeing many references to
Jeni's Splendid Ice Creams
, a Columbus, Ohio, legend founded by Jenni Britton Bauer (how can you not love a women whose first business was called Scream?!), probably because she has a
new cookbook
out. What caught my eye, aside from interesting flavors (Toasted rice with coconut and black tea! Goat cheese with roasted cherries! Influenza sorbet with lemon, honey and bourbon!), was the fact that she doesn't use any eggs, but instead incorporates cream cheese, gelatin, cornstarch and/or a little corn syrup to create a smooth and creamy texture. Not that I have anything against the classic custard base, but I was itching to try what were described as some of the best frozen treats around.
Food & Wine
published a recipe for her lemon-blueberry frozen yogurt, and I gave it a go. I ended up replacing her blueberry sauce with a passion fruit curd (and another time with nectarine puree) and, I kid you not, it was one of the creamiest, silkiest most satisfyingly delicious things I have ever eaten. Do everybody a favor and make some of this immediately!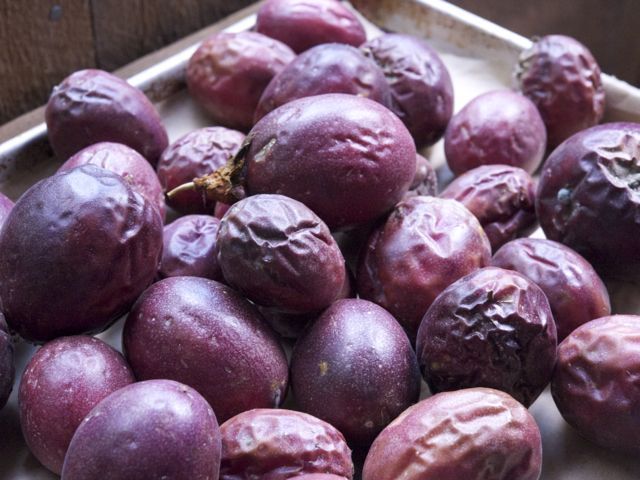 Do you love passion fruit as much as I do? There are two kinds, yellow or purple, and while I would never turn down either one, I prefer the smaller, less acidic purple. They are in season now in California, and I ordered a big box through
Local Harvest
, a great source for produce you might not be able to find in your area, almost exclusively from small organic farms.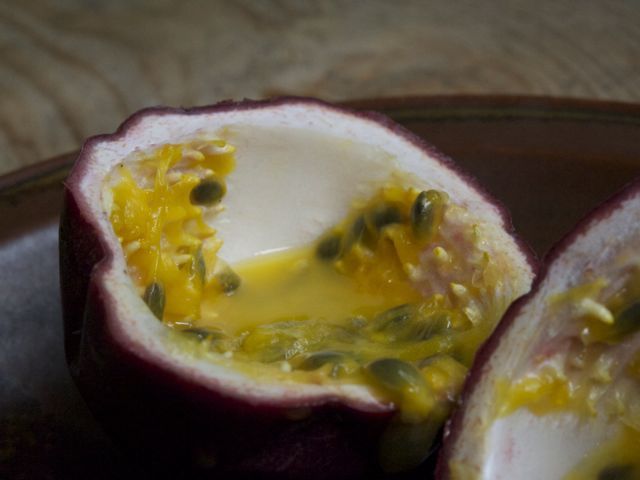 Passion fruit are high in vitamin C, potassium and beta-carotene, hence the brilliant yellow color of the pulpy interior. The seeds are edible, crunchy and tart, but can be a bit texturally overwhelming. If you are too lazy or time-challenged to deal with straining the seeds out to create your own pulp, you can simply get your hands on some
puree
. No shame in that. It will keep in your freezer for whenever you feel like whipping up some curd for this frozen yogurt recipe, or for making a
pavlova
, or for a fantastic cocktail—or for spooning it into your drooling mouth straight from the container.
Jeni's frozen yogurt recipe calls for a fruit sauce that you layer with the yogurt as you pack it into your container. She suggests blueberries, but you could use raspberries, blackberries, cherries, even pureed dried fruits...or passion fruit curd, as I did.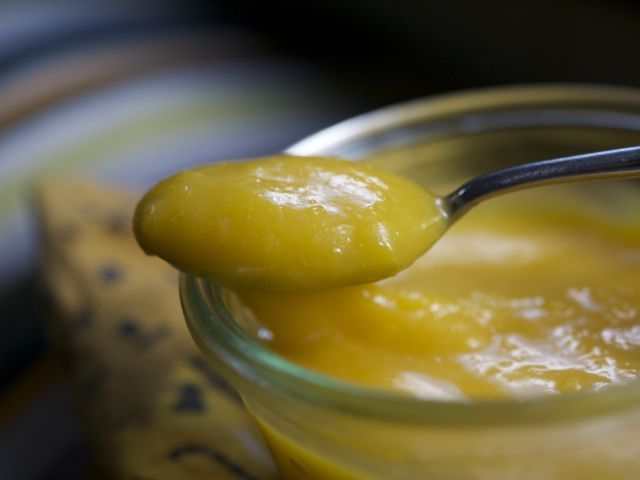 This frozen yogurt is a breeze to make. And you will freak out over the texture. I was surprised to find that the version of Jeni's recipe that ran in
Food & Wine
was simplified quite a bit! I have not made her more complicated version. In her book, it calls for low-fat yogurt which you strain yourself, plus a lemon syrup and the addition of cream cheese. This simpler version uses gelatin and fresh lemon juice. I made mine with
labne
, and you might try sourcing some at a gourmet store or Middle Eastern market; Greek yogurt makes a fine substitute. As you might imagine, full fat makes a big difference in the mouth-feel and flavor, but I think reduced fat would also be pretty damn good. I'll try the recipe from the book next, and let you know how it turns out.
Lemon-Passion Fruit Frozen Yogurt
adapted from Jeni's Splendid Ice Creams as modified by Food & Wine
makes 1 generous pint
— 2 cups

labne or Greek yogurt

— 1/4 cup

organic light corn syrup

— 2/3 cup

organic cane sugar

— 1/4 ounce

unflavored powdered gelatin

— 1 tablespoon

finely grated lemon zest

— 1/2 cup

fresh lemon juice

— 1/2 cup

organic heavy cream

— 1 cup

passion fruit curd (recipe follows)
Fill a large bowl with ice water and set aside.


Pour 2 tablespoons of the lemon juice into a small bowl. Sprinkle the gelatin over the lemon juice and let stand for 5 minutes.


Meanwhile, in a small saucepan, whisk the remaining 6 tablespoons of lemon juice with the sugar and the corn syrup. Bring to a boil and cook over moderate heat until the sugar dissolves, 1 minute. Remove from the heat and stir in the lemon gelatin.


In a medium bowl, mix the yogurt with the zest. Stir in the lemon juice mixture, then whisk in the cream. Set the yogurt base in the ice water bath and let stand, stirring occasionally, until cold, 20 minutes.


Pour the lemon yogurt into an ice cream maker and freeze according to the manufacturer's instructions.


Scoop alternating layers of the yogurt and passion fruit curd into a plastic container. Press a sheet of parchment directly onto the surface and close with an airtight lid. Freeze until firm, about 4 hours.



Download Recipe
Passion Fruit Curd
makes 1 3/4 cups
— 8

large egg yolks

— 1/2 cup

passion fruit juice

— 1 cup

organic cane sugar

— 1 large pinch

sea salt

— 10 tablespoons (1 1/4 sticks)

unsalted butter, cold, cut into 10 pieces
Combine yolks, passion fruit juice and sugar in a heavy-bottom saucepan and whisk to combine. Cook over medium-high heat, stirring constantly with a wooden spoon, until the mixture is thick enough to coat the back of a spoon, 8-10 minutes; it should register 160º on an instant-read thermometer.


Remove saucepan from heat. Add salt and butter, one piece at a time, stirring until smooth. Strain through a fine sieve into a medium bowl. Cover with plastic wrap, pressing it directly onto the surface of the curd to prevent a skin from forming. Refrigerate until chilled and set, at least 1 hour and up to 1 day.



Download Recipe