9.14.11
You Say Tomato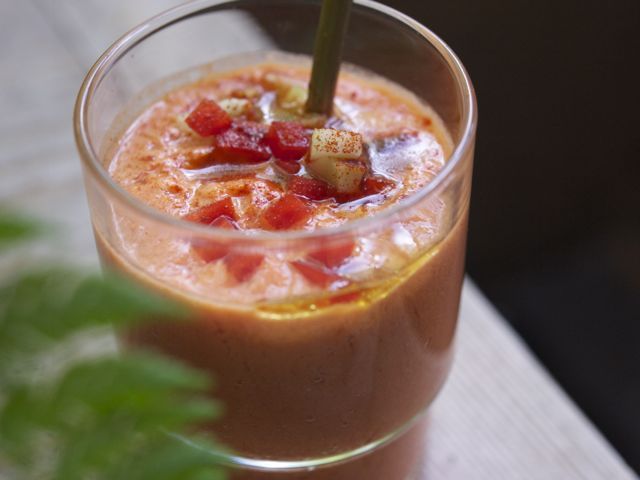 Are you up to your ears in tomatoes? Is the glorious love apple gracing your table at least once a day? You should be gorging on them now, the one time of year we can actually get the real deal: perfectly ripe, sweetly fragrant tomatoes dripping with juice. None of those pink, mealy things we'll avoid like the plague between October and August. The season for tomatoes is so short! If you don't can, then at least consider freezing. You can take Romas, slice off one end, squeeze out the seeds and, just like that, pop them into a ziploc bag. Or make big batches of sauce and freeze that. You'll love yourself for this come January, trust me. Right now, gazpacho's the thing. This classic cold soup hails from Andalucía and there are various kinds, one made with garlic and grapes, one with fava beans and of course the red tomato version. They all include bread, olive oil and vinegar—three key ingredients that really set this apart from V8. It's almost as if you took the classic Italian bread-&-tomato salad, panzanella, and put it in the blender. Almost.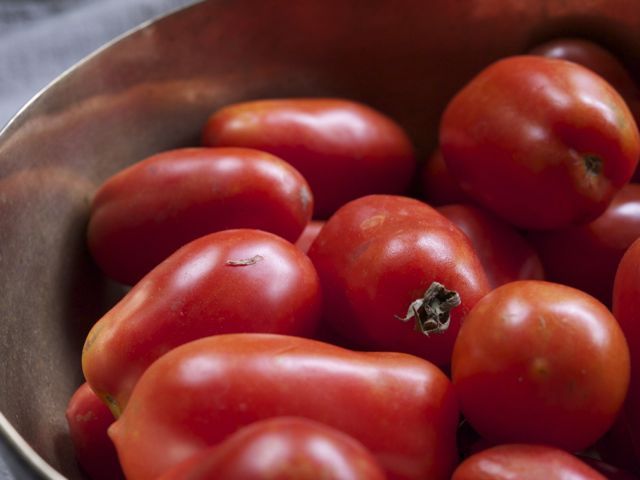 Romas are a good choice for gazpacho because they are quite meaty, but really any ripe tomatoes will do. You don't need to worry about removing the skins; just core them and chop them into manageable chunks.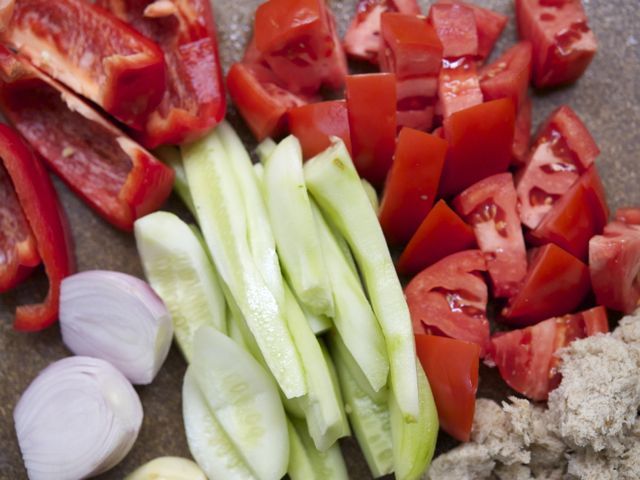 Did you ever see Pedro Almodóvar's Women on the Verge of a Nervous Breakdown? (It's now a Broadway show!) Gazpacho plays a key role in that film; there's a huge pitcher that people keep drinking from as though it were ice water on a hot day. This cold soup is a bit like masala or kimchi—every Spanish cook has her own special take on it. I'll sometimes add a jalapeño, which is not purely traditional. I encourage you to customize your gazpacho, leaving out the bell pepper, or substituting onion for the shallot. Tinker with the seasoning. If you can't eat bread, try adding some avocado to approximate the right thickness. But remember that bread and olive oil are what give the best gazpacho its distinctively Castilian body and soul.
Gazpacho
makes about 6 cups
— 1 slice

stale bread, crusts removed

— 2 pounds

ripe tomatoes, cored

— 1/2

long green frying pepper, stemmed and seeded

— 2

small cucumbers, peeled

— 1

large shallot, peeled

— 1

large garlic clove, peeled

— 1/2 cup

olive oil

— 1/2

jalapeño, stemmed and seeded

— 3 tablespoons

sherry vinegar

— 1 1/2 teaspoons

sea salt

— 1-2 teaspoons

sugar

—

spicy or mild pimentón
Put the bread, if using, in a little warm water and set aside to soak while you prepare the other ingredients. Roughly chop all the vegetables and place in a food processor, blender or VitaMix. Blend until liquid. Add bread, olive oil, vinegar, salt and a couple of pinches of pimentón, if desired, then process again. Taste and add sugar for balance, or more salt, as needed.


At this point, a Spaniard would push this through a fine mesh strainer to create a thinner soup. I like mine a bit thick, so I skip that. You choose. Chill until quite cold. Serve in tall glasses, garnished with a swirl of olive oil, a sprinkle of flaky sea salt and a small dice of tomato and cucumber if desired.



Download Recipe