6.1.11
Home Brew: Vin d'Orange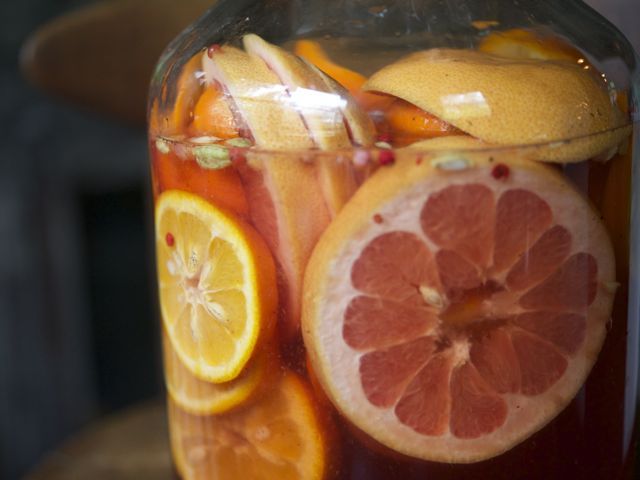 I love a little tipple before dinner, especially in the summer. It just feels a little indulgent, leisurely. The apéritif was actually a 19th century invention for the purpose of delivering extremely bitter, malaria-fighting quinine. Herbs and spices were added to mask the disagreeable flavor and voilà! A French invention, of course. Although most agree that 18th-century Italians were well versed in the aperitivo. Campari is a perfect example of such a slightly bitter and agreeably complex concoction. I use the word tipple because the apéritif is a light drink, a small amount of alcohol just to awaken the appetite. (For you tee-totallers out there, I am going to do a post on the non-alcoholic versions very soon.) I personally love Lillet, technically called a tonic wine because of the addition of a liqueur of Chinchona bark from Peru which contains quinine.You can create your own version, by steeping citrus fruit in rosé with a few spices. Julia Moskin, in her fantastic online DIY cooking handbook for the New York Times, provides a great recipe, adapted from London chef Sally Clarke. The original version is made with Seville oranges, which I happened to have on hand from making marmalade. Julia adapts it with more readily available citrus. It has a powerful flavor that develops during a 6-week fermentation period. So, if you want to serve yours on July 4th, as I do, you'd better get cracking.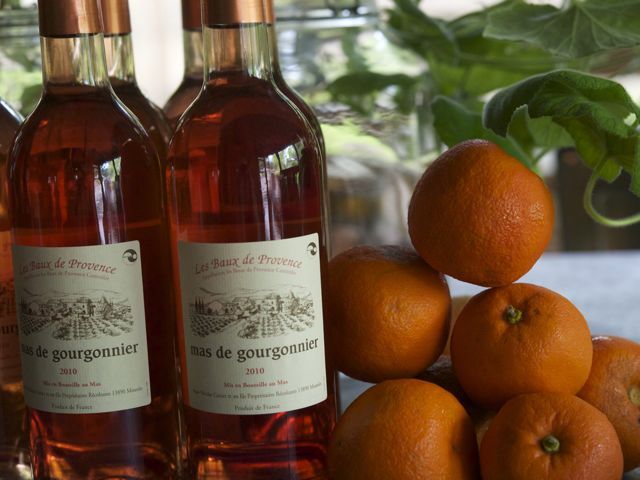 Your citrus should be organic and clean, because anything on the peel will end up in the wine.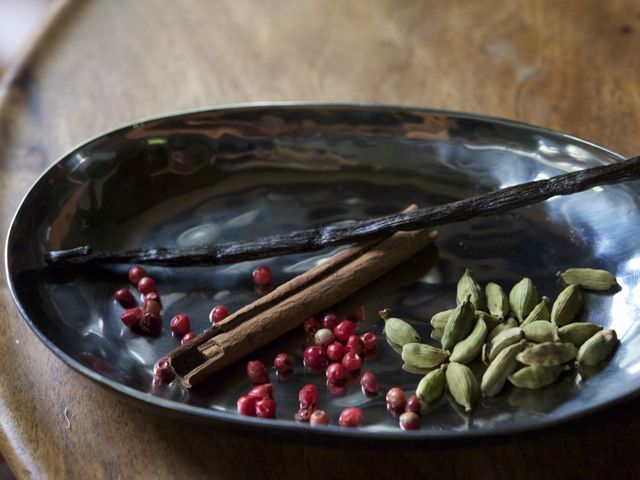 The original recipe calls only for vanilla and cinnamon, but I couldn't resist adding my beloved cardamom and some pink peppercorns.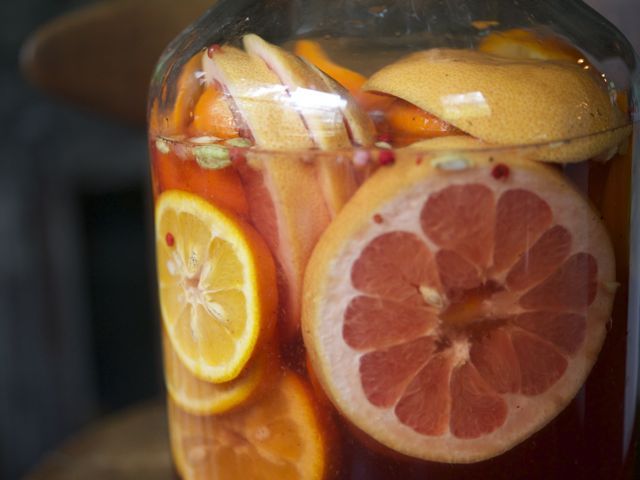 If you haven't already, now may be the time to invest in some large glass wide-mouthed jars. I use them for everything, from making this wine, to fermenting sauerkraut to brewing sun tea. (Something like
this
.) Here's to a perfect summer!
Vin d'Orange
makes about 2 litres
— 1/2 cup

dark rum

— 1 tablespoon

pink peppercorns

— 2 liters

good quality rosé (about 2 1/2 bottles)

— 1 cup

vodka

— 8

whole green cardamom pods

— 1

4-inch cinnamon stick

— 1/2

vanilla bean

— 1 1/2 cups

organic sugar

— 2

lemons or grapefruit, or one of each

— 3

tangerines or oranges with a good balance of tart and sweet
Wash the citrus and slice them in thick wheels. Place them in a clean container (glass or hard plastic) with a wide mouth and a tight-fitting lid. Add the sugar, spices, rosé and vodka.


Stir this well with a spoon (not wooden, as it may harbor bacteria that could inhibit fermentation) and fasten the lid. Keep the jar in the refrigerator, or a cool dry place, shaking occasionally to dissolve the sugar.


After about 6 weeks, mix in the rum, then pour the mixture through a fine mesh strainer or several layers of cheesecloth. Stored in bottles at a cool room temperature or in the refrigerator, your vin d'orange it will last indefinitely. Drink it plain on the rocks, or mixed with sparkling wine or water, garnished with a slice of orange.



Download Recipe