6.2.11
Condimental: Ramp Pickles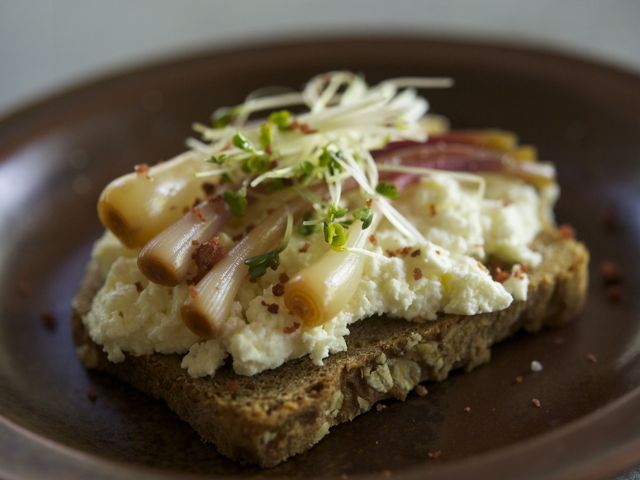 I confess to being a little overwhelmed. Wait, did I confess to that already? It doesn't feel like things have eased up much. But I guess I'll sleep when I'm dead, as the saying goes. And I ain't dead yet. But I am a bit behind. So this recipe for pickled ramps is coming at you at a time when the farmers markets are no longer overflowing with wonderful wild leeks. Still, it works just as well with scallions which are now in abundance. One of the best things about these pickles—aside from the pungent, sweet-tart, slightly crisp ramps (or scallions) themselves—is the leftover brine. I have been using mine for salad dressing. Whisked with a bit of mustard and some olive oil, it's perfection. It's also great to dirty up your martini. Ice cold gin, a little pickled ramp brine and maybe even a slim ramp slung over the side of your glass.I love them with cheese! Above, they're arranged on top of ricotta-smeared rye with a few sprouts and a good sprinkling of red sea salt. I chopped up a few and plopped them into my latest quesadilla. It's a good idea. You can also fold them into omelettes, toss them into salads, stir them into mashed potatoes and use them as a garnish for cold soups. I think you get the idea. Pickled ramps are easy, versatile and just one in a series of homemade condiments coming your way.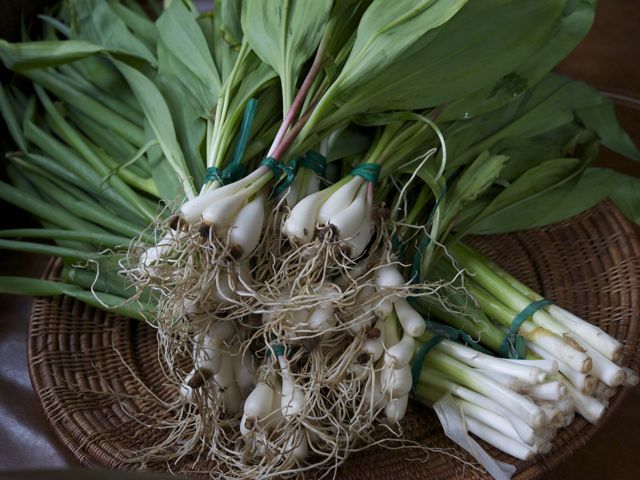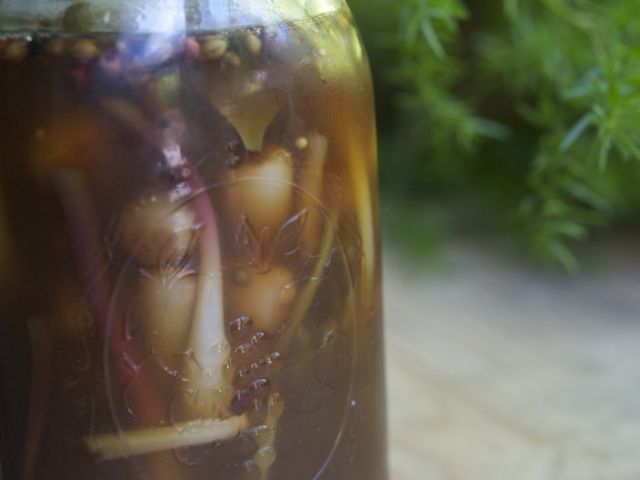 You can also make this brine to pickle any number of vegetables; try fennel, radish and cucumber. Use the ramp greens to make
this pesto
.
Pickled Ramps
makes about 1 quart
— 2 pounds

ramps (or substitute scallions)

— 1/2 cup

organic cider vinegar

— 1/2 cup

organic red wine vinegar

— 1 cup

water

— 1 cup

organic cane sugar

— 1 tablespoon

sea salt

— 1 teaspoon

yellow mustard seeds

— 1 teaspoon

coriander seeds

— 1 teaspoon

fennel seeds

— 1 teaspoon

pink peppercorns

— 1

bay leaf

— 2

chiles de árbol
Trim the root ends off the ramps and cut down the leaves leaving about ¼" of green. Wash the ramps under cool, running water.


If the ramps are bigger than your little finger, blanch them for 30 seconds in boiling water and then shock them in ice water. Drain the ramps well and place them in a quart-sized mason jar. Scallions will require this blanching step. Slimmer ramps can be placed directly into the jar.


Combine the vinegars, salt, sugar and water in a saucepan and bring to a boil. Add the remaining ingredients, stir to combine and simmer for a couple of minutes.


Pour the hot vinegar mixture over the ramps in the mason jar and let cool. Then seal jar and transfer to the fridge. Let them mellow for a couple of days before you sample. Ramp pickles will keep indefinitely in the fridge. If you want to put up jars to keep in the pantry, you'll need to can them in a water bath.



Download Recipe