3.16.11
Beet It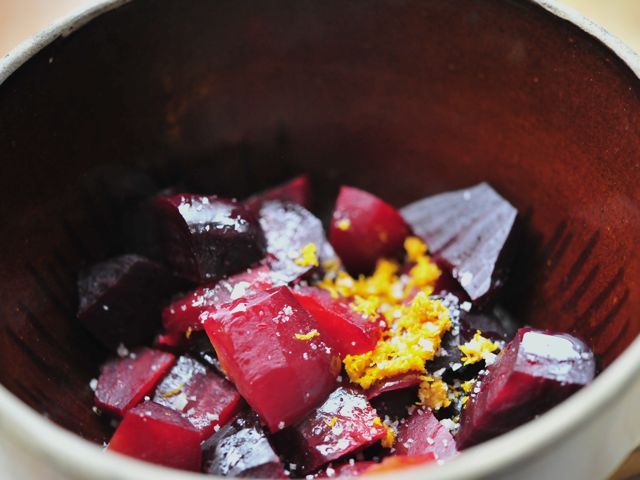 My passionate love of beets dates back to my early childhood. I can remember staring delightedly into the toilet as a lovely pink-tinged rinse circled the bowl. Their gorgeous color is a way of signaling how rich they are in minerals and antioxidants. (Beet juice, incidentally, makes a wonderful dye. Stay tuned for the transformation of my new white linen caftan!) The beets we know and eat are descended from the sea beet, Beta vulgaris subsp. maritima, which is native to the coasts of Europe, North Africa and southern Asia. Also known as wild spinach, it's the common ancestor of beetroot, sugar beet and Swiss chard.In my desire to help you squeeze the maximum out of your winter store of root vegetables, I can't forget to mention these wine-colored jewels. We don't eat them much in our house because G is not fond of them—something which is apparently rather common among men. I wonder why? He thinks they taste of dirt, which of course they do, but isn't that the whole point? I love them in all their guises—raw, steamed, roasted and pickled—and will often indulge when the cat's away.
Roasting beets in the oven brings out their flavor nicely. Just rinse them, giving them a quick scrub, and place them in a roasting pan with a little water. Cover with foil and bake at 350º for 45 minutes or so, until they are tender and can be easily pierced with a fork. Uncover them and let them cool until you can handle them without hurting yourself, then simply slip the skins off. It's a good idea to dress them now, while they're still warm, as this helps the flavors permeate.Roasted beets are wonderful dressed with walnut oil and balsamic vinegar, and sprinkled with a bit of coarse sea salt. I like to add chopped toasted walnuts or pistachios; orange or lemon zest; a minced shallot.I also consulted a wonderful new book I received for a birthday gift this year,
The Flavor Thesaurus: A Compendium of Pairings, Recipes and Ideas for the Creative Cook
by Niki Segnit. It's a fantastic resource and I could while away hours reading up on interesting combinations of ingredients. Among her recommendations for pairing with beets are apple, anchovies, capers, horseradish, onion, orange, oily fish, walnuts, potato and goat cheese. She also provides this very simple recipe for what is an amazingly beautiful Pink Risotto for two:Soften a finely chopped onion in olive oil, then add ¼ cup risotto rice, stirring until the grains are coated in oil. Add ¼ cup of white wine and cook until evaporated. Mix in 4 medium diced or grated cooked beets, then add 3 cups hot vegetable stock, one ladle at a time, stirring constantly, until the rice is creamy and al dente. Add a large handful of grated parmesan, salt and pepper to taste, and a few crushed leaved of fresh lemon thyme (or a little lemon zest). Divide risotto between 2 plates and crumble a bit of soft goat cheese on top.I happen to love beets with ginger, and Alice Waters suggests an Indian-style beet chutney made with roasted and chopped beets, fresh ginger and serrano chiles, cilantro, vinegar, lime juice and cayenne.I hope you're getting your beets from the farmers market, in which case you're probably bringing them home with the greens still attached. These are an excellent source of nutrition, including fiber, iron and other minerals. Don't waste them! Stew them with a little bacon, or try this easy pasta dish with mint, currant and red onion, also from Alice Waters. Or forget the pasta, and serve this as a side dish.*A chiffonade, in case you're wondering, involves a technique in which herbs or leafy greens are cut into long, thin strips. Just stack the leaves, then tightly roll them like cigars, and cut across the rolls to produce fine ribbons.
BEET-GREEN PASTA
from Alice Waters'
Chez Panisse Vegetables,
serves 4
1/2 cup currants3-4 bunches beet greens (about 2 lbs)1 small bunch fresh mint, a smooth-leaved variety if available2 medium red onions2-3 cloves garlic1 bay leaf1/2 cup extra-virgin olive oil1 lb dried fedelini pasta (can substitute angel hair or even spaghetti)salt and pepperCover the currants with boiling water, let them soak for 15 minutes, and drain them. While they are soaking, wash the beet greens, strip the leaves from the stems, and cut the leaves into chiffonade. Chop the stems into 2-inch lengths. Stem the mint, wash the leaves, and chop them into chiffonade.Put on a pot of salted water for the pasta. Peel the onions and the garlic and chop them both fine. Sauté them with the bay leaf over medium heat in 1/4 cup olive oil for about 5 minutes or until they turn translucent. Add the beet leaves and stems and the currants and cook 5 minutes more, covered.Meanwhile, when the water has come to a boil, add the pasta. Uncover the beet greens, season with salt and pepper, and add the mint leaves. When the pasta is cooked, drain it and toss well with the sauce, moistening it with a ladle of the pasta water and the rest of the olive oil. Serve immediately.Note: For a slightly more piquant dish, add a splash of red wine vinegar and a pinch of cayenne.