3.1.11
Full of Beans
Is bigger better? Surely not. But it's nice to eat from every end of the spectrum, from the petite kishu to the gargantuan gigante bean. Though there is something to be said for the sheer meaty size of them, these creamy white beans, also known as gigandes or hija, deliver a lot of sweet flavor. Runner beans of Mediterranean origin—probably Spanish or Greek—you'll see these on meze or antipasto plates, often coated in a dark orange tomato sauce. In Spain, they are sometimes referred to as
judías,
a word that also means Jews, though I couldn't find any connection. (Speaking of which, did you see John Galliano's drunken, anti-Semitic
rant
? Wonder how long Natalie Portman's new Sofia Coppola-directed Dior spot will continue to run...) If you can't find gigantes, you may substitute limas or any large white bean. Dried beans are a delicious source of fiber and protein at any time of year, since they are as appetizing eaten hot in a soup as they are served at room temp. But until fresh beans are coming off the vine (Happy March, by the way), the dried version can be the centerpiece of many a meal. I do enjoy them in broth, but I think my favorite way to eat beans is cooked until they are very soft and have absorbed all the liquid, drizzled with some spicy green olive oil and sprinkled with crunchy sea salt.
You can flavor beans any way you like; they pair beautifully with other vegetables and with a bit of smoky flavor, from bacon, pimentón or even miso. I do find that beans are almost better the next day, after the flavors have had a chance to meld. Make a big enough batch and you can eat them two days running.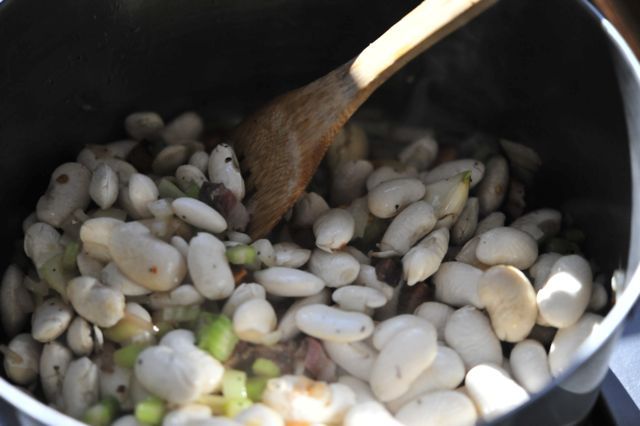 I like to soak my beans overnight and change the water, as this makes them both easier to digest and quicker to cook. Something to remember when cooking any dried beans is to avoid adding acid of any kind until they are already tender. So don't add any vinegar, wine, citrus juice, tomato product or anything else acidic to the cooking water until your beans are nice and soft as they will then not become beautifully tender no matter how long you cook them.

If you want to add a little extra zip to this dish, whip up some vivid green, herbal pistou, a French version of Italy's pesto, generally made without cheese. Use any herbs you have on hand for this quick sauce that will really enhance your repertoire, as delicious with roast chicken or eggs as it is stirred into soups or beans.

Gigante Beans
serves 4
— 4-6 ounces

pancetta or bacon (a ham hock is also nice)

— 1 tablespoon

olive oil

— 1

medium yellow onion, peeled and diced

— 2 cloves garlic

cloves garlic, minced

— 1

large carrot, peeled and diced

— 1/2 pound

gigante beans

— 1

bay leaf

— 1 quart

chicken stock

—

salt to taste
Soak beans overnight in cold water to cover. Or cover with 2 inches of boiling water and soak for 4 hours minimum. Drain beans and discard soaking liquid. In a Dutch oven or soup pot over medium heat, warm olive oil and sauté pancetta or bacon until brown, then add onion, garlic, celery and carrot, stirring well and cooking until golden.


Add beans and bay leaf and stir to coat. Pour in stock and bring briefly to a boil, then reduce to a simmer and cook, partially covered, until beans are soft, about 1 hour. (Time varies greatly depending on the size and age of your beans.) If you prefer your beans soupier, add more stock as it begins to be absorbed.


Serve beans warm or at room temperature with a drizzle of olive oil and a generous sprinkle of crunchy sea salt, or swirl in a couple of spoonfuls of parsley-rosemary pistou.



Download Recipe
Parsley-Rosemary Pistou
makes about 3/4 cup
— 1 cup

flat leaf parsely, densely packed

— 1 tablespoon

fresh rosemary, de-stemmed

— 1 heaping tablespoon

pine nuts, toasted

— 1 clove

garlic

— 1/2 teaspoon

sea salt

— 1/2 teaspoon

lemon zest

— 2/3 cup

olive oil

— 1 tablespoon

finely grated Parmigiano-Reggiano
Pulse the parsley, rosemary, pine nuts, garlic, salt, zest and oil in a blender or food processor. Leave it a little chunky. Stir in the cheese. It should have the consistency of a loose pesto. Can be stored in the fridge for several days.



Download Recipe