3.2.11
The Skinny on Guinea
In my quest to revisit the culinary tropes of winter one last time before the change of season, it's time for braising. There's nothing cozier than a pot of something bubbling gently on the stove (or in the oven) all day long, and it's a good idea to enjoy the warm, tender, hearty results now, as they're a far cry from what we'll be craving when the mercury rises. So before we're on to spring's sweet pea risotto and asparagus soup and pickled ramps, are you sure you've perfected the art of the braise? It's all about low and slow, gentle heat breaking things down and building rich, complex flavors. Turns out it's the perfect way to cook a guinea hen (also known as guineafowl). Never had one? Tastes like chicken. Seriously, this is one gorgeous bird, with its dappled black and white feathers and tiny little head. As you can see, above, its meat is darker than a chicken's but it's nowhere near as assertive in flavor as a pheasant or grouse. It's quite high in protein, but doesn't have much fat, which makes it a great candidate for braising.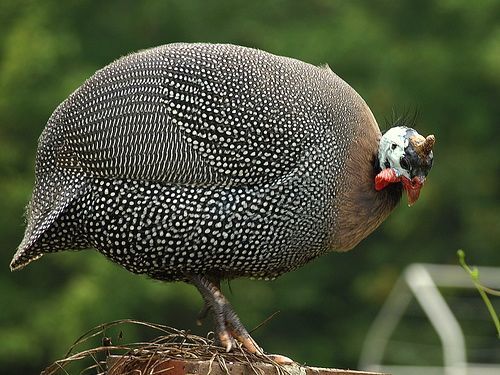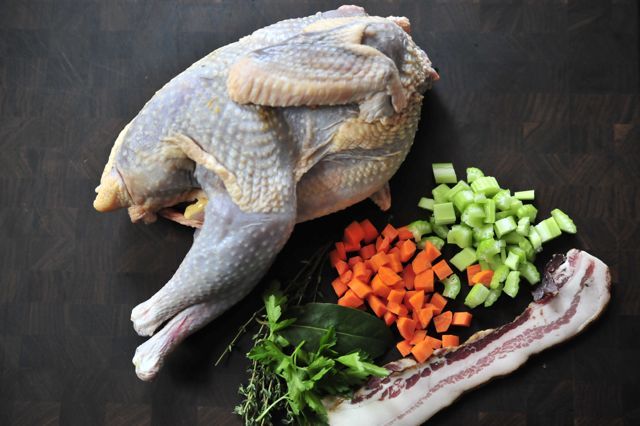 I had guinea hen at a friend's place this fall, and she draped the breast with bacon before roasting it. The whole thing was as dry as leather! Simply coating a fat-deprived cut with fat does little to actually penetrate the meat. You need to baste that thing every 5 minutes, or maybe wrap it in caul fat. Or braise it! Braising calls for liquid but not total immersion. You always put the lid on the pot, so when liquid evaporates, it condenses on the lid and drips back down—a sort of low maintenance basting. Other than that, the only thing you need to remember is that browning is an essential first step for creating a flavor base. A few aromatics, liquid that can be anything from wine to water, and you're set.This recipe calls for bacon, but you could use a little ham or pancetta, or neither. You brown the guinea hen on all sides in fat or oil, sautee diced onion, carrot and celery, then add stock and herbs, and you're good to go. Pop the lid on, turn the heat down low and let it simmer until the meat is falling-off-the-bones tender. I like to pull the meat off the bones, maybe let the sauce reduce down a bit, and then stir the meat back in to create a kind of ragú. This is delicious served with polenta, rice or even pasta.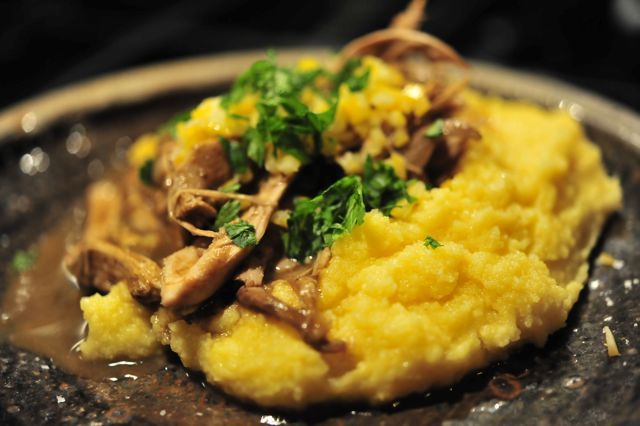 GUINEA HEN RAGÚserves 42 slices smoky bacon or equal amount pancetta, optional3-4 pound organic, locally farmed guinea hensea salt and freshly ground black pepperolive oil2 carrots, diced1 celery stalk, diced1 medium onion, coarsely chopped3 garlic cloves, smashed and peeled3 sprigs fresh thyme or rosemary, stemmed1 cup dry red wine1 tablespoon tomato paste2 cups water2 tablespoons chopped fresh flat-leaf parsleyYou can either cut the guinea hen into pieces or cook it whole. Either way, season it generously with salt and pepper.In a large Dutch oven or heavy pot, heat a tablespoon of olive oil and brown the bacon. Remove bacon from pan and brown the guinea hen on all sides. If you are not using bacon, simply brown the hen in olive oil. Remove to a plate.Add carrots, celery, onion, garlic, herbs, a teaspoon of salt and another glug of olive oil if you need it. Cook, stirring occasionally, until vegetables start to brown, about 10 minutes.Add wine and tomato paste, stirring to dissolve paste. Bring to a boil, then add guinea hen, bacon, if using, and 2 cups of water. Turn heat down so pot gently simmers. Cover tightly and braise in oven until meat is very tender, about an hour. Meat should fork easily from bones when done. Remove pot from oven, and take guinea hen out, resting on a plate or in a bowl to cool.When cool enough to handle, pull meat from bones in large chunks, discarding skin and bones. If you like a smoother sauce, you can puree vegetables and braising liquid in a food processor. If not, it will be a bit chunkier and looser. Return sauce and meat to pot, adding a little more water as needed and salt to taste, and bring to a low simmer. Cover and cook on lowest heat for another 30 minutes to allow flavors to meld.Remove from heat and stir in parsley. Serve over rice, polenta or pasta, or cool and refrigerate for up to 5 days; you can also freeze this for up to 6 months.DOUBLE BOILER POLENTAI find this method works quite well; you don't have to be stirring it constantly and I usually don't have to cook it for as long as this recipe says. For creamier polenta, increase the liquid by about one-third.3 parts liquid to 1 part cornmeal - liquid can be water, broth, buttermilk or a combination)1 cup cornmeal yields about 4 cups polenta, which is enough for about 4 peopleHave your double-boiler and a whisk handy. In a saucepan, bring the amount of liquid needed for cooking the polenta to a boil. Meanwhile, fill the bottom part of the double-boiler with water and bring to a lively simmer. Place the cornmeal in the top part. Whisk the boiling, measured liquid into the bowl, whisking until any lumps disappear. Seal the bowl with foil or a lid and set it over the simmering water. Cook 1 1/2 hours.During the first 20 minutes, stir polenta several times. Then stir only every 20 or 30 minutes, tasting for salt. Replenish simmering water as necessary. Taste polenta for bitterness and tenderness, cooking another 30 minutes if necessary. For serving polenta soft, it can be held over hot water for up to 3 hours. Or spread the polenta in an oiled shallow pan, or in a loaf pan, cool, cover, and refrigerate up to 5 days.