2.1.11
The Ask: Shawn Askinosie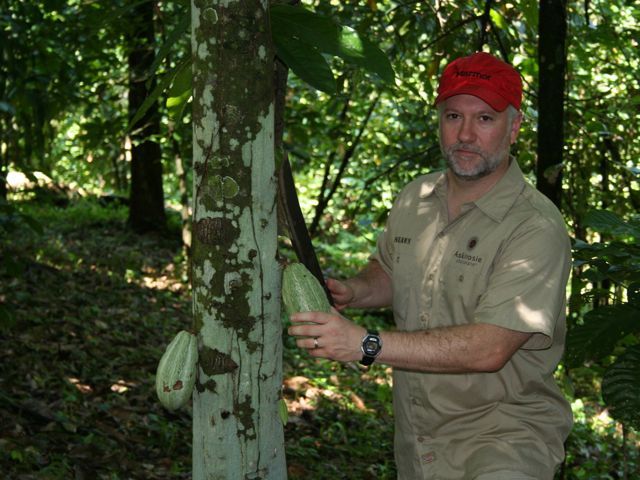 You may remember
a post
from a couple of months ago about a fantastic chocolate company,
Askinosie
. Not only do I love their chocolate, but I love what they stand for and how they
give back
. The Candy Man is a cultural icon—a jolly, twinkly-eyed fellow with a big heart and a fondness for children—and while Shawn Askinosie is nowhere near as eccentric as Willy Wonka, I do think he delights in the power of chocolate.About 10 years ago, Shawn's career as a criminal defense attorney began to exact too high a toll. He was arguing back-to-back murder cases, and you only have to watch so much
Law & Order
to know how stressful that would be. But he couldn't really see any way clear of it, so he began to pray that an alternative would reveal itself. At the same time, he tried distracting himself with cooking, which led to baking, which led to an obsession with cupcakes (which even led to a pilgrimage to New York's
Magnolia Bakery
). After about 5 years of this, he up and decided he was going to try his hand at making his own chocolate, from scratch. At the time, he had no concept of what this even meant, but within 2 months he was up to his elbows in cocoa beans in the Amazon. We should all be so bold.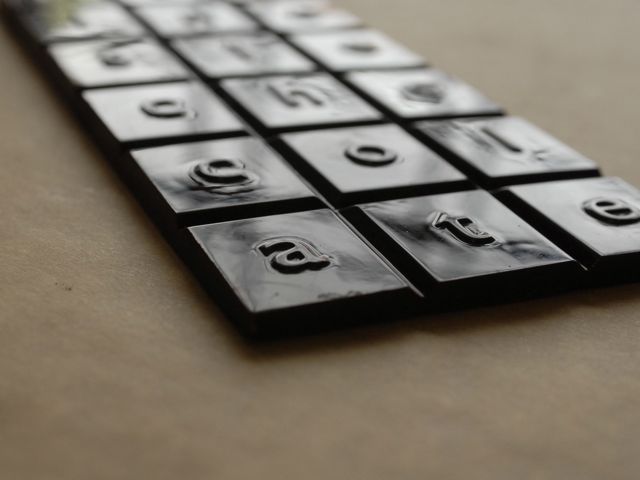 each askinosie bar bears the brand nameCut to January 2011: Askinosie is a full-fledged bean-to-bar chocolate operation in Springfield, Missouri. I spoke with Shawn just as he was finalizing a shipment of 10,000 pounds of chocolate—thirty-three 55-gallon drums filled with hand-broken bars—to a monastery in Kentucky for their annual fudge-making, and on the eve of his family-run company being featured in the February issue of O magazine.

What was your family's reaction to your decision to abandon your law career to make chocolate?
Well, I went from a strong career, making good money, and took a nosedive in terms of income right when I was getting ready to pay college tuition. So it was a lot of stress. I'd say my family was supportive but fearful.

Would you do it again?
If I knew what I know now, no, probably not. I didn't know anything about the business, so it was a huge learning curve—it was a vertical line—and I made a lot of costly mistakes with lots of people depending on me. But I'm so happy that I wasn't visited by the ghost of Chocolate Future, because I wouldn't have learned the things I've learned, experienced the things I've experienced. It's like a dream come true as far as being able to travel, to work with kids and meet farmers.

Traceability seems very important to you. Your chocolate always lists the origin of the beans and even the farmers. What is this all about?
It's important to me because it gives me a way to control the quality of my product, literally from the ground up. I go right to the source to make sure farmers are using environmentally friendly practices without chemical fertilizers and pesticides, and to work with them on getting the best beans. And it's important to consumers because they want to know where their food comes from—and that concern is not going away. It's evident in farmers markets all over the country, including here in Springfield. People want to know who the farmers are, where they live, what kind of people they are and how they grow their beans. It gives them a greater sense of security about their food.

I'm so impressed that you handle the entire operation, from sourcing your beans to working with the farmers to roasting the beans and even making your own cocoa butter. What does roasting impart?
I sample the cocoa beans at every stage. I eat them right out of the pod when they're sweet and very juicy, almost like melon. Then the beans are dried and fermented, and they acquire a slight vinegary smell. Roasting transforms this raw bean into the instantly recognizable flavor and aroma that we know as chocolate. There's a chemical reaction that occurs—the Maillard reaction—when ingredients heat up and begin to brown, like with toast. I personally roast all of the beans myself, I enjoy it so much and it's a really key part of the process. When I put the beans into the cooling tray, I'll literally put my face almost right into the hot beans, because I can tell so much about the flavor they'll have just from that smell. It helps me calibrate the roasting times and temperatures.

Why do you make your own cocoa butter?
I think we were the first small-batch producers in North America to make our own cocoa butter, because I didn't want to buy it from an industrial source. In artisan chocolate making, cocoa butter is often used to enhance the texture and mouth feel of the chocolate, and we sometimes want more of it than what naturally occurs in the bean. The impetus was really that same desire for traceability and quality control. I wanted to add single-origin cocoa butter from the same beans that we were using for the chocolate. Not to mention that industrially-produced cocoa butter is subjected to a bleaching and deodorizing process to remove the rancidity associated with low quality beans. Our cocoa butter retains the integrity of the beans and a bit of their flavor and aroma. (GFL notes: Askinosie makes a killer white chocolate bar with goat's milk powder, organic sugar and pistachios, and now I understand why it is so delicious.)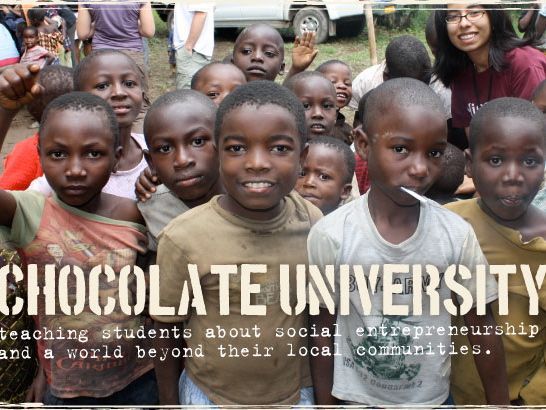 You founded the Chocolate University Project to teach children and teens in your neighborhood about direct trade, sustainability and entrepreneurship. What inspired this?

A homeless shelter across the street from our factory. The program doesn't necessarily touch all of those kids, but I wanted to create something across the elementary, middle and high schools that would inspire the kids about business, and about a world beyond Springfield, Missouri.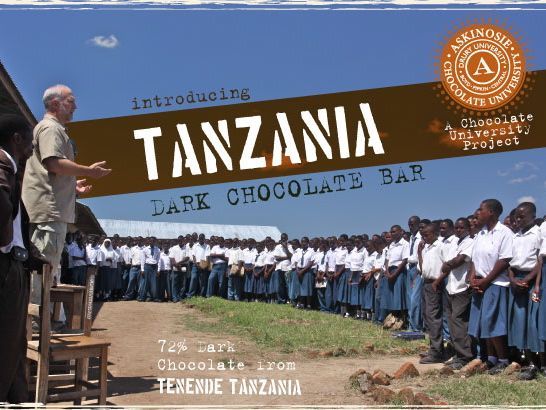 What is Cocoa Honors?

It's our high school program. We invited 13 juniors last year and let them choose the country from where we would source beans. I met with the kids every week for a year and taught them how we evaluate beans and chocolate, how I contact farmers and they were with me in real time. All I asked was that we work with a woman-led farmer group. They picked Tanzania and it was the first time we sourced beans in Africa. We raised the money to bring the kids there and also to provide a well for the village (their first clean water!), and now we're raising money for their school of 1100 students and 10 teachers. We're sending them math, science and English textbooks, and funding a project called Empowered Girls to encourage self esteem in young women and educate them about social development.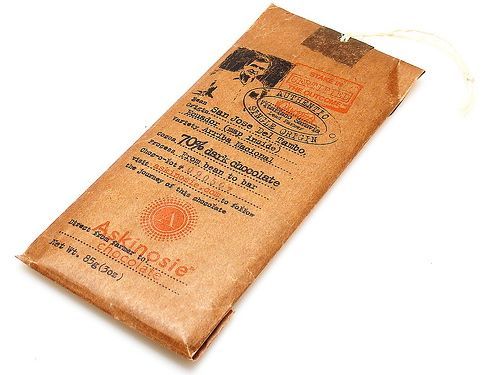 What's the story behind your unique packaging?
First and foremost, it's a great opportunity for us to highlight the farmers. My grandparents were farmers and I spent a lot of time on their farm growing up, so it's important to me to honor that work. And then, my dad , who died young and was my hero, was in the Marine Corps. His Marine Corps trunk and all the memorabilia in it meant a lot to me, and also served as an inspiration. It's not meant to be at all militaristic, it's just comforting to me to use those references. There are other little details: the string is reused from the bags of beans, and women at a local shelter tie those for us.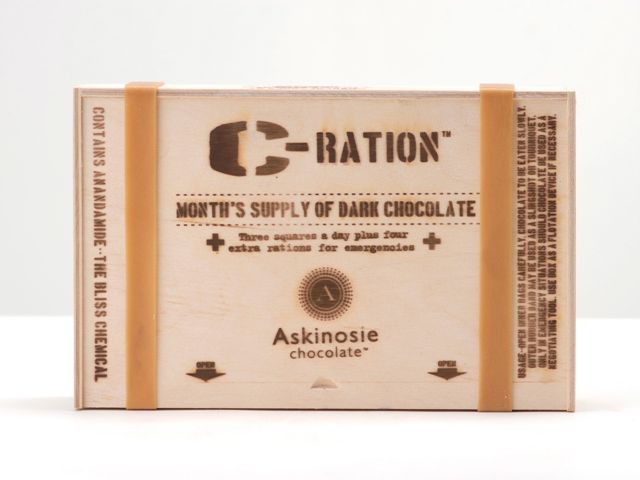 Do you eat a lot of chocolate? What is your favorite kind?
I do eat a lot of chocolate, but not all at one time. I eat it throughout the day, testing a bit here and there in the different stages as it's being made. I tend to like something sweet for a boost during the day, but almost every evening my wife and I will have a little bit of the very darkest chocolate along with our green tea. When it's cold out, I make hot chocolate quite a bit, using our cocoa powder with milk, a little stevia and some salt. And every morning I have a heaping tablespoon of roasted cocoa nibs with my yogurt.

Do you still bake with chocolate?
I don't have so much time for that now, but on Tuesdays we sell cupcakes at the factory. It's a way for us to bring people in and to show them how our products can be used in baking. We always do a chocolate-chocolate but also a new flavor every week.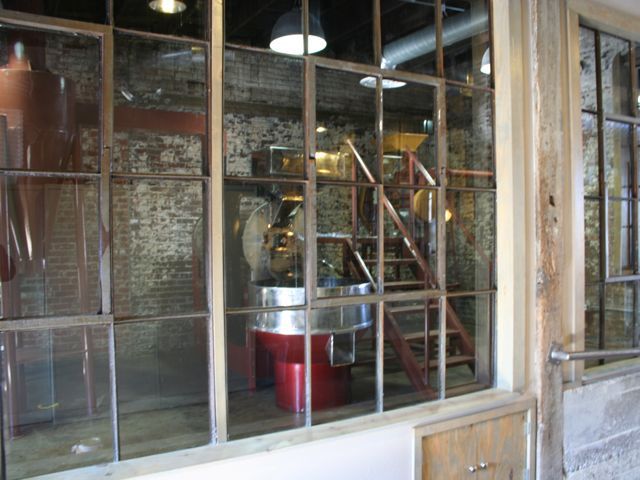 Will you share a chocolate-related recipe with us?

There are several on our
Facebook page
, including a chocolate cake that is just delicious.
[Inspired by Askinosie's delicious cocoa powder, I made these divine meringues, rich with deep chocolate flavor and toasted walnuts.]
Chocolate-Walnut Meringues
makes 12-15 cookies
— 3 cups

powdered sugar

— 1/2 cup plus 3 tablespoons

cocoa powder, preferably from Askinosie

— 1/2 teaspoon

fine sea salt

— 3 large

egg whites, at room temperature

— 2 cups

walnuts, toasted and chopped

— 1 tablespoon

vanilla extract
Preheat oven to 350 degrees.


Prepare a baking sheet with parchment paper.


In the bowl of a stand mixer fitted with the paddle attachment, add the powdered sugar, cocoa powder and salt. Mix to combine. With the mixer running, slowly add the egg whites and then the vanilla. Mix on medium speed for 5 to 7 minutes, until the mixture becomes moderately thick (batter should not run). Fold in the chopped walnuts.


Using an ice cream scoop or large spoon, scoop 2" dollops of the batter onto the parchment‐lined baking sheet, 9 cookies per sheet, about 2 inches apart.


Place baking sheet in oven and immediately lower the temperature to 320 degrees. Bake for 14‐16 minutes. The cookies are done when small cracks appear on the surface.


Remove baking sheet from the oven. When cookies are still slightly warm, remove from parchment paper and place them on a wire rack to cool. Store cookies, layered between rounds of parchment paper in an airtight container for a few days.



Download Recipe