1.31.11
Meaty Monday: Belly Up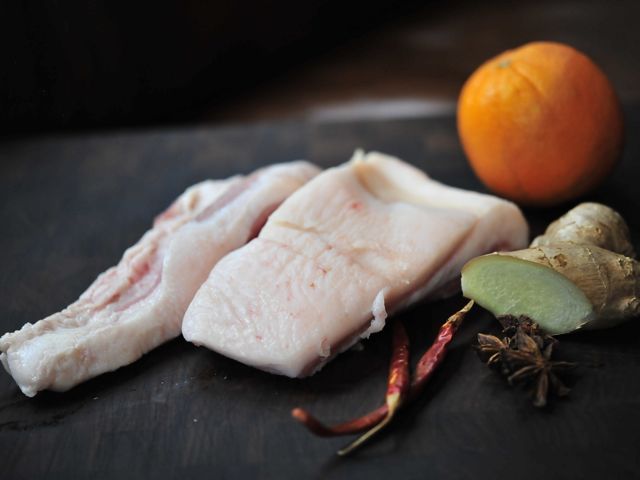 I'm a bit of a contrarian; it's just my nature. I tend to go against the grain and I've never been much of a joiner. But I am aware of the "Meatless Monday" movement, a non-profit campaign slated to help people—and corporations and entire nations—become more conscious of the need to eat less meat. Loads of bloggers participate by posting a non-meat recipe every Monday. I support this effort, but rather than finding one day a week to go without meat, I suggest we have only one day that features it. If we all ate meat just once a week, that would really make a difference to our health and that of the planet. So with that in mind, instead of hosting Meatless Monday, I'm going to introduce
Meaty Monday
—with meat as the exception, not the rule. (This doesn't mean I'll never post about meat or meat-related recipes on other days; this blog is not about Draconian extremes.) This is also the perfect opportunity for me to tell you about something that, in true contrarian style, will totally contradict everything I've just said: I'm participating in
Charcutepalooza
.


This group venture was recently founded by
Mrs. Wheelbarrow
and
The Yummy Mummy
, two fine cooks with a bold idea upon which a multitude of bloggers enthusiastically pig-piled. Each month, we're all going to cure something new—pancetta, sausage, bacon, etc—using
Michael Ruhlman's
Charcuterie
as a guide. January's challenge was duck prosciutto, and February is pancetta. I started a bit late, so am still catching up, but my duck prosciutto is now hanging, and my pancetta is curing in the fridge. I think I'm going to try to update my site to have a special section just for these posts.In the meantime, in honor of Meaty Monday, here's a recipe I created for the pound of pork belly I didn't use for pancetta. You can see it in all its pristine fatty pinkness in the first photo, along with the ginger, chile, orange and star anise that lend their aromatic flavors to this delicious dish. It's essentially a big old piece of uncured bacon, braised in a slightly sweet, Asian-inflected brew until it's meltingly tender, and then crisped under the broiler so the top layer of fat gets all caramelized and crunchy. Serve it with some rice to sop up the juices and a big side of greens (collard or bok choy or spinach) to cut through the richness.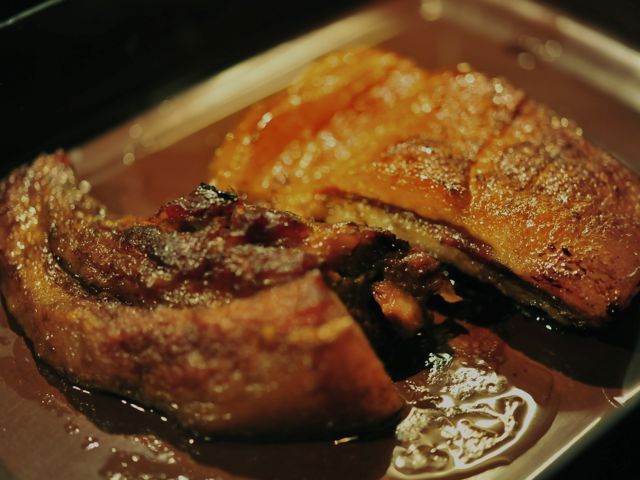 BRAISED PORK BELLY
serves 2
1 lb pork belly8 quarter-sized coins of ginger1 chile de arbol2 cloves garlic, peeled and smashed2 star anise½ cup fresh orange juice½ cup Chinese rice wine2 tablespoons soy sauce2 tablespoons
ketjap manis
2 tablespoons
black vinegar
2 tablespoons dark muscovado sugar½ orange, sliced thinPreheat oven to 350 degrees.In a Dutch oven over medium-high heart, sear pork belly on both sides until browned. Turn fat side up.Combine remaining ingredients in a bowl and stir until sugar is dissolved. Pour over pork belly and bring to a boil. Place lid on pot and roast in oven until tender, 1 ½-2 hours. Belly is done when a thin sharp knife slides through with no resistance.Remove pot from oven and place belly, fat side up, in a small oven-proof casserole. Score the fat on top in a few places. Turn oven on to broil. Briefly broil belly until fat on top is brown and crispy. This will take just a few minutes, so keep an eye on it.Meanwhile, strain liquid into a saucepan and reduce over medium-high heat to make a syrupy sauce.Serve pork belly in slices with sauce, accompanied by rice and greens.