1.27.11
Tales of the City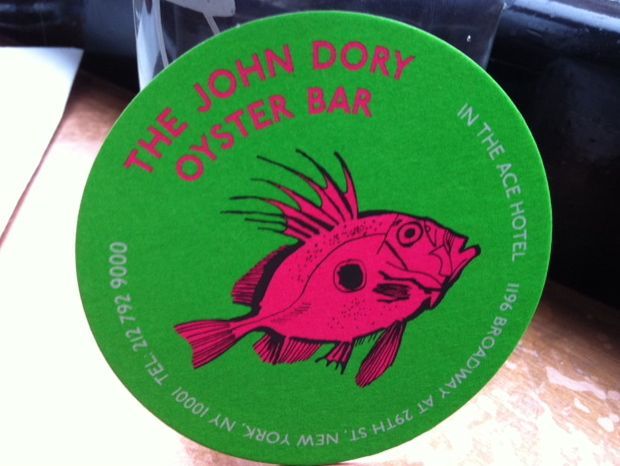 The birthday is past, but the celebration continues! The lovely Miriam treated me to luncheon at 
The John Dory
yesterday, both of us braving snowdrifts and delayed trains, serendipitously arriving on the very day Sam Sifton's 
rave review
appeared in the Times. (Just missed scooping him by one day!) Like The Breslin, the restaurant is adjacent to—and part of the same building as—the Ace Hotel; upon inquiring, we were informed that the frigid indoor temperature was a result of the entire shebang losing its heat. I ate with gloves on and the cold endowed the whole venture with a sort of pioneer quality. Things began shaping up from the moment our hot toddies arrived. 
Cocktails
, you gasp, 
in the middle of a workday?!
Yes, I must say, it was rather 
Mad Men
of us, and ushered in a mood of general excess.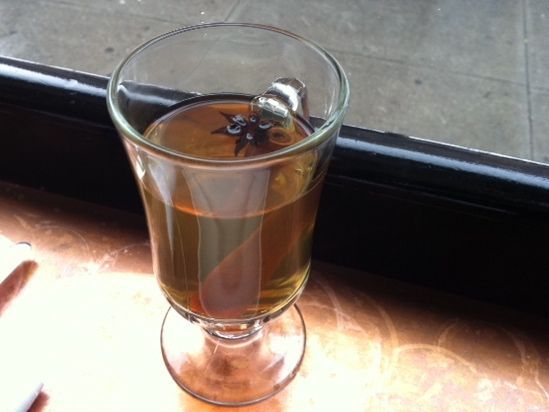 I managed to remember to photograph everything we ate, so here goes…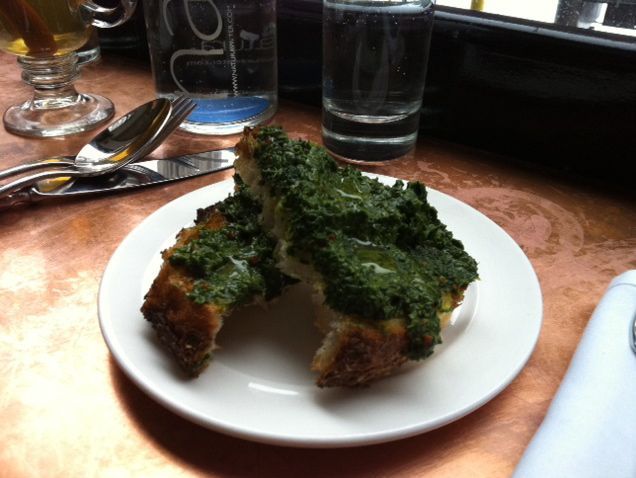 The menu said "parsley and anchovy toast," so I was picturing a piece of bread with a couple of slices of anchovy, maybe sprinkled with a bit of parsley. What arrived was thick, crusty (Sullivan Street Bakery?) grilled bread topped with big chlorophyllic gobs of what turned out to be one of the most delicious things I've ever tasted: fresh parsley pureed with anchovy, hot pepper and olive oil. Savory and lip-smackingly addictive. Go have some. Now. (Will be making at home, no question.)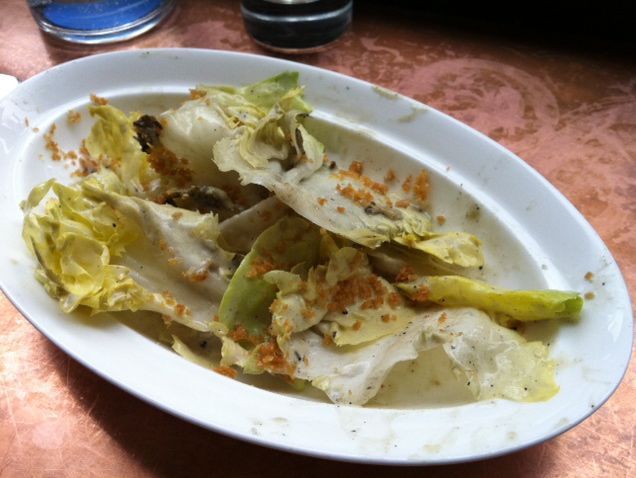 The Caesar salad at
The Breslin
—where April Bloomfield is also the chef—is one of the best around, so I had high hopes for this escarole salad with anchovy dressing. But I wasn't expecting the tender inner leaves to be complemented by braised
and smoked
outer leaves. Plus the dressing rocked and the tiny crunchy breadcrumbs would make even a turd delectable.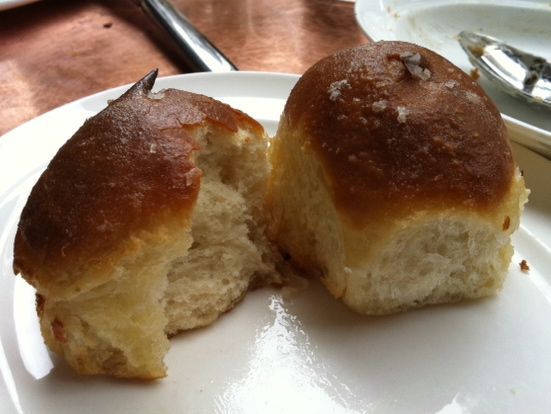 The waitress recommended we not skip the Parker House rolls, buttery flaky creations named for the Boston Hotel where they were invented. These were a particular favorite of my mother, so for sentimental reasons alone I had to try them. Not sure what Miriam's excuse was. Oh, I know: It's your birthday. A great excuse to scarf down pretty much anything. Which we did.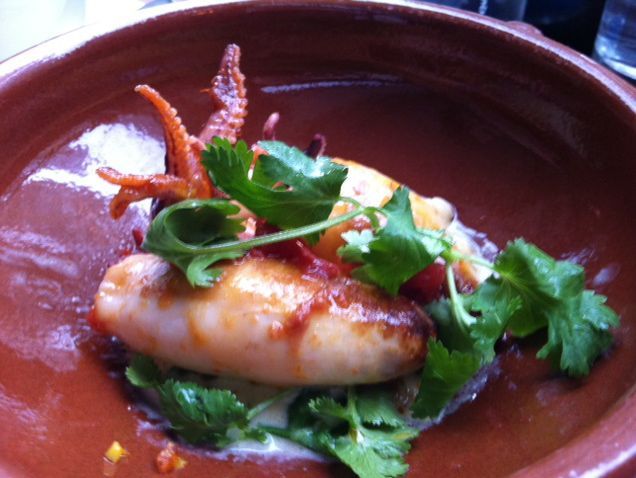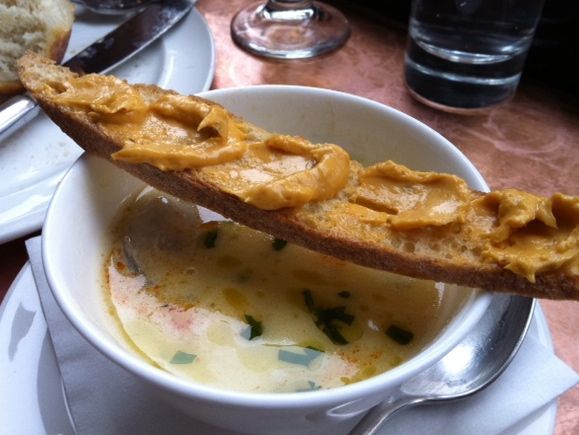 I don't like cooked oysters (boogers) and I don't like uni (faint perfume of urine), but I would take a bath in that broth of buttery cream spiked with vermouth and tarragon.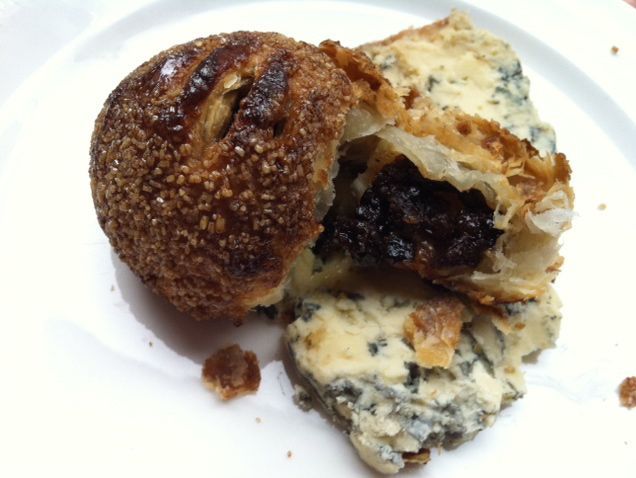 You have to have dessert
on your birthday
, so we shared this decadent Eccles cake: a ball of flaky pastry stuffed with orange-scented currants, served atop a slice of rich and pungent Stilton. It seemed like a fantastic combination, though in truth the Stilton was so strong it rather overpowered the delicate flavors of the cake. Still, I would do it again without any qualms.Would you believe I was back at it that same evening for dinner at
Balaboosta
with G, Andy and Judi?! Another recipient of a
rave review
in the
Times
. This little Middle Eastern join in Nolita knocked our socks off with an array of small plates, including falafel; divine fried olives to dip in rich, creamy labne; smoky eggplant bruschetta; fried cauliflower with raisins and pine nuts; and a wonderful pizza topped with a brilliant orange carrot puree, goat cheese and a ton of cilantro. Would you believe I skipped dessert?