1.12.11
Salt Seller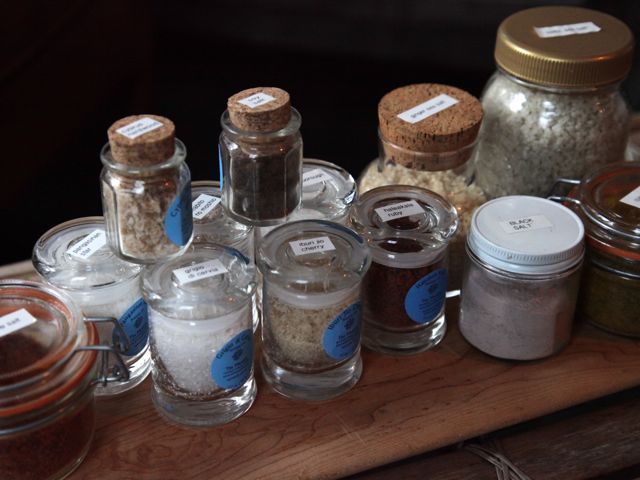 Salt is in the zeitgeist. Although the stuff has been around literally forever (read
this book
on its fascinating history), it's being particularly fetishized at this moment. No fewer than 3 people gave me salt this holiday season, bringing my collection to 18 different types! A couple of the gifts came from the same store: 
The Meadow
, on Hudson Street in New York City. Jennifer Turner Bitterman and her husband "selmelier" Mark Bitterman founded this boutique in Portland in 2006. It specializes in salt, chocolate, flowers and wine (though on a recent visit I noticed only bitters; more on those later). The assortment of salts is truly mind-blowing. From Bengal Blue to Smoked Red Alder, there are more than 100 types, sourced from all over the world. The most instantly striking thing in the store are blocks and slabs of pink Himalayan salt, big translucent pieces for cooking and serving food. You can arrange sashimi on a chilled brick of the stuff and watch the edges of the fish turn pale and firm as it actually cures right there. Or heat a block on the stove or the barbeque and grill thin slices of flank steak for a unique and delicately salty flavor. I can't wait to try this!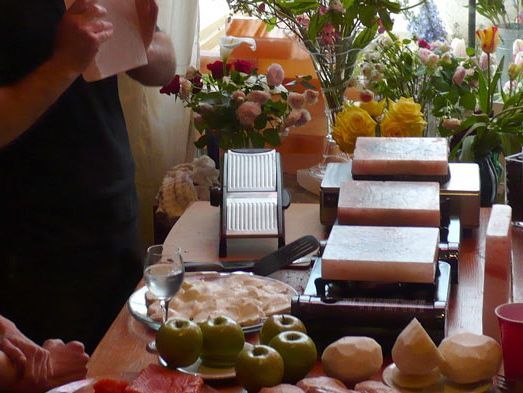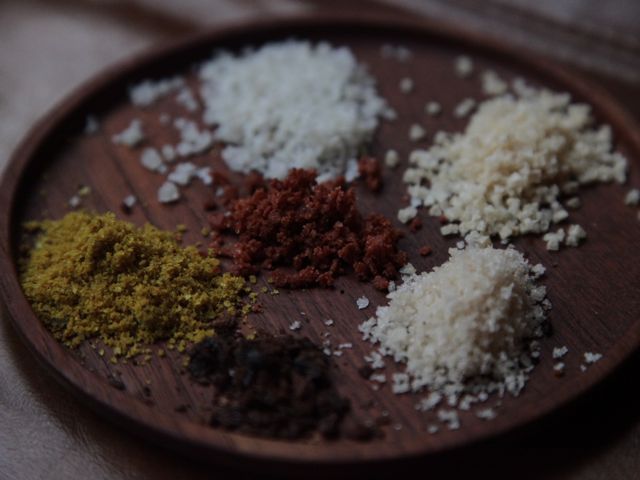 The Meadow's collection of salts is sold as "finishing salts." Essentially, this means you aren't supposed to lob great handfuls of it into your dishes. The flavors range from subtle to quite intense and are meant to be layered atop a dish as a final accent.The Iburi Jio Cherry, for instance, is a Japanese smoked sea salt that has a richly smoky, almost bacony aroma and flavor. At $31 for a teensy jar, you want to use this wisely. Why so expensive? It's premium quality sea salt that's collected from the unpolluted, deep sea waters off the shores of the Oga Peninsula in Akita Prefecture in northern Japan, then slowly crystallized in a large pot over a fire of pure cherry wood for three days. It was inspired by this prefecture's famed iburi-gakko, a smoked and pickled daikon radish. Artisanal, baby. The result is rich in magnesium, calcium and potassium, which add to its complex flavor. It's heaven sprinkled over steamed Japanese rice; over chocolate ice cream it's insane.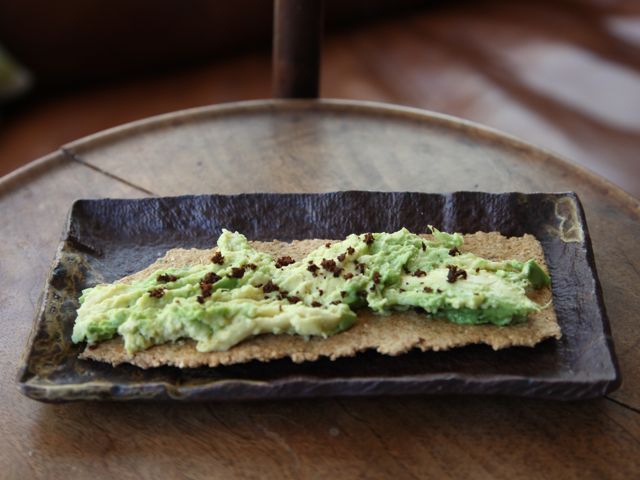 The chocolate-brown, pleasantly chunky soy salt is deliciously crunchy and the perfect counterpoint to buttery avocado. Other great mediums for letting the flavors of salt shine through are buttered bread, cucumbers, chocolate and mild cheeses like ricotta and cottage. Stumped for other places to sprinkle your salt? On soups, scrambled eggs, fish, grilled meats, ceviches, popcorn, fruit (melon with salt is sublime; so are mangoes and apples, for that matter), yogurt (I used the curry salt for this and it was amazing), salads, etc, etc.With beautiful citrus in full swing now, here is a simple and classic cocktail you can customize with one of your new finishing salts.
SALTY DOG
makes one drink
2 ounces gin4 ounces fresh grapefruit juicefinishing salt, like
Taha's Vanilla
or
Maboroshi Plum
or any good quality sea saltlemon or lime wedgeSwipe the rim of a cold rocks glass or wine glass with a wedge of lemon or lime. Coat the rim with salt.Shake grapefruit juice and gin together over ice. Pour the whole thing into the salted glass. (I like mine served on the rocks.) Squeeze in a bit of lime or lemon and toss in the wedge.